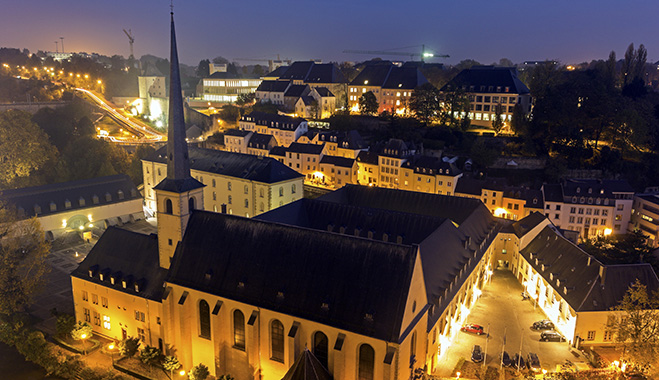 Xeon International offers its sustainable investment products from its base in Luxembourg City&nbsp
Interview with:
Yves Duponselle, CEO, Xeon International
January 5, 2016
Following the 2008 financial crisis, private equity found itself with a bad reputation. Seen as part of a new speculative economy that emerged in correlation with the deindustrialisation of the advanced economies of the West, investing money simply to see more returns has since become the subject of scorn. However, private equity does have its benefits, especially in that it brings together investors with those people who require capital to pursue a business project.
It is important for investors to ask what exactly those projects will involve and what their societal impact will be, however. As a result, firms such as Xeon International are increasingly factoring in social and environmental responsibility when they manage investments (see Fig. 1). World Finance spoke to Yves Duponselle, CEO of Xeon International, who explained that modern capitalism must become more socially conscious, or else the system faces a troubling future.

Corporate social responsibility has recently emerged as a prominent theme. What is the next generation investor calling for?
In today's market a new kind of investor has emerged, asking to invest in projects that will benefit society. The cornerstone of our thinking is to redefine the term on what a 'good investment' is. The idea is to be smart enough to make substantial profits, while adding the additional dimension of contribution to our society, which should have both a social and an environmental impact.
Why should the public trust that you are different from any other hedge fund that bet against sovereign states prior to 2008?
Being a private equity fund, we are not into financial speculation. Our primary task is to create value over the mid-to-long-term, and it is our objective and choice to invest capital in an ethical way. Modern capitalism needs to be more socially inspired if it wishes to preserve itself, or it won't survive.
We can prove that continuous high returns can be made while investing in sustainable solutions that are highly beneficial for investors, such as the environment, the economy and, ultimately, the lives of people. We believe that it is our mission to generate value while contributing to the sustainability of our society.
What types of investors are interested in this approach?
The so-called 'next generation investors' are an emerging generation of business leaders and investment managers that have a consciousness for sustainability. They are present in all investor classes, going from private individuals to institutional investors, but are usually younger, less established and conscious about the fact that change can be a positive thing.
What is their risk profile?
Some have taken a lot of risks and others have been much more focused on wealth preservation, but the common denominator is that all of them are predisposed, to a greater or lesser extent, to take calculated risks for the sake of their investment portfolio.
We make sure that our management teams and fund players utilise the best available skills in order to generate outstanding results for the investors who trust our judgement.
What is your company's vision for the future, particularly with regards to investment?
Our starting point is the same as all investment companies': it should generate profits for our investors. We simply add to our investment criteria the additional dimension of contribution to our society, a contribution that should have a positive social and environmental impact. It is our objective and choice to create value in an ethical way.
How has the current economic climate shaped that vision?
Over the last 15 years, we all have experienced three major financial crises. We believe that the origin of this recurrent pattern finds a partial explanation in the development of evermore sophisticated financial products, which no longer have anything to do with the real economy. They are actually highly speculative, and mostly to the detriment of consumers and investors. There are still far too many out there, which is not very reassuring. Many financial players are ready to sacrifice quite a bit in the name of short-term results.
The economy mostly tends to swing back to the natural point of equilibrium after the hype. We pursue growth, development and returns without impacting negatively on people or the environment. We do it our way, and many investors like it.
Could you expand on your point that many financial products are speculative tools that benefit the few at the detriment of the many?
Some investment products have brought us into a financial crisis, while nobody, apart from a restrained circle of specialists, really understood what they were about or how they generated profits. Most of the time, not even those who distributed them fully understood them. It was like a contamination of the financial vessels, where single people made a lot of money on the back of investors. You could see the crisis coming, as the situation was not in line with economical principles.
Another phenomenon was that the size of certain corporations became so big and diversified that conflicts of interests were, to a certain extent, unavoidable.
How do you think wealth should be created for investors?
We carefully select the markets and the sectors that we are going to invest into and analyse the companies and the players surrounding them. We talk to the shareholders and the management in place and share our philosophy, checking our compatibility.
Our investments are medium-to-long-term oriented; hence it is mandatory to have the buy-in of all people involved in the daily effort to deliver the best products and services. By doing so, we make sure that the number of potentially disruptive factors is reduced to a minimum to ensure a smooth development and growth process.
What do you mean when you talk about Xeon International going back to the very basics of value creation?
We look at tangible companies or projects on the basis of their business models, their generated revenues and the growth potential to generate more. If they have potential, we verify whether we have the skills to match that potential, thus adding value to the company or project.
Adding value to a project, physical products or dematerialised services is what Xeon International is good at. In the end, our firm naturally generates profits and returns for our investors, all the while taking our social responsibility into account.
Could you explain what 'next generation investors' are, and how your philosophy will appeal to them?
We are submitting the cooperation proposal to every investor that shares our philosophy. We take the time to explain what we do and how we do it.
Investors and investment managers who believe that making a contribution to the environment and the next generation is important are our natural matching counterpart, as it is easier to develop a long-term relationship when both parties share the same values. We started calling them 'next generation investors'.
How do you think the world can balance the need for economic growth with environmental stability?
Growth is a necessity for every individual, and for societies in general. That process cannot and shall not be hindered, but what has to be controlled is the way you go through the process.
Even the most renitent emerging markets are realising that they have reached a point of saturation, and that they cannot continue pursuing self-implosion by being ruthless towards the environment and the people. If at the end of the development process there is nothing more to enjoy, then what is the rationale behind it?
How is Xeon Fund attempting to find that same balance?
For us, the economic growth comes when social and environmental impact investments are not meeting the demand – for example, water supply or alternative biofuels. We are also working on healthcare and CSR technology development. By increasing the capacity of those needs, we will contribute to a reduced carbon footprint and will have a more equitable and sustainable balance.
We are also interested in measurable ratios and targets: when we select an investment opportunity, we focus on factors besides the return on equity and internal rate of return. The social and environmental impact is our guideline for a responsible way to approach the long-term growth.
What are your hopes for the future?
I hope that we all acknowledge our responsibility to contribute to preserving our exceptional planet, especially as scientific research urges us to do something immediate against the threats of tomorrow. We should be accountable for our acts to our next generation – we can't tell them that we did not know of the consequences when they ask us, "And what did you do about it?"