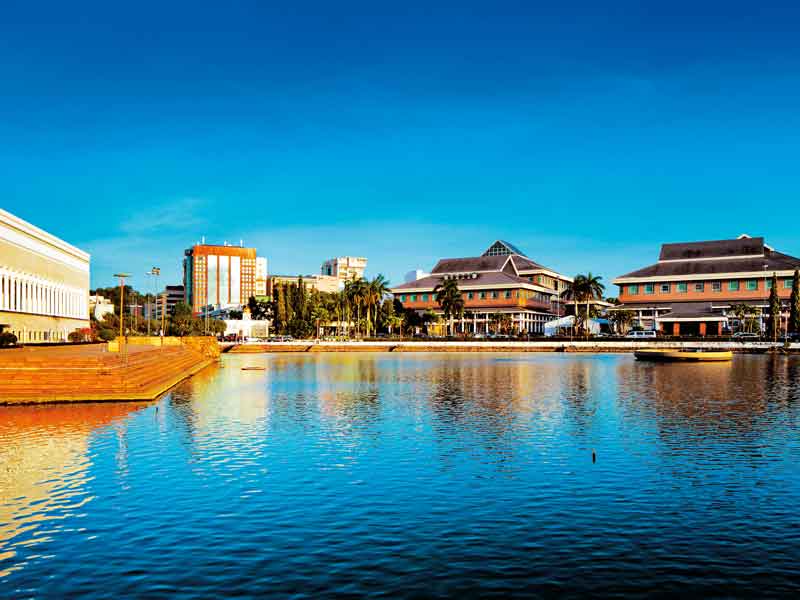 Brunei's central business district&nbsp
Author:
Pierre Imhof, CEO of Baiduri Bank
December 18, 2017
Brunei, a small South-East Asian nation on the coast of Borneo, is undergoing a massive shift in development and growth. This comes in light of continuing low prices for oil and gas, which are the country's chief source of revenue. The low-price environment has affected GDP, which has fallen annually since the 2012 peak.
Fortunately, the country has other strengths. In 2007, the Sultan of Brunei announced the formation of a council for long-term development planning. This resulted in the creation of Brunei Vision 2035, known colloquially as Wawasan Brunei 2035 – the country's long-term development plan, comprising 13 distinct strategies.
Faced with the current low oil and gas price environment, the government has intensified efforts towards diversification, as outlined in Brunei Vision 2035. Furthermore, in early 2016, with the objective of accelerating economic diversification and helping to build capacity for micro, small and medium-sized enterprises (MSMEs), the Brunei Government implemented another development plan – Darussalam Enterprise (DARe).
In support of these initiatives, Baiduri Bank offers a wide range of financial products and services specifically designed to help businesses. The bank is constantly looking for ways to improve its offerings and services, in order to support not just local businesses, but potential overseas investors too.
SME commitment
In the effort to create a healthy and financially sustainable nation, one of the key strategies is to expand business opportunities within Brunei through the promotion of foreign and domestic investment, both in downstream industries and in economic clusters beyond the oil and gas industry.
"We are eager to finance the short and long-term needs of companies in Brunei, be they new or well-established corporations," said Pierre Imhof, CEO of Baiduri Bank. "With the creation of DARe and its assistance in the development of MSMEs, I hope to see the MSME market develop. In pursuit of this goal, we have introduced a variety of innovative products to cater to the sector."
Among these innovations, Baiduri Bank has launched its MerchantSuite service. MerchantSuite allows very small businesses and individual sellers to issue invoices and receive payments online without setting up a website, which is often costly and beyond the reach of many start-ups.
"Given the rapid rise in the popularity of e-commerce in Brunei, particularly on social media sites such as Facebook, MerchantSuite is especially useful for businesses requiring a secure and reliable card payment channel, as well as other digital features to help manage billing and receivables," said Imhof.
In further support of MSMEs, Baiduri Bank, through its relatively new business banking unit, launched its unique Micro Current Account. This account caters to small businesses that do not meet the requirements for a normal business account. It also enables MSMEs to subscribe to and reap the benefits of MerchantSuite.
Though MSMEs are a primary target, Baiduri's focus is also on serving foreign direct investors. With Brunei having a strong banking system and the bank itself possessing a strong capital and liquidity position, as evidenced by its BBB+/A2 rating from Standard and Poor's, Baiduri is able to assure foreign direct investors that the bank is able to support them. "We provide a wide range of products and services at an international standard which we feel will help boost investor confidence," added Imhof.
The Brunei Government has made significant advances in terms of digital and online payment infrastructure
Technological forefront
The Brunei Government is also taking steps to make the nation more consumer-friendly and business-friendly by implementing projects such as the real-time gross settlement system, payment mechanisms based on newer technology such as the automated clearing house, and various other projects and initiatives from the e-Government National Centre (eGNC). The eGNC's key purpose is to meet the challenges of globalisation by being more efficient and transparent.
The initiatives it offers will help to reduce the cost and difficulty of running a business in Brunei. What's more, there have been significant advances in recent years in laying the foundations for modernising payment arrangements in Brunei. These developments are intended to facilitate better international integration and the ability to adapt to evolving payment instruments and methods.
With a growing customer information database, data protection is at the top of Baiduri's priorities. "Our clients need to know that their data is protected and secured to an international standard," said Imhof. "To date, Baiduri is the only bank in Brunei to obtain PCI-DSS certification."
PCI-DSS is the payment card data security standard used internationally by entities that process, transmit or store cardholder data. Baiduri first received its PCI-DSS 2.0 certification in December 2014, and this was further upgraded to version 3.1 in November 2015.
Another achievement that demonstrates Baiduri's commitment to innovation is the fast development of the payWave feature on Visa cards. The bank first introduced payWave in 2014 for Visa debit cards, but the service has since been rolled out to all tiers of Baiduri Visa credit and debit cards. With the payWave feature, small purchases do not require the buyer to sign or enter a PIN, but simply to wave a card over the contactless reader.
As well as saving time, this allows for lower transaction costs between buyer and seller. "The cost of handling cash for merchants can be quite high," Imhof explained. "To address this, payWave encourages card utilisation as the preferred payment method, reducing both risks and costs for businesses."
Baiduri Bank also offers an internet banking service and a smartphone application for customers wishing to carry out their banking needs on the move. "In light of the shifting trend towards more non-cash payments and the use of online platforms for an increasing number of banking services, we understand the importance for our customers to be able to manage their finances as and when they need," said Imhof. "We offer an internet banking service for individuals, known as Personal i-Banking, and a service for businesses, known as Business i-Banking. Our Personal i-Banking service is also available as a mobile app, making it readily available for our customers."
Product range
Finance is a key ingredient of long-term economic growth. History has shown that an expanded financial sector is linked with sharply increased growth in the early stages of credit and stock market development. For Brunei, therefore, with a stock market coming to fruition in the near future, financial development is crucial.
The Brunei Government, in its efforts towards improving the online payment landscape, has made significant advances in terms of digital and online payment infrastructure. "These initiatives are leading towards the smooth implementation of a stock exchange," said Imhof. "Baiduri Bank, through its wholly owned subsidiary Baiduri Capital, is well equipped to handle this."
Baiduri Capital was established in September 2015, and was set up to cater to clients looking to diversify their investment portfolios. "The objective is to create a bigger, more developed and, crucially, more diversified capital market environment. From what I understand, the authorities are making significant progress on the technical and infrastructural aspect of developing the stock exchange. This aspect is part of a more global approach to develop the exchange's capital market activities," Imhof explained.
Attracting the interest of companies, both local and international, is fundamental to the success of a stock exchange. Baiduri Bank is well positioned in this respect, and can help clients move towards a stock exchange listing thanks to a wide market reach and extensive local knowledge, coupled with international expertise.
"Through our online trading platform, our customers can already trade online on various international stock exchanges, such as those in Malaysia, Singapore, Hong Kong, China and the US," said Imhof. Baiduri Capital can play an important role here, educating and building the Brunei population's experience of stock trading in preparation for the establishment of the country's own exchange.
The Baiduri Bank Group also includes Baiduri Finance, the company's first wholly owned subsidiary. "Baiduri Finance is ranked as the leading finance company in Brunei, having acquired more than 65 percent of the local automobile finance market and covering a full range of products and services for our customers," said Imhof.
Forward motion
Economic diversification is now one of the most important challenges facing Brunei and its financial industry, in light of the changing economic situation. Baiduri Bank, being the leading local conventional bank, is at the core of this effort, and is fully committed to helping the country achieve its aims.
The bank will face the coming challenges with a sense of responsibility befitting its leading position in the market. Baiduri's main priority will be to remain at the forefront of innovation with regard to the retail market and in anticipation of the establishment of the stock market. With is strategic focus on developing MSMEs, Baiduri Bank will certainly be one to watch out for in the coming years.