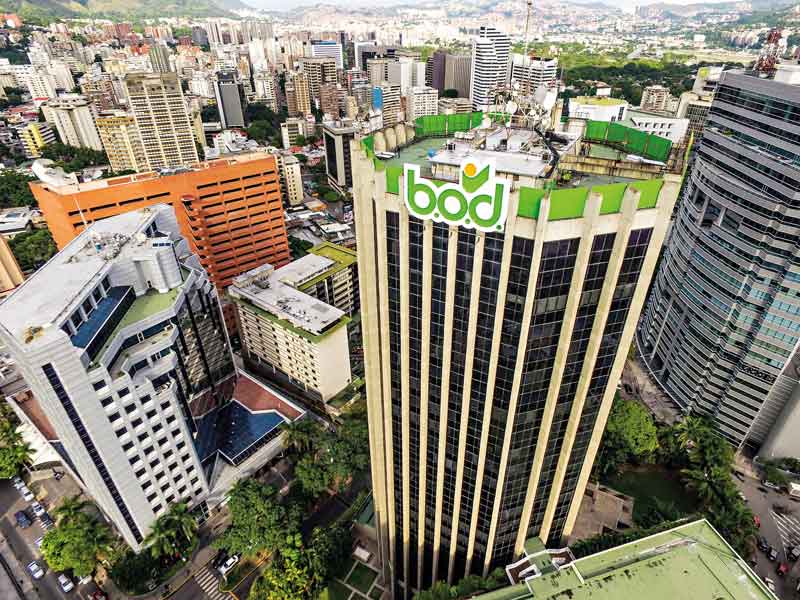 Grupo Financiero BOD's office in Maracaibo, Venezuela&nbsp
Author:
Víctor Vargas, President of Grupo Financiero BOD
December 15, 2017
Over the past 25 years, the BOD brand has set standards in Venezuela by working closely with more than 8,000 entrepreneurs while laying the foundations for new businesses to boost the country's development.
What began as a regional bank 60 years ago grew to become Venezuela's fourth private bank and one of the financial holdings with the greatest potential in Latin America. This success has been in large part down to the vision of the bank's president, Víctor Vargas.
In fact, the history of Grupo Financiero BOD is closely linked with Vargas, an experienced Venezuelan businessman who led the growth of more than 20 companies in Latin America while consolidating BOD as the bank of Venezuelan entrepreneurs. His success is the result of first-class customer service, an emphasis on finding new business opportunities, and social responsibility plans focused on entrepreneurship.
He told World Finance: "As an entrepreneur myself, supporting entrepreneurship has always been a priority in my life. Since I graduated from law school, my focus was to contribute to Venezuelan development through hard work and commitment. I decided to start a new business and bring opportunities to the Venezuelan people. Now, I am proud to say that over the past 34 years I have built financial companies with proven national and international profiles, which provide support for small business and entrepreneurs."
A culture of innovation
Grupo Financiero BOD is an example of what can be achieved with dedication, sound financial footing and a commitment to the community. It has responded to the multiple economic challenges in Latin America while serving communities with determination to grow. The 21 companies and 14,000 employees of the group work with a corporate culture of innovation, excellence, commitment and customer service.
For Grupo Financiero BOD, to be an entrepreneur is to bet on making your dreams come true, to believe in your country as a place to take root and grow
"The expansion of Grupo Financiero BOD lies in the social commitment we have for our communities. We are proud to have favourable economic results but, above all, we celebrate our capacity to promote the development and growth of the countries in which we are present," said Vargas.
The 21 companies of Grupo Financiero BOD cover banking, insurance, capital markets and investments, as well as health services in five Latin American and Caribbean countries: Antigua and Barbuda, Curaçao, Panama, the Dominican Republic and Venezuela. Each one of those businesses specialises in providing quality services to meet the needs of customers, shareholders and associates.
"Our primary goal is to drive the growth of our customers in all the financial areas we cover. In this way, we guarantee the sustainability of our businesses, and more importantly we help the development of the countries in which we are present," said Vargas.
Entrepreneurship as a philosophy
For the last 10 years, the BOD Foundation, a social foundation belonging to Grupo Financiero BOD, has supported entrepreneurs' initiatives in Venezuela with the main purpose of encouraging economic and social improvements, as well as development in the country. The foundation responds to the main goal of BOD: to reward the trust and loyalty of its clients.
According to Vargas: "Through structured and well-organised work, we decided to focus the effort of the BOD Foundation on two main areas that are closely related: education and entrepreneurship. By providing an appropriate academic programme and financial support, the bank gives new entrepreneurs the opportunity to open their businesses or make them grow. We develop a formula of success for Venezuelan entrepreneurs."
The BOD Foundation created the BOD Entrepreneurs Centre in 2008 with the purpose of supporting business growth in different sectors of the Venezuelan economy. "For the BOD Foundation, to be an entrepreneur is to bet on making your dreams come true, to believe in your country as a place to take root and grow. That is why, almost 10 years ago, we opened the Centro de Emprendedores BOD," said Vargas.
Through its own academic and financial programmes, Grupo Financiero BOD seeks to strengthen new start-ups in innovation and business management: "When we founded the BOD Entrepreneurs Centre, we were convinced of the innovative and pioneering spirit of the Venezuelans. And so it remains. We believe in the skills and abilities of Venezuelan entrepreneurs for establishing profitable businesses that generate jobs in the country.
$21.49
Investment loans granted to Venezuelan entrepreneurs
8,000
Entrepreneurial initiatives supported by the BOD Entrepreneurs Centre
1,600
Hours of free training given to entrepreneurs
14
Micro-entrepreneur fairs held
"Our figures show just that. For almost 10 years, working with more than 8,000 entrepreneurs, we have become the entrepreneurship bank in Venezuela – an achievement we are extremely proud of."
Now, the BOD Entrepreneurs Centre is present in eight states of Venezuela. It has given 1,600 hours of free training with business training workshops to 3,500 entrepreneurs and has supported approximately 8,000 initiatives. Furthermore, VEF 214.55m ($21.49m) has been granted in investment loans, helping to create around 6,100 jobs.
On the subject of these achievements, Vargas pointed out: "The BOD Entrepreneurs Centre is a space for those who strive to be the success stories of the future: small entrepreneurs who, in crisis situations, do not see an opportunity to escape, but a reason to stay." By working closely with start-ups and new business leaders, the BOD Entrepreneurs Centre develops its work through three types of activities.
The first type is know as 'entrepreneurs' encounters'. BOD has hosted eight of these meetings, reaching more than 4,500 attendees in the last 10 years. In addition to opting for financial plans for their business ideas, attendees have the opportunity to publicly present their projects, participate in TED conferences, and interact with other entrepreneurs and business allies.
The second activity is the business training programme: a series of specialised workshops in subjects such as administration, business, organisational skills, social media communication and technology for small companies are offered every year in several Venezuelan cities.
'Give a green light to your idea' is the third activity. This programme aims to boost business models through unique ideas and social innovation. The first category supports small entrepreneurs whose businesses meet the needs of the market, with innovative practices that contribute to the Venezuelan economy.
The second aims to identify and strengthen social initiatives that improve the quality of life for local populations by providing solutions to social problems and contributing to sustainable development.
Success stories
Yoanis Torres, Founder of Hallacas a la carta, a Venezuelan gastronomic endeavour, was supported by the BOD Foundation when she was setting up her business: "When we decided to create our brand, the BOD Foundation accompanied us through the process. We received training for writing our business plan, recommendations for marketing our product and preferential credit to help us fulfil our dream."
Kenneth Lopez Key, Founder of the instant coffee brand Coffe Key, also started his professional journey as a BOD Entrepreneur: "It is essential to receive the academic support offered by BOD to new merchants. Being able to access professors who specialise in business, marketing and other areas allowed us to structure our brand efficiently."
These testimonies are just two of the BOD Foundation's many success stories. Both cases were presented during the latest workshop organised by BOD. That day, 120 new Venezuelan micro-entrepreneurs gathered to participate in a series of conferences about business management knowledge.
Beside the testimonies of Hallacas a la carta and Coffe Key, new entrepreneurs have access to business management advisors, competitive marketing tools and communications tips to help them launch their company.
The event, as well as the more than 100 other activities planned by BOD in Venezuela in the past 10 years, has helped Vargas realise his strategic vision in matters of entrepreneurship: to extend support to entrepreneurs throughout the process of developing their business.
That is why BOD's commitment to pioneers and new merchandisers in Venezuela focuses on making a real and measurable difference to a community for whom opportunities are hard to come by. For that matter, Vargas concluded: "The BOD Foundation is responsible for making the dreams of more than 8,000 become a reality. We plan to continue supporting more entrepreneurs."
The future for Grupo Financiero BOD is clear: it is now planning to extend its entrepreneurship programmes to also cover Panama and the Dominican Republic. Through AllBank and Bancamerica, two consortium banks in Latin America, the group is preparing to captivate customers and support new entrepreneurs in the region.