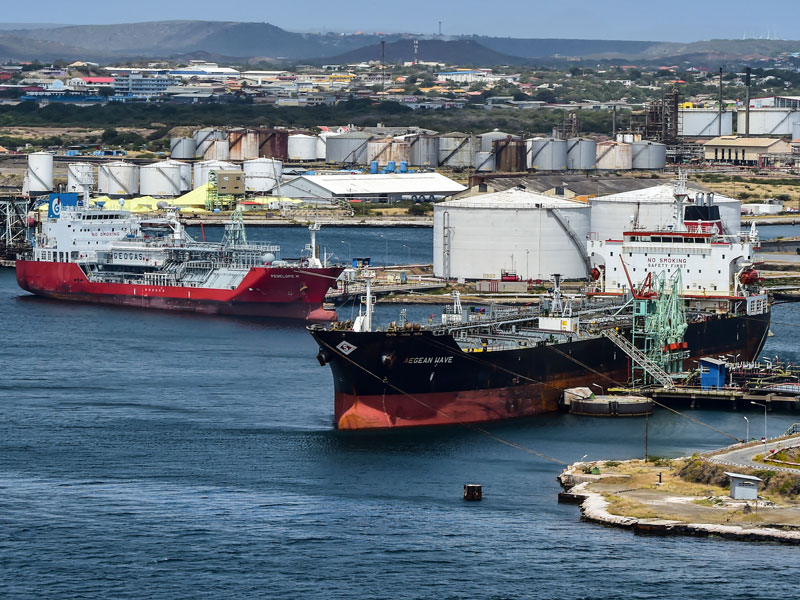 Crude oil tankers dock at Isla oil refinery, which is leased by Venezuela's state oil company, PDVSA&nbsp
The US Government is formulating plans to tighten economic sanctions on Venezuela, according to sources familiar with the matter. Several reports released on June 9 indicate that the Trump administration is preparing to add a substantial number of tankers to its blacklist – perhaps as many as 50, The Wall Street Journal reports – in punishment for facilitating the trade of Venezuelan oil.
Earlier this month, the White House blacklisted another four companies believed to be working with the beleaguered country's oil sector. The sanctions prevent these firms from accessing US-held assets, but more importantly, will act as a warning sign to anyone in the international business community that was thinking of entering the Venezuelan market.
Oil revenues represent around 95 percent of Venezuelan exports and have helped prop up the country's socialist governments for decades
The plans to administer further sanctions drew angry remarks from Venezuelan Foreign Minister Jorge Arreaza, who has previously criticised Washington for meddling in the country's affairs. "More concrete evidence of Washington's criminal aggression, aimed at the heart of [Venezuela's] economy by blocking, in the middle of a pandemic, earnings used for imports such as food, medicine and supplies," Arreaza wrote on Twitter. "It's [an] attack against all Venezuelans."
Certainly, further economic sanctions, and the economic pain they cause, will hurt more than just Venezuela's political elite. Oil revenues represent around 95 percent of the country's exports and have helped prop up the country's socialist governments for decades. Recent developments suggest the escalated sanctions are having an impact: Reuters reported that Chinese oil firms were considering refusing to charter any tanker that had visited Venezuela within the last year.
Not all of Venezuela's struggles can be pinned on the US, however. Plummeting oil prices have not helped matters, but corruption and mismanagement on the part of the country's president, Nicolás Maduro, represent a bigger issue. Until Venezuela rectifies its political issues, its economic problems are unlikely to be solved.