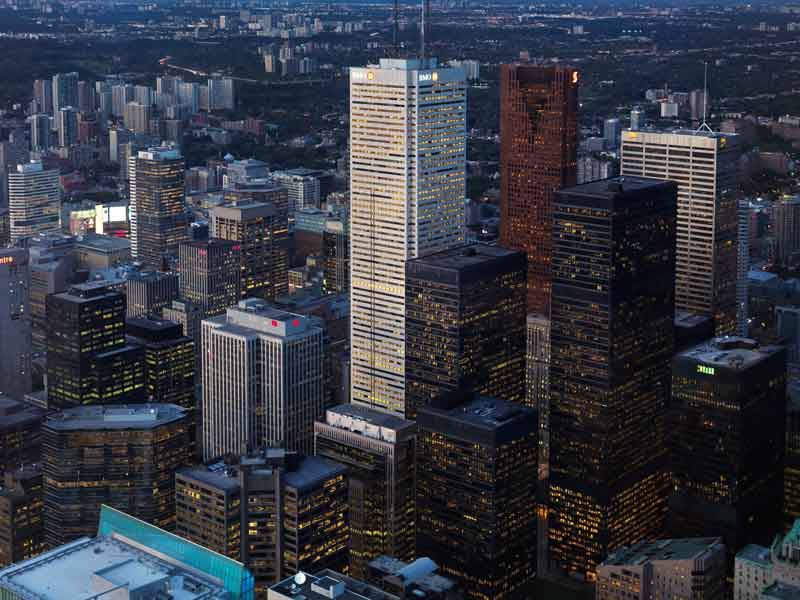 BMO's offices in Toronto, Canada&nbsp
Author:
Andrew Irvine, Head of Business Banking at BMO Financial Group
Canada's banking industry is expanding at a remarkable pace. In particular, the sector is under constant pressure to adapt in order to meet growing customer demand for mobile and digital banking experiences. On top of this, the need for improvements in back-office efficiency and automation is becoming increasingly critical, and there are some key regulatory shifts on the horizon.
One of the most striking trends, however, is that the pace of new entrants into the market has increased exponentially, with fintech companies carving out an increasingly prominent position in the industry. Indeed, many major players now feel under threat due to the emergence of such non-traditional entities.
Rather than working against these disrupters, however, the Bank of Montreal Group (BMO) has embraced a strategy of collaboration.
Indeed, from our perspective, a combination of strategic partnerships and investments in technology is vital if the sector is to effectively welcome innovation. Crucially, our experience demonstrates that such partnerships are beneficial for both established banks and budding fintech companies, because both parties have complementary strengths.
For BMO, strategic partnerships can help to drive innovation and accelerate business outcomes across the company. Meanwhile, start-ups are able to benefit from BMO's regulatory know-how and solid customer base. In fact, by partnering with fintech companies, it's possible to pursue innovations that will benefit customers and businesses across Canada.
Strategic partnerships
Recent examples of BMO partnerships include working with payment services such as Apple Pay and Android Pay. Beyond this, we have also supported the 1871-BMO Harris mentorship programme, and have partnered with the innovative blockchain consortium R3.
One particularly exciting partnership has seen BMO join forces with Toronto-based business incubator DMZ. Together, we help start-ups expand by providing coaching, capital, and the network of experts and entrepreneurs that budding businesses need to get off the ground. Ultimately, we aim to find Canada's most innovative fintech companies that are ready for market exposure, and provide them with the opportunity to pilot their technology with BMO.
Our clients benefit from a partnership with a bank that knows its business and industry
The partnership has already yielded results for us. For example, the technology developed by one of DMZ's leading start-ups, FormHero, is now live on BMO's website. FormHero's innovation allows PDFs to be replaced with an intuitive customer interface that automatically finds and fills the right documents.
BMO has also worked with the Vector Institute, a new independent research facility for artificial intelligence (AI).
The institute, also based in Toronto, is dedicated to pioneering research in AI, with a particular focus on the potentially transformative fields of deep learning and machine learning. Its aim is to lead the adoption and commercialisation of AI technologies across the country through collaborations with academic institutions, incubators, accelerators, start-ups, scale-ups and established companies.
Complementary strengths
It's important to note that our partnership strategy has a clear focus: we actively seek out and execute strategic partnerships in which both parties have complementary strengths that can improve the overall customer experience.
The start-ups we work with bring many advantages to the table, such as agility, data focus, customer focus and a digital-first mindset. BMO, meanwhile, can offer key strengths, such as a respected brand, trust, great customer relationships, scale distribution, and regulatory and compliance know-how.
Regulatory expertise is particularly important in the current climate, as new regulations are set to become a key challenge for the sector over the next few years. More specifically, recent modifications to regulations related to housing, mutual fund fees and interchange fees, among others, are requiring banks to make far-reaching changes to the ways that they conduct business.
Fortunately, at BMO we have a robust level of regulatory engagement that puts us in a position to compete.
Our continued effort towards greater specialisation within the industry is a key strength that is likely to be useful from our partners' point of view. First and foremost, it ensures we are constantly developing the industry knowledge needed to meet the evolving needs of Canadian businesses. In particular, we know that our clients benefit from a partnership with a bank that knows its business and industry.
This is why we remain fiercely local. Our relationship managers live and work in the same communities where our clients do business. What's more, many of our employees have joined us from the same industries that our clients operate in, bringing with them a depth of expertise in each area, such as insurance, healthcare and agriculture.
Others have developed their skills and knowledge through long-term relationships with their clients. In each case, our employees' deep industry knowledge leads to stronger partnerships with our clients, which ultimately helps them achieve better business outcomes.
Ahead of the curve
Banking industry players are constantly striving to put the customer at the centre of investments and day-to-day operations. Strategic partnerships can be an important tool in improving the overall client experience, which is becoming gradually more digitally focused.
Crucially, at BMO we aim to constantly push forward our digital banking abilities so our clients can bank when and where they want. This is because we know that the needs of our customers have changed and will continue to change: they want a simple, seamless service, wherever and whenever they choose to bank with us.
With the increase in digital adoption and the subsequent migration of service transactions to self-service channels, our digital strategy is transforming the way we do business. Technology is a fundamental pillar of our company's strategy. We are always looking for new ways to engage with our customers and make things more convenient for them.
Through our digital strategy, we're enhancing BMO's technological capabilities to deliver more personalised, intuitive applications that are built to respond in the moment and provide a more unified experience across all channels, products, services and geographies.
We have already made the self-serve banking experience easier through initiatives such as touchscreen ATMs, digital imaging, and improved mobile and online banking functionality for our customers. For instance, our customers can now deposit cheques remotely using our seamless and secure cheque-scanning feature, BMO DepositEdge.
We were also the first Canadian bank to deploy tablets to branches for employees to use with customers, featuring e-signature and e-form technology. What's more, BMO recently launched its new 'smart branches' in Canada and the US, which are small-format branches with enhanced technological capabilities.
Beyond capital
Ultimately, our strategy will always be to strive to improve the overall client experience, which serves as the basis for everything we do. From our product strategy to our sales model and compensation structure, we are constantly asking ourselves whether our decisions are providing better outcomes for our clients.
We believe that the choice of bank is one of the most consequential a business owner can make. Our view is that if we are just providing capital, we're doing our clients a disservice. As a powerful business partner, we go beyond providing capital by helping clients manage challenges and opportunities at every stage, from building and growing a business to selling it.
It is this customer-centric approach that separates us from the competition. As our clients need change, we ensure we continue to find ways to impress, both in our strategy and product development. For example, we recently launched a new free e-business plan that is perfectly suited to small business clients who conduct most of their transactions electronically.
We recognise that clients want to bank in a way that works for them – it's our job to bring the right resources at the right time so that they can emerge stronger.