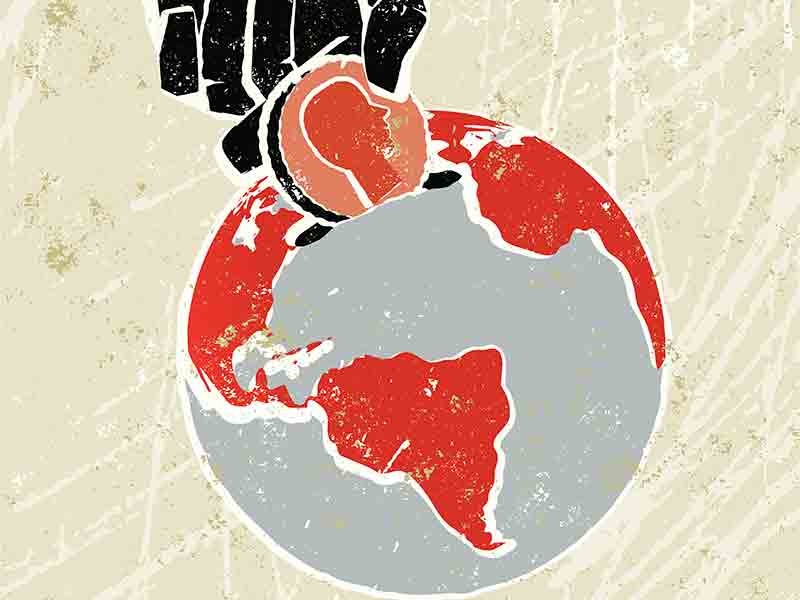 Farsighted investors can use shrewd funds to contribute to the long-term health of the entire planet&nbsp
Author:
Jonas Predikaka, Global Head of Private Banking, Carnegie Investment Bank
Carnegie Investment Bank has played a central function in Nordic business for more than 200 years, first as a trading house and then as a financial advisor. We have built a bond of trust among the institutions, companies and private individuals we work with. Our knowledge of Nordic companies and their markets, combined with access to capital and ideas about growth creation, means we are well positioned to funnel capital into investments with growth potential. In every aspect of our operations, we take care to work with projects that contribute to a stronger society.
New technology and sustainable products will be important if companies are to overcome the challenges that society faces today. Financial advisors must be able to provide assistance in terms of the personal and corporate issues associated with transitioning to a sustainable economy. This is where Carnegie's years of experience come to the fore.
Shepherding change
Being an industry leader like Carnegie means upholding a responsibility to always provide sound advice that meets the standards expected of a financial advisor. We are in a position to have a positive impact on the world, but this all hinges on the advice we give our clients and the long-term success of our own business. Through our research capabilities, which cover almost 95 percent of Nordic-listed companies, we can improve transparency and provide strong guidance to private and institutional investors. The risks and opportunities associated with environmental, social and governance (ESG) responsibilities are a natural component of this research. They form an essential aspect of decision-making for many investors in the Nordic market.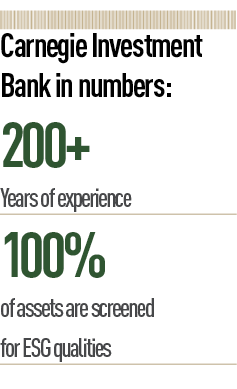 Farsighted investors can use shrewd funds to contribute to the long-term health of the entire planet. The reallocation of capital, both between and within sectors, intensifies the pressure on companies to drive their sustainability efforts. Companies with access to capital represent a huge force for change in building a better world. With smart products and a skilled workforce, they can shepherd the world's consumers towards a more sustainable lifestyle.
Carnegie embraces sustainability throughout its asset management services, and we understand the importance of helping our clients navigate the complex financial issues associated with this transition. We screen 100 percent of the assets under our discretionary management in terms of their contribution to ESG principles.
Sustainable investment can be approached in various ways, but ultimately it is a matter of mitigating risks and generating better risk-adjusted returns. Investment managers might select companies that are recognised for their commitment to sustainability, or they could choose to influence companies that their clients have a stake in. Sometimes, managers decide to exclude entire industries in order to meet their sustainable goals, although this can have a negative impact on risk-adjusted returns.
Carnegie has chosen to exert influence on the companies and management teams that are included in our asset management sphere. We believe this approach is a more effective long-term solution than exclusion.
Planning to succeed
Priming the next generation to take over substantial assets is an important part of creating a sustainable economy in the future. Carnegie provides support to families as they handle their legacies. Part of our long-term mission has always been to facilitate succession by helping the next generation take over their family business or other assets.
Carnegie's Next Generation Academy is a six-month tutoring initiative that aims to provide structured learning to our clients' heirs. Attendees are instructed in a wide spectrum of skills that can have an impact on their inherited assets, including entrepreneurship, tax law, property ownership, investments and digital security. At the end of the course, we invite participants to join a network of past attendees. Through this network, we offer ongoing opportunities to meet and benefit from Carnegie's experts.
As part of the wider business community, Carnegie recognises our capacity and responsibility to facilitate the growth of new players in the market. For several years, Carnegie has offered a meeting place to promote the emergence of these early-stage companies. For example, each year they have the opportunity to gain broader exposure to investors and the wider world. We are committed to the idea that enterprise is a cornerstone of a dynamic business sector and a sustainable economy.
As Carnegie continues to advance its position in the Nordics, we are also striving to enhance our role in capital markets. The importance of responsible advisory services is growing all the time, and Carnegie remains committed to leveraging its market position to stimulate responsible investment.