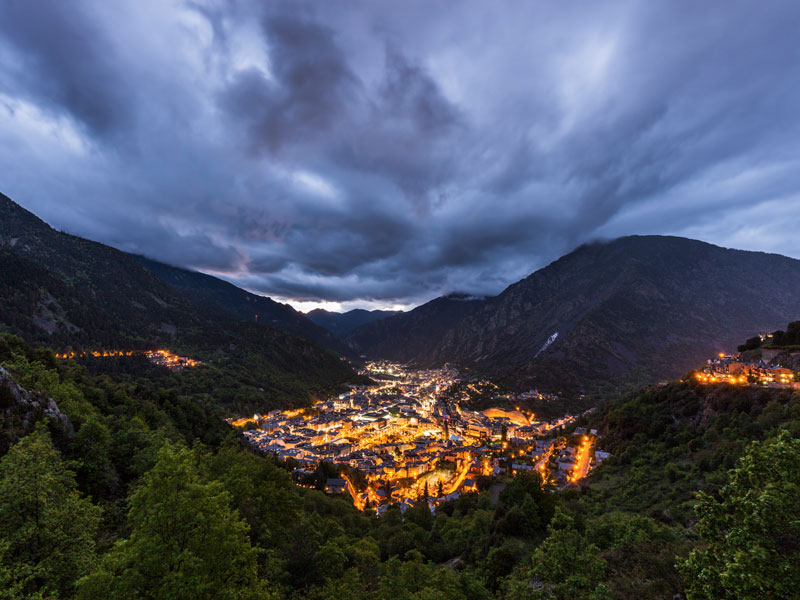 As the first bank in the state to implement a digital transformation – a process that was completed quickly and smoothly – MoraBanc knows all about the difficulties that change brings&nbsp
Author:
Lluís Alsina Àlvarez, Managing Director, MoraBanc
Andorra's banking sector is one of the country's economic pillars. However, in the past few years, the market, clients and rules of the game have changed radically, forcing banks to adapt and transform in order to offer the modern services that customers want.
Away from the banking sector, the Andorran economy has had to deal with wider change. Although sometimes still referred to as a tax haven, this is no longer a fair description of the country's regulatory environment: Andorra introduced an income tax in 2015 and now boasts a transparent and highly regarded banking model. While the landlocked principality still offers an attractive tax system and represents an excellent destination for clients looking to diversify their wealth management, it also abides by all the regulatory standards expected of a member of the global economy.
In the past few years, Andorra has been on a significant growth path that has created opportunities for the financial sector
At MoraBanc, reacting to the changes that have taken place in Andorra in recent times has been a challenge, but one we have embraced wholeheartedly. As the first bank in the state to implement a digital transformation – a process that was completed quickly and smoothly – we know all about the difficulties that change brings. Thanks to the efforts of our staff, we are now operating as a fully fledged digital bank.
Making the most of more than 60 years of private banking experience, we now offer a much more global service. We are fully committed to our clients, whether they reside in Andorra or further afield. Still, now is not the time to rest on our laurels: after navigating several years of profound change, we are excited by the challenges that await.
The little things
With a population measuring just over 75,000, Andorra's internal market is certainly small. This makes gaining market share difficult and requires us to be more competitive. To engage new clients, we must offer high-value, differentiated and personalised services. Additionally, with such close client proximity, it is vital to maintain a high level of trust at all times.
Though we talk about Andorra as a small market, in the past few years it has been on a significant growth path that has created opportunities for the financial sector. The driving forces behind this economic growth have been tourism and commerce, and these sectors continue to generate a great deal of business, with the country receiving more than three million visitors between December 2017 and November 2018.
Andorra's certification and adoption of international agreements, combined with its beneficial taxation schemes, make the country an attractive destination in which to incorporate businesses that don't require major industrial logistics. Due to its high level of security and excellent geographic location, Andorra has become a place of residence for professional sportspeople and high-net-worth retirees. All of these factors create a strong internal banking sector that has the potential to find great success in the international market.
Thanks to the transformation of the banking sector and the focus on certification and transparency, new business options are opening up beyond our borders. We have had subsidiaries in Switzerland and Miami for years now, and have upcoming projects in Spain, which we are able to take on thanks to our solid financial footing.
Let's get digital
Society has welcomed the digital banking revolution because it gives the consumer more freedom: it brings access to services better suited to their needs and lets them choose how and when to acquire and use such products. The banking system, both in Andorra and globally, must respond to these new consumer habits.
At MoraBanc, we have achieved our transformation by making a digital mindset an essential part of the company's culture. Our strategy hinges on two courses of action: first, we have concentrated all of our strategies under one umbrella, streamlining the decision-making process for our multichannel services; second, we have integrated innovative methodologies in the design and creation of products and services at every stage of our projects.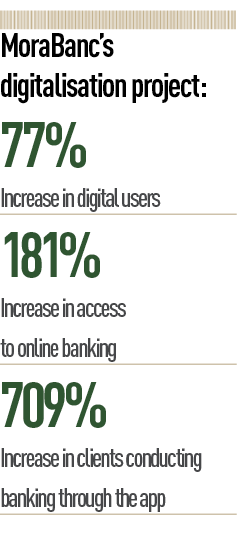 Our investment in digital banking stood at €7.5m ($8.31m) between 2015 and 2018, during which time we succeeded in positioning ourselves as market leaders. In 2019, our investment totalled €5m ($5.54m), which included technological innovation that responded to regulatory updates, improving internal processes and revamping the client experience. These levels of investment are high given the size of the Andorran market, and reflect MoraBanc's commitment to being the country's benchmark digital bank.
However, it's important to remember that digital innovation is always progressing. We are constantly updating our offering and working on new projects. Over the next few months, we have five key aims. The first is consolidation: we will make the most of our position as a benchmark of online services in Andorra and consolidate our image as a modern digital bank. The second is innovation, which involves improving the tools we have already launched, incorporating new functionality and upgrading our digital solutions every week.
We have not forgotten digital transformation, which is our third goal. We will continue to move our services out of branches and onto our digital platform, investing in new technology to ease the process. In the interest of furthering Andorra's technological transformation, this year, we headed the first study on the digital maturity of companies in Andorra. Our fourth goal involves delivering an omnichannel customer experience; to achieve this, we must strive to improve the services offered to our customers, expanding their payment options through the digitalisation of transactions and simplifying the payments process. We also wish to provide clients with more information on using point of sale solutions so they are empowered to increase sales and improve their customer service.
Our fifth aim concerns private banking. In January 2019, MoraBanc entered into an exclusive agreement with Goldman Sachs Asset Management to offer unique investment services in Andorra, such as portfolio management and advisory services. The agreement provides differential value for MoraBanc clients, enabling them to obtain exclusive information and a more personalised range of products and services. Information regarding their portfolio's performance can be viewed via MoraBanc Digital, making it easier for users to assess their investments.
Leading the way
To be viewed as a digital trailblazer, businesses must focus on commitment, adaptability and teamwork. We have displayed commitment through our efforts to implement digitalisation, viewing it not as an option but a necessity that allows us to offer a better service to our clients.
Similarly, adaptability has been fundamental in allowing us to make changes before our competitors, including launching a new website and app, which has shown us to be a benchmark digital bank. Solid teamwork has also been essential in ensuring that everyone at the bank is working towards the same goal of making MoraBanc Digital a reality. From our first meeting about the institution's digital future to the consolidation of the project, many hours have been dedicated to creating a digital identity that satisfies our clients and the bank's other stakeholders – shareholders, employees, suppliers and Andorran society.
We apply one ethos to everything we do: we are modern, innovative, accessible, efficient and trustworthy. These values, when transferred to the digital world, enrich our products and services. We want our clients to see us as a bank that responds to their needs and maintains remote channels that give them the freedom to operate at any time and from any place – all our metrics tell us we are achieving this.
We've seen remarkable results since launching our digitalisation project in December 2016. Our internal digital banking report, published in April 2019, found a 77 percent increase in digital users, a 181 percent increase in access to online banking across all devices and a 709 percent increase in clients conducting banking through our app.
MoraBanc is optimistic about the future. We are not Andorra's biggest bank, but the way we have dealt with change in recent years has seen us receive a great deal of recognition. After successfully finalising our transformation strategy, we started a new plan focused on achieving constant, unlimited growth.
We have all the ingredients to make progress: a solid balance sheet, a talented and efficient team, agreements with first-class partners such as Goldman Sachs, and a well-defined, attractive business model in which digital banking plays a hugely important role.