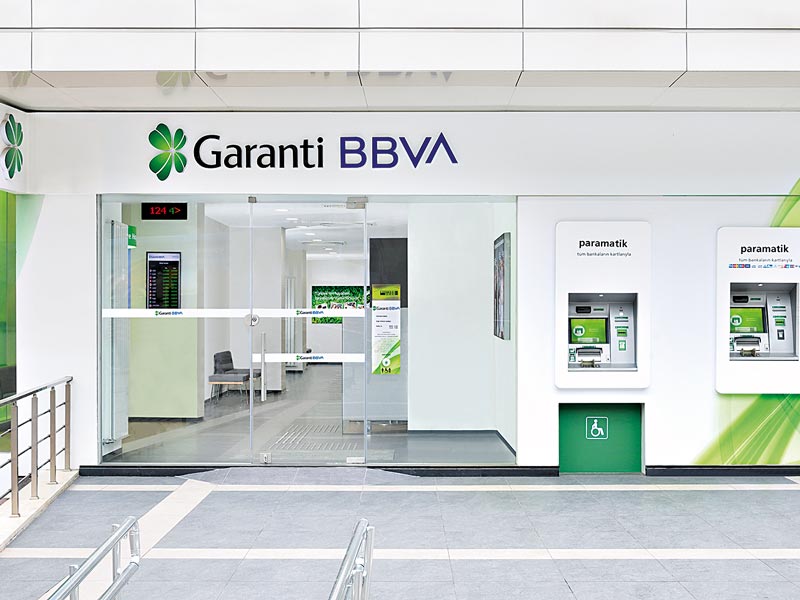 &nbsp
Author:
Ceren Acer Kezik, Executive Vice President of Retail Banking, Garanti BBVA
Established in 1946, Garanti BBVA is Turkey's second largest private bank with consolidated assets close to TL1.472trn ($77bn) as of March 31, 2023. Garanti BBVA is an integrated financial services group operating in every segment of the banking sector including corporate, commercial, SME, payment systems, retail, private and investment banking together with its subsidiaries in pension and life insurance, leasing, factoring, brokerage and asset management, as well as international subsidiaries in the Netherlands and Romania. With 18,552 employees the bank provides a wide range of financial services to its almost 24 million customers through an extensive distribution network of 825 domestic branches, nine foreign branches, seven in Cyprus and one in Malta, and one international representative office.
How does Garanti BBVA support its clients towards financial health, an idea that's gained increasing importance in recent years?
Financial health is a key area of focus for us. We provide personalised, timely and accurate advice to our customers by leveraging big data and artificial intelligence. In today's world, where digitalisation provides such ease, we believe that investing in personalised customer experience has become even more important. We support recommendation systems that help our customers make the right financial decisions for them, with smart solutions integrated into next-generation payment technologies. We analyse our customers' spending habits and other financial behaviours to help develop dynamic recommendations for them.
In 2021, we launched a feature called 'My Status' in the Garanti BBVA mobile app. It notifies our customers of important expenses and directs them towards saving and controlled spending. With different financial recommendations and action plans developed in 2022, an average of four million customers used 'My Status' monthly. We have also brought a 'Card Check-Up' function to our mobile application for customers whose credit card applications are rejected. In the case of declined applications, we provide personalised advice to increase the likelihood of approval next time.
In branch, our customer relationship managers provide one-to-one financial advice for products such as deposits, investment funds and fixed-income securities. In the coming period, we aim to increase awareness and responsibility for accessing financial services, introduce more young people and women to banking, expand our service portfolio, develop our digital functions and maximise customer satisfaction. All this helps us differentiate ourselves in a crowded market.
How does Garanti BBVA benefit from AI in areas such as technology, digitalisation and customer experience?
We are actively incorporating advancing technologies and data sources into our business model to take a more analytical approach to customer management. By using advanced data analytics, machine learning and artificial intelligence, we aim to enhance our operational efficiency and improve business results.
Working towards our goal of making our technological infrastructure more agile and robust, in 2022 we integrated new machine-learning and deep-learning models into 77 projects. That same year, Ugi, Turkey's first AI-powered smart assistant, successfully engaged with more than 5.1 million customers, resulting in over 53 million interactions. With its impressive natural language processing abilities, Ugi was able to increase its unique user count by over 29 percent. Our ongoing efforts to position Garanti BBVA Mobile as the primary channel for customer interaction and to continue developing Ugi's capabilities have contributed to the system's understanding capacity reaching over 90 percent.
We have also developed an AI-supported analytical model that automatically categorises customer feedback received through the internet banking platform. We are currently in the process of improving our voice response system to provide customers with even more personalised and efficient financial solutions. Through these technological innovations and our commitment to customer satisfaction, we are dedicated to simplifying our customers' financial lives.
How did the Turkish banking sector – and Garanti BBVA in particular – adapt following the transition to digital onboarding in Turkey?
With the increasing importance of digitalisation and technology in our lives, digital banking, particularly through mobile applications, has become a primary channel for customers. According to TBB data, in the past five years the number of customers using mobile banking has nearly tripled in the banking sector in Turkey. At Garanti BBVA we have seen the number of active mobile users increase from 7.7 million at the end of 2019 to over 13 million by the end of 2022.
We are able to carry out almost all transactions, including the customer onboarding process, through mobile banking applications without the need for physical branch visits. We continue to work on improving and developing our digital customer onboarding process. Our focus is on increasing the variety of products and transactions, enabling all customers to access banking services through our digital channels and providing a seamless end-to-end experience.
How will the rise of open banking impact the banking industry and its customers in Turkey?
With the impact of digital transformation and regulatory changes, open banking gained momentum towards the end of 2022. Open banking enables the democratisation of data, allowing customers who want to consolidate their financial information under one roof to enjoy the convenience of viewing and managing their accounts from different banks in one place.
We have been focusing on tackling the climate crisis and promoting inclusive growth towards sustainable development
We have introduced account consolidation and initiating payments applications to our individual, personal company and corporate customers through the Garanti BBVA mobile app and website, using open banking services that eliminate boundaries in banking. Customers who struggle to manage accounts with different banks can now easily view their balances and transactions without the need for separate user information and password entries. Moreover, they can transfer money between their different accounts with ease.
As part of our digitalisation strategy in 2023, we plan to bring direct debits, bulk transfers/EFTs and supplier finance product applications to our digital channels. Additionally, we will develop API services for the infrastructure of our bulk transfers/EFTs and direct debit services. We will also complete the development of e-receipts and begin providing our customers with e-signed receipts, which will replace wet-signed receipts.
How do you create value for your stakeholders?
We focus on creating long-term value for all stakeholders with our responsible banking model. We create value in multiple ways: by providing loans, creating business opportunities, offering a safe work environment, and developing social investment programmes.
Our customer-centric service model is also key to value creation. By leveraging the possibilities of technology to design better channels of engagement, we gain a closer connection with our customers. We also conduct regular surveys to measure our performance in meeting customer expectations. In 2022, as a result of this approach, we gained 2.8 million new customers and reached 24 million in total.
Tell us about your approach to digitalisation
Our long-standing investment in digital banking and technological infrastructure has allowed us to maintain our leading position in this field. Over the past three years, our active mobile customer base has grown by more than five million, reaching 13 million in total. Approximately 80 percent of our customers actively use mobile banking, with our digital channels accounting for nearly 98 percent of basic transactions, including ATM usage. Furthermore, more than 85 percent of our product sales are made through digital channels. These figures not only help us maximise customer experience but also contribute to a more efficient business model.
Digitalisation increases the effectiveness of our branches, allowing us to create more space for value-added work. And while our branch network plays a critical role in customer engagement, it remains our most important channel for customer acquisition.
How do you integrate sustainability into your retail banking activities?
We focus on the direct impact on natural resources through our own operations, including energy, water and climate. Through social investments and partnerships, we contribute to the socio-economic development of multiple communities.
Awareness of environmental, social and corporate governance (ESG) is increasing. Sustainable investments are gaining prominence both globally and in our country. We see that the investment world is beginning to reshape around this concept. Garanti BBVA Asset Management aims to achieve both high financial performance and support for a sustainable future by investing in the capital market instruments of foreign and domestic companies that have integrated ESG criteria into their investment decisions. Our sustainability-themed funds include the Clean Energy Variable Fund, ESG Sustainability Fund Basket, Sustainability Stock (Turkish Lira, TL) Fund and Garanti BBVA Climate Index Stock (TL) Fund.
As of March 31, 2023, our sustainability investment funds reached a total of TL450m ($23m) and our Sustainability Stock Pension Investment Fund reached a size of TL1bn ($51m). These funds, which include different investment strategies and asset allocations, will be important alternatives for investors who want to invest their savings in sustainability and achieve potential returns in TL with a medium to long-term perspective.
At Garanti BBVA, we have been focusing on tackling the climate crisis and promoting inclusive growth towards sustainable development for over 17 years. Our sustainability-focused products include loans for eco-friendly vehicles and electric bikes and shopping credit opportunities for the financing of electric vehicle charging stations. With the increasing popularity of rooftop solar power systems, we also provide customers who want to charge their vehicles with energy from sustainable sources, with credits through our affiliated companies.
Furthermore, we have launched the 'My Ecological Status' feature on Garanti BBVA Mobile to help increase customers' awareness of the steps they can take in their own lives to combat the climate crisis. Customers can view their carbon footprint and make suggestions about how to reduce it. Those who opt for digital onboarding, digital account statements and the like will trigger our support for planting schemes.