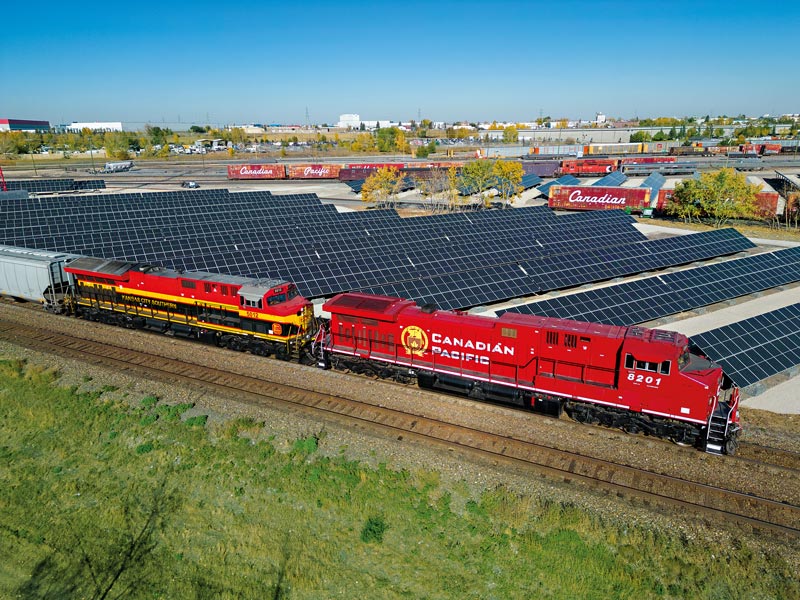 &nbsp
Author:
Glen Wilson, Assistant Vice-President Environmental Risk, CPKC
On April 14, 2023, Canadian Pacific (CP) and Kansas City Southern (KCS) combined to create Canadian Pacific Kansas City Limited (CPKC). With global headquarters in Calgary, Alta., Canada, CPKC merges two historic railways to deliver transportation solutions across the only single-line transcontinental railway linking Canada, the US and Mexico.
At CPKC, we believe that our future growth and success are inextricably linked with our ability to integrate meaningful sustainability values and practices into our daily operations. The formation of CPKC marks a crucial moment for the company, a unique opportunity to evaluate our practices and advance our unwavering commitment to sustainable, long-term growth.
Investing in a sustainable future in all areas of our business is not only the right thing to do, but also a critical part of how we operate today and are building for tomorrow. We believe that our integration of the KCS network will advance CPKC's ability to deliver enhanced competition and unsurpassed levels of service, safety, and environmental benefits for shippers and communities across the US, Mexico and Canada.
Rail has a vital role to play in transitioning to a low carbon economy. Transporting freight by rail is four times more fuel efficient than by truck and produces an estimated 75 percent less greenhouse gas (GHG) emissions. Anticipated environmental benefits of CPKC include the avoidance of more than 1.6 million tons of GHG emissions due to the anticipated improved operational efficiency of CPKC versus current operations and another 300,000 tons of GHG emissions with the diversion of 64,000 trucks to rail for a total reduction of 1.9 million tons of GHG emissions over the next five years.
Diverting 64,000 long-haul truck shipments to rail annually with new CPKC intermodal services will reduce total truck vehicle miles travelled by almost two billion miles over the next two decades, saving US$750m in highway maintenance costs, as previously reported in our April 14, 2023 press release: 'Canadian Pacific and Kansas City Southern combine to create CPKC.'
Sustainably driven
This is a great start, but there is much more to do as a company and rail industry. When it comes to maintaining the safety of our people, communities and the environment, our work is never done. CP's culture of safety, supported by its history of ongoing investments in core infrastructure and technology, aligns with KCS's priorities, allowing the combined system to continue efforts in maintaining a strong safety focus. CPKC places safety at the forefront of everything it does.
CPKC is an industry leader in sustainability, but there is still more we can do. We are focused on further integrating sustainability policies, programmes and practices into our everyday operations.
This work is already underway, and we are making significant strides in our efforts to align business strategy with economic growth, environmental care and social well-being across our network. As separate entities, both CP and KCS have demonstrated positive actions taken to advance environmental, social and governance (ESG) performance.
KCS and CP were among several partners involved in the Save the Monarch Butterfly Tree Challenge North American Boxcar Tour. This collaborative fundraising initiative was designed to help the monarch population by purchasing and planting 60,000 oyamel trees at El Rosario Monarch Butterfly Sanctuary in Michoacán, Mexico. The CPKC rail network aligns with the monarch butterfly's annual migration route, providing a unique opportunity to help protect and restore critical habitats. We surpassed our fundraising goal, raising more than US$120,000.
After a two-year, Covid-19-related hiatus, CP and KCS welcomed the return of their Holiday Trains in 2022. More than CAD$1.3m was raised and 121,000 pounds of food collected for local food banks in communities across the CP network. KCS's Holiday Express raised more than US$215,000 to benefit the Salvation Army in 20 communities across eight states.
In 2022, front-line KCS leaders enhanced their safety skills and knowledge with in-depth training at one of 20 safety management workshops. Participants sharpened their analytical skills, were assessed on their understanding of safety and operating rules and took part in a critical evaluation of KCS's safety culture. CP held quarterly system-wide safety walkabouts, providing leaders, management, employees and members of local health and safety committees the opportunity to engage in meaningful discussions aimed at creating stronger workplace safety.
Also in 2022, CP became the first freight rail company in North America to participate in the United Nations (UN) Global Compact, a voluntary leadership platform for the development, implementation and disclosure of socially responsible business practices. We are proud to commit to aligning our strategies and operations with 10 universally accepted principles in the areas of human rights, labour, environment and anti-corruption and taking action in support of the UN Sustainable Development Goals.
CPKC climate strategy
CPKC is combining forward-thinking planning with concrete measures and practices aimed at addressing the challenges of climate change. As we strategically grow our business, we will continue to focus on curtailing our own GHG emissions while supporting further actions across the broader transportation sector.
Implementing meaningful action on climate change involves continually evaluating our progress against our climate objectives. As we integrate the operations of KCS into ours, we are enhancing our approach, programme objectives and reporting of the combined CPKC. While we are in the initial stages of this process, we are making the following commitments with respect to climate action at CPKC:
1) CPKC has joined the Science Based Targets Initiative's (SBTi) Business Ambition for 1.5°C global campaign and is committed to developing a long-term CPKC emissions reduction target aligned with a 1.5°C future within the next two years.
2) The operation of our locomotive fleet represents CPKC's largest source of emissions. Both CP and KCS had previously adopted standalone targets to reduce locomotive GHG emissions by 2030. As part of our sustainability integration, we have established a combined science-based emissions reduction target for CPKC that was recently validated by the SBTi. CPKC has committed to reducing our well-to-wheel (WTW) locomotive emissions by 36.9 percent per gross ton-mile by 2030 from a 2020 base year.
But we're not stopping there. Longer-term, the industry needs a transition from fossil fuels. Our industry-leading Hydrogen Locomotive Programme is developing North America's first zero-emissions line-haul freight locomotives. This first-of-its-kind programme involves retrofitting diesel locomotives with hydrogen fuel cells and battery technology. We achieved a key milestone in 2022 with the completion of the second mainline test and the first revenue move using our first hydrogen locomotive.
We are also working towards a goal of three operating hydrogen locomotives by the end of 2023 and advancing plans to build two hydrogen production refuelling facilities in Canada. This programme has the potential to substantially reduce GHG emissions during locomotive operations and is generating critical industry knowledge and experience integral to future commercialisation and development activities.
We are also focused on near term reduction of GHG emissions from our existing fleet of locomotives and, in March 2023, CPKC initiated a biofuel trial with 10 of our locomotives operating in British Columbia. Through this trial, CPKC is working with our fuel and locomotive equipment suppliers to test renewable fuels consisting of a blend of 20 percent biofuel and 80 percent regular diesel. The addition of advanced biofuel blends to our operations has the potential to substantially reduce GHG emissions from our locomotive fleet.
Simultaneously, we have updated our carbon emissions calculator to include the combined CPKC rail network. This innovative tool is designed to provide users with the ability to estimate GHG emissions related to freight transportation by CPKC's rail services compared to long-haul trucking alternatives, aiding in educating shippers on the environmental advantages of moving with rail versus truck. Updating our carbon emissions calculator is part of our ongoing engagement and collaboration with stakeholders on climate-related issues.
Recognition
While the climate strategy of our combined company is in the early stages, we are building on the solid sustainability foundation laid out by CP and KCS. Both companies were recognised in their own right for sustainability achievements in 2022. CP is proud to have been named to the CDP Climate Change A-List with an A rating; included on the Dow Jones Sustainability Index World and North America Indices; and recognised as one of Canada's Top 100 Employers for 2023. KCS was also named to the CDP Climate Change A-List with an A- rating; received ISO 14001 and 45001 certifications for its Shreveport, LA railyard operations; placed sixth among Transport and Logistics companies on Newsweek Magazine America's List of Most Responsible Companies; and was recognised with Empresa Socialmente Responsible (ESR) certification from Cemefi, the Mexican Centre for Philanthropy.
These recent accomplishments demonstrate CPKC's commitment to maintaining operational efficiency and our focus on safety, meeting our customers' transportation needs and supporting communities across our network. Operating sustainably remains imperative to CPKC's future growth and long-term success as an organisation. Through a shared legacy of innovation, responsible business practices and commitment to excellence, we are building a new future to create value for our stakeholders and a sustainably driven business.
Please see our filings with securities regulators in Canada and the US for additional information and cautionary statements relating to our sustainability efforts, including factors that could affect the forward-looking information in this article.