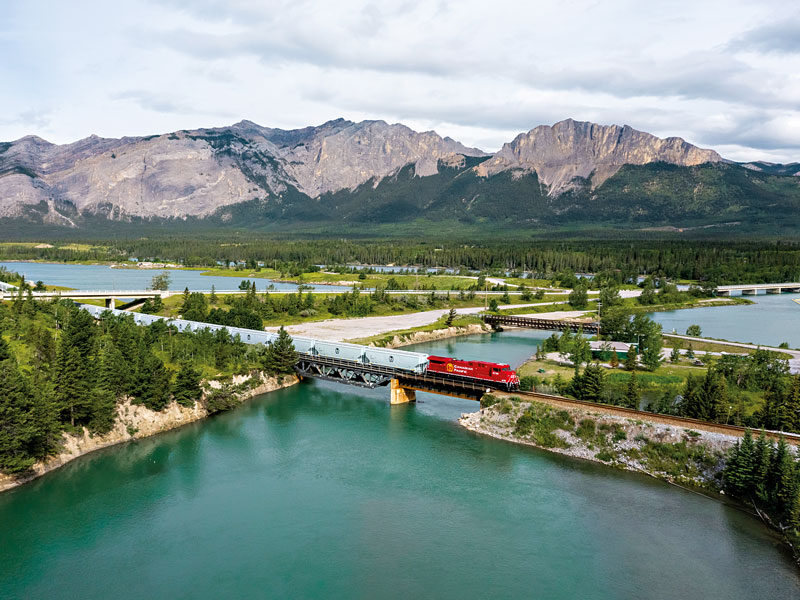 A Canadian Pacific train traversing the Canadian Rocky Mountains&nbsp
Canadian Pacific (CP) is committed to serving North America and the world through efficient and sustainable rail transportation. For more than 140 years, CP has embodied strategic, long-term thinking. We recognise that integrating sustainability into our business processes is imperative to future growth and lasting success as an organisation. As we look ahead, we remain committed to planning for the long term and confronting sustainability challenges, including those created by climate change.
CP's commitment to being sustainably driven has positioned our company as a leader in the freight rail sector. Our sustainability efforts have focused on improving fuel efficiency, evaluating innovative zero-emissions technology, creating a more sustainable supply chain, increasing diversity and inclusivity in the workplace, and investing in the health and safety of our employees as well as the communities in which we operate. Further, our investments in a more sustainable freight transportation sector help our customers realise their own sustainability objectives.
Commitment to climate leadership
In North America, shipping goods by rail is the most energy-efficient way to transport freight long distances over land. Rail is three to four times more fuel-efficient than highway transportation and generates up to 75 percent less greenhouse gas (GHG) emissions, accounting for only 2.2 percent of GHG emissions from the transportation sector. A single-unit train keeps more than 300 trucks off public roads, benefiting both communities and the environment. We are excited about the role that the rail industry plays in helping to reduce overall transportation-related GHG emissions and look forward to being a leader in the transition to a low-carbon economy.
In recognition of the global nature of the fight against climate change, CP continually aims to align with recognised initiatives that bring stakeholders together. We are committed to leveraging our leadership role within the rail industry to support the goals laid out in the Paris Agreement and emerging best practices to limit global temperature rise to well below 2°C. Our ability to influence GHG emissions reductions extends beyond our operations and we are committed to advocate and collaborate across our value chain in ways that drive climate action.
Last year, we released our first climate statement acknowledging the need for timely action and reiterating our commitment to address climate change through innovation and industry-leading best practices. CP has completed a comprehensive scenario analysis to understand the full range of possible climate change impacts to our business and align with the recommendations of the Task Force on Climate-related Financial Disclosures.
We are diligently working to formalise the integration of climate-related risks into our enterprise risk management mechanisms and develop strategies to mitigate risk and increase CP's operational resilience under various climate change scenarios. We are in the process of developing science-based climate targets to guide our climate action for the next decade and beyond.
Industry-leading climate action
CP has improved fuel efficiency by 44 percent since 1990, through advancements in technology, investments in innovation and improvements to operating practices. While CP regularly outperforms industry averages for fuel efficiency – 13.8 percent below the 2020 North American Class I freight railway average – we understand the need to further reduce the carbon footprint of our locomotives and operations. Our support for the advancement of alternative fuels and investing in emerging technologies complements our longer-term climate ambition.
Initiated in 2020, CP's hydrogen locomotive programme aims to develop a zero-emissions line-haul locomotive by retrofitting a diesel-powered road service locomotive with hydrogen fuel cells and battery technology. Once the pilot locomotive is operational, we will conduct qualification testing and service trials to evaluate the technology's readiness and future opportunities in the freight-rail sector.
As nearly the entire North American freight locomotive fleet is currently diesel-powered, this globally significant project positions CP at the leading edge of freight sector decarbonisation.
While our locomotives are the principal source of CP's GHG emissions, we are also identifying opportunities to reduce emissions across our other operations. We recently installed a solar energy farm project at our headquarters, which will generate up to five megawatts of electricity while preventing an estimated 2,600 tonnes of carbon emissions annually. This project is equal to taking approximately 570 cars off the road and is expected to generate more power than is consumed annually at CP's headquarters.
Giving back to neighbouring communities
CP supports the communities in which we live, work and operate. Since 2014, CP's community investment programme, CP Has Heart, has helped raise over CAD$23.3m to improve the heart health of children and adults in North America. CP's Giving Engine is our workplace giving programme, supporting causes that matter most to our employees by matching individual donations up to $1,500 per employee per year.
In addition to our community investment and workplace giving initiatives, in 2020, CP supported programmes and organisations working to address broader social objectives. CP donated more than CAD$1.1m to four North American charities working on the front lines to provide critical supplies and relief during the COVID-19 pandemic. Also in 2020, CP responded to the ongoing social unrest and social injustice across the US by donating more than CAD$1.3m to three organisations in Minneapolis, the location of CP's US headquarters. The donations support our commitment to diversity and equality through assisting organisations that promote social justice.
Diverse and inclusive work environment
Diversity is a core value at CP and we believe that different backgrounds, experiences and perspectives enhance creativity and innovation. In 2020, CP released a commitment to diversity and inclusion outlining our initiatives and efforts to progress and support a more representative and inclusive workplace. CP's approach to addressing barriers to diversity and inclusion includes advancing our progress on meeting and exceeding our workforce representation diversity goals in Canada and the US regarding women, Aboriginal peoples, visible minorities, persons with disabilities and military veterans.
CP is proud to have a Board of Directors that consists of 45 percent women, and the first Class I railway in North America with a woman board chair. CP partners with external organisations, including: the 30% Club, Catalyst, the League of Railway Women and the Women's Executive Network to continue to support gender diversity and inclusion in the rail sector. CP's Executive Leadership team and board of directors receive progress reports on our efforts to increase diversity and inclusion in the workplace.
Internally, CP introduced three diversity councils in 2020 focused on Indigenous, Racial and Gender and LGBTQ+ diversity. Each council is chaired by a member of CP's executive committee and works to ensure we consider diversity and inclusion when we make decisions, provide feedback on corporate direction and promote initiatives that relate to each council's area of focus. These councils offer educational opportunities and provide a safe forum for CP employees to speak about their experiences.
In North America, shipping goods by rail is the most energy-efficient way to transport freight long distances over land
CP recognises the skills and experience that veterans bring to the workforce and aims to be the workplace of choice for veterans. CP has been named a Gold Top 10 Military Friendly Employer for 2021 and invests in programmes that include a veteran's mentorship programme, management training initiative and social network. Fostering an inclusive environment where our employees feel empowered to strive for success supports our high-performance culture and is integral to our future growth and success as an organisation.
Investing in innovation to improve safety Safety is foundational to everything we do, and as such, we never prioritise business objectives above safety. Every employee is responsible for instilling a culture of safety at CP. We empower our employees to take responsibility and challenge them to do everything in their power to ensure everyone gets home safely every day. CP finished 2020 with our lowest ever Federal Railroad Administration (FRA)-reportable rates for both personal injuries and train accidents.
Our organisational focus on innovation and deployment of technology supports operational efficiencies and enhanced employee and public safety. CP is at the forefront of predictive analytics in our industry, using data to anticipate potential safety issues before they occur. Our investments have enabled us to proactively monitor for cracked wheels, bearing failure and track damage at the earliest stage of detection.
These investments in technology have supported our continued performance of having the lowest FRA-reportable train accident frequency of all North American Class I railways for the 15th consecutive year. CP intends to continue building upon our legacy of innovation, leadership and precision scheduled railroading to provide the highest standard of transportation solutions.
Founded in 1881 to connect Canada as a nation, sustainability at CP is rooted in a long-standing legacy of building for the future.