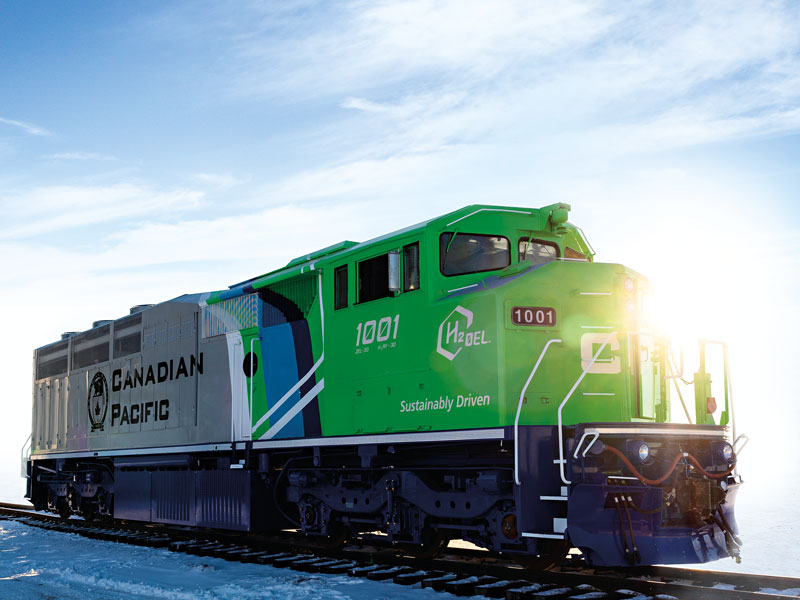 &nbsp
Author:
Glen Wilson, Managing Director Environmental Risk, Canadian Pacific
As a provider of sustainable rail and intermodal transportation services connecting North America and the world, Canadian Pacific (CP) is proud to be an industry leader on climate action. A changing climate is the challenge of our generation, and there is a need for new technologies and approaches to accelerate the transition to a low-carbon future. CP is rising to this challenge by continuing to adapt our business and build resilience into our operations to prepare for a low-carbon future.
In North America, shipping goods by rail is the most energy-efficient way to transport freight long distances over land. In 2020, the transportation sector accounted for approximately 27 percent of Canada and US greenhouse gas (GHG) emissions; however, transportation of freight by rail represented only 2.3 percent sector-wide. Rail is four times more fuel-efficient than highway transportation and generates up to 75 percent less GHG emissions. A single-unit train can keep more than 300 trucks off public roads, benefitting communities and the environment.
Although the freight rail sector already provides one of the most fuel-efficient means of transport, systemic and technological advances are required to decarbonise the industry further. By investing in innovation, encouraging new partnerships, optimising our operations and maintaining a continual focus on the fundamentals of precision scheduled railroading, CP is already taking meaningful steps to drive positive impact. As we envision the future of global supply chains, freight transportation by rail will continue to play a leading role in a low-carbon future.
Climate strategy
The transition to a low-carbon economy presents challenges and opportunities for the transportation sector. To align CP and our stakeholders as we navigate this dynamic change, we published CP's first Climate Strategy in 2021, charting our approach to managing potential climate-related impacts across the business while capitalising on low-carbon opportunities.
Two science-based GHG reduction targets inform CP's Climate Strategy to guide our climate action through 2030. Representing our most significant source of emissions, CP has committed to reducing GHG emissions intensity from locomotive operations by 38.3 percent from a 2019 base year. This target pathway aligns with the best available climate science and has been approved by the Science Based Target Setting Initiative (SBTi). To address emissions associated with our rail network infrastructure, including buildings, facilities and work equipment – a small but critical part of our carbon footprint – CP has committed to reduce emissions from non-locomotive operations by 27.5 percent by 2030 from a 2019 base year.
Implementation of the Climate Strategy is led by CP's Carbon Reduction Task Force and supported by CP's industry-leading engineers and operations experts. This team is driving internal focus on decarbonisation and evaluating potential levers to reduce GHG emissions, including new technologies, alternative fuels and operating practices. As part of this work, CP is formalising the integration of climate-related risks into our enterprise risk management mechanisms and developing strategies to mitigate risk and increase operational resilience under various climate change scenarios. CP is also focused on industry leadership and partnerships with key stakeholders to implement our Climate Strategy. We recognise that our ability to influence GHG emissions reductions extends beyond our operations. We are committed to advocating and collaborating across our value chain in ways that drive climate action.
Hydrogen locomotive programme
CP has a long history of leading on locomotive fuel efficiency, regularly outperforming our industry peers. Through advancements in deploying locomotive technology, investments in innovation and improvements to operating practices, we have improved fuel efficiency by 44 percent since 1990. This same approach to innovation and focus on efficiency is critical as CP confronts the significant decarbonisation needed to accomplish the objectives of our Climate Strategy.
Freight locomotives are expensive, long-lived assets and are subject to frequent upgrades and refurbishment throughout their useful life. Implementing a practical means to convert diesel locomotives to low carbon emitting operations will be critical to support the demand for freight rail services in the years to come. To address this challenge, CP announced plans in late 2020 to develop North America's first line-haul, hydrogen-powered locomotive using a combination of hydrogen fuel cells and battery technology to power the locomotive's electric traction motors. After receiving $15m in funding from Emissions Reduction Alberta in 2021, CP expanded the hydrogen locomotive programme to include the conversion of three line-haul locomotives and the installation of two hydrogen production and fuelling facilities.
Both hydrogen production and fuelling facilities will deploy electrolyser plants to produce hydrogen fuel from water. One of these plants will be located at CP's Calgary headquarters and will operate on renewable electricity from the 5MW solar farm project which became operational in 2021. This hydrogen production plant will operate on renewable power to produce a zero GHG emissions hydrogen fuel to power CP's hydrogen locomotive.
As the pilot locomotives become operational, qualification and road and yard testing trials will be conducted to evaluate the technology's readiness and explore future opportunities for deployment into freight-rail service. With the first locomotive expected to be ready for revenue service in late 2022, this initiative has the potential to lead transformation within the industry and generate critical industry knowledge and experience that will inform future commercialisation.
This globally significant project positions CP at the leading edge of freight sector decarbonisation. CP's programme is expected to spur innovation, demonstrate climate leadership and encourage supply chain collaboration to expedite the advancement of zero-emissions fuel cell technology for the freight transportation sector.

Spotlight on hydrogen power
Hydrogen fuel cell/battery hybrid propulsion technology is being tested worldwide as a viable alternative fuel for the transportation sector with particular promise for long-haul heavy freight transportation systems including rail. Locomotives already operate with hybrid systems using electric traction motors powered by diesel engines. By removing the diesel engine and alternator and replacing it with zero-emissions technology, the existing locomotive platform can leverage the electric input from hydrogen fuel to power the traction motors. Deployed in this way, hydrogen fuel cell technology may be capable of eliminating GHG emissions from locomotive operations. In addition, hydrogen power offers additional environmental benefits including reduced operational noise and vibration and eliminating air emissions generated by diesel-electric engines.

Sustainably driven
As we continue integrating sustainability principles into our business, we constantly challenge ourselves to improve our practices. This dedication benefits our employees, suppliers, and the communities in which we operate. Our investments in a more sustainable freight transportation sector also help our customers realise their sustainability objectives.
As CP plans for its proposed combination with Kansas City Southern, which is subject to regulatory approval by the US Surface Transportation Board, to create the first single-line railroad linking the US, Mexico and Canada, we are encouraged by the opportunity to expand the reach of our sustainability efforts and deliver value for our customers and shareholders. This combination is expected to avoid more than 1.5 million tons of GHG emissions within five years due to efficiency improvements and divert 64,000 long-haul truck shipments to rail annually, further eliminating emissions and reducing impacts on highways.
A single-unit train can keep more than 300 trucks off public roads, benefitting communities and the environment
We recognise that we play an important role in aligning with international frameworks and supporting broader sustainability objectives. CP has recently joined the United Nations Global Compact initiative, committing to operate in a sustainable and responsible way that supports human rights, labour, environment and anti-corruption.
Considering the goals and targets articulated in the United Nations Sustainable Development Goals (SDGs), we have examined our sustainability and business strategies to identify where we can make a meaningful impact. We identified five SDGs and 11 supporting targets aligned with our business through this process, where we believe that CP can contribute through internal and external activities.
CP recognises that operating sustainably is imperative to our future growth and lasting success. As we look ahead, we remain committed to confronting sustainability challenges, including those created by climate change, and investing in the innovation and practices needed to achieve long-term sustainable growth.