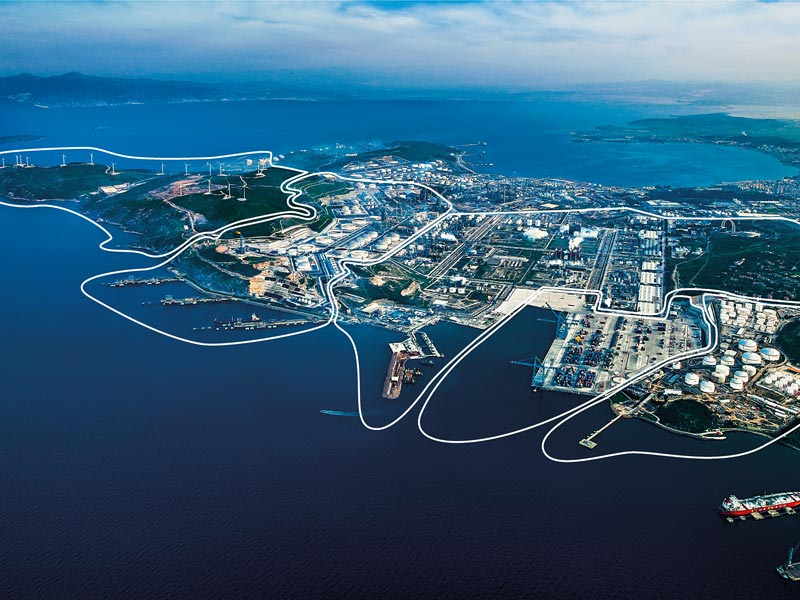 &nbsp
Via an increasingly valuable innovation culture, SOCAR Türkiye has a diverse support R&D programme that draws in start-ups, entrepreneurs and academics. This investment stretches back to 2008 when the State Oil Company of the Republic of Azerbaijan (SOCAR) jump-started substantial Turkish investment with a 51 percent stake in Petkim, now Turkey's biggest petrochemical operator by some margin. Since then SOCAR Türkiye's progress underlies the critical – and growing – economic importance between Turkey and Azerbaijan, helping cut Turkey's import dependency decisively as well as reducing its current account deficit.
The move has also transformed the fortunes of Petkim, operating inside the strategically vital refinery and petrochemical business unit in Aliağa, underwritten by $2bn worth of investment plus an extra $1.6bn for capacity increases and operational upgrades. This investment wave now meets 12 percent of Turkey's petrochemical raw material needs.
Even before the 2008 SOCAR takeover, Petkim – whose supply chain includes strong links to the automotive industry, textiles, cosmetics and detergents – had undergone heavy restructuring. The new investment is also deepening a two-way country relationship, strengthening the Azerbaijan economy as well as supporting Turkey's wider ambitions to be a global gas trading hub.
SOCAR Türkiye collaborates with start-ups, entrepreneurs and digital tech engineers
Pumping out an annual crude oil capacity of 11 million tons the STAR Refinery, which became fully operational in 2019, supplies 25 percent of the country's demand for refined petroleum products.
This facility is underwritten by $6.7bn of investment. Constructed in conjunction with Petkim, STAR represents the sole example of petrochemical-refinery integration in Turkey. Elsewhere, SOCAR Petrol Ticaret handles wholesale and retail fuel with crude oil and marine fuel sales coming under the SOCAR and Hazar brands for fuel distribution. SOCAR MARINE handles marine fuel and SOCAR AVIATION handles aviation. A tightly segmented approach is bolstered by Petkim WPP, a wind power operation with a capacity of 51 megawatts as well as SOCAR Storage, the largest storage facility in the Aegean Region supported by $500m of investment capital.
Petkim WPP was in fact completed in 2017 – French giant Alstom was a key partner – and part of a wider commitment to 'greener' power generation that would help to reduce CO2 emissions.
Currently SOCAR Türkiye provides an uninterrupted natural gas service to over 1.7 million customers and is one of the largest private sector players in Turkey's electricity and natural gas wholesale market. SOCAR Türkiye's Natural Gas Business Unit activities accelerated strongly in 2019 following the purchase of natural gas businesses Kayserigaz and Bursagaz, operational, both, from 2003 and 1992. Deepening its natural gas grip further SOCAR Türkiye is now a majority shareholder of Trans-Anatolian Natural Gas Pipeline (TANAP), extending the company's natural gas interests. TANAP diversifies gas export routes, widening LNG market options and global energy security by providing much-needed competition to Russia. It has changed the energy map of the region by a big margin.
Transporting gas from Azerbaijan to Europe through Turkey, TANAP is a crucial milestone in the successful energy partnership between Turkey and Azerbaijan. It also stands as one of the most significant contributors to Turkey's ambitions of establishing itself as a secure energy corridor. TANAP is additionally owned by other major stakeholders, including BP and Turkish pipeline operator BOTAS.
A portfolio response to innovation
Inside SOCAR Türkiye's Portfolio Management Business Unit sit multiple powerful infrastructure resources that go well beyond refinery, petrochemical and natural gas operations. The first is SOCAR Terminal, the largest port in the Aegean Region, backed with a substantial $400m investment.
Another important component to the wider business mix is SOCAR Real Estate and SOCAR Fiber, plus telecommunications company Millenicom. Undergirding these multi-facing operations is a 5,300 people-strong workforce supported by more than 11,000 experienced subcontractors. SOCAR Türkiye's objective in digital transformation is about connected enterprises and relationships as well as smarter outcomes, at scale.
Significant investments totalling approximately $70m have been made in group companies thus far, with ongoing investments in progress. Recognising the importance of employee digital knowledge and skills, SOCAR Türkiye collaborates with start-ups, entrepreneurs and digital tech engineers early on.
A tight collective approach fosters an ecosystem development and enables seamless collaboration facilitating the exchange of innovative ideas. Through dedicated efforts in digital transformation, Petkim and STAR Refinery were included in the prestigious WEF Global Lighthouse Network in 2020 and 2021.
This widely-respected network comprises only companies that have made highly skilled inroads into Industry 4.0 technologies – sometimes tagged as the Fourth Industrial Revolution – where wireless connectivity and sensors work to monitor and visualise the entire production process, often making autonomous 'smart' decisions en route. In other words, this type of tech changes the way we understand the world of work and productivity. Fundamental to Global Lighthouse Network values is a driving need to develop and scale innovations, creating new opportunities for cross-company learning and collaboration – and SOCAR Türkiye has made significant progress on this journey.
At the sustainable centre
Embracing sustainability as a core principle, SOCAR Türkiye is committed to cleaner solutions. Practically and operationally this means a strategy and roadmap developed to track United Nations Sustainable Development Goals. Each year, sustainability prioritisation analysis studies are conducted to collaboratively determine priorities with the entire stakeholder ecosystem. These goals revolve around societal and community benefits through social responsibility and volunteering programmes. Additionally, combating climate change, which stems from various factors such as energy consumption, greenhouse gas emissions, water usage, wastewater and waste management, and air quality, is given great attention across all operations.
A long-term sustainability strategy, carefully crafted, is anchored to three main pillars: Decarbonisation, a Circular Economy, and Green Finance. With targets set to achieve a 40 percent reduction in SCOPE 1 and SCOPE 2 carbon emissions by 2035 and attain net zero emissions by 2050, SOCAR Türkiye is resolute in its commitment to these goals. It also undertakes a portfolio of five projects funded by the EU, encompassing CO2 capture and energy transition, renewable energy, digital transformation, and environmental solutions. Further collaboration on joint initiatives with universities across Turkey helps to channel resources towards innovative solutions that foster company growth.
SOCAR Türkiye's objective in digital transformation is about connected enterprises and relationships
SOCAR Türkiye knows that environmental technology is key to fewer emissions. The roadmap is still evolving for all in the petrochemical space and recycling is a big part of the picture, particularly with the Circular Economy.
Decarbonisation here involves several levers stretching across day-to-day company operations. More decarbonisation progress comes through capital investment but also ongoing work in production innovation as well as the offset markets, including trading carbon credits.
The Circular Economy focus pulls in chemical and engineering recycling expertise. This means close discussions with partners as well as the Turkish and Azerbaijan governments. It is increasingly sensitive to customers anticipating and expecting better transparency in the supply chain, particularly with raw materials.
Finally, green financing is a major part of the picture deploying energy-efficient fintech tools. But right across all these improvements is information sharing.
Big challenges remain and there are few one-size-fits all answers. But much circular economy progress is being made in the business-to-business space with improved product lifespans; reduced waste is increasingly attractive to a new demographic of investors and consumers demanding sustainable solutions. From a macroeconomic perspective, sustaining life on earth depends on protecting biodiversity.
In the activities SOCAR Türkiye carry out, we aim to prevent environmental pollution, reduce waste and emissions resulting from our production activities, increase resource consumption, and minimise the effects of our actions on biodiversity. With this attitude we implement the necessary practices to limit and control environmental impacts.