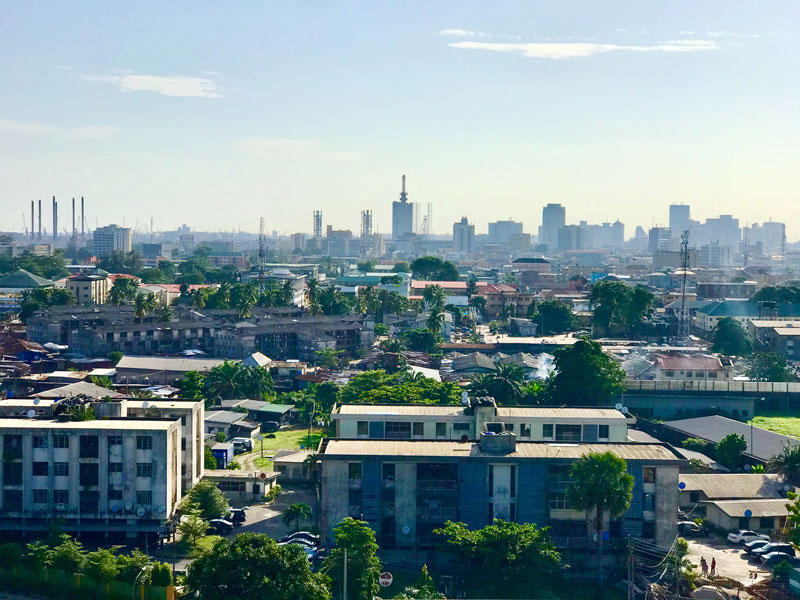 With huge potential to diversify the Nigerian economy from other fossil fuel alternatives, domestic industries are embracing natural gas as Gaslink Nigeria Limited (Gaslink), a subsidiary of domestic energy group Axxela, steadily expands its natural gas pipeline network into the nation's transformative industrial clusters.
Today, Gaslink operates an exclusive natural gas distribution franchise in the Greater Lagos Industrial Area (GLIA) through its 100km-plus pipeline network with a throughput capacity of about 140 million standard cubic feet a day (MMSCFD). It is a testimony to the demand for clean and reliable energy that Gaslink accounts for a large proportion of Nigeria's domestic gas distribution to industrial and commercial users. This number continues to rise with the latest total at 185 industrial customers.
One of the most recent customers for Axxela's clean energy is Rite Foods, a fast-growing food and drinks manufacturer that was connected to an 18km-long natural gas pipeline in Ogun State in the south-west of Nigeria earlier this year. From the moment Rite Foods switched over to the pipeline, it began to record significant savings in energy costs.
The commissioning marked yet another milestone for Axxela, which is continuing to develop the pipeline system, known as the Sagamu Gas Distribution Zone (SGDZ), to provide natural gas to companies in the region.
Through its subsidiary, Transit Gas Nigeria Limited (TGNL) and long-time partners Nigerian Gas Marketing Company (NGMC), Axxela has been delivering natural gas in the Sagamu corridor since 2019 to a wide variety of companies such as Apple & Pears Limited, West African Soy Industries Limited, Emzor Pharmaceuticals, Celplas Industries FZE and Coleman Technical Industries Limited.
All of these powerhouse companies play a vital role in the state's economic development, but until recently their operations had been constrained by the total reliance on more expensive alternative forms of energy. However, with the expansion of the Sagamu pipelines in Ogun State, these companies can now enjoy more energy efficiency and plan for a bigger future in Nigeria.
And there's more to come. As Axxela's Chief Executive Officer, Bolaji Osunsanya, explained to World Finance: "Our present positioning enables us to significantly increase our industrial and commercial client footprint across the south-western corridor. The natural gas advantage enables the development of self-sustaining industrial clusters to bolster Nigeria's industrialisation and socio-economic empowerment."
Addressing energy needs
Most of Axxela's customers are large users of energy whose price and reliability underpin their success. One of Africa's biggest cement companies, BUA Cement, has "significantly lowered ex-factory prices," according to its chairman, as it meets fast-rising demand for new infrastructure right across Nigeria. The latest projections for cement are an increase in demand by over three million metric tonnes a year, a target that will fundamentally depend on the right kind of energy.
Customer preference, especially among commercial and industrial users, is rapidly shifting from diesel to natural gas
Similarly, Dangote Sugar Refinery, the country's biggest producer of household and commercial sugar, boosted revenues in the first half of 2021 by nearly 28 percent and gross profit by 37.3 percent. Once again, lower energy costs can only have helped the bottom line. Confident in its natural gas supply, Dangote Sugar is now aiming for a global market. The natural gas advantage, as Osunsanya describes it, is now widely recognised. "Customer preference, especially among commercial and industrial users, is rapidly shifting from diesel to natural gas," he said.
"Customers are continuously assessing how to achieve cost savings within their operations because power is often their largest cost centre. The switch from diesel to natural gas is a no-brainer." The numbers tell the story. On average, customers save up to half of their fuel costs with natural gas compared with other fossil fuels. And some save more – one heavy user of energy in the Sagamu region slashed its fuel bill by nearly $250,000 a year. Clean piped natural gas also offers advantages in delivery – the costs of storing and hauling diesel, for instance, are considerable. Another problem with fossil fuels in the past has been the variety of methods by which it is misappropriated, and this has bedevilled sustainable and cost-effective utilisation of the alternative petroleum products in Nigeria.
Transforming gas distribution
With a background in banking and a master's degree in economics, Osunsanya has steered Axxela through a transformational period since 2007, when it was known as Oando Gas and Power. He launched his career as a consultant with Arthur Andersen in Nigeria where he acquired expertise in banking, oil and gas, and manufacturing, which was fundamental in helping him spearhead Axxela's pioneering role in gas distribution. He started with the erstwhile parent company, Oando plc, in 2001 and moved quickly up the ranks to Chief Marketing Officer responsible for nationwide commercial sales.
When Osunsanya took over the top job, Axxela was unable to attract the right kind of debt funding. "A great deal of our early growth was project financing from the local markets," he told the international magazine, The Business Year. However, as the group steadily proved its capabilities, the financial markets came to the party, providing support through lower-cost debt. "With the advent of new investors, we are now reaching out to larger international markets and development finance institutions," he said.
By 2019, the group had invested $500m in gas infrastructure and since then has continued to finance its expansion through lower coupon rates. The overall result has been greater credibility for Axxela and, most importantly, higher-quality energy for Nigeria's pivotal industrial clusters.
The Sagamu Gas Distribution Zone in Ogun State is just the latest project for Axxela. Through its subsidiaries and partners, the group has been pushing clean gas into industrial zones for many years. In the process, it has been plugging a gap in Nigeria's energy infrastructure by coming to the nation's rescue at a time when the government has withdrawn from investment in industrial-scale infrastructure and invited the private sector to take on the task. "Government can't do everything," Osunsanya said.
Today, Gas Network Services Limited (GNSL) delivers compressed natural gas (CNG) through virtual pipelines in the form of trucks. From a Lagos-headquartered hub dispensing 5.2 MMSCFD, the natural gas is compressed into mobile tube trailers and shipped to customers who use it as their primary or alternative fuel.
In a highly sophisticated operation, the Italian-made compressors deliver the CNG at 250 barg (a measurement of gauge pressure) to energy-hungry customers within a 250km radius. Right from the start, the service met a need with customers signing up in droves, including brewers, food manufacturers, logistics and ceramics groups.
The quality of the gas is fundamental to the take-up. The hub, which does not depend on the national grid for its own power, is dried and scrubbed before delivery so that it is clean and moisture-free.
Safety first
And it has all been done without mishaps. By embedding industry best practice throughout the network, Axxela has not recorded a single accident or damage to either its assets or the environment. The group operates under three ISO standards covering health and safety, environmental management, and quality control. In the interests of employees, contractors, business partners, customers and other stakeholders, strict protocols are enforced throughout the group on such issues as permit to work, routine audits and inspections in all daily activities.
Another subsidiary, Central Horizon Gas Company (CHGC), a joint venture between Axxela and the Rivers State government, runs a 17km network into industrial clusters located in the thriving Greater Port Harcourt area.
Another subsidiary, Transit Gas Nigeria Limited (TGNL), is developing a mini-LNG plant in Ajaokuta in partnership with Nigerian Gas Marketing Company (NGMC), which will provide another network of pipelines into Northern Nigeria. Upon completion, the Ajaokuta mini-LNG project will provide the same affordable clean energy to industrial clusters in the North as Axxela does elsewhere in the country. The project is already at an advanced stage.
Axxela is not resting on its laurels. Also on the drawing board is the provision of natural gas to remote communities through a floating storage and regasification vessel, one of the most cost-effective forms of providing energy. And looking further afield, the West African Gas Pipeline offers promising opportunities, particularly so in the wake of the 2018 trade deal, the African Continental Free Trade Area (AfCFTA) Agreement, that promises to boost economic activities in the region.
The 681km-long pipeline links up the gas-rich Niger Delta with neighbouring countries Benin, Togo and Ghana. "Growth for our businesses across Nigeria and Africa will be driven by rising demand for natural gas for electricity, transportation, heating and processing," Osunsanya explains. "This is due to improved living standards, population growth, rapid urbanisation and a larger industrial sector."
The numbers look impressive. Axxela estimates demand for natural gas in those countries alone to grow at a compound growth rate of five percent over the next 20 years. "The West African Gas Pipeline is very important to our long-term business plans," Osunsanya predicts.
Ultimately, Axxela has big ambitions for its energy provision. Current expansion is taking the group beyond Nigeria and into regions along the west coast of Africa. In the meantime, its gas-to-power projects are slated to deliver about 50 megawatts of power to customers in the medium term, with substantial opportunities for further growth. And it all started 20 years ago with the simple conviction that Nigeria's industries needed cleaner and cheaper fuel.