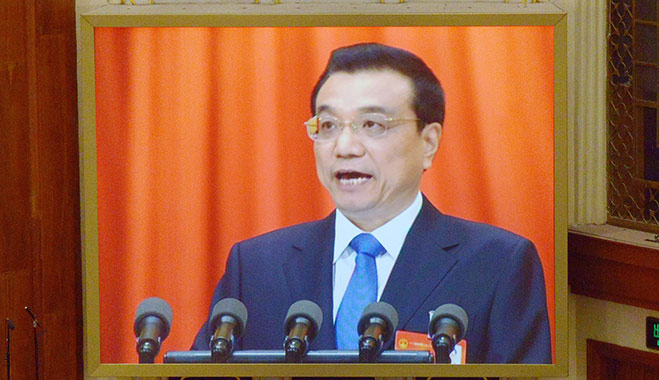 Chinese premier Li Keqiang speaks to delegates at the 12th National People's Conference in Beijing. Li outlined key takeaways from the government's first report since he came into office in late 2013 &nbsp
China's Premier Li Keqiang has released his first work report since taking charge during the latter stages of 2013, with the headline being that China's GDP growth forecast this year will remain unchanged from the last at 7.5 percent.
"We must keep economic development as the central task and maintain a proper economic growth rate," said Li before the annual meeting of the legislature today, as the country sets its sights on ambitious GDP growth.
Some say, however, that the forecast is overly optimistic and that surely growth on this scale cannot help but stymie reforms.
It's unlikely that China's economy can continue at quite the same pace if it's serious about opening up state-controlled industries to private parties, boosting consumer spending and making banks far more market-orientated, among a host of further reforms aimed at achieving more sustainable growth.
Nonetheless, Li insists that the targets laid out in the report will not inhibit reform, and that he will continue to make changes and balance the country's economy.
"Reform is the top priority for the government," said Li to an audience of 3,000 delegates. "We must have the mettle to fight on and break mental shackles to deepen reforms on all fronts."
The 7.5 target "is in keeping with our goal of finishing building a moderately prosperous society in all respects, and it will boost market confidence and promote economic structural adjustment," he said.
China's performance so far this year has been something of a mixed bag, making it difficult to predict what exactly the future holds for the world's second-largest economy.
The country's manufacturing activity fell to an eight-month low in February, according to the official Purchasing Managers' Index, whereas China's annualised trade surplus rose 14 percent in January, only for its export and import growth to slow through February.
The inconsistency of China's performance thus far this year serves to underline the importance of reform if the country is to maintain sustainable growth.
Although a 7.5 percent growth rate would signal a two-decade low for the economy, the figures here should be seen as second fiddle to the essential task of balancing China's economy.
Report highlights
Major targets for 2014:
GDP growth of 7.5 percent
Consumer Price Index increase of 3.5 percent
Creation of 10 million more urban jobs
Keep registered urban unemployment rate at maximum of 4.6 percent
Increase personal incomes in step with economic development
Three key principles: the government should…
… create impetus by deepening reform;
… keep economic performance within a proper range;
… work hard to raise the quality and returns of development, promote industrial upgrading and keep improving people's wellbeing.