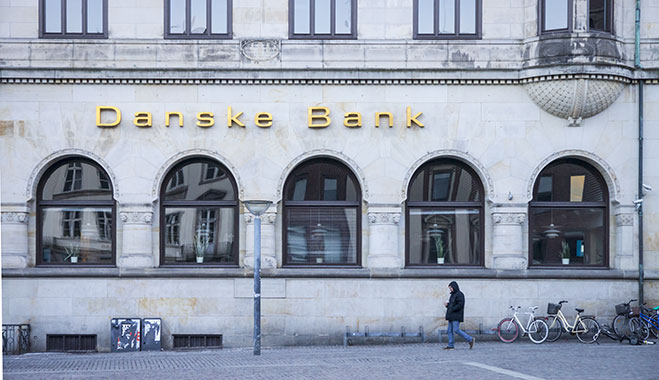 Customers want banking to be easy and convenient, making a presence on all digital platforms a crucial part of modern banking. Danske Bank has been focusing on creating a customer-centric omni-channel business model&nbsp
Author:
Tonny Thierry Andersen, Head of Personal Banking, Danske Bank
December 2, 2014
The digital world is moving faster than ever, driven by technological breakthroughs, demographic changes and new consumer demands. Consumers have fully embraced the opportunities the internet has to offer – from everyday shopping for books, clothing and groceries, to finding their next home and saving for retirement. At the same time, consumers expect the full attention and service of the seller or service provider, no matter whether interaction is digital or face-to-face.
The banking industry is no exception to consumer demands: our customers want banking to be easy, convenient and relevant. This is both an opportunity and a challenge for us as retail banks. It is a unique opportunity to be present in the daily lives of our customers and play a proactive role as their financial adviser. But at the same time, we need to make sure that whatever channel our customers prefer, it will be a positive experience for them every time we are in touch – anywhere, anyhow and anytime.
Customer behaviour has changed significantly over the past 10 years, and we need to acknowledge that we as banks need to design our products and processes to fit our customers' true needs rather than to force customer needs to fit our products and processes. So instead of the conventional product-driven customer approach, we need to fully support the entire journey of our customers in all life events.
Creating a customer-centric omni-channel business model takes strong commitment and proactive understanding of customers' needs, dreams and challenges. Only that way can we as banks achieve the trust of our customers and make them ambassadors of our businesses.
The banking industry is no exception to consumer demands: our customers want banking to be easy, convenient and relevant
At Danske Bank, we have worked intensively with further strengthening the way we serve our retail customers in all channels. Over the past years, we have identified a number of key drivers to boost customer satisfaction. We have launched a number of game-changing initiatives to create a unique value proposition based on the ambition to make banking and financial decisions easy and coherent for our customers.
We believe that the fundamental requirement of all customers is that they have a fair deal with their bank. With our Customer Programme, launched in 2013, we wanted to introduce a programme that systematically rewards customers for the business they trust us with. Basically, the programme is offering customers favourable prices and benefits based on their business volume with us. The more business (loans, investment and savings), the more benefits and favourable interest rates and prices we offer, and in terms of primary touch points, our service model ranges from personal advisers to contact-centre advisory service. Now, 18 months later, more than one million of our customers in Denmark (a country with some five million inhabitants) have signed up, and we have successfully launched a similar programme in Finland.
Strong online presence
Customers want banking to be easy and convenient, and we consider presence on all digital platforms crucial for maintaining a strong relationship with customers and acting proactively. Danske Bank has been first mover in the Nordic region with our award-winning eBanking, mobile and tablet solutions and our P2P app, MobilePay.
Over the past year, we have expanded our online offering with an easy eBanking solution, primarily for elderly customers who find the digital world challenging; introduced online meetings as an alternative to advisory meetings at the branch and, most recently, established the Danske Guide feature in our eBanking and mobile solutions that proactively gives customers targeted recommendations on their financial opportunities.
Consumers shop at conventional shops, pop-up shops and flea markets, as well as at online shops through their laptops and mobile phones. Consequently, our customers demand easy, secure and fast payment solutions that match their shopping preferences at any time. This demand has attracted a number of new market players, like Google and Amazon, which have the ability to create digital eco-systems which include payment services.
At Danske Bank, we want to meet customers' expectations and make sure that all our customers have convenient payment solutions at their disposal – regardless of whether they are online savvy or find it difficult to navigate in the digital world.
Therefore, we offer a range of products tailored to customers' individual preferences:
• With the MobilePay app (our P2P app) we have made smartphones a new channel for easy and quick payment between mobile users and between mobile users and businesses. The app is market leading in Denmark and the most flexible and user-friendly solution for both customers and non-customers.
• With contactless and combo MasterCards, paying with a card at shops becomes even faster and customers can decide whether to pay now or at a later time.
• With our cash card we offer customers an alternative to cash. It can be used in shops and ATMs in Denmark. The card is especially helpful to customers who are not comfortable with PINs and passwords or who sometimes have other persons do their shopping.
Danske Bank's customer-centric omni-channel business model is designed to travel across borders
Customer-centric culture
As retail banks, we need to be extremely aware of the fact that customers want more options – but with less complexity. Conventional online banking and payment solutions will not be enough in the future, we have to think about how we use our substantial knowledge about customers to build and further strengthen their relationship with us. To me, there is no doubt that we have to act proactively and build strong eco-systems that generate additional value for our customers and a new profit pool for us.
At Danske Bank, our next step in strengthening our digital offering to make everyday life easier is developing customer-friendly digital solutions to cover all events in a customer's life. The first area we will work on is home purchases – from the customer's interest in a property to the signing of the loan agreement and handing-over of the keys.
No matter how many digital banking solutions we introduce, no bank will survive without a highly-skilled and motivated front-line staff to advise customers. Whether our advisers meet with customers at face-to-face or online meetings, they are key to ensuring that customers feel welcome, confident and acknowledged, and to making sure that customers experience easy-to-understand, competent and proactive advice that creates value for them in the long term. Only that way can we as banks achieve the trust of our customers and make them ambassadors of our businesses.
At Danske Bank, we believe that developing and preserving a customer-centric culture requires that advisers have sufficient time for their customers. Consequently, we focus on reducing the administrative workload and delegating decision-making authority to give advisers time and room to serve customers. Through an idea bank, we received more than 600 suggestions from employees on how we can simplify procedures to create more time for customers and we have seen proactivity increase 25% in just one year.
New business opportunities
Danske Bank's customer-centric omni-channel business model is designed to travel across borders, giving us a competitive edge in new markets because of synergies and a strong, agile organisation. While Danske Bank is market leader in Denmark, Finland and Northern Ireland, we hold a challenger position with much potential in Norway and Sweden. We want to realise this potential and grow our market position, and we believe that our business model and attractive value proposition provide a strong foundation for further expanding our business in these markets.
There is no doubt that the years ahead will be challenging for the banking industry worldwide and that competition will be fierce. Disruption from new digital entrants will be profound and what we have seen so far is just the beginning. Consumer behaviour and preferences will continue to develop and we must be ready to respond to them. But the future also holds much potential if we can develop simple and easy-to-use solutions to the complex requirements that our customers have and seize new market opportunities while keeping a strong focus on customer satisfaction.