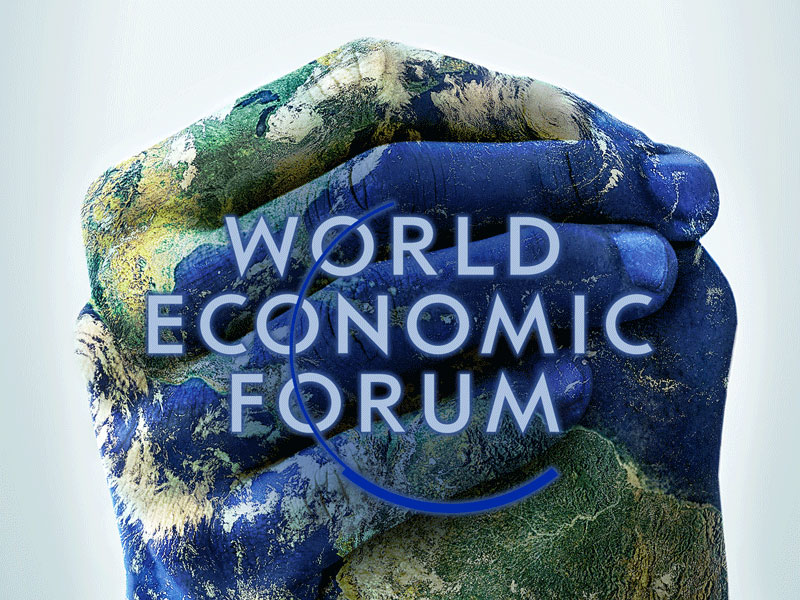 It appears inevitable that the majority of the debate will focus on the various layers of uncertainty that exist in today's economic landscape&nbsp
As 2019 begins, the foremost event on the calendars of the powerful and wealthy is approaching. On the snow-capped slopes of the Alpine resort town of Davos, thousands of political leaders, business magnates, and other trailblazers will gather in January for the World Economic Forum (WEF) Annual Meeting to discuss the most pressing issues on the global agenda.
It is clear the event will centre on the many layers of uncertainty in today's economic landscape
This year's meeting, titled 'Globalisation 4.0', will centre on 'shaping a global architecture in the age of the Fourth Industrial Revolution', meaning it seems inevitable that much of the debate will focus on the many layers of uncertainty in today's economic landscape. At the 2018 meeting, following a string of highly divisive world events, including the election of President Donald Trump in the US and the UK's vote to leave the European Union, the WEF sought to take on the seismic shift in international relations with a meeting dedicated to 'creating a shared future in a fractured world'.
Founded in 1971, the WEF is headquartered in Geneva, Switzerland, a country synonymous with neutrality. In 2019, as global relations continue to struggle under the weight of divisive policies and clashing ideals, Davos is the perfect stage from which to continue hashing out
a path towards unity.
Disunity reigns
"America first doesn't mean America alone," Trump declared at Davos 2018. The statement stirred conversations about whether the world economy was being steered by isolationist policies, and the potential damage this could do to globalisation. But Trump's words were not followed by action: in fact, throughout 2018 he deepened fractures in the global economy by escalating a trade war with China over what he alleged were unfair trading practices by the communist nation.
Jack Ma, the Chinese business tycoon who co-founded multinational technology giant Alibaba, warned that a trade war could have the same implications as a physical war. "It's so easy to launch a trade war, but it's so difficult to stop the disaster of this war," Ma said at Davos. "When you sanction the other country, you sanction small businesses, young people, and they will be killed, just like when you bomb somewhere. If trade stops, war starts."
The key issue faced by policymakers in Beijing is that the America they used to know no longer exists
Dr Yu Jie, China Research Fellow at Chatham House, agreed with Ma's statement, telling World Finance that while a political war on the battlefield is definite, a trade war is unlimited and unspecified in its scope. "This potential economic crisis translates into an imminent political crisis, and it affects every single aspect of the everyday life of the ordinary people [in China]," Yu said.
Trump did not heed Ma's warning, however, as the US introduced a tariff on the import of solar panels and washing machines in January 2018. In March, Trump boasted on Twitter that trade wars are "good" and "easy to win". He announced he would impose steep, unilateral tariffs on imports of steel and aluminium to the US in response to the dumping of cheap Chinese steel on the market, which drove prices down for US producers. China, meanwhile, called the tariffs a "serious attack" on international trade.
The implications of Trump's trade crusade rippled out to Europe as well. After a tit-for-tat skirmish during which time the EU threatened tariffs for the import of unmistakably American products such as Kentucky bourbon, Levi's jeans and Harley-Davidson motorcycles, a ceasefire was declared. However, it is still not clear whether this peace will last.
Even so, any dispute with China could disrupt the entire global supply chain. "It's a trade war against the entire world, not just China," Yu said.The US has threatened tariffs on Chinese goods worth as much as $500bn, but as the trade war engulfs more and more products, prices across numerous industries are expected to rise.
The key issue faced by policymakers in Beijing is that the America they used to know no longer exists. While Chinese decision-makers are familiar with the US' intellectual elites – the type of people who work on Wall Street and attend Harvard University – they now must learn to engage with an "unexpected and unpredictable president", Yu said.
This is a huge turning point for China's international relations, and it could have big implications for its role in the global supply chain going forward. "This will potentially not just harm [the] Chinese economy for four years or eight years. This is for a generation, a decade," Yu said.
Curbing tech power
The spotlight also turned on big technology firms at Davos 2018. Billionaire investor George Soros said tech giants like Facebook and Google had become "obstacles to innovation". That criticism will likely carry over to Davos 2019 after Google was fined a record $5bn by the EU in July for breaking competition rules. Margrethe Vestager, the EU's competition commissioner, said that by forcing smartphone manufacturers to preinstall its Chrome web browser and search apps, Google had "denied rivals the chance to innovate and compete" and had "denied European consumers the benefits of effective competition" in the market.
Davos in numbers
444
Number of participants at Davos in 1971
3,000+
Number of participants at Davos in 2018
$10m
Approximate cost of security at Davos in 2018
340
Number of global political leaders that participated in 2018
40
Western heads of state that participated in 2018
10
African heads of state that participated in 2018
9
Middle Eastern heads of state that participated in 2018
6
Latin American heads of state that participated in 2018
The fine was the latest move in the EU's long-term mission to crack down on US tech giants. Karin von Abrams, Principal Analyst at market research firm eMarketer, explained: "[The EU has] been very consistent, historically, in trying to create an atmosphere, a legal structure and a system [that] enables it to bring companies and other entities to book if they feel that US firms, or firms headquartered elsewhere, for that matter, want to operate in Europe or take advantage of Europe to boost their own status or their income, but they don't want to play by EU rules."
Apple and Amazon are also likely to face increased scrutiny after they became the first and second public companies in history to soar to valuations of $1trn over the summer. "Valuations like this confirm that the tech industry really is increasing the engine of the world's economy," von Abrams said.
But although the technology sector is generating enormous fortunes and a substantial number of jobs, critical questions remain about the impact that companies with such staggering valuations could have on competition in the broader marketplace.
According to von Abrams: "We still live in a marketplace [that] we inherited substantially from an earlier era in terms of capitalism and commerce, but in a free market economy where things are changing so rapidly and these companies are becoming so valuable so quickly, they have really incalculable advantages over smaller tech firms."
By investing or failing to invest in certain forms of technology, this handful of powerful tech firms has the ability to reshape the entire landscape of the tech sector. Furthermore, as technology creeps ever deeper into our lives, questions must be asked about the subterranean influence it can have on aspects of society beyond the boundaries of the tech industry.
One pertinent example is social media's role in influencing recent elections. In March 2018, Facebook was forced to issue a public apology after it emerged that the company had not safeguarded its users' data, allowing information from almost 90 million accounts to be harvested by a data firm. The now-defunct Cambridge Analytica allegedly used this information to show US voters personalised political advertisements based on their psychological profiles during the 2016 presidential election.
Facebook and Twitter both drew the ire of world leaders in 2018 for their alleged complacency towards political interference on their platforms. Both sites have admitted to removing fake accounts linked to Russia that tried to influence the US presidential election. Alongside an ongoing torrent of fake news, these revelations have certainly shaken global confidence in the democratic proces
"I think we're really starting to understand just how radically disruptive some of the things [are] that are happening, for example, on the political side," von Abrams said. "There are a number of really volatile situations that could have an enormous effect on all of us in a really, really short time, and I think a lot of us are just hoping that we're not suddenly pitched into one of these chaotic situations and have to rethink the way the world works, because that would be quite challenging." At a time when their valuations are soaring, one big question to focus on is whether these tech giants can be controlled, and what these controls might look like, von Abrams told World Finance.
Another essential component of the technology revolution that will undoubtedly rumble through Davos again in 2019 is artificial intelligence (AI). In 2018, Ma called AI a "threat to human beings", but said ideally it should support us. "Technology should always do something that enables people, not disables people. The computer will always be smarter than you are; they never forget, they never get angry. But computers can never be as wise [as] man," Ma said.
Meanwhile, Google CEO Sundar Pichai said that while AI does present dangers, including the loss of some jobs, the potential benefits cannot be ignored: "The risks are substantial, but the way you solve it is by looking ahead, thinking about it, thinking about AI safety from day one, and [being] transparent and open about how we pursue it."
In a recent report, the WEF itself warned that AI could destabilise the financial system by introducing new weaknesses and risks. Although machine learning creates more convenient products for consumers, it also makes a world that is more vulnerable to cybersecurity risks, it explained.
As AI breaks further into the mainstream, its prominence as a talking point will only grow. Von Abrams said: "It's a buzzword, of course, but I think there will be further discussions simply because it does take time for people to understand more fully how they can apply it to their own business, and a lot of those applications are not yet reaching the real world."
The Lehman aftershocks
Despite heightened global tensions in 2018, the International Monetary Fund (IMF) has held fast to its expectation that the world economy will grow by 3.9 percent in both 2018 and 2019. The Trump administration's protectionist tariffs are the "greatest near-term threat" that could knock this rise off-kilter, the IMF observed.
In this time of uncertainty, world leaders are beginning to look back on how far the global economy has come in the past decade
In July, Maury Obstfeld, Economic Counsellor of the IMF, admitted "the possibility for more buoyant growth than forecast has faded somewhat". Meanwhile, risks to the downside have taken root: the IMF warned that if the trade war escalates, 0.5 percent could be slashed off global growth by 2020.
In this time of uncertainty, world leaders are beginning to look back on how far the global economy has come in the past decade. September marked the 10th anniversary of the collapse of US banking giant Lehman Brothers, which sparked a financial crisis that affected the lives of millions. In a blog post, Christine Lagarde, Managing Director of the IMF, said while much had been done to clean up the financial system since 2008, the long shadow of the crisis "shows no sign of going away any time soon".
"The fallout from the crisis – the heavy economic costs borne by ordinary people combined with the anger at seeing banks bailed out and bankers enjoying impunity, at a time when real wages continued to stagnate – is among the key factors in explaining the backlash against globalisation, particularly in advanced economies, and the erosion of trust in government and other institutions," Lagarde wrote.
According to Lagarde, the world now faces new fractures, including the potential rollback of post-crisis financial regulations, the fallout from excessive inequality, protectionism and rising global imbalances. How we respond to these new challenges will establish whether the lessons of the collapse of Lehman Brothers have truly been learned. "In this sense, the true legacy of the crisis cannot be adequately assessed after 10 years – because it is still being written," Lagarde wrote.
One key area that Lagarde stressed still needed more work was gender diversity. A key ingredient of reform is putting more female leadership in finance to reduce groupthink and increase prudence. She said: "A higher share of women on the boards of banks and financial supervision agencies is associated with greater stability. As I have said many times, if it had been Lehman Sisters rather than Lehman Brothers, the world might well look a lot different today."
But despite making up 47 percent of the labour force, women are still underrepresented at the highest ranks of business, including at Davos. The number of women attending Davos is low, but it continues to grow. In 2017, women made up about 20 percent of attendees, compared with 18 percent in 2016 and 17 percent the year before. The WEF's 2018 meeting also featured an all-female panel of co-chairs. "Finally a real panel, not a 'manel'," Lagarde said at the time.
The #MeToo movement, which encourages people to speak out about sexual harassment, began in late 2017, and at Davos 2018 dozens of panels addressed gender, diversity and inclusion, while two focused specifically on sexual harassment. Although it began in the film industry, #MeToo continued to send shockwaves through numerous sectors around the world in 2018.
The right direction
These important topics are just a few examples of what will take centre stage at Davos 2019, but many other important issues will also fight for recognition.
The debate around the effects of the climate crisis – and how the world should respond to them – has been a prominent feature of previous meetings in Davos. After a deluge of extreme weather events shook the globe in 2018 and a number of cities and countries began to crack down on single-use plastics, progress towards decarbonisation should continue to gain momentum in 2019.
Despite making up 47 percent of the labour force, women are still underrepresented at the highest ranks of business
Another area of progress in 2018 was ongoing denuclearisation and peace talks between North and South Korea. The leaders of the two nations met for just the third time in 11 years in April, and Kim Jong-un, the leader of North Korea, entered the South's territory for the first time since the end of the Korean War in 1953.
Kim also met with Trump in June – the first time sitting leaders of the two nations had ever met. But while they signed a joint statement to work towards denuclearisation and rebuild bilateral relations, the agreement was shrouded in uncertainty as both sides have since derided one another, with Kim accusing the Trump administration of "gangster-like" behaviour.
While there were encouraging efforts by world leaders to attempt to repair fissures in global relations in 2018, there is still a huge amount of work to be done. Technology has made us more connected than ever, but it has also amplified the scale of many of the problems we face. Now, it is increasingly important for the WEF to stick to its mission to improve the state of the world by reinforcing unity across the globe.