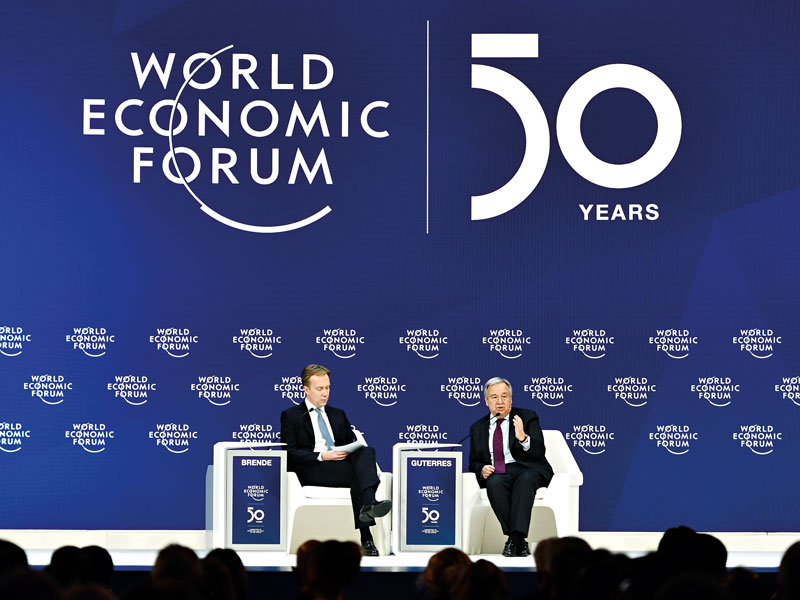 &nbsp
Author:
Sharon Gethings, Journalist and wef correspondent
January 1, 2021
In January 2020, World Finance explored what might be on the World Economic Forum (WEF) Annual Meeting agenda in January 2021. But back then, few investors and policymakers envisaged a global COVID-19 pandemic and the dramatic turn of events that would result: a severe economic slump as major economies imposed lockdowns and travel restrictions. This would require an epic and unprecedented monetary and fiscal stimulus.
The WEF announced in December that the Annual Meeting 2021 would now take place from May 13 to 16 in Singapore and return to Davos in 2022, "as long as all conditions are in place to guarantee the health and safety of participants and the host community."
Whatever issues the WEF plans to cover later this year, the current economic situation seems to be changing on an almost daily basis. "In all the major economies there was a massive slump in activity following the outbreak of COVID-19, though massive monetary and fiscal easing created a V-shaped recovery going into the third quarter of 2020," says Neil MacKinnon, Global Macro Strategist, VTB Capital. "Equity markets also had a V-shaped recovery, making it one of the fastest bear and bull markets in financial history. 'Phase 2' of the COVID-19 pandemic also threatened a double-dip recession, but news that there might be a 90 percent effective vaccine from Pfizer in early November, hot on the heels of Joe Biden winning the US Presidential Election, took global equity markets to new highs." Perhaps to stay on top of events, the WEF decided that the Annual Meeting will be preceded by what it terms "Davos Dialogues" during the week of January 25, a series of high-level digital events during which key global leaders will share their views on the state of the world in 2021. The week will be dedicated to helping leaders choose innovative and bold solutions to stem the pandemic and drive a robust recovery over the next year. However, the agenda will not shy away from the 'Great Reset Initiative' promised by the WEF last year and the January Dialogues will each focus on one of its five domains. Before digging down into the mechanics and potential impact of the Great Reset, let's look at a few of the other issues we mentioned in January 2020 that are still relevant.
Trading tensions
The trade war between China and the US is still simmering. Tariffs remain in place on billions of dollars' worth of goods, forcing businesses in both countries to explore new markets, make cutbacks or simply shut up shop. In spite of these tensions, at the start of 2020, the US economy had posted a record economic expansion and the S&P500 index was in an upward trend, making new highs as 'phase one' of the US-China trade deal had been agreed. The deal requires China to increase purchases of US products and services by at least $200bn over 2020 and 2021. In December 2020, the then US President-elect Joe Biden told The New York Times that he will not immediately end the phase one agreement or roll back punitive tariffs on Chinese goods imposed by President Donald Trump, adding that the United States needed to regain leverage to use in negotiations with China. After a summer of souring relations between the two states during the pandemic, the good news is that China's purchases have increased in recent months as its economy recovers.
The pandemic has acted as an accelerator of new technologies that will restructure our economies
The leaders of the African Union have continued to discuss ways to ensure that the continent's less developed economies are not negatively affected by a more liberal approach to trade. Although delayed by the pandemic, implementation of the African Continental Free Trade Area (AfCFTA) is set to begin in January 2021, with an initial focus on easing trade restrictions for SMEs, which account for 90 percent of jobs created on the continent. However, there are more challenges than ever, particularly thanks to the pandemic – "an unprecedented health and economic crisis," noted the International Monetary Fund (IMF), "that threatens to throw the region off its stride, reversing the development progress of recent years and slow the region's growth prospects in the years to come."
The fourth industrial revolution
The WEF's fourth January Dialogue, 'Harnessing the technologies of the Fourth Industrial Revolution', will explore "what organisations need to do in order to accelerate the uptake of technology and how can they avoid the issues that arise from a lack of governance." There will no doubt be some reference to what the Harvard Business Review calls the "benign regulatory environment" that is partly to blame for Silicon Valley's historic concentration of wealth and power – an era the publication believes is drawing to a close. In July, research by Accountable Tech found that 85 percent of respondents felt Big Tech has too much power. Meanwhile, people on both sides of the Atlantic want tech companies to pay their taxes fairly and in full.
The 'Great Reset'
All of this and much more besides will potentially be overshadowed at the Annual Meeting by what the WEF concluded after its risk analysis at the 2020 event (see Fig 1). It found that the five biggest risks to humanity and the planet in terms of likelihood and severity are climate related. Climate discussions are set to continue at the 2021 event, particularly as many have been calling for a green economic recovery from the pandemic. The Great Reset campaign is calling for governments to end fossil fuel subsidies and funnel the money into low-carbon sectors instead. More broadly, the campaign is making recommendations to ensure that the recovery spurs the progress of sustainable development.
"In January the IMF thought global GDP would expand 3.3 percent in 2020," MacKinnon told World Finance, "but this was mainly led by projected growth of 6.0 percent in China and 4.4 percent GDP growth for emerging market economies generally. GDP was expected to remain anaemic at 1.3 percent for the Eurozone and in Japan at just 0.7 percent." The outbreak of the COVID-19 pandemic, which was becoming evident by the end of January, ripped up the IMF's projections.
A greener future
Ironically, the step change created by the pandemic has perhaps provided a unique chance to reframe the future by building a fairer, more prosperous society founded on greener, more resilient, and productive economies. "This chapter presents an opportunity for governments and businesses to accelerate many of the shifts underway before the pandemic, while building a sustainable recovery," says Steve Varley, Global Vice Chair – Sustainability, EY. "A recent study by EY and the European Climate Foundation found 1,000 'shovel-ready' green projects that, with investment, could create almost three million jobs across the European Union alone."
Others see tax policy at the epicentre of much of the change caused by COVID-19. With climate being high on government agendas, including the EU's Green Deal and US President-elect Joe Biden's green policies, "there will be a host of new tax concessions and incentives for businesses to better integrate green thinking," says Kate Barton, Global Vice Chair – Tax, EY. Varley elaborates on this point: "Businesses have the power to drive prosperity and create value for a wide variety of stakeholders – from our shareholders, to our employees, to the communities in which we operate." He believes we now have the opportunity to create green jobs at scale, that help communities grow and prosper in a sustainable way. We also have the responsibility to help carefully manage the transition from a high-carbon to a low-carbon world, in a way that mitigates any potential societal risks like unemployment or energy poverty due to increased energy costs.
Neil MacKinnon says: "climate change is already impacting macroeconomic stability and growth prospects and there is a need for guidance on international carbon price floors and border carbon adjustments." This requires the need for climate assessment risks and stress testing for financial institutions, and corporate disclosure of climate-related financial risks. Climate change is also affecting how macro policymakers adapt monetary and fiscal strategies. In the UK, Chancellor of the Exchequer, Rishi Sunak is promoting the use of UK 'green' government bonds and the Bank of England Governor, Andrew Bailey, said recently that his objective is to build a UK financial system resilient to the risks from climate change and supportive of a transition to a carbon net-zero economy.
The weight of responsibility
In the Eurozone, European Central Bank (ECB) President Christine Lagarde has said incorporating climate change risk into monetary policy is "mission critical". The ECB is likely to incorporate 'green bond' purchases into its asset purchase programmes (the ECB currently holds 20 percent of the eligible green corporate bonds) and this could eventually help pave the way to fiscal union, a capital markets union, debt mutualisation, and a deepening of the green financial market. Ironically, the pandemic has acted as an accelerator of new technologies that will restructure our economies. As Isabel Schnabel of the ECB's Executive Board recently put it, the pandemic is helping build "a deeper and greener financial market that reduces the cost of transitioning towards a low-carbon economy."
What the situation will be in May when the WEF Annual Meeting takes place is anyone's guess. But one thing that won't change is the urgency for restricting carbon emissions. In late 2020, the UN reported that 2020 is on track to be one of the three hottest on record, completing a run of six years that were all hotter than any year ever measured before and that the world could hit the climate change milestone (exceeding 1.5°C above pre-industrial era levels) by 2024.
The Digital World Economic Forum events during January 2021
Monday 25: Designing cohesive, sustainable and resilient economic systems.
Tuesday 26: Driving responsible industry transformation and growth.
Wednesday 27: Enhancing stewardship of our global commons.
Thursday 28: Harnessing the technologies of the Fourth Industrial Revolution.
Friday 29: Advancing global and regional co-operation.