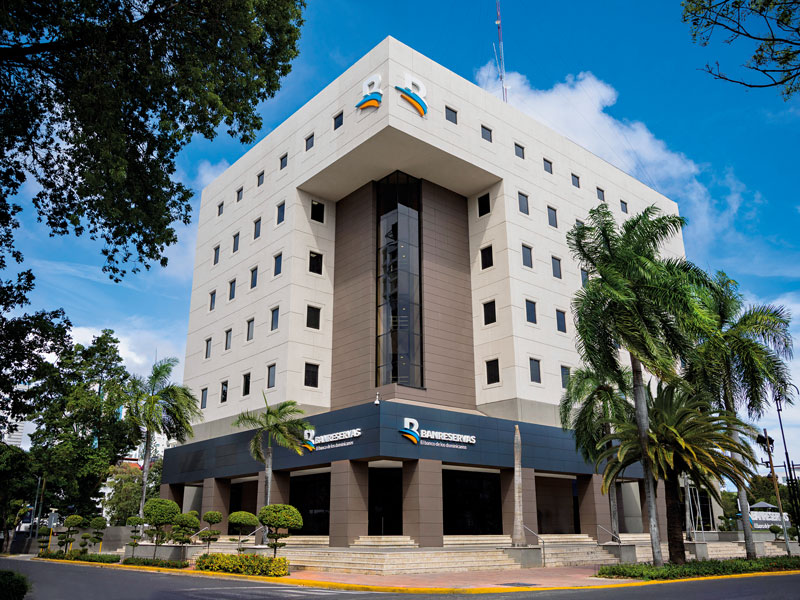 &nbsp
Author:
Samuel Pereyra, CEO, Banreservas
February 11, 2021
Roll back to 1998 and only two percent of the world's population had an internet connection. That figure has since surged to 40 percent and continues to accelerate. More than 20 billion new devices were connected in 2017 alone. By 2030 it is anticipated this will sail past the 500 billion mark. Most will be fully mobile.
By any standard these are extraordinary figures. For Banco de Reservas de la República Dominicana (Banreservas), the COVID-19 pandemic highlights the investment the financial institution has made in mobile technology, allowing it to respond meaningfully to those in need. Fortunately, this preparation had already been underway for some years, enabling it to react to the pandemic with confidence while supporting the broader Dominican Republic economy.
Tech and Latin American finance sector
With internet users now comprising 50 percent of the global population, the global tech transformation is not just powered by developed nations. Even in the poorest 20 percent of global households in developing nations, seven out of 10 rely on a mobile device to manage their finances.
The explosion of virtual media and face-to-face digital services is reflected strongly across the Latin America and Caribbean banking sector. The latest State of Cybersecurity in the Banking Sector in Latin America and the Caribbean report (released January 2018) saw 53 percent of respondents rely on smartphones to check bank balances and make basic transactions. This compares with 29 percent of those still using branches. Even fewer were relying on telephone banking – just 23 percent.
As far as Banreservas is concerned, broad compatibility and strong risk management is fundamental to the user experience
The numbers – the specific data originates from the Washington-based Organisation of American States (OAS) – emphasise a profound tech shift: even for mundane, day-to-day tasks such as transferring funds, 43 percent of consumers relied on mobile banking rather than visiting a bank in person. These same consumers do not mind whether their transactions are made via laptop, tablet or smartphone. In other words, trust in mobile banking technology continues to surge, whatever device is used.
Swipe right for Dominican digital
The bald mobile tech insights don't end there. As recently as September 2020 Banreservas' own data registered more than 71 percent of all financial transactions carried out via 'alternate' – read digital – channels, representing an 8.7 percent hike compared to the year before. While 80 percent of Dominicans have a mobile phone – around 50 percent of these being smartphones – home computers are proportionally lower per-household, despite high levels of internet banking. Mobile tech is becoming crucial while also fast overtaking legacy tech.
Yet there was little strategic vision for Banreservas' digital channels, even as recently as 2014. Bricks-and-mortar branches still remained the company's client touchstone. But since 2015 the strategy has switched sharply to migrating transactions via digital channels, lifting this share from 42.7 percent in 2014 to 71.7 percent in 2020.
Mobile tech speed increased
Since 2016, more than 50 percent of financial transactions are now made through high-tech devices. In 2019 Banreservas went further in defining their digital strategy, fostering a culture of continuous improvement but anchored to two vital key pillars: better security and better transparency.
Trust in mobile banking technology continues to surge, whatever device is used
Banreservas is committed to being at the forefront of modern digital instruments, increasing controls and reducing threats, key factors in the banking sector. The financial institution is currently working on improving its processes and strengthening its collaboration with clients, opening opportunities to incorporate other segments, such as SMEs, the private sector and especially younger clients, already immersed in the digital and virtual culture. This is completely common to their environment.
Digital productivity boost
Banreservas' digital strategy is also backed by high-tech biometric voice authentication, allowing clients to access their own mobile account. Banreservas is the only domestic bank offering voice recognition tech through its self-service voice channel, VOICE ID. More than 20.6 million biometric calls were authenticated in 2019 alone.
The digital tech is underpinned by more back office robotisation. Practically speaking, this means less paper and error potential – far more agility. Many highly repetitive and high-volume tasks are now digitally handled. The impact on internal productivity has been considerable. Banreservas is working on reducing paper use in other areas such as teller vouchers and account statements.
So while the public health situation remains unwelcome and worrying, accelerating the trend towards digital payments, Banreservas technology is in place to manage public anxiety about viral transmission from cash, as well as addressing – and reducing – outmoded legacy system bureaucracy.
The six pillars of digital wisdom
Determined to make Banreservas relevant for the next generation and beyond, the financial institution has designed a fresh-from-the-ground-up digital proposition leveraged by six pillars.
Transactions – this means all self-service digital channels support transactions across different business segments and can be done independently of any branch.
Requests and services – similarly all service needs, whatever the business sector, can be handled outside the branch network.
Commercial management – developing digital capacities for a timely, value-added customer management experience that accepts pre-approved payments for basic products and services.
Digitisation of end-to-end processes – developing end-to-end integrations with the Bank's BPM, CRM and ERP applications.
Digitised operational management model – robotisation of repetitive back office processes with potential high margins of error are now outsourced to digital storage with all the client's information safely recorded. This is vastly more efficient, safe and productive.
Internal digital culture – the promotion of an internal digital culture with collaboration and teleworking tools, transforming inter-departmental dynamics.
Legacy support solid
Acutely aware of the transformative need of mobile technology across Dominican society, improving this tech experience remains a priority for Banreservas. Yet the existing legacy branch network – more than 290 branches plus 700 ATMs and a 1,250-strong network of banking agents – still have their part to play, supporting its internet banking and mobile app technologies. No customer is excluded. Since February 2018, Banreservas has affiliated to UNARED, the largest network of ATMs, thereby doubling its ATM network reach to 1,500, allowing even more Dominicans to access their accounts. In line with its respected financial inclusion policy, the institution continues to strengthen its USSD tech channel, allowing vulnerable customers to carry out free transactions from their mobile phone, without eating deep into data quotas. During 2019, this service supported more than 27.7 million queries and 1.6 million transactions.
Money when needed
Proximity and access to banks are two reasons why some Dominicans don't have a bank account. But via Cerca Banreservas banking agents – a network of sub-agents –are able to offer a network of around 1,250 banking outlets. Since 2014, Banreservas has developed this sub-agent penetration, strengthening its competitive position and expanding access points, enabling non-traditional service providers like convenience stores, gas stations and other businesses to function as financial service proxies. Customers can make regular banking transactions such as deposits, withdrawals, paying off loans and credit cards, as well as paying government taxes in a safe way without additional charges.
Banreservas is committed to being at the forefront of modern digital instruments
This flexibility was an advantage for those managing the insecurity of the current health situation – Banreservas' technology was instrumental in supporting substantial government aid programmes for the Dominican population. Practically, these sub-agent opportunities make it easy for Banreservas clients to have equal access to their finances, wherever they live – which is crucial in a health crisis.
Focus on the user wherever they are
The best IT and app experiences are frictionless and simple. As far as Banreservas is concerned, broad compatibility and strong risk management is fundamental to the user experience. To resolve these needs a main goal here was to design an elegant and modern visual experience. All of Banreservas' apps are designed to meet visual requirements and guidelines of Banreservas' corporate brand, enabling its clients to experience a harmonious journey, whatever device is used.
Banreservas: Breaking down the barriers
Banreservas has reduced the average distance between lower income neighbourhoods and its network from 16 km to 3km – an improvement of more than 80 percent – vastly increasing access to the financial system.
By 2020 the Banreservas apps registered more than 2.3 million downloads through different versions, facilitating more than 30 million transactions.
In September 2019 the Enterprise Banreservas app was integrated across the bank's channels, allowing SMEs and corporate customers to make use of the bank's services in a more agile way, from any location.
And for functionality Banreservas' clients can get, for example, a quick view very easily. This is just one of the functions of the app and it means an immediate balance summary without having to go through a more formal login process. That means many clients feel permanently logged into the app without compromising their account's security – much like many social and instant messaging apps, in fact.
The retail sector is also strongly supported. Their apps have a native transaction allowing peer-to-peer transactions without having to exchange banking product info. It's an arrangement based on proximity. If the clients are not within the required distance, they can use a token to complete the operation, without providing any financial account information whatsoever.
Innovate frequently and fairly
All Banreservas apps take advantage of native fingerprint and facial recognition device capability – from smartphones to tablets and smart watches, including iOS8 and Android. All apps have the same user interface principles and guidelines of the Banreservas corporate brand. Serrucho is a good example of a Banreservas retail app functionality, helping split a shared bill, though this tech goes well beyond dividing restaurant bills between friends, for example.
There is support for multiple business authorisations: Banreservas' Enterprise app can perform multiple company approvals, providing a full execution and payment history for easy oversight.
Once a client installs an app the initial enrolment process is carried out by a one-time password that the client receives by SMS or email, validating their contact information. After login, all transactions – like credit card and loan payments plus taxes and utility bills – can be executed without extra verification. Frictionless risk management is crucial for mobile tech. It must be secure and trustworthy, managing the balance between a user's experience and crucial risk mitigation.
Fast and flexible response to COVID-19
Banreservas has been a strong ally to Dominicans during the COVID-19 pandemic. Its robust digital technology allowed it to support government programmes, reaching out to the population quickly and effectively.
At a time of few precedents, flexible measures were rapidly implemented for the benefit of any Dominican needing them.
Working alongside the government's aid programme, Banreservas helped design a new digital financial tool based on the customer's bank ID details plus a unique number to be used as a PIN. The results of this initiative were impressive and practical: more than 700,000 Banreservas consumers could use almost 4,400 grocery outlets, warehouses, supermarkets and department stores without exacerbating the spread of the virus or risking their own health.
Internally, Banreservas adapted quickly to working remotely because of previous tech platform preparation and the recent renewal of its main client support applications: it was primed to respond effectively. In March 2020 around 23 percent of employees had access to remote working tools. But this number swelled to 51 percent by April 2020 and almost 70 percent by the end of September. In addition, productivity increased among employees meaning faster response times to both internal and external demands.
Future resilience is built in
Banreservas' mobile technology has proved reliable and cost-effective for many Dominicans at a time of profound economic stress. Many people's lives have been upturned. Some lives have been changed forever. But there is also much to be proud of. Despite the global economic hardship caused by the pandemic, the 2021 forecasted GDP growth for the Dominican Republic by the IMF is just four percent.
It is one of the least exposed economies of the region. The Dominican Republic's financial inclusion programmes have supported many, from consumers to local businesses and corporates. National debt levels remain modest and employment prospects are still promising across tourism and export markets such as coffee, sugar and gold.
Historic landmark
The price of gold, for example, climbed more than 25 percent in the last 12 months, offsetting the economic downturn the country experienced as a result of the pandemic. Remittances also rose strongly, around 11 percent, during 2020.
A profusion of medical instruments and pharmaceutical products – such as electro medical devices, drapes and masks, to name a few – exported to the US to help fight COVID-19 is just one example of the country's economic innovation and dynamism. High value and high tech trade is supported by the Dominican Republic's network of 74 unique free zones, right across the island.
Financial inclusion and education has never been more important or necessary
Each is designed to support specific industry sectors and needs, diversifying the economy. In 2021 Banreservas celebrates its 80th birthday and this landmark will highlight the many achievements it has made to support the country's economic durability. The current COVID-19 pandemic is testament to this investment in a very tangible and real way. In contrast, other countries in the same region will be fighting hard not to lose hard-won progress against inequality and poverty. Financial inclusion and education has never been more important or necessary and Banreservas' mobile technology underpins this commitment to all Dominicans, now and well into the future.