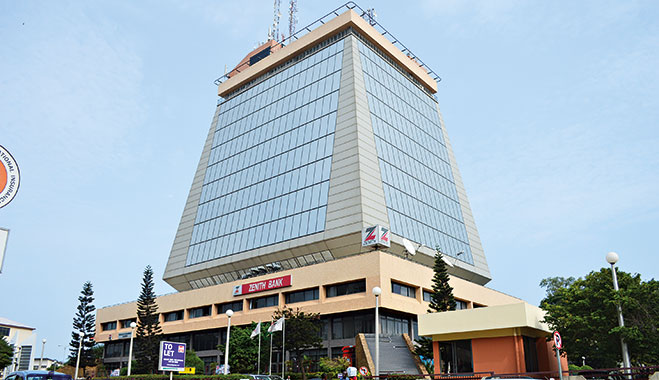 Zenith Bank is working to increase banking accessibility of its services to customers across Ghana&nbsp
Author:
Henry Oroh, CEO, Zenith Bank
Banking, as a functional part of the daily human routine, is underpinned by strong technology deployment and constant innovation. This did not come about by chance – in fact, like in most endeavours, there were pacesetters that rightly predicted the role of technology and thus embraced it from the outset. Zenith Bank Ghana is clearly in this bracket – banks that invested in the appropriate technology and thus were able to deliver relevant innovations, which defined and continue to define the banking experience for their customers.
Over the years, in line with the Ghanaian Government's agenda to create a cash-light economy using technology as the backbone, the bank has introduced an array of products and services, which are responsible for the seamless way its customers transact their businesses.
Zenith Bank, which was named Best e-Commerce Bank in Ghana in the 2015 Global Banking and Finance Review Awards, recently launched GlobalPAY, an e-commerce service to enable companies and individuals to sell their products safely online. This allows them to boost sales in an increasingly competitive and global marketplace.
Pay it forward
Recognising the vast opportunity for local companies to expand their businesses online, supported by a digital-savvy bank with robust and state-of-the-art technology, GlobalPAY has been designed as a secure web-based collection gateway that enables merchants to accept real-time card payments from customers worldwide.
The GlobalPAY platform serves as a link between Zenith Bank, merchants and cardholders, as well as payment networks such as MasterCard and Visa. Very soon it will also include the E-zwich card, a local card created by an offshoot of the Bank of Ghana.
The product works in two ways. The first is the website integration element, which sees the bank integrate its payment application programme interface (API) into the merchant's website. Customers can then make direct payments with their cards through the merchant's website.
Over the years, Zenith Bank has acquired the reputation of providing innovative banking products and services that cater to the needs of numerous customers
The second element, known as the 'storefront', is tailored to merchants who wish to utilise the product but do not have websites and the technical capability to use the API. The bank supports these merchants by creating an online store through which they can list their products on the GlobalPAY platform, where customers can make purchases with their cards.
Merchants – which may include supermarkets, shopping malls, stores, large and small corporations, airlines, internet companies, and virtually any entity seeking to do business or receive payments online – stand to benefit from using GlobalPAY, as it increases the global reach of their businesses, grants 24/7 access to their products and services, provides real-time card authentication and payment authorisation, and ensures multiple card acceptance and secure transactions via Verified by Visa
and MasterCard SecureCode.
Corporate institutions and individuals who sign up for this product can be assured of secure transactions, real-time payments, global reach, and increased business channels, among other benefits.
Product diversification
Some of the innovative products that culminated in Zenith Bank becoming a pacesetter in technology and innovation included its pioneering partnership with mobile telephony service operators Airtel and MTN to offer mobile money services to the large unbanked population.
Last year, the Bank of Ghana passed a set of regulations for mobile money operators that, among other things, called for partnerships between operators and banks. A year after the passage of the regulations, the value of transactions recorded on the mobile money platform reached nearly $10bn, representing an increase over the previous year of 216 percent.
With Zenith Bank's partnership with Airtel and MTN, customers are able to link their mobile wallets to their bank accounts. For instance, customers are able to pay for goods and services using their connected mobile wallets.
Travel and transport
The unmatched efficiency of the bank's payment services has drawn more airlines, both local and international, onto its E-Ticketing and Travel Solutions platform, bringing the benefits of the bank's highly convenient payment options to more travellers. Currently, the bank collects payments for nine international airlines and all domestic carriers. The list of international airlines includes KLM, Tap Portugal, Gambia Bird, Kenya Airways, Arik Air, Dana Air and Med View Airline. These airlines fly directly to, or connect to, most cities in the world. The domestic carriers are Africa World Airlines and Starbow, which cover the main Accra-Kumasi, Accra-Takoradi and Accra-Tamale routes.
The convenience Zenith Bank offers is that customers of these airlines can book their flights online and pay at any of the bank's 32 business locations across Ghana. The airlines receive instant notification of the payments and quickly dispatch customers' flight tickets to them through the email address they provide when booking.
The service thus eases the booking process for flights to various destinations and the general travel experience, saving customers the time they would otherwise have spent looking for an airline's specific office location to book and pay for their flights.
Card access
In addition to its technology-driven products and services, Zenith Bank currently offers four different types of cards for people with diverse needs. These include Zenith Eazypay, Visa Classic Debit, Visa Classic Credit and Visa Classic Prepaid.
The Eazypay cards are issued to account holders to carry out cash withdrawal services from any Zenith ATM, any ATM of an eTranzact member bank, or the ATMs of other switches connected to Zenith Bank Ghana. Cardholders can also transact on any Zenith Bank or eTranzact enabled point-of-sale (POS) terminal.
Zenith Bank's Visa cards allow cardholders to access their funds for withdrawals or payments worldwide. The debit card, which is the most popular, is used to make withdrawals on all Visa branded ATMs and also to make payments locally and internationally at POS terminals and online. Funds are deducted directly from the customer's account.
Unlike the debit card, the credit card grants access to a monthly line of credit based on a particular credit score.
The last of the cards is the prepaid card. This is a reloadable card loaded with the user's own funds for purchases or withdrawals. Cardholders get instant value on the cards, and have the option of loading their cards at any Zenith Bank branch or online.
Industry recognition
Currently in its 10th year of operation in Ghana, Zenith Bank has fast become recognised as the tsar of innovation in the Ghanaian banking industry, and continues to distinguish itself through its ability to offer an unrivalled customer experience.
Its dedicated service resulted in the bank being named Best Banking Group, Ghana for 2015 and 2016 by World Finance. According to the magazine: "Zenith Bank Ghana has spurred innovation within the Ghanaian banking industry and has helped to provide an international standard of financial services to the market." The bank was also named Bank of the Year, Ghana for 2014 and 2015 by The Banker, and won Best Bank in Customer Care at the Ghana Banking Awards in 2014.
Over the years, Zenith Bank has acquired a reputation for providing innovative banking products and services that cater to the needs of numerous customers. Never resting on its laurels, the bank continues to develop and enhance these products and services to satisfy the ever-changing and growing needs of today's customer, bearing in mind the technologically driven world we live in today.