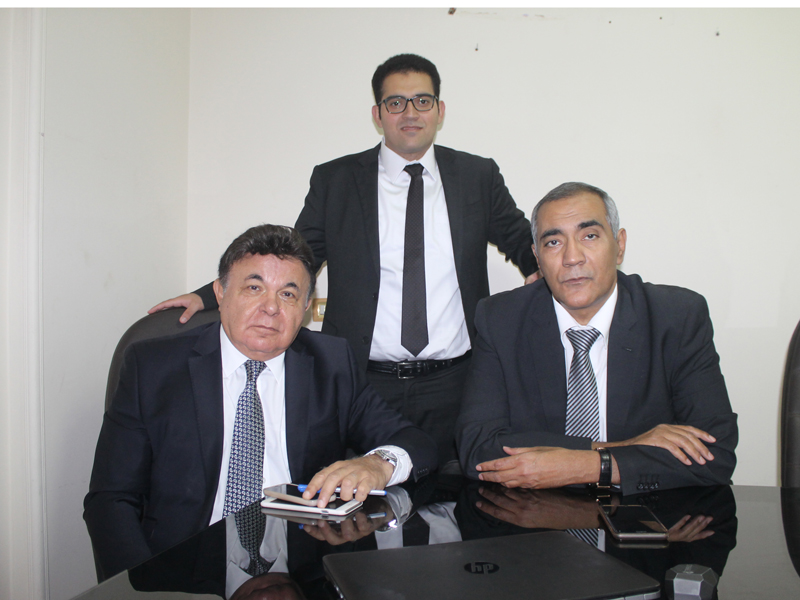 Masaref is an independent services company, specialising in the implementation of the Temenos T24 Core Banking system. [L-R] Dr Mohamed Goneid, Tarek Hamoud and Ahmed Abdel Aziz&nbsp
Much of the buzz currently being felt in the Egyptian banking community is directed towards Masaref, a young, dynamic company that provides business solutions and consultancy services to a variety of clients. The company has faced a series of large and undeniably challenging core banking implementation projects over its lifespan, and has enjoyed multiple success stories in the process.
Masaref is founded on a comprehensive set of business ethics that are fundamental to achieving its goals
World Finance had the opportunity to speak with three members of the company's board of directors: Dr Mohamed Goneid, Chairman of Masaref; Ahmed Abdel Aziz, the CEO and founder of the firm; and Tarek Hamoud, COO of Masaref and one of the youngest project managers in Egypt.
Can you tell us a little about Masaref's mission?
At its heart, Masaref is an independent services company specialising in the implementation of the Temenos T24 Core Banking system. We are an official business partner of Temenos. To achieve integration, our consultants may design and develop necessary interfaces – we may also add other systems in order to guarantee complete functionality.
We are also official partners of NetGuardians, a Swiss company that specialises in providing anti-fraud systems for banks, and HID Global, which is one of the leading names in the field of online authentication services for digital banking.
What makes Masaref unique among other implementation services companies?
Our business is a people-orientated business, which means we do our best to avoid communication problems among project participants, whether as a result of cross-culture differences or linguistic misunderstandings. Masaref's mission is to provide Temenos customers with high-quality implementation services and support. Our vision is to become the best and largest implementation services provider for Temenos products in the Middle East. Our goal is to maintain high customer satisfaction and excellent business relationships based upon a profound understanding of customers' business requirements.
Another factor that we believe makes Masaref unique is the fact that the company is founded on a comprehensive set of business ethics, which are fundamental to achieving our goal. Masaref stays true to its word: we never walk out of a difficult situation, and we understand and love our customers. They are our real advocates.
Why do banks choose Masaref when they are in need of implementation services?
Masaref's top management, as well as our key resources, have worked for Temenos for more than 10 years. During business discussions with the customer, Masaref will provide the bank with Arabic-speaking project management and business consultants, which we have found to dramatically reduce miscommunication issues. We use agile software development methodology to cut the time frame of projects short. We have also developed and implemented what we call the Egyptian Model Bank to meet the specific requirements of the Egyptian banking business, allowing banks to deploy these products in conjunction with T24 features and best practices.
Is it difficult to recruit and retain consultants in a challenging business such as yours?
Masaref has one of the most efficient incubators in our line of business. Our policy is to form a team with an elite line-up of seasoned business services professionals, supported by young consultants who are almost limitless in their capacity to deliver. Our work is extremely interesting; our consultants learn about in-depth modern software solutions, as well as banking business techniques. At Masaref, we all form one big family and we really enjoy what we do, in spite of difficulties and long working hours. Banks in Egypt are turning towards outsourcing; this trend allows us to grow and to retain our consultants. Our mission is to serve banks efficiently at very competitive costs.
Do you have plans for the future of the business?
As a company, we are extremely busy at present and we will stay very busy for the next three years at least. Our pipeline is rich and, with new business coming in almost every day, we believe we made the right bet on Temenos T24 and have been rewarded accordingly.
Notably, Goneid spent a chunk of his career in South-East Asia and is passionate about doing business there. We have a sister company operating in the Asia-Pacific region, and together we will create a common entity very soon. This will drastically increase Masaref's footprint on this planet. We will definitely play an important role in implementing the future of digital banking and microfinance in the Middle East.