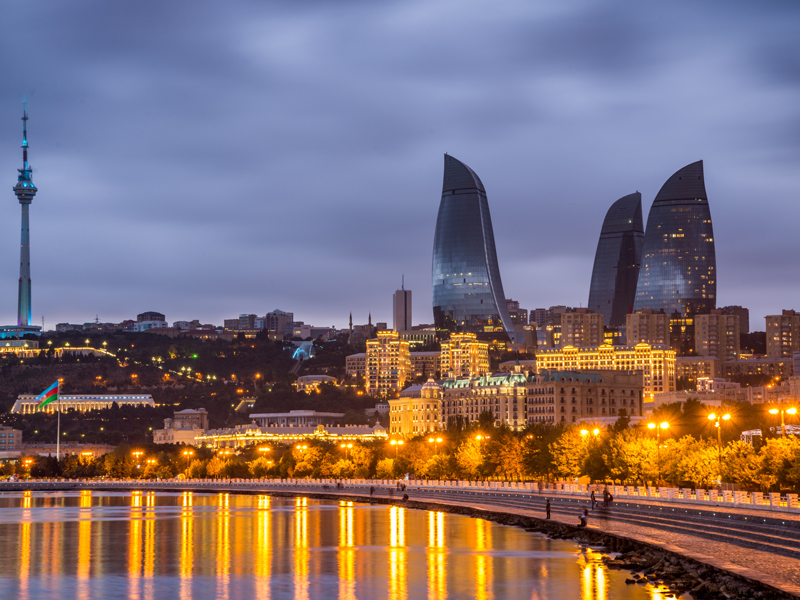 The Azerbaijani institution has attracted significant praise for its personal approach to customers and its ability to offer cutting-edge products and services&nbsp
Author:
Taleh Kazimov, CEO and Chairman of the Executive Board, PASHA Bank
In 2017, PASHA Bank remained focused on delivering high-quality services to its corporate clients in large, commercial and SME segments. In addition to improving customer support through effective relationship management and tailored packages, we also introduced many new products and services. These include Tajir Card and Tajir-Pos, which allow customers to benefit from special cash limits, while also giving them the opportunity to make swift, tax-inclusive payments.
PASHA Bank has a strong, disciplined risk management culture, where the management of risk is a responsibility shared by all employees
This wasn't the only area of focus. To simplify customs payments and create further opportunities for our partners, PASHA Bank equipped local customs offices with modern POS terminals; the bank also issued customs cards to expedite the customs process. Meanwhile, for the first time in the history of Azerbaijan's banking system, a local bank – PASHA Bank – acted as a lead arranger in re-financing customer loans to the sum of $13.5m. This in turn attracted both local and regional financial institutions as the remaining participants of the syndication project.
Additionally, and also for the first time in the local market, the bank successfully launched a B2B solution for our clients in the large corporate sector, including Azercell, SOCAR and Coca-Cola. This host-to-host solution provides a secure, automated exchange of payment files and reconciliation data between business customers and PASHA Bank within a single interface. It also supports the processing of various payment transaction types.
The personal touch
As a corporate bank, PASHA Bank stands out for its personalised approach to serving individual customers. Given the changes afoot in the industry, this approach includes developing a digital banking system in order to improve efficiency and minimise the need for customers to have to visit a physical branch. Our focus on customer satisfaction also involves automating individual banking processes, increasing non-cash payments of salary cards, creating new products and improving existing ones.
For instance, PASHA Bank became the first bank in Azerbaijan to issue ASAN Imza, or 'easy signature', a service that enables customers to use their smartphone as a form of secure electronic identification. The bank has also launched a new generation of ATMs, a MasterCard loyalty platform and a PASHA Bank discount platform. These developments are key as internet banking usage maintains an upward trajectory: by the end of 2017, 86 percent of transactions in Azerbaijan were made through online banking. What's more, the turnover of customer operations on the PASHA Bank mobile app increased 16-fold.
Preparation is key
Even during turbulent economic times, the bank has remained financially strong and sustainable. This can be attributed to our vision of conducting business: we always prepare for both favourable and unfavourable scenarios, and we ensure our clients do the same.
Essentially, effective risk management is fundamental to the success of PASHA Bank, and is recognised as one of the bank's strategic priorities. PASHA Bank has a strong, disciplined risk management culture, where the management of risk is a responsibility shared by all employees.
During fiscal year 2017, the risk team significantly strengthened the bank's risk-based approach. Key projects included conducting detailed industry research for better portfolio management decisions and implementing industry limits. The bank also built its own econometric models, including a credit rating model.
Last year was also pivotal for other reasons. Throughout 2017, the quality of our customer service increased significantly. This was the result of continuous optimisation of service-point processes, as well as the introduction of new, innovative tools.
For example, the Oracle FLEXCUBE financial platform was introduced. This system is used at most of the A-class banks around the world to manage evolving customer expectations in a more satisfactory way. This new system has allowed PASHA Bank to design a brand new online banking system with better-equipped and more customer-centric online banking tools and services.
A truly global operation
In 2017, PASHA Bank continued to build and maintain its correspondent banking network: thanks to the diversified businesses of its customers, PASHA Bank expanded its partnerships to new regions and businesses. The bank also activated its treasury/investment business in the UK, developed and intensified its cooperation with new and existing European partners, and forged new partnerships in Africa, the Middle East, the Commonwealth of Independent States (CIS), and East Asia. PASHA Bank continuously builds upon its relationship with export-credit agencies in Europe and North America, while also expanding its Relationship Management Application network globally.
Last year was especially significant for PASHA Bank as it was the final year of a momentous strategic period. The bank focused on fulfilling its tactical aspirations by delivering key projects and initiatives. It has also established new horizons for its corporate and retail businesses, while targeting new volumes of credit and transactional business.
Now that the last strategic programme has come to a close, a new one is in place for the period of 2018 to 2020. This strategy focuses on business growth, strengthening the bank's competitive position and digital initiatives. It also covers all aspects of where we should stand as a company by the end of our next three-year journey. Some main initiatives are to develop advanced digital channels, transition to a lean, agile IT system, and apply automation to increase operational efficiency. We also plan to grow in CIS via intensifying sales and enhancing product offerings, while also growing our SME customer base through a 'go to market' operating model.