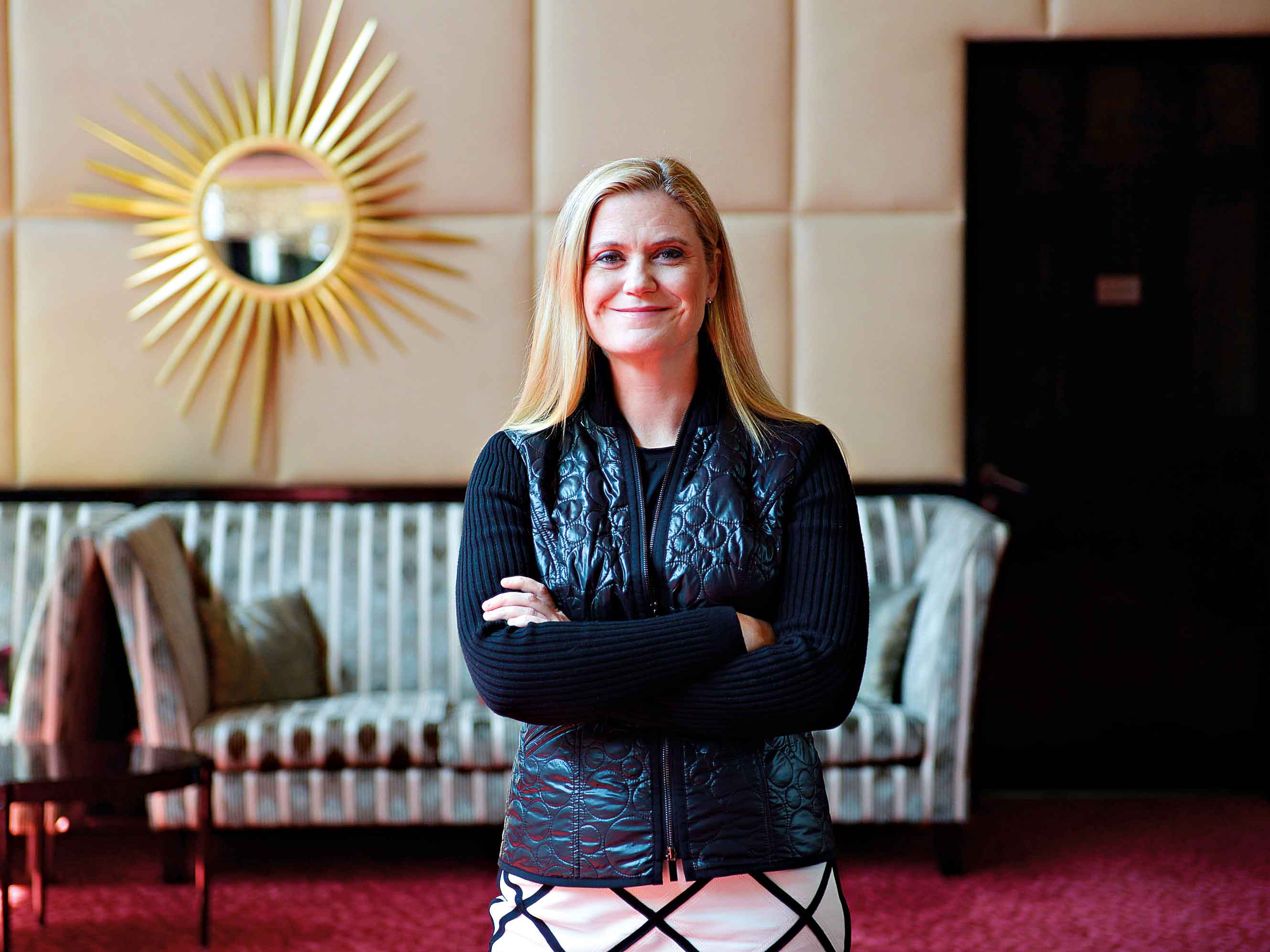 Marianne Lake has spent nearly two decades working her way up the ranks of JPMorgan. In May 2019, she was named CEO of the bank's consumer lending business&nbsp
After 13 years of running JPMorgan Chase, the largest bank in the US in terms of assets, Jamie Dimon started the clock ticking on his retirement. In 2018, Dimon announced he would step down in five years, kick-starting endless public speculation over whom the company would name as his successor. The talent pool at JPMorgan's executive level is brimming and competition for the top job is likely to be fierce, but one name that has ignited a significant amount of interest is Marianne Lake.
Lake has spent nearly two decades working her way up the ranks of JPMorgan. In May 2019, she was named CEO of the bank's consumer lending business, following a more-than-six-year stint as CFO of the group.
Not only has Lake accumulated an impressive array of qualifications during her 19 years at the company, but she has also fostered strong relationships outside the business with the investor and analyst communities. "In many ways, she has been as much of the face of the franchise as Jamie Dimon," James Shanahan, a senior analyst at Edward Jones, told World Finance.
The talent pool at JPMorgan's executive level is brimming and competition for the top job is likely to be fierce
Stiff competition
There is a long way to go before Lake – or any of Dimon's heirs apparent – take the top job, however. Among the frontrunners for Dimon's replacement are the bank's two co-presidents: Daniel Pinto, who serves as CEO of the business' investment bank, and Gordon Smith, who leads the consumer and community bank. Additional potential contenders include: Mary Callahan Erdoes, CEO of the asset and wealth management division; Doug Petno, the head of commercial banking; and Jennifer Piepszak, who swapped roles with Lake to become CFO in May.
Some industry observers had their qualms about Lake back in 2018 due to a crucial gap in her otherwise impressive CV: she had never led one of the bank's business segments. The news that she would become CEO of consumer lending bolstered her candidacy considerably, acting as a "very strong signal" about her future at JPMorgan, Shanahan said. "[Over] the next few years, [Lake] will strengthen her experience as a leader of one of [the bank's] businesses. That would seem to make her more qualified in the eyes of many analysts and investors to be the CEO of the company," he added.
The rounding out of Lake's experience appears to have been intentional, with Dimon seeking to cultivate a strong collection of potential successors. In an interview with Fox Business after the appointment, he said it is "part of succession planning" to "move people around, give them different experiences and see what they're really good at".
Glenn Schorr, an analyst at Evercore, told the Financial Times that JPMorgan "is about as good as it gets in terms of creating opportunities to develop their people… so that there is a list of people [who] have great experience and great insights and could be next in line if and when".
Adding to the significance of Lake's promotion is the fact that consumer lending is a segment of the consumer and community bank, which is JPMorgan's biggest and most successful division: about half of JPMorgan Chase's net revenue is typically generated by this segment. In the first quarter of 2019, net income at the division soared 19 percent to $4bn, helped by higher interest rates. This boosted JPMorgan's quarterly profit to reach the highest amount ever recorded by a US bank in a quarter, with a net income of $9.1bn. Additionally, Dimon told Fox Business that the credit card business, which Lake has also taken control of, is a "critical part of the future" of the company.
Banking on tech
Although Lake's new role will present fresh opportunities for growth and change, she was a natural fit as the group's CFO. With a background working as a chartered accountant for PwC, Shanahan said the role was one that she was "especially well suited for". Lake left PwC at the age of 30 – around the time of the merger between JPMorgan and Chase Bank – and began her career at JPMorgan's London office as CFO for credit trading. In 2004, Lake moved to a role based in the US amid a merger between JPMorgan and Bank One.
In the early 2000s, huge mergers and acquisitions were commonplace in the banking sector. While the market is still undergoing consolidation today, deals in the years since the financial crisis tended to stick to smaller banks. For lenders like JPMorgan, any recent consolidation has been driven by technology, where big banks are able to significantly out-invest smaller ones. While JPMorgan has leading franchises across its divisions, Shanahan called technology "the backbone of it all". During 2016 and 2017 alone, the bank spent almost $20bn to scale technology, according to CB Insights.
Lake has been a significant force driving JPMorgan's digital investments. In fact, at a 2016 investor day, Lake called JPMorgan "a technology company", according to Business Insider. Shanahan added: "Marianne Lake has been a champion of technology at JPMorgan for years and responsible, I think, for a large part for the significant investment that [it has] made in technology."
Some of Lake's achievements have included introducing automation technology in order to boost profits and combining the firm's data and accounting systems. In 2018, Reuters reported that the company would spend an additional $1.4bn on improving customer interactions through better technology, with Lake saying: "We want to be relevant to our clients, and we want to grow."
So far, the investment programme has been a success. As of Q2 2018, CB Insights found that JPMorgan had around 48 million active digital customers, up 12 percent from the same period the previous year. Comparatively, its rival Bank of America had just 36 million.
Whale of a time
Lake was appointed to the position of CFO in 2012 amid a massive crisis at the bank: the London Whale scandal involved a single JPMorgan trader losing the company more than $6bn, crippling the bank's reputation for prudence in the aftermath of the financial crisis. The bank was forced to admit wrongdoing and pay hundreds of millions of dollars in penalties to various regulatory bodies.
Despite starting her job in the wake of the uproar, Lake excelled as CFO. She brought a fresh intensity to the position, and people who worked with her told Reuters that new hires were intimidated by her memory for numbers, her demands for information and her speed. Richard Ramsden, a Goldman Sachs analyst, told Reuters that Lake was "probably one of the most gifted CFOs around".
In a 2013 interview with Marie Claire, Lake said of her job: "Every day has a bit of everything." Her time was divided between a multitude of tasks, including managing the thousands of people in the company's finance organisation, ensuring its processes were working efficiently, and responding to industry news each day.
Lake and Dimon had a close relationship, working side by side in JPMorgan's Manhattan headquarters and going "in and out of each other's offices multiple times a day", according to Lake. The two bonded over their shared passion for the work and its demands. Dimon told Reuters they would challenge each other to remember numbers down to one decimal point. "We have a lot of fun with each other," he said.
Although none of the six largest US banks has ever appointed a woman as CEO, JPMorgan has begun to address the imbalance of gender diversity in the top ranks of its business
Over the years, Lake's presence on investor calls, in presentations and at corporate events grew. "Even a few years ago, it became more common for [her] to lead the quarterly earnings calls," Shanahan said. Dimon, meanwhile, would sit in the background and answer the occasional direct question. In 2018, Lake led the company's investor conference, giving an overview of the firm as well as updates for each of JPMorgan's four main business segments – a role traditionally reserved for Dimon and the CEOs of each division.
Not long before the announcement of her latest appointment, an unnamed senior executive at JPMorgan told the Financial Times: "If [Lake] goes to run a business… of all the people there [of the right age], she is the most talented." Lake has proved her capability as well as her commitment to the company, telling Reuters last year that she was with JPMorgan for the long haul: "I want to be at this company 10 years from now… I have told the board that I want to be here for the long term."
Key to change
Although none of the six largest US banks has ever appointed a woman as CEO, JPMorgan has begun to address the imbalance of gender diversity in the top ranks of its business. In its 2018 annual report, the firm said women represented 30 percent of JPMorgan's senior leadership globally. Lake, however, told the Financial Times that a lack of gender diversity "throughout the ranks" of the bank was more concerning than the imbalance at the executive level.
Still, access is the key to advancement, according to Erika Karp, the founder and CEO of Cornerstone Capital, an advisory firm focused on impact and sustainable investing. Appointing a woman to the highest position of one of America's most successful banks would undeniably be a step forward in terms of gender diversity.
"We've had a situation in the financial services industry [where] women have not had access to information, access to promotion, access to power, access to authority, access to influence," Karp, who spent 25 years on Wall Street prior to founding Cornerstone in 2013, told World Finance. "I think this move that we're seeing with Lake – putting her in a position where she has access to everything – I think that's tremendous."
Lake, too, has spoken about the consequences of opening up access at the top of the company. "Being a senior woman means that we have the obligation, and privilege, to bring more women up with us and create an environment where they can fully be their authentic selves," she said, according to JPMorgan's website.
The rate of change in terms of gender diversity is accelerating, Karp added. She told World Finance: "There's more consciousness and more intentionality and more transparency than there has ever been with regard to diversity. There's more attention paid to corporate governance."
While Lake is one of the strongest candidates regardless of her gender, Shanahan commented that, from his experience, "there is something a little different [about appointing a woman as CEO]". When his own firm recently appointed a female managing partner, Shanahan said the change could be felt throughout the company. "I think it's energising for a lot of people in the organisation – not just the women here."
While JPMorgan still has a few years before a new CEO is chosen, the company is currently in the process of another big change: in 2018, the firm announced it would raze its current headquarters and rebuild a new 70-storey skyscraper in its place over the next four to five years. Dimon will likely stick with the company long enough to cut the ribbon on the new HQ, in a move that will signal the end of his prolific leadership. But that moment will also represent the start of a new era for JPMorgan and, possibly, for Marianne Lake.