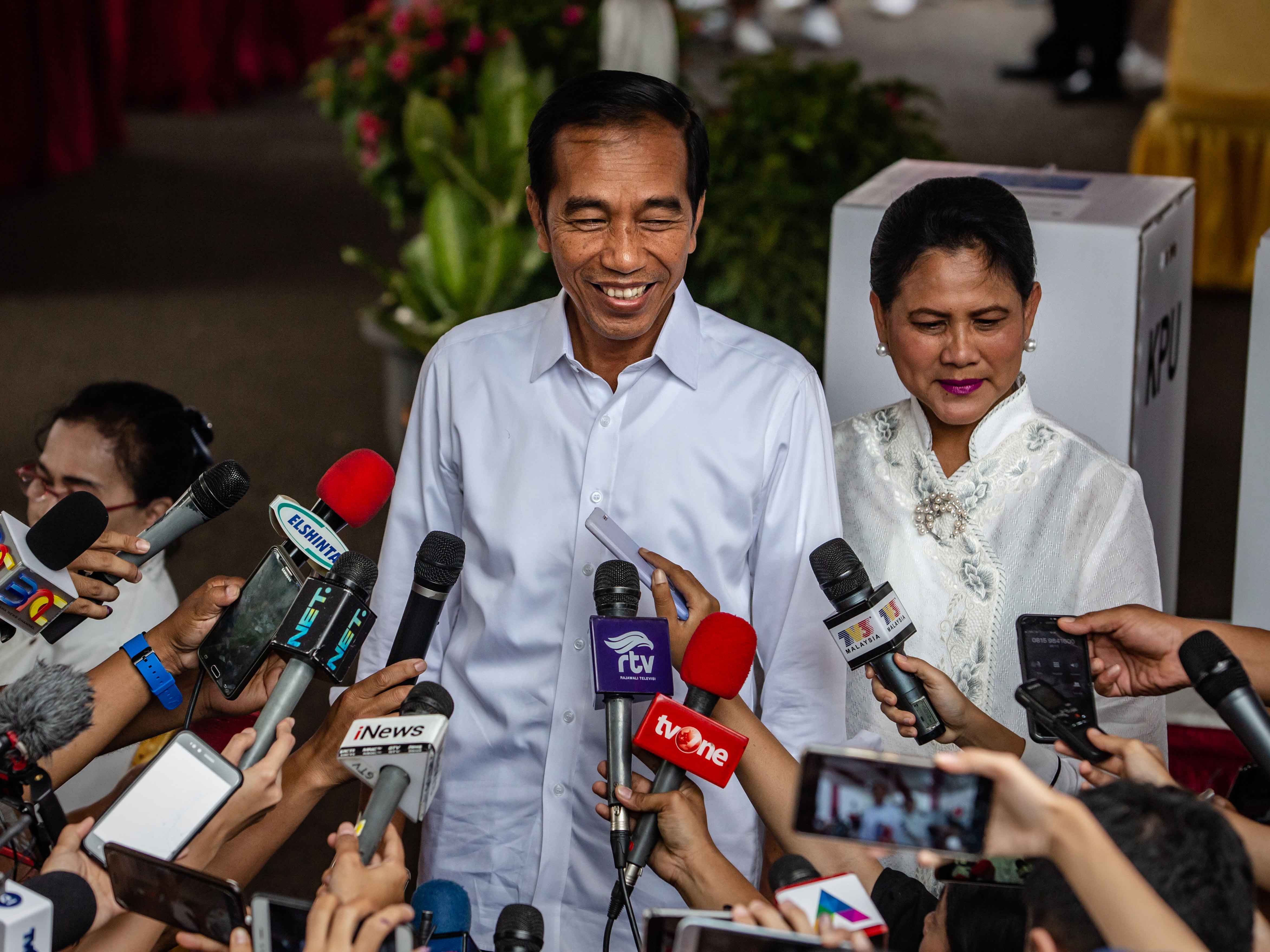 Indonesian President Joko Widodo and his wife Iriana after voting in the 2019 election. Jokowi won a second term with 55.5 percent of the vote&nbsp
Author:
Elizabeth Matsangou
August 9, 2019
In the spring of this year, Joko Widodo faced the biggest challenge to his presidency yet. On April 17, Indonesia's electorate – an astounding 193 million people – considered the credentials of more than 245,000 candidates for 20,000 local and national seats. According to the Lowy Institute, an Australian think tank, it was "one of the most complicated single-day elections in global history".
But even for a nation as heterogeneous as Indonesia – the country comprises some 18,000 islands and spans 1.9 million square kilometres – the day wasn't really about the sprawling array of candidates. In reality, it came down to a choice between two individuals: incumbent president Widodo (or Jokowi, as he is commonly known) and former military general Prabowo Subianto, Jokowi's rival from the 2014 election.
Despite the hype surrounding Jokowi when he first entered office, his presidency has been shrouded in doubt and riddled with missteps. And while he has made some progress in terms of economic development, he has by no means achieved everything he set out – and promised – to achieve. Prior to the election, the race between Jokowi and his old adversary looked set to be a tight one.
The polarity of Jokowi's administration was at odds with the economic liberalisation he was
trying to achieve with his sweeping reforms
Broken promises
One of the most notable aspects of Jokowi's 2014 presidential campaign was his pledge to achieve an annual GDP growth rate of seven percent – a figure that simply did not transpire (see Fig 1). Of course, the five percent growth he did register between 2014 and 2019 was respectable, but to many, the two percent gap signified both a failure and a broken promise. To make matters worse, the president remained silent on numerous human rights issues despite vowing to tackle such violations in his manifesto. As a result, many of those who voted for Jokowi in 2014 became disenchanted with the president and started to question his ability to make good on his promises.
Undoubtedly, in trying to achieve a seven percent growth rate, Jokowi faced a number of obstacles that were largely out of his control. "This [failure] is partly due to [a] global economic slowdown [and] uncertainty, [the] trade war between the US and China (and Asia), and the end of [the] commodity boom," explained Dr Zulfan Tadjoeddin, a senior lecturer in development studies at the University of Western Sydney.
Current mainstream analyses of Jokowi's economic policies suggest that global headwinds and soft commodity prices are to blame for his failure to attract foreign direct investment (FDI). As such, disappointing levels of FDI have persisted (see Fig 2) despite the introduction of a sizeable tax amnesty and the appointment of former World Bank managing director Sri Mulyani Indrawati as the country's finance minister.
In a bid to attract greater levels of FDI, Jokowi introduced a series of 'big bang' reforms in 2015 and 2016 – notably, the cutting of red tape across 50 sectors, including infrastructure, tourism and the restaurant industry. Some of the reforms were quite radical, especially with regards to home ownership and the real estate sector.
But despite this progress, underlying concerns remained. According to a source from a prominent Australian university, who spoke to World Finance under the pseudonym Jean Smith, foreign investors had little faith in the Indonesian Government. "Jokowi was a political newbie in a coalition with really old regime types – [General] Wiranto, [Abdullah Mahmud] Hendropriyono – who represented the vested interests of the old regime."
In other words, the polarity of Jokowi's administration was at odds with the economic liberalisation he was trying to achieve with his sweeping reforms. This was highlighted by a number of questionable moves, including the appointment of a head of police who had previously been accused of corruption. It soon became clear to everyone that Jokowi was feeling the pressure to appease the conservative members of his cabinet.
"Investors looking at the Indonesian economy saw a situation that was one step forwards and one step back," Smith said. "Jokowi is a neoliberal and he speaks the language of global finance, but if you just looked at his governing coalition, there was a sense that he didn't have full control. I think that FDI reflected that."
Jokowi hasn't just faced opposition from the more liberal-minded individuals within Indonesia's sprawling populace, though: despite often giving in to the pressure exerted on him by his administration's old guard, Jokowi has also come under fire from the more conservative members of the population. Such critics have accused him of working against the national interest – notably, by seeking FDI from China – and not being 'Muslim enough'.
And yet, in spite of the many qualms and accusations thrown at him from both ends of the sociopolitical spectrum, Jokowi managed to secure victory in the 2019 general election with 55.5 percent of the vote. Now, with another five-year term on his hands, he has more time to make the many changes that Indonesia desperately needs.
Long road ahead
One of Jokowi's first acts upon being re-elected was to set out a number of new, but equally ambitious, promises for the country. For example, he vowed to improve education and the quality of Indonesia's workforce, both of which would be key to furthering economic growth. He also pledged to invest over $400bn in infrastructure projects over the coming years.
The latter is unsurprising, as infrastructure spending is an area for which Jokowi has received particular praise in the past – a wave he duly rode during his second election campaign. In fact, Tadjoeddin believes the president's biggest achievement to date has been "boosting infrastructure development… across the country in the forms of, among other things, highways, ports, airports, dams, border-crossing points [and] energy". He added: "This was amid the fact that national investment in infrastructure in Indonesia [had] lagged badly since at least 2000. Jokowi's administration has simply reversed the trend [see Fig 3]."
Indonesia's infrastructure is notoriously bad: an unreliable electricity supply and an inadequate transportation network have hampered economic growth for decades. "Neglected infrastructure has created significant bottlenecks in the Indonesian economy," Tadjoeddin told World Finance. "[The] unsmoothness in the distribution of goods and services [has resulted] in high logistical costs, [as well as] high and inefficient fuel consumptions… affecting Indonesian competitiveness in the global economy."
When he first came to power, Jokowi revealed an ambitious $355bn plan to address the shortfall that had put so many manufacturers off investing in the country. The plan included the construction of 1,000km of toll roads, 3,000km of railway lines, 24 seaports and a number of new power plants that would boast a combined capacity of 35,000MW. As Tadjoeddin explained, such developments – particularly those focusing on transportation infrastructure – are needed to "create stronger economic integration across Indonesian regions, [as] this will foster internal dynamism in the Indonesian economy". He added that it would also improve "efficiency in logistical costs".
Funding these large-scale projects, however, has been a massive problem. While Jokowi continues to roll out ambitious – albeit necessary – plans, he has failed to secure a significant amount of funding from either the government or the private sector.
Indeed, according to the Indonesian Ministry of Public Works and Housing, just one fifth of infrastructure investment comes from the private sector. This, in turn, leaves Indonesia's state-owned enterprises (SOEs) to bear the brunt of the cost.
SOE the seeds
According to a recent report by the OECD, the presence of SOEs in Indonesia is more extensive than in any other country in the world, with the exception of China. This presents a major problem for Indonesia, as these entities wield a great deal of power. In fact, their close connection with the political sphere means SOEs are almost untouchable, despite inherent corruption and the financial risks they pose to the government.
The problem is closely linked to the distribution of wealth in Indonesia. "Wealth is largely [placed] within the hands of some very familiar characters," Smith said, in reference to Indonesia's ethnic Chinese, who, despite making up less than five percent of the population, own most of the country's largest conglomerates. "The Chinese bourgeoisie was a capitalist class created by the state under [General] Suharto, and was always kept quite dependent on the state by Suharto. So you have this very select group of capitalists who were brought up and nurtured through the monopoly that was created by the New Order."
As the years have passed, the companies belonging to these individuals have diversified and grown into the giant conglomerates that now characterise Indonesia's business landscape. "The economy is still controlled by a very small number of hands, and economic development often works in their favour," Smith explained. "And that's not just the private sector, but also the SOEs that have really come into their own under the Jokowi administration. I think their combined assets [are] equivalent to the annual national budget."
In addition to their vast financial influence, SOEs are known for their opaque operations. "Politically, they're a no-go zone," Smith added. While foreign companies are invited to work with SOEs on large infrastructure projects, few financial guarantees are given, which, unsurprisingly, discourages many would-be investors. As such, SOEs have become counterintuitive to Indonesia's mammoth infrastructure challenge and, as a result, to its socioeconomic development, too.
Hitting a wall
Given the pervasiveness of vested interests in the country's political sphere, it perhaps comes as little surprise that environmental concerns in Indonesia – of which there are many – often fall by the wayside. Smith gave the example of Jakarta's highly controversial Giant Sea Wall project, which is also known as the Great Garuda or, more formally, the National Capital Integrated Coastal Development. In 2014, Jokowi, together with the governor of Jakarta, unveiled a $40bn project to stop the capital's continued land subsidence. It's a pressing problem: in addition to causing an increasing number of floods in Jakarta, it has caused the city to sink at an alarming speed. In fact, Jakarta has become the world's fastest-sinking city, recording an annual rate of between 7.5 and 14cm. In some 'hot spots', this figure is as high as 20cm. Although construction on the project was supposed to start in 2018, delays relating to the wall's design and permitting issues have since pushed it back to 2020. Some have even suggested the project could be cancelled altogether.
State-owned enterprises have become counterintuitive to Indonesia's mammoth infrastructure challenge and, as a result, to its socioeconomic development
The intention of the Giant Sea Wall project is to protect Jakarta from flooding, but it has since been appropriated by various types of property developer, including multinational companies, SOEs and Indonesian private firms that wish to build luxury apartments along the wall. "The outcome was that poor people were evicted en masse from that area," Smith said. "Luxury apartments were protected and then expanded into historic slum neighbourhoods. So it's really [telling] that attempts to mitigate climate change get hijacked by the kinds of vested interests that dominate the Indonesian economy."
There were claims that clearing these areas was necessary to stop flooding, but as Smith explained to World Finance, rising sea levels are not actually the problem: "Jakarta sits on a giant water aquifer, which is being drained to bits, so that's actually what's making the city sink. It's being drained because the government hasn't invested in proper water infrastructure, like piped water. Instead, people stick pipes in the ground and drain the aquifer, including luxury developers."
As illustrated by this example, the interests of the people, the environment and, by extension, the economy are often neglected in favour of Indonesia's relentless inclination to cater to the wealthy. Rather than investing in basic infrastructure, such as sustainable water systems, the country's authorities pursue projects that are both socially and environmentally irresponsible in a bid to keep money flowing to certain groups and individuals.
This sort of myopic decision-making can also be found in the country's energy mix. At present, Indonesia is heavily reliant upon coal for its electricity needs, with its plans for renewable energy projects having stalled repeatedly. Indeed, according to estimates published by Mining.com, Indonesia's consumption of domestic coal is set to surge from 84 million tonnes in 2018 to 157 million tonnes in 2027. Many, including the country's Minister of Energy and Mineral Resources, Ignasius Jonan, remain pessimistic about Indonesia's chances of meeting the clean energy targets it set following the Paris Agreement.
Changing the status quo
Jokowi has done a lot of good for Indonesia. According to Tadjoeddin, the quality of employment has improved during his tenure, while "inequality has been on [a] steady decline since 2015, [with] development [being] felt by Indonesian people in remote locations". Welfare spending, meanwhile, has increased significantly under Jokowi's watch, with the president placing a particular emphasis on health and education projects. As a result, poverty has also been steadily declining.
What's more, doing business in the country has become easier. Tadjoeddin pointed to the World Economic Forum's Global Competitiveness Report 2018, which showed that Indonesia's ability to compete on the world stage has significantly improved under Jokowi's leadership, especially when compared with the two-term presidency of his predecessor, Susilo Bambang Yudhoyono.
Yet, there is still a long way to go for Indonesia. Improving infrastructure is a vital step to entering the next stage of economic development (a fact Jokowi continues to reiterate), but for any real progress to be made, a deeper cultural change will be required. As indicated by the Giant Sea Wall project, funding is often misplaced to the benefit of a small number of influential individuals. This ties back to the unnerving role that SOEs play in Indonesia's economy: as long as they dominate the business landscape and remain untouchable in the eyes of politicians, SOEs will continue to work for the wealthy rather than the good of the economy.
Changing this sorry state of affairs is up to the administration itself. "[The president] sits in a really diverse cabinet – oligarchs… hardcore nationalisers and neo-liberalisers – you look at that and you think… 'How does this person cohabit with all these different types of interests?'" Smith said. "Investors will certainly have more confidence when they see an administration that is ideologically coherent. If they could start seeing a more coherent suite of policies across a wider variety of portfolios, [with] the president making strong picks to head up those portfolios, I think he will be well on his way to attracting the FDI that he's ambitious for."
The task facing Jokowi is monumental. Following his re-election, commentators have suggested that a new cabinet could be appointed in the coming months. But even if all of the various and necessary cards fall into place, logistically speaking, Jokowi's plans are simply too grand to achieve within just five years. What he can do during his second term, though, is to make a start on more radical reforms. By ignoring the interests of Indonesia's conservative elite, Jokowi can make the country more attractive to foreign investors, increasing the likelihood of funding his most ambitious infrastructure projects in the process.
He must also go back to basics, serving those who elected him while placing a greater emphasis on tackling environmental degradation. After all, the former is Jokowi's duty as president, and the latter will be vital to Indonesia's long-term economic future. Unfortunately, this is perhaps too much change for any individual to implement alone – even one as well intentioned as Jokowi.