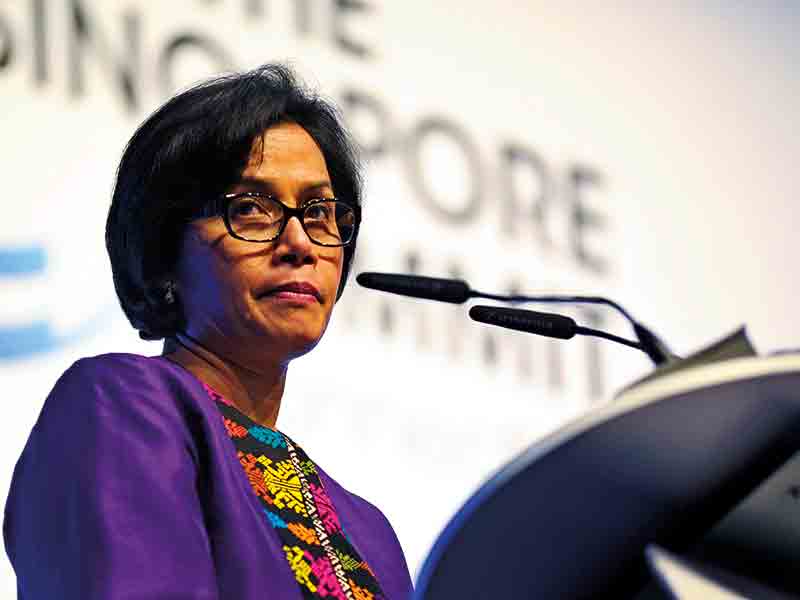 When she first became Indonesia's finance minister in 2005, Sri Mulyani Indrawati sacked 150 of her departmental staff for corruption and penalised another 2,000&nbsp
"If you are corrupt, you are going to have to deal with me. I am not going to let you work here and I will put you in prison"
Sri Mulyani Indrawati
Despite being the fourth-most populous country in the world, Indonesia plays a relatively small role on the geopolitical stage. Rarely do its cabinet ministers garner any form of international recognition. However, there is one minister whose reputation precedes her.
Sri Mulyani Indrawati, Finance Minister of Indonesia, is highly respected at home and abroad. As well as being named the world's best finance minister in 2006 by Euromoney, she regularly features on Forbes' annual rankings of the world's most powerful women. And her popularity shows no signs of waning: when she was reappointed for President Joko 'Jokowi' Widodo's second term in 2019, the Indonesian rupiah strengthened by 0.6 percent.
"Investors appear to trust that she can run a tight ship," Nicholas Antonio Mapa, Senior Economist at ING, told World Finance. After all, it takes nerves of steel to champion economic reform with as much commitment as Sri Mulyani – particularly when reform means undoing decades of corruption.
Honest achievements
Sri Mulyani is known for her no-nonsense approach. When she first became finance minister under President Susilo Bambang Yudhoyono in 2005, she sacked 150 of her departmental staff for corruption and penalised another 2,000. "If you are corrupt, you are going to have to deal with me," she said in an interview in 2009. "I am not going to let you work here and I will put you in prison; that's going to be my policy."
Many saw Sri Mulyani Indrawati's resignation as an indication that Indonesia was turning back the clock on much-needed economic and political reform
This hostility towards those who cheat the system was instilled in Sri Mulyani from an early age. For most of her young life, Indonesia was ruled by one of the most dishonest autocrats of all time, President Suharto. Through his system of patronage, the dictator's family members and close associates dominated the economy.
Sri Mulyani's first experience of this cronyism came while she was studying at the University of Indonesia, where the president's daughter, Siti Hediati Hariyadi, was also enrolled. Already, Sri Mulyani could see that the entourage of the president's daughter would be fast-tracked into high-flying business roles and cabinet positions that were out of reach for her fellow students. "That feeling of exclusion was very strong," she told Bloomberg in 2017. "If you're not a friend of those people, then your career path is going to be very different, and that is exactly what influences very strongly the way I think about economics and the economy in Indonesia."
Born to academics, Sri Mulyani's upbringing was modest. She had nine siblings, and her mother worked a second job to make ends meet. Her parents impressed upon her the value of education, and at university she excelled, earning a scholarship that allowed her to go on to pursue a doctorate in economics at the University of Illinois.
After graduating, she returned to her alma mater. It was then, while Sri Mulyani was working as a lecturer, that the country underwent radical change. The 1997 Asian financial crisis saw the devaluations of many East Asian currencies, including Indonesia's rupiah. Across the country, there were widespread layoffs and bankruptcies. As anger towards the ruling class mounted, President Suharto – who had ruled for more than 30 years – was deposed.
During this tumultuous period, and in the years of uncertainty that followed, Sri Mulyani became more incensed by what she saw as "the wrong policy, the wrong approach" being executed by Indonesia's politicians. Compelled to make a difference, she began looking for career opportunities beyond academia. She worked on strengthening local government institutions through the US Agency for International Development, and then became an executive director at the International Monetary Fund, where she represented 12 countries in South-East Asia before being appointed head of the Indonesian National Development Planning Agency. These positions focused mainly on development, preparing her for her most challenging role yet: managing South-East Asia's largest economy as it recovered from crisis.
Enemies in high places
Analysts estimate that President Suharto stole as much as $35bn from Indonesia before he was deposed. Since his resignation, the country has changed dramatically. "The Indonesia of 2019 is almost unrecognisable from [that of] 1999," said Tom Pepinsky, Non-Resident Senior Fellow at the Brookings Institution. "Not only has the country overseen a successful democratic transition, but it has also recovered from a massive economic crisis. The country has enjoyed two decades now of consistent economic growth, and politics has become far more open and plural than it was under Suharto's authoritarian New Order regime."
Sri Mulyani's economic reforms were key in shaping Indonesia during this period. After becoming finance minister in 2005, she tackled corruption head-on and pushed hard to raise tax revenue and slash private and public debt. By 2009, the nation's debts had been reduced to 30 percent of overall GDP, down from over 100 percent a decade prior.
Sri Mulyani Indrawati in numbers:
2005
First appointed as Indonesian finance minister
2016
Returned to finance minister role
$700m
Cost to bail out Century Bank
90%
Salary cut to leave the World Bank
Suharto's legacy of patronage and bribery was so entrenched within the system that Sri Mulyani had to fight hard to keep it out of her ranks. In this respect, she was ruthless. When the government's human resources department was accused of manipulating the rotation for promotions, Sri Mulyani sought to fire the person responsible. But there was no way to work out exactly who it was, so Sri Mulyani told the director general to replace all 60 employees in that cohort. "Overkill is necessary and important to get the message across," she said about the decision.
Not everyone took kindly to her tough reforms. One of many powerful enemies she made was Aburizal Bakrie, a member of Indonesia's elite and chair of the Suharto-era Golkar Party. One of his family's companies – Bumi Resources – was hit hard by Sri Mulyani's tax crackdown. She also resisted pressure from Bakrie to prop up his coal interests with government funds. Like others in Indonesia's old guard, Bakrie became determined to undermine her reform agenda.
The wheels were set in motion for Sri Mulyani's resignation when she made the controversial decision to bail out Century Bank for $700m. It was not long after the 2008 financial crisis, and Sri Mulyani feared that the failing institution could be a contagion for the rest of the financial sector. But critics accused her of acting without legal authority. Bakrie's Golkar Party seized the opportunity and backed a parliamentary inquiry into the bailout.
Although Sri Mulyani denied any criminal wrongdoing, her reputation in Indonesia suffered a significant blow as a result of the investigation. It didn't help that President Yudhoyono was quiet on the subject for months. Eventually, he came to her aid, commending her "credibility and personal integrity", but it was too little too late: the investigation was enough to convince Sri Mulyani that her battle against corruption had come to an end. A day after testifying, she announced her resignation.
Return to the charge
Around the world, many saw Sri Mulyani's resignation as an indication that Indonesia was turning back the clock on much-needed economic and political reform. The Indonesia Stock Exchange tumbled 3.8 percent after her departure was announced.
But Sri Mulyani was not on the back foot for long. In June 2010, she became one of the three managing directors at the World Bank, with her experience as a reformist proving highly valuable for this career-defining role. The regions she was responsible for – the Middle East and North Africa – had endured the same corruption that Sri Mulyani tried to stamp out in Indonesia, and she championed reform in energy, health and education. During her tenure, she helped pull in significant donations for some of the world's poorest regions and rose to second-in-command within the organisation, earning respect from peers around the globe.
It came as a huge shock when, six years later, Jokowi asked her to join his cabinet. She was on a three-day visit to the University of Indonesia when the president offered her the finance minister position. It was no easy decision: for one thing, it meant taking a bruising 90 percent salary cut. Ultimately, Sri Mulyani's sense of duty got the better of her. "If a president, who was elected by the people, asked you to join him to realise Indonesia's ambition, I don't think anyone can say no to that," she told the South China Morning Post.
Sri Mulyani was tasked with helping Jokowi find funds for his major road, rail and port infrastructure projects. She immediately put raising tax revenues at the top of the agenda. With this tax amnesty programme, Sri Mulyani hoped to boost tax revenues by as much as IDR 165trn ($11.7bn) in the first year. At the time, Indonesia had one of the lowest tax-collection rates in South-East Asia, with just 900,000 Indonesians submitting returns in 2014.
Sri Mulyani was keen to show that she'd lost none of her fire for economic reform. In her first interview as finance minister under Jokowi, she warned tax evaders that they had to choose between "heaven and hell", and either accept a two percent tax penalty and have their "sins deleted", or suffer the consequences. "I'm not going to play around," she added. Indonesia's tough reformist was back in town.
Room for improvement
Now that she's been reappointed for Jokowi's second term, the world is waiting to see whether Sri Mulyani can lift the economy out of stagnation. Jokowi sailed to victory on promises that he would transform the economy and achieve seven percent annual growth, but since coming to power in 2014, growth has remained sluggish at five percent. "Indonesia has churned out robust growth figures over the past few quarters, even in the face of several Fed rate hikes as well as concerns about the global economy," Mapa told World Finance. "But five percent for the region's largest economy doesn't point to the economy hitting its potential."
So far, the administration has struggled to attract the foreign investment it hoped for. The US-China trade war should have been a great opportunity for Indonesia as companies looked to relocate their manufacturing bases to avoid being hit by US tariffs. But of the 33 companies that announced plans to move operations out of China between June 2018 and August 2019, 23 chose Vietnam as their new base. None chose Indonesia.
One of the main reasons investors have cold feet is the vast amount of red tape that surrounds Indonesian business, causing significant delays. At the same time, poor road and rail connections can be a major deterrent for foreign companies. "Jokowi [is considering] further development of the country's infrastructure, and as the country starts to lay out the details of the plan to move the capital from Jakarta to the eastern part of Indonesian Borneo, development financing will be a major priority," Pepinsky told World Finance.
Sri Mulyani must now try to boost growth within a very tight budget. Despite her impressive credentials, executing the president's ambitious vision for the economy will be a gruelling task. But no one is better suited for the job than Indonesia's Iron Lady.
---
Curriculum Vitae
Born: 1962 | Education: University of Indonesia
1998
Sri Mulyani Indrawati became a lecturer in economics at the University of Indonesia, her alma mater, and was later appointed as visiting professor at the Andrew Young School of Policy Studies at Georgia State University.
2002
Inspired to take a more active role in economic development, Sri Mulyani joined the board of the International Monetary Fund as executive director, representing 12 countries in South-East Asia.
2005
President Susilo Bambang Yudhoyono selected Sri Mulyani as Indonesia's finance minister. She was credited with strengthening Indonesia's economy and safeguarding it against the 2008 financial crisis.
2010
After making the controversial decision to bail out Century Bank, a failing financial institution, Sri Mulyani resigned as finance minister and became a managing director at the World Bank.
2016
Sri Mulyani made her return to Indonesia's cabinet as finance minister under President Joko 'Jokowi' Widodo, who tasked her with securing financing for his ambitious infrastructure plans and attracting foreign investment.
2019
When news came that Sri Mulyani had been reappointed as finance minister for Jokowi's second term in office, it caused the rupiah to strengthen by 0.6 percent, its highest value in more than a month.