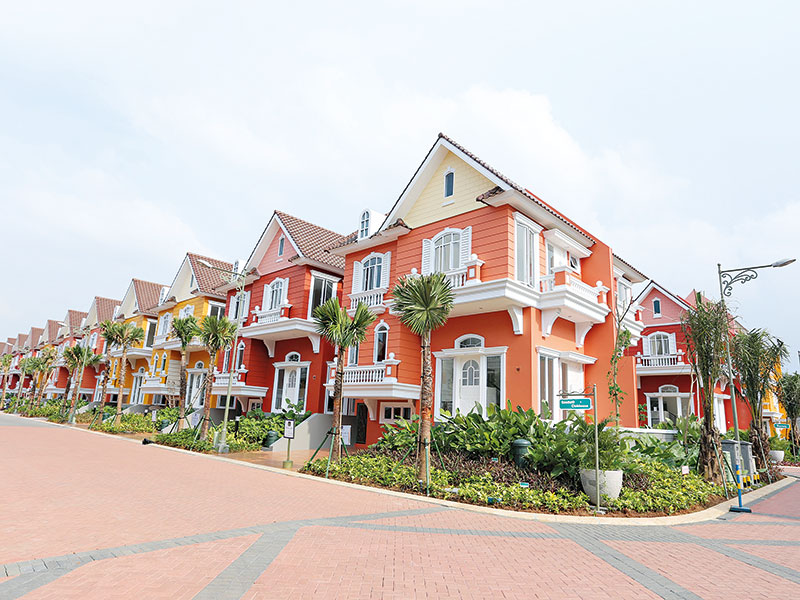 Omaha Village, part of Paramount Enterprise's Gading Serpong township&nbsp
Interview with:
Ervan Adi Nugroho, President Director of Paramount Enterprise
November 9, 2016
Indonesia remains a highly attractive market despite the country's recent economic slowdown. The Emerging Trends in Real Estate Asia Pacific 2016 survey, conducted in November 2015 by the Urban Land Institute and PricewaterhouseCoopers, ranked Jakarta sixth globally in terms of its prospects and property development potential in the Asia-Pacific region.
Similarly to agriculture, industry, trade and services, the property/real estate sector holds an important and strategic role in building the economy of Indonesia (see Fig 1). Real estate is positioned as the locomotive of the national economy, as property – particularly housing development and construction – has a strong multiplier effect. This sector has the ability to attract and encourage the development of other economic sectors. There are at least 175 subsectors related to the property/real estate market, such as steel, aluminium, pipe, cement, tile, stone, roof tile, glass, paint, furniture, wood, household appliances, electrical tools, home appliances and gypsum.
Moving forward, greater clarity on the political front should lead to stronger demand for investment and a more optimistic outlook for the property/real estate sector, especially for residential property. The Indonesian Central Statistics Agency has shown the country has a good demographic profile, with 50 percent of the population aged under 30 years. The country's large housing backlog, currently standing at around 13.5 million units, opens more opportunities for property development as well.
The property/real estate sector holds an important and strategic role in building the economy of Indonesia
Serpong rising
The most popular cities in Indonesia for property investors (other than Jakarta itself) are in the Greater Jakarta area – chiefly Serpong in Tangerang. Each city has its own unique strengths for development: because of the high value of land, Jakarta is usually targeted for the vertical development of upper middle-class to upper-class properties, while Serpong in Tangerang is targeted for 'landed house' developments, or single housing units, for the middle-classes.
In Serpong, house prices have been rising for the last five years, driven by a rapid increase in land prices. Land prices in commercial and business areas reach around IDR 20-27m ($1,500-$2,050) per square metre. Besides being close to the capital, the ease of access via new toll roads has boosted the growth of the property industry in the region.
Despite significant land appreciation in both south and central Jakarta, Serpong is witnessing rapid growth of land prices year on year. The availability of land, and the increasing need for housing because of population growth, continues to increase, while more and more corporations are choosing to relocate their head offices from Jakarta to the Tangerang area due to heavy traffic and overcrowding in the city. This will create even more demand for housing. Serpong, therefore, is an area with bright prospects. An ever-growing number of investors can be expected to target the area, with a property boom forecast soon as well.
Just 16 years ago, few would have thought Serpong would reach the prosperity it now enjoys; at that time, the area was an overlay of unproductive land and rubber plantations. With the emergence of large property projects, its status has changed dramatically: a number of firms have since been undertaken by large developers, including a township project by Paramount Land, the property arm of PT Paramount Enterprise International (Paramount Enterprise), namely the Gading Serpong township. This firm is one of the leading private property and lifestyle companies in Indonesia, and has revolutionised the face of Serpong.
Gading Serpong
Gading Serpong is Paramount Land's flagship project – one of the most ambitious urban planning schemes in Indonesia, which combines housing, business and commercial properties. The company has cemented its place among the leading developers in the region, offering unique concepts and the utmost quality in residential, leisure and commercial developments. It is committed to delivering the highest quality for its customers, encompassing every element from the design and materials to the location, as well as ensuring the customer journey – from prospecting to the handover of keys – is worth their time and investment.
Over the years, the company has thrived in its business operations, remaining strong as it launched new projects and site developments, while consistently receiving support and confidence from the market. Gading Serpong, which is situated 30km from the central business district of Jakarta, enjoys a strategic location, with its close proximity to Soekarno-Hatta International Airport and accessibility via two toll roads – the Jakarta-Merak and the Jakarta Outer Ringroad. This has made Gading Serpong a new economic hub at the centre of several other property and township developments that are being undertaken by various renowned Indonesian firms.
The development of the 1,200-hectare township has been so successful that Gading Serpong has become one of the busiest trade and business centres in Tangerang, as well as one of the most desirable locations in which to live and invest. The population in the Gading Serpong township currently stands at more than 53,000 people, not counting those who commute to Gading Serpong to work or visit.
Hotels, hospitals, schools, universities, commercial areas, restaurants, supermarkets, hypermarkets, fresh produce markets, shophouse complexes and offices are now found across Gading Serpong. In addition, essential cultural structures have been built, such as places of worship, sport and recreation facilities, community complexes and green public spaces. Travel within the township has also been made convenient via pedestrian walkways, bicycle lanes and various forms of public transportation.
"We have found that property in the township is attractive both to residents and investors alike due to Gading Serpong's fast return on investment", Ervan Adi Nugroho, President Director of Paramount Enterprise, told World Finance. "In order to continue growth amid tight competition in Indonesia's property industry, Paramount Land prioritises constant innovation. For the last couple of years, we have provided our customers with products that are not only acceptable or affordable, but meet their needs as well. We provide a wide variety of designs, layouts, façades, colours and prices.
"We are committed to providing excellence, especially in terms of service, product quality and on-time delivery. To achieve this, we continue to improve our services to our customers during the construction period, handover and after handover." Furthermore, Nugroho added, it is important to note "we are not only building homes, but also a community". The firm's motto – "building homes and people with heart" – underlines this ideal.
In total, during 2015, Paramount Land handed over eight clusters to its customers, consisting of more than 1,800 units. During the first semester of 2016 alone, the company has handed over seven clusters, or 1,500 units, to consumers.
Further up the hill
Paramount Enterprise's scope, however, extends further than just Gading Serpong. Nugroho explained that, besides the plans it has to develop other townships in the future, Paramount Land plans to build several real estate developments, which are smaller in size than townships. These are developed in many major cities in Indonesia to help provide much-needed housing.
In 2015, Paramount Land launched the development of two real estate projects outside Gading Serpong, namely Paramount Village (nine hectares) in Semarang, Central Java, and Paramount Hills (20 hectares) in Manado, North Sulawesi. Nugroho said: "The company's footprint now extends to other cities in Indonesia, to deliver a unique living experience."
Paramount Land is also an award-winning company, having received an array of awards in 2016 alone, including: a top 10 developer award from BCI Asia; top 25 most creative companies in Indonesia from Swa magazine; one of Indonesia's most admired companies by Warta Ekonomi magazine; and Developer with Unique Investment Products in Gading Serpong from Property & Bank magazine. Paramount Land has even received acknowledgement from the Indonesian World Records Museum for the largest number of design alternatives (1,296 alternatives) for custom homes at Malibu Village in Gading Serpong.
Paramount Enterprise also develops hotels and hospitals. At present, it owns and manages six hotels that are located within various business hubs, with four hotels in Gading Serpong: Atria Hotel (four-star), Atria Residences (four-star), Ara Hotel (three-star) and Fame Hotel (two-star). In addition, the company owns a four-star hotel in Central Java and another four-star hotel in East Java. Its hotel management company, Parador Hotels & Resorts, Paramount Enterprise, also manages hotels owned by third parties.
In the healthcare sector, Paramount Enterprise owns Bethsaida Hospital. The site is the first general hospital in Gading Serpong and provides quality and affordable healthcare, not only for residents, but also for the people living in West Jakarta, Tangerang and the surrounding areas. The centre includes aesthetic, orthopaedic, dental, hyperbaric and cardiac care.
In terms of retail, Paramount Enterprise operates various fashion stores, convenience shops, mini-markets and cafés that serve the varying needs of a rapidly growing suburban population. The existence of business units is one of the strategies in place to increase and optimise the company's recurring income.
Paramount Enterprise has developed its property and lifestyle business in response to the demographic shift currently taking place in Indonesia, which includes a growing middle class. "We are ready to meet the customer's needs by providing products and services they desire", Nugroho said. "We look forward to effective government investment in infrastructure and are hoping to see continuation throughout the coming years to boost growth."