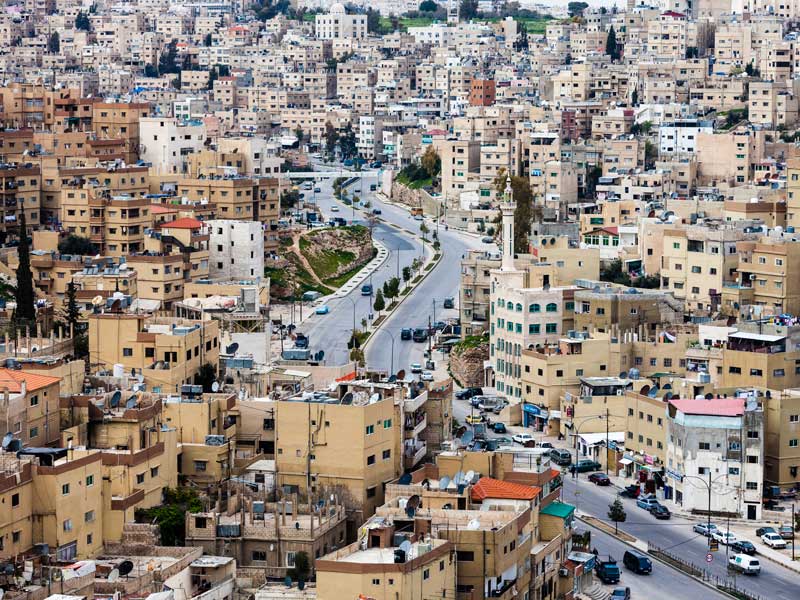 Jordan Islamic Bank has its headquarters in the country's capital, Amman. The institution is specifically looking to improve financial inclusion among young people, women and SMEs&nbsp
Interview with:
Musa Shihadeh, CEO and General Manager, Jordan Islamic Bank
When it comes to improving the general wellbeing of society, while promoting economic growth, the value of financial inclusion can't be overstated. Access to financial tools like bank accounts and credit cards allows people to work towards economic goals, save for emergencies and borrow funds to help overcome challenges. According to the World Bank's 2017 Global Findex Database report, 515 million adults opened a bank account of some kind between 2014 and 2017. This means that 69 percent of the world's adults currently have a bank account, up from 62 percent in 2014 and 51 percent in 2011.
Access to financial tools allows people to work towards economic goals, save for emergencies and borrow funds to help overcome challenges
Between 2014 and 2017, Jordan has made significant progress in terms of financial inclusion. According to the report, 42.5 percent of adults in Jordan now have a bank account, a remarkable increase from the 24.6 percent seen in 2014.
Raising this percentage even further is one of the key pillars of Jordan Islamic Bank's (JIB's) future growth plan, according to Musa Shihadeh, CEO and General Manager of JIB. Improving financial inclusion has been a goal of JIB's for several years now, which it has worked towards by participating in events, hosting workshops and making its services easier to access. Now, the bank is specifically targeting young people, women and SMEs to improve financial inclusion among these demographics.
Providing tools
Primarily, JIB is focusing on providing these groups with easier access to financial services, encouraging them to use these services and ensuring they are of the highest quality. "JIB is strongly committed to achieving these goals, which include improving the geographical spread of our offices and branches to make them more accessible, and also taking advantage of new technology to make accessing finance easier," Shihadeh told World Finance. "We are doing this while also ensuring that the products we develop meet the needs of everyone in society. Creating an environment that supports companies of all sizes is a lot of hard work, though entirely possible."
For JIB, the idea that financial services should have a positive impact on the world has been the driving force behind many of its recent decisions. Between its financial inclusion efforts and sustainability initiatives, the organisation is keen to become a leader in social responsibility, all the while meeting the economic needs of Jordan's population.
Several of JIB's recent initiatives have been centred on the goal of financial inclusion. Workshops, training courses and the publication of many thought leadership articles have all had the goal of fostering further financial inclusion in Jordan. JIB has also developed a relationship with Jordan's major trade unions, which represent engineers, doctors, nurses, pharmacists and agricultural engineers, to help spread information about the bank's financial products. These messages have specifically targeted young people and women in order to provide them with the information needed to make good financial choices while they train for these professions.
Ensuring customers achieve the best outcome possible is very important to JIB. "In addition to the innovation of new financial products, we must also ensure consumer protection regulations are in place to guarantee the fair and transparent treatment of customers," Shihadeh explained.
Sustainable strategies
Alongside financial inclusion, the bank is also focusing on the impact the organisation has on the environment. The bank has therefore made significant investments into sustainability and renewable energy initiatives. Shihadeh is currently pursuing alternative energy sources for its headquarters, primarily by installing solar cells on the roof of its branches and offices. "In July 2018, JIB celebrated the installation of our first power generator in Amman, which provides 85 percent of the electricity needed by the branches and offices in the middle region governorate," Shihadeh told World Finance. "JIB has also obtained the licence to establish another power generation station in the north of the kingdom to cover the electricity consumption of our branches and offices in the north governorates. Its construction is currently in progress, and is expected to begin operating over the course of the next year."
JIB's recent environmental achievements are not limited to the company's internal efforts. JIB has developed financing tools specifically designed for individuals and companies looking to purchase and install their own renewable power systems. It also provides a special financing deal for people purchasing hybrid and electric cars. What's more, JIB has recently signed an agreement with the Central Bank of Jordan to offer special financing to SMEs installing their own renewable energy systems. Shihadeh said that JIB plans to continue to pursue more schemes like these in the coming years.
Underpinning all of these initiatives is JIB's corporate social responsibility programme (CSR). According to Shihadeh, JIB is one of the region's leading banks in terms of CSR: "JIB has a social responsibility committee that is formed by the board of directors, as well as a second committee at the executive management level, in a bid to drive our overall commitment to social responsibility."
This focus on having a positive impact extends to all parts of JIB's corporate governance. "JIB always endeavours to provide the best and highest-level Islamic banking services and products. It constantly seeks to innovate and develop new services that are compliant with the principles and teachings of the Islamic Sharia, too," Shihadeh explained. "JIB's corporate governance provides the best rules, regulations and procedures, which allows us to garner trust in the bank and its various activities." The bank's efforts towards strong corporate governance include transparently publishing its decisions, maintaining a positive relationship with shareholders and ensuring its internal control systems reach a high standard. "All legal steps are taken to encourage shareholders, including the smallest ones, to attend the ordinary and extraordinary meetings of the general assembly in order to discuss and vote, either in person or by proxy," Shihadeh said. "The board of director's members, the Sharia supervisory board, the external auditors and representatives of regulatory and official authorities also attend the annual meeting."
JIB's Sharia compliance is closely managed by the organisation. "The supervisory board is responsible for monitoring the organisation's Sharia compliance both internally and externally, and is an active participant in shareholder relations," Shihadeh explained.
The future of the bank's CSR programme covers many different fields. As well as providing donations, sponsoring conferences and running workshops, JIB plans to continue to fund health and education initiatives, further support SMEs, implement more renewable energy programmes, and increase the coverage of financial inclusion.
Industry-leading products
Underpinning all of JIB's social responsibility projects is its core banking business, with the organisation recently introducing a raft of new products and services. Mobile banking, signature bank cards and ATMs that accept cash deposits are some of the new services JIB has either introduced or is in the process of introducing. Increasing the reach of ATMs and branches is particularly important for JIB, since a lack of access to banking services is a common hindrance to financial inclusion.
"JIB installed 40 new ATMs during 2018, and has been replacing old models to form a network of 270 ATMs in total," Shihadeh told World Finance. "JIB is also expanding its network by opening three to five new offices and branches, bringing the total network size to 107. This will enable us to bring our banking services closer to clients." JIB is also expanding the opening hours of some of its branches, particularly during holiday periods. This expanded access is just another point in a long list of changes designed to make financial products and tools more easily accessible to a greater number of people.
All of JIB's efforts are paying off, with the bank's popularity rising fast. A 2018 survey found that JIB ranked second-highest of all the banks of Jordan in terms of preference for opening new accounts. "JIB is committed to serving society and providing a legitimate alternative to the banking needs of Jordan's population, while doing more than just providing maximum returns to customers," Shihadeh said. "JIB aims to strengthen Islamic values in business transactions and to exemplify the values of social unity, compassion and solidarity."
In this regard, JIB's plans for the future are ambitious, but eminently achievable. The bank intends to continue promoting financial inclusion to support Jordan's economic development, the fight against poverty and the reduction of unemployment. JIB is also helping to support Jordan's economy by investing in projects that increase productivity. As such, the bank is looking to sectors of Jordan's economy that are currently underperforming due to a lack of financial access, since this is where JIB is capable of having the biggest impact. Between these efforts, JIB will continue to support all forms of sustainable development in Jordan.
Overall, this work embodies JIB's values and commitment to being a positive economic force in both Jordan and the world. With a focus on financial inclusion, social good and creating positive change in the country, JIB is helping to push Jordan towards a more prosperous financial future.