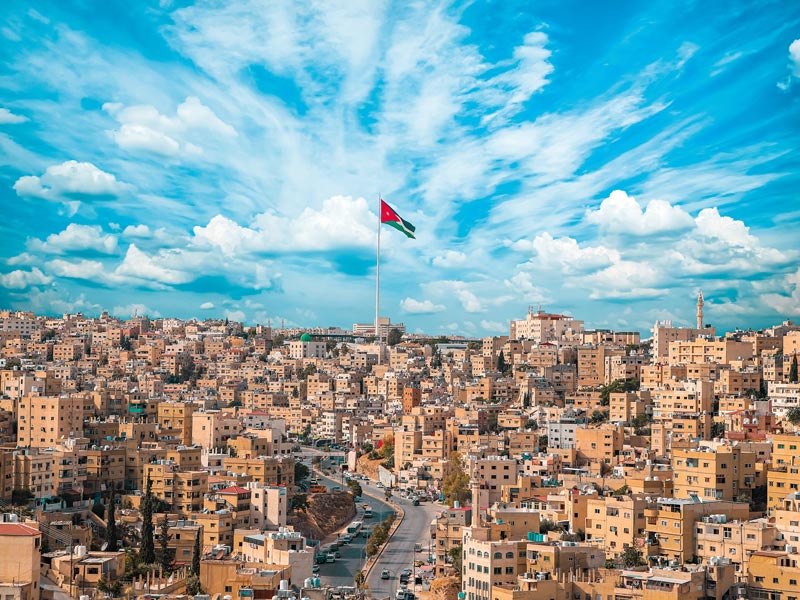 &nbsp
Author:
Dr. Hussein Said, CEO and General Manager, Jordan Islamic Bank
In a challenging year that included global inflation threatening to run out of control, post-Covid caution by the business community and client concerns about the near future, Jordan Islamic Bank once again managed to post improving results across all its main activities.
In short, the institution kept faith with its long-term goals of prudent expansion in a difficult environment.
The numbers tell a story of steadfast growth through thick and thin. In the 2022 financial year JIB, as the bank is popularly known, achieved net profits after tax of $86.2m, with a growth rate of 3.5 percent compared, with 2021. Joint investment profits amounted to $316.1m, with a growth rate of 4.5 percent.
Total assets including certain investment accounts and wakala (investment) portfolios increased to $8.73bn, up by $335m for a growth rate of about four percent. And in one of the bank's primary roles of providing credit to clients, funds granted to customers jumped to $7.33bn, up by a hefty $645m for a growth rate of 9.6 percent, an impressive figure in the middle of a largely shrinking global economy that reflects not only the faith that the bank has in its clients but also in the fundamental strength of Islamic banking.
And mirroring JIB's focus on building a robust foundation for the future, customers showed their faith in the institution – now in its 45th year – by boosting deposits including wakala accounts by $353m, up by an impressive 4.7 percent in otherwise challenging circumstances. The directors felt more than justified in approving cash dividends to shareholders at a rate of 25 for a total amount of $70.5m.
As chief executive Dr. Hussein Said explains: "This confirms the bank's maintenance of a strong capital base and a solid financial position. The bank also continued to maintain the quality of its credit portfolio, as non-performing finances (NPFs) reached 2.68 percent." However in another example of JIB'S policy of prudence, the NPFs were fully covered by contingency financing.
JIB does not stand still, literally. The bank opened two banking offices in 2022, moving one branch to a new location already owned by the bank. It also converted five banking offices into mini branches that are purpose-designed to service customers in a more accessible way, deploying the latest technology.
Overall JIB's expanding network now stands at 111 branches and offices spread out in strategic locations throughout Jordan. It is an axiom of good banking that the institution goes where it is most needed.
The 'digital corners'
Reflecting the global trend towards the provision of seamless, client-friendly banking, JIB opened its second 'digital corner,' this one being centrally located in the Pavilion Mall office of the Capital Governorate. It is a place where clients can access a wide range of self-banking services. In addition to this latest one, the bank now boasts three digital corners in Amman, in its offices located on Wasfi Al-Tal Street, in Pavilion Mall and in Areefa Mall.
These new digital corners further the bank's ambition of increasing financial inclusion. Nothing if not comprehensive in terms of the services they provide, these facilities allow clients to open accounts, update personal information, obtain ATM cards immediately, request cheque books, enquire about the details of financing and financial transfers, and manage beneficiaries, among other transactions. And meeting the demand for instant, street-side services, JIB has now built up a 318-strong network of ATMs spread all over Jordan, ranking it first of all the country's banks in terms of street-side accessibility.
Simultaneously, true to its philosophy, JIB continues to grow its range of Islamic digital banking services such as Islami Mobile, Islami Internet, Islami ATM and banking cards of all kinds. The culmination of these developments was JIB's winning of the highly prestigious award as the best and safest Islamic bank and financial institution in Jordan for 2022.
It is an axiom of good banking that the institution goes where it is most needed
But banking is not just about money, as JIB has always recognised. It not only continued to provide food support throughout the year for the most needy families, especially during Ramadan, but a number of the bank's employees also volunteered to distribute monthly food parcels arranged by the bank to families benefiting from the programmes run by Tkiyet Um Ali in the capital Amman.
Originally, JIB was established to practise investment banking business in accordance with the provisions and principles of Islamic Sharia, and the first branch opened in late 1979. True to the original principles, the bank's transactions and contracts continue to be subject to the supervision of a Sharia board composed of specialised scholars. As JIB grew, it aimed to meet the economic and social needs of citizens in the fields of banking, financing and investment in accordance with the provisions and principles of Islamic Sharia while, in a continually evolving banking environment, keeping pace with modern banking technologies, for instance in the form of the 'digital corners.'
Other digital products deployed in recent years have included 3D Secure for safe online shopping, bill payments, e-wallets and CLiQ for instant transfer services. And recognising clients' growing requirement for year-round services, banking services are available during official holidays, Saturdays and evenings.
Honouring founding principles
That original commitment to Islamic financing and Sharia services has never wavered, as measured not only by the number of clients, but by recognition from prestigious publications such as The Banker and EMEA Finance, and by the obtaining of credit and Sharia ratings from several international rating agencies including Standard & Poors and Islamic International Rating.
The bank's current charitable work also reflects an ongoing commitment to the cultural and social life of the kingdom. It is proud that its credit-lending provides the essential growth finance for professionals, craftsmen and small-to-medium enterprises that are the foundation of Jordan's economy. The list of endeavours supported by the bank is too long to define in full, but JIB has long backed conferences, education, safety and occupational health, sponsorship of matters related to the Holy Quran, arts, literature, heritage, energy, environment and water integrity.
Not even the founders of Jordan Islamic Bank would have thought in the late 1970s that their creation would grow to the extent that it had by the end of 2022. Now with over 2,440 employees, JIB's paid-up capital stands at $282.1m. Total assets under management are about $8.73bn. Total deposits including restricted investment accounts reached $7.80bn. Total financing and investment is about $7.33bn. And profits after tax hit $86.2m. As the bank has long recognised, prosperity is based on prudence.