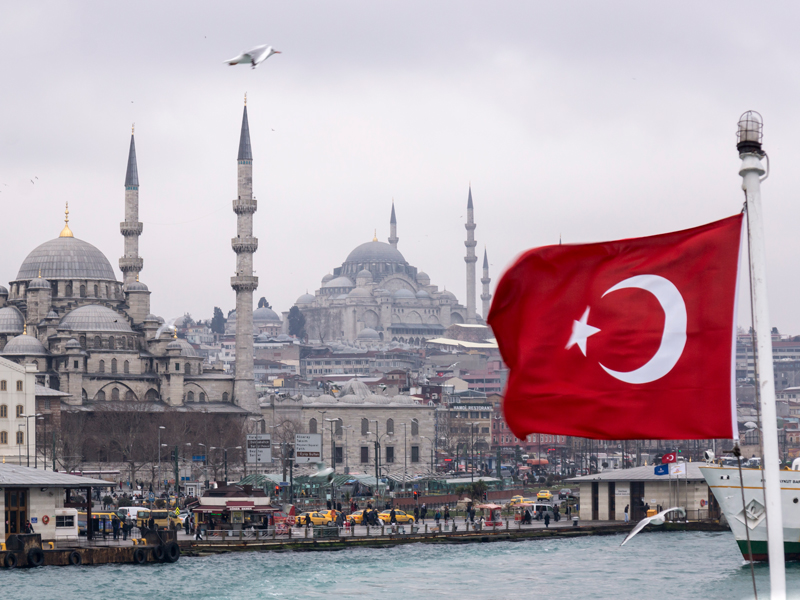 In recent years, Turkey's banking sector has experienced tremendous growth. The industry registered more than 10 percent growth in 2018&nbsp
Author:
Mahmut Akten, Executive Vice President of Retail Banking, Garanti BBVA
Until recently, Turkey's $849.5bn economy – the 17th-largest in the world by nominal GDP and the largest in the Middle East – was a favourite among emerging-market investors. Thanks to its advantageous geographical position, Turkey serves as a bridge between Asia and Europe. However, this also leaves Turkey's economy vulnerable to external risks. It experienced a volatile year in 2018, as it was rocked by events such as the US-China trade war, the implementation of US tariffs on Turkish steel and aluminium, and the currency crisis, which wiped out the lira's value against the dollar.
Yet, despite the crisis unfolding in the wider economy, the country's banking sector is going strong. Although Turkey's banks are struggling with weakening asset quality and currency fluctuations, they are showing a resilience that is enabling them to weather the storm. That said, maintaining this resilience depends entirely on a bank's ability to stay focused on its long-term strategies for growth and value creation. To unlock the opportunities of the banking sector, Garanti BBVA works constantly to streamline its processes, manage risk and ensure high levels of governance – all with the intention of creating value for its customers. In this way, Garanti BBVA has been able to unlock sustainable growth in the country for decades.
To unlock the opportunities of the banking sector, Garanti BBVA works constantly to streamline its processes, manage risk and ensure high levels of governance
The pursuit of growth
In recent years, Turkey's banking sector has experienced tremendous growth. In fact, the industry registered more than 10 percent growth in 2018. This is partly thanks to the country's favourable demographics: home to nearly 80 million people, Turkey has one of the largest populations in Europe, the Middle East and Africa. What's more, this population is young and fast-growing – only six percent of the population is over 64 years old.
However, Turkey's banking penetration levels are still relatively low, with 31 percent of the country's over 15-year-olds remaining unbanked. As a result, Garanti BBVA estimates sustainable credit growth to stand at about 15 percent despite the banking sector's outstanding performance. Furthermore, the volatility of exchange rates from the second half of 2018 onwards led to high inflation and increased interest rates in Turkey. These have caused a slowdown in economic growth and placed pressure on the banking sector's asset quality.
There are still positive indicators for growth in the sector, though. Household debt in the country is reasonably low at just 14.8 percent (see Fig 1), which puts the banking sector in a good position to manage risk in the retail segment.
Another driver for growth within the Turkish banking sector is the high liquidity and solid capital structure of the banks. Customer deposits constitute half of the total assets and serve as the main source of funding for the Turkish banking sector. The high liquidity within Turkey's banking industry gives it more resilience in the face of unexpected macroeconomic developments. Its hardiness has also been bolstered by recent initiatives aimed at increasing household savings in the medium term, increasing the depth of capital markets in Turkey, extending the maturity of funding resources and, finally, stabilising the shift to foreign currency.
Creating value
Established in 1946, Garanti BBVA is Turkey's second-largest private bank, with consolidated assets of approximately TRY 400bn ($70.42bn) as of December 31, 2018. The bank has more than 18,000 employees and an extensive distribution network comprising 926 domestic branches, seven branches in Cyprus, one in Malta and two international offices in Düsseldorf and Shanghai.
We provide a wide range of financial services to more than 16 million customers, operating in every segment of the banking sector, including corporate, commercial, SME, payment systems, retail, private and investment banking. We also have subsidiaries in pension and life insurance, leasing, factoring, brokerage and asset management, with international subsidiaries in the Netherlands and Romania. This wide range of services has played a key role in helping the bank reach TRY 311.2bn ($54.79bn) in loans and non-cash loans.
Creating value for all our stakeholders is a core part of our long-term growth strategy – we strive to continually improve the customer experience by offering new products and services that are tailored to their needs. To this end, we have 5,258 ATMs and an award-winning call centre, as well as digital banking platforms built with cutting-edge technology. Through our dynamic teams, consistent investments in technology, and innovative products and services – all developed with a strict adherence to quality and customer satisfaction – Garanti BBVA is able to maintain a leading position in the Turkish banking sector.
In everything we do, we ensure that we engage with our customers in a transparent and responsible manner. Strong corporate governance forms the foundation of our success. Garanti BBVA's majority shareholder, Banco Bilbao Vizcaya Argentaria, owns 49.85 percent of the company's shares and plays a key role in establishing responsible governance and promoting the bank's core values.
Another way Garanti BBVA creates value for all its stakeholders is through its world-class risk management. Garanti BBVA not only effectively manages financial risks, but also fosters high levels of organisational agility, allowing it to take advantage of new opportunities. Further, we drive positive change through impact investments, strategic partnerships and community programmes focused on tackling real issues for Garanti BBVA and its stakeholders.
A transformative process
Among Turkey's young, digitally savvy population, there is a high demand for digitalisation from banks. The banking sector has embraced this demand and now offers more efficient and productive services through online platforms. Today, 65 percent of the banked population uses mobile banking. For the past 20 years, Garanti BBVA has been at the forefront of this digital transformation in the Turkish banking sector. Because of our consistent investment in digitalisation, 67 percent of our active customers now use mobile banking.
In the digital age, maximising convenience for the customer is a number one priority for banks. The fundamental purpose of digitalisation is to make it easier for the bank to listen to customers' needs and address them as quickly and effectively as possible. With this in mind, Garanti BBVA provides an omnichannel banking experience. This enables our customers to carry out transactions online and makes our services more accessible and easier to use.
In 2018, as part of our digitalisation efforts, we reassessed our bank's deposit management system while retaining our existing customers. As a result, we made significant operational improvements. By offering clear and easily accessible new solutions to our customers through our branches and digital channels, we were able to strengthen the loyalty of our existing customer base and increase the number of new customers who wanted to work with us. These operational improvements ultimately helped us increase our number of deposits.
As well as innovating our deposit management system, we recently designed an innovative new service model that enables us to provide one-stop delivery of all services to our customers. In 2018, we rolled out the new service model across our entire branch network. It has since had a wide-reaching impact on our operations. Thanks to the new model, we have increased the efficiency of our sales force, decreased waiting times in branches and improved our customer experience. Since it was built, 95 percent of the branch network has transitioned to the new structure.
The new service model ensures that customers can access our services from anywhere in the world. Moreover, as all business processes and operations have been digitalised and streamlined, the quality and speed of our services have increased. The figures speak for themselves: waiting times have been reduced by 20 percent; 85 percent of loans are now approved in a paperless manner, without the need for signatures; and the in-branch customer onboarding process is down from 25 minutes to just eight.
Looking to the future, Garanti BBVA will continue to drive innovation and put the customer at the heart of everything it does. With this in mind, we are currently exploring ways to unlock the opportunities of big data, artificial intelligence and Internet of Things technology in order to deliver solutions that are precisely tailored to our customers' needs.
Garanti BBVA owes its leading position in Turkey's banking sector to its long-term thinking and planning. Our main purpose is to provide a convenient service to our customers, bringing them the best banking solutions and helping them to make financial decisions that will suit their personal goals. Our strategy is not focused simply on short-term targets: it is formulated around investment plans that stretch far into the future. Regardless of macroeconomic developments, we will continue to drive transformation in our sector. It's by constantly streamlining and enhancing our operations that we create real value for our customers.