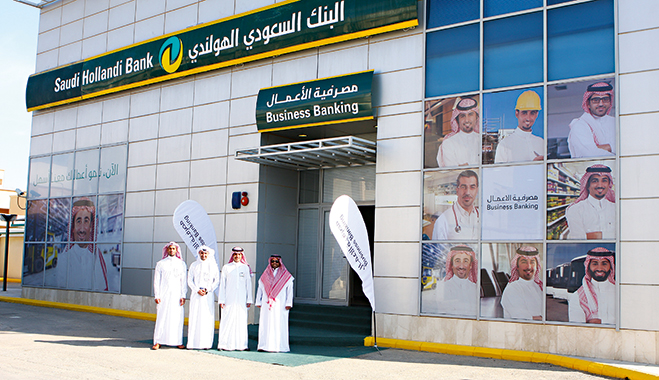 Saudi Hollandi's First Business Banking centre in Riyadh city, Saudi Arabia&nbsp
Author:
Dr Bernd van Linder, CEO, Saudi Hollandi Bank
The financial markets of any economy are critical to its overall development, and it is well documented that robust and efficient banking systems and stock markets are key drivers of growth. In this respect, Saudi Arabia's economy is no different from any other country. A strong, well-regulated banking sector is helping the Kingdom's companies and individuals meet their financial goals and, as in every other service sector, the competition to provide the products and services that these consumers need is intense, but essential to its continued development.
Up to this point, the Saudi banking sector has grown quickly, taking advantage of technological developments and product innovations alongside the emergence of a true service culture. But for the sector to continue on this growth path and to do so sustainably, I believe it needs to revisit the way it views its customers.
Historically, 'customer focus' had been the banking industry's mantra when talking about how services are being delivered and for many, this has been an effective way of viewing relationships. However, as technology begins to open up new direct channels, this rather narrow approach needs to be challenged, not least because new customers are becoming harder to find.
More than the basics
Recent research in 27 countries found that banks formed new relationships – customers switching their primary bank and customers altogether new to banking – at an average rate of about three percent in developed markets and six percent in developing ones.
Historically, 'customer focus' had been the banking industry's mantra when talking about how services are being delivered
So, winning new relationships cannot be the only approach to growing. This suggests that developing true loyalty is becoming ever more important in both attracting the few new customers there are but also, more importantly, in maintaining long-term relationships.
Customer centricity, or the act of putting the customer at the centre of everything Saudi Hollandi Bank does, has to be the new ethos in building deep, sustainable connections with customers, regardless of whether they are large companies, families or individuals. But what does it mean to be truly customer-centric?
Banks have to earn the right to build truly customer-centric relationships, and they must do this from a position of covering basic service expectations. Saudi market drivers are no different from those in international markets – for retail customers, these include accessibility in terms of branches and ATMs, fast turn-around-time, and a low error rate in handling transactions. In the Kingdom, providing sharia-compliant products is a fundamental customer requirement. But today every customer expects these services as a minimum, just allowing a bank the license to operate. Customer centricity rests on this purely as a baseline.
The form that basic services take is fairly common for all customers. However, to begin to build on that requires a depth of knowledge and understanding of the nuances of the needs and expectations of each type of customer. Not only in segmenting them for internal organisation purposes, but going beyond this to actively create new products and services that really differ by segment.
To take an example, small and medium-sized enterprises (SMEs) are important customers to Saudi Hollandi Bank (SHB) and its experience working with them over the years shows that they have their own very specific requirements, which are different from those of both large corporates and retail customers. Getting the service offering right is critical and the bank has developed specialist skills in this area to support them, viewing this as an area of strategic importance.
Face-to-face targeting
SHB understands the unique characteristics of SMEs, and acknowledge that access to financial services for many of these businesses remains severely constrained. It therefore offers easy, straightforward and quick solutions that address this segment's specific banking needs. For example, it has developed a specialised risk acceptance framework for assessing SME credit, which helps it to better serve these customers in a prudent yet progressive way.
It knows that face-to-face dealings are important for the owners of these businesses, so it has broadened its outreach by opening SME business centres right in the centre of SME 'clusters', like those it sees in the Balad area of Jeddah, for instance. To help SMEs develop and grow, the bank provides a specialised website dedicated to SMEs called The Business Owner Toolkit. The website offers a rich source of information, market insight tools and templates to help SMEs plan, manage and develop their businesses.
Serving SMEs is now one of its key strategic pillars, and by combining a corporate banking product range with a service model deployed in retail banking, it is offering this important customer group the services they need through the channels they want, and as a result have become one of the market leaders in this crucial segment.
SHB has historically been a corporate bank, but in recent years it has grown a strong presence in the retail market by developing a comprehensive suite of award-winning products that cater to specific segments. It has also expanded its network to 55 branches and 400 ATMs in early 2015 – an almost 20 percent increase in branches – and 50 percent in ATMs over the year preceding it, and plans to continue investing in branch and ATM networks. This approach helped the bank grow its retail assets by over 46 percent in 2014. In recognition of its achievements, it was voted Best Home Finance and Personal Finance provider in Saudi Arabia by Banker Middle East magazine, and Best Personal Finance Programme, 2014 in World Finance.
It was able to achieve all this by making sure it fully understood what each customer in every segment is expecting, and then pulling together internal resources to create truly customer-centric products that are delivered by a strong team with industry knowledge and experience. It is this core ethos, combined with the bank's multi-disciplinary approach, that has allowed it to grow so fast and it will broaden business in coming years.
Put resources close to customers
A major area of growth in the Kingdom will be in the affluent and mass affluent segments, so it is using this approach to put its resources together to build the right products and provide the services these customers need in ways which suit them best – whether in-branch or online. Every bank needs to engage with its customers and provide a continuous interaction with them. Technology will play a vital role and investment on this front is really crucial.
Beyond the obvious visibility of social media, technology is also enabling the growth of mobile banking and customers are embracing the use of their smartphones and tablets to handle transactions. The demand for applications that are both useful and easy to navigate is growing fast. Smart phone penetration in Saudi Arabia is already close to 75 percent and the potential to broaden the usage of this channel, placing it at the heart of customer relationships in retail banking is huge. When SHB launched a mobile banking app, over a quarter of existing internet banking users registered almost immediately without any direct marketing efforts. Digital transformations like this give banks an opportunity to provide customers with ever more convenient services, and can also play a major role in building customer loyalty.
Many new loyalty programmes in retail banking are now built around approaches that allow product managers to deeply understand customer behaviour and needs. Technology is allowing the analysis of data that in turn helps to formulate offers and rewards that strengthened bonds and enhance customer experience at the same time. SHB has realised the potential in this digital transformation, and has evolved its loyalty programme proposition to its customers accordingly.
Putting resources around the customer sounds logical but the practicalities of doing this are not simple. For it to work, every employee needs to think about his or her customer first in everything they do and, the organisation then has to be able to deliver the service in a way the customer wants while at the same time, rewarding the employee for taking this holistic approach.
This is where a strong internal culture is essential. Banks may put their financial assets to work for their customers, but they also need to ensure their human assets are lined up to support them. Creating a team that is clear about how to do that – articulating and measuring the behaviours that support this – are fundamental building blocks of a customer-centric culture.
SHB has identified the theme of helping its customers and employees to realise the opportunities that already exist, while creating new opportunities for the future. This has helped the bank to identify the types of values that its employees should aspire to and the behaviours that it knows its customers appreciate. As part of this the bank encourages each and every member of the team to challenge the way it does things, to innovate and to think outside the usual constructs of what it does.
So, getting the basics right by segmenting its approach and placing its resources close to its customers allows growth to be driven forward, and for the bank to become truly customer-centric. The Saudi banking sector is at an important inflection point, as the Kingdom's economy diversifies and expands. By making sure that it puts its customers at the heart of its growth strategy, it will ensure its continued strong and sustainable expansion into the future.