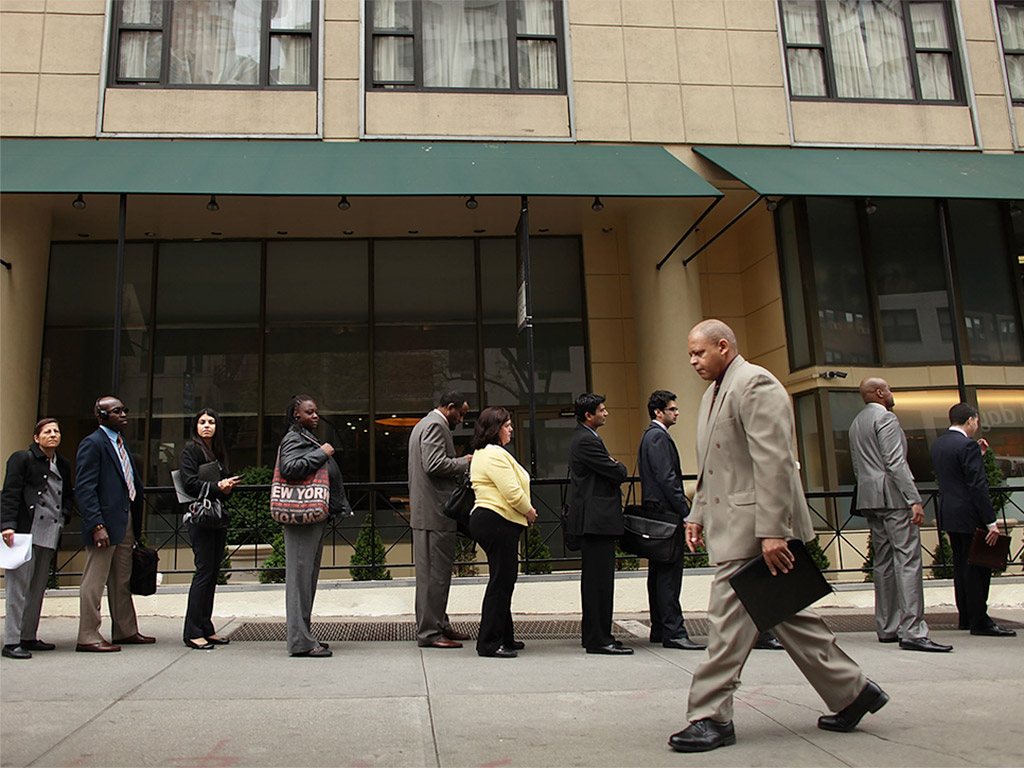 American citizens line up to attend a job fair in Manhattan. In spite of the US economy contracting more than analysts expected in Q1, economists point out that job market statistics are something to be optimistic about&nbsp
Revised Department of Commerce figures show that the US economy shrunk in the first quarter of 2014, marking the country's first instance of economic contraction in three years. On an annualised basis, the economy contracted by one percent, little under the original estimate of 0.1 percent and far short of the 2.6 percent rise the quarter previous.
"Overall the first quarter was subject to a number of notable influences, including historically severe winter weather, which temporarily lowered growth," read a statement released by the White House. "The President will do everything he can either by acting through executive action or by working with Congress to push for steps that would raise growth and accelerate job creation, including fully paid-for investments in infrastructure, education and research, a reinstatement of extended unemployment insurance benefits, and an increase in the minimum wage."
Economists believe the weather conditions alone were responsible for a loss of 1.5 percentage points
The economy's reversal is believed to have come in large part due to harsh winter conditions and a lack of business investment throughout the first three months of the year. Economists believe the weather conditions alone were responsible for a loss of 1.5 percentage points, whereas falling exports combined with strong imports slashed the US trade deficit by 0.95 percent. However, emboldened economic indicators since have given many analysts cause for optimism.
For one, figures released by the Labour Department showed that the number of jobless claims in the week ending May 24 had fallen 27,000 to 300,000 and employment rose close to 300,000 in April. All things considered, most expect second quarter growth to come in at around 3.5 percent, and for the economy to regain the pace it showed towards the latter stages of last year.
Economists have been quick to emphasise that the contraction is not as bad as it looks, and cite improved labour market conditions as a major contributor to the country's growth in the months ahead. "I wouldn't worry about the contraction at all," said Paul Dales, Senior US Economist for Capital Economics. "There are strong signs that the health of the labour market has improved in the second quarter, which is pretty crucial."