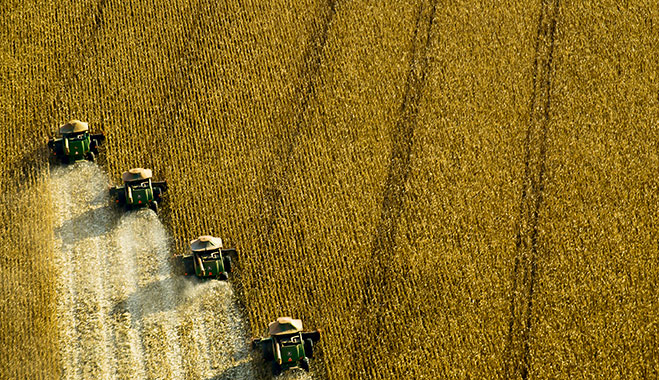 Combine harvesters at work in Brazil. Latin America produces vast quantities of food exports that, with the right levels of investment, could be hugely profitable&nbsp
Interview with:
Ernesto Lienhard, CEO, BAF Capital
January 15, 2014
While much of the attention of the investment community has been focused on Asia over the last few years, Latin America is quietly establishing itself as a serious contender on the global financial stage. Despite a history of turbulent economies, political unrest and financial mismanagement, many global observers believe that the region will offer huge opportunities to investors in the coming years.
Perhaps the region's most important sector is agriculture, with many Latin American countries producing considerable amounts of food that is then exported to the rest of the world. However, with a lack of modern infrastructure in many countries, as well as difficulties in raising the necessary finances to boost exports, many companies have struggled to translate their potential into international trade.
According to the World Bank, Latin America is set to be a key provider of food for the rest of the world over the next few decades. However, fluctuating exchange rates, stifling tax regimes and restrictive regulations mean many of these agriculture industries might struggle to remain competitive.
Latin America is set to be a key provider of food for the rest of the world over the next few decades
International investors are increasingly looking at providing the finance to help these industries grow. However, there are firms that have provided these facilities for a number of years, including Swiss corporate finance specialists BAF Capital. The company has been in operation since the 1990s, providing finance to many agriculture-based firms from across Latin America.
In 2008 it launched its BAF Latam Trade Finance Fund, which was the recipient of the World Finance award for Best Emerging Markets Fund in Latin America, 2013. World Finance caught up with BAF Capital co-founder and CEO Ernesto Lienhard to discuss the region's potential, how his firm has successfully built up its operations, and how it is well placed to support the region in the future.
Regulation and customers
Lienhard says that the changes to the banking industry seen over the last decade and a half mean that firms like his are especially well placed to offer the necessary financing to businesses that banks may not be able to fully provide.
"The huge change in the banking industry that has been taking place during the last 15 years – particularly since the crisis of 2008 – led us to take advantage of certain inefficiencies in the sector. Back in the 1980s, while we were still working in the banking sector in Latin America, we realised that the banks as a whole were becoming more bureaucratic year after year. Part of this bureaucracy stems from the fact that the banks have been growing and becoming more standardised. Therefore, more and more time is devoted to complying with regulators rather than to servicing customers."
It was during the initial stages of the business back in the 1990s that BAF Capital saw the potential for targeting specific regional businesses. "When we started our business back in the 90s as an independent working capital provider we foresaw a very attractive market niche: we noticed the opportunity to become an alternative lender to regional companies that needed higher quality services than the ones provided by the banks. This worked well for several years and became even better for our strategy after the 2008 collapse."
When the global financial crisis hit in 2008, the problems facing the banking industry were revealed and opportunities for the likes of BAF emerged. "Banks were overloaded with leverage," says Lienhard. "As a result of this, regulators required additional capital and stricter norms. In this scenario, direct lending became a unique opportunity for investors."
Despite being headquartered in Switzerland, BAF has affiliates throughout Latin America. "Although the investment management company, BAF Capital, is based in Switzerland, its affiliates BAF Capital SA Brazil, BAF Capital SA Argentina and BAF Capital SA Uruguay are based in Latin America. BAF Capital holds the investment committee."
The reason, says Lienhard, is to remain in close proximity to its primary clients. "We work very hard to be the best alternative funding source in Latin America. To achieve this goal, we need to be close to our borrowers, understand their businesses and, of course, their financial needs. Therefore, we are present in the countries where all the borrowers are located."
Direct lending
Typical clients tend to be in the agricultural sectors from across South America. These include "dairy producers, sugar mills, soybean oil crushing companies, slaughterhouses, grain exporters, and juice exporters. All of them are long established medium and large companies with important investments in fixed assets, state-of-the-art facilities and excellent track record as exporters. All of these companies have gone through many political and economical crisis and have managed to overcome them all."
The fund offers businesses in Latin America direct lending, helping them to boost their exports to the rest of the world. "We have built our own network through many decades of being involved in corporate finance," says Lienhard. "In a nutshell, we provide pre-export financing of export contracts signed with well-known international buyers. In some instances we take in addition warehouse receipts over inventories or trusts over collection accounts as collateral. In fact, all our transactions are self-liquidating and 100 percent collateralised structured."
Latin America has been fluctuating since 1492 and in our opinion it will continue fluctuating in the future as well
Because of the unique way the fund has been structured, it is not restricted in the same way as banks in terms of capital requirements. "The group is a niche player, fully focused in a specific region but without the constraints and regulations of a traditional bank," says Lienhard. "As we do not use leverage we don't have any restrictions on capital requirements or any ratios to be maintained. The golden rule in our strategy is based on diversification of borrowers, sectors and countries."
The team of employees the company has built up in recent years has a wealth of experience in corporate finance, as well as in the region.
"BAF Capital's team has always worked in corporate finance within the banking sector in the region before joining our firm. Most of them worked for institutions like Rabobank, Banco do Brasil, Citibank or Lloyds Bank. We are a team of 64, the majority of us located in the affiliates of Latin America," says Lienhard.
Through its various fully integrated elements, BAF Capital's employees focus on deal sourcing, risk analysis, and structuring. While the key team members have been with the company since the beginning and have plenty of banking experience, many of them also have family histories related to the agricultural sector, giving them an advantageous insight into the Latin American industry.
Old fashioned lending
Although there is vast potential in Latin America, many investors are still concerned about the risks posed by the continent. BAF Capital's strategy is both conservative and old fashioned, says Lienhard. "We apply two key rules regarding mitigation of risk – be close to your borrowers, and diversify. BAF Capital analyses each borrower at the credit committee at least twice a year, and we currently have relationships with more than 100 companies."
The BAF Latam Trade Finance Fund has enjoyed almost six years of positive returns, defying the fluctuations seen across the continent. The volatility that Latin American economies traditionally see is not a phenomenon of just the last few decades, according to Lienhard. "Latin America has been fluctuating since 1492 and in our opinion it will continue fluctuating in the future as well. Latin America is all about economic cycles. We understand the region from that point of view and try to adapt our strategy to that principle."
Again, the agricultural sectors are ones that BAF Capital are seeing the most opportunities in. "We are fully concentrated in financing food exporters in the region because this is a traditional activity here, where the comparative and competitive advantages are very clear. The region is the world's largest exporter of agricultural products. The food exporters that we work with have consistent track records. They have been honouring the export contracts signed for decades."
The firm's flexibility also enables it to navigate fluctuations in exchange rates. "Exchange rates and liquidity play a very important role in profitability," says Lienhard. "The weaker the domestic currency is, the more profitable the export sector becomes. That's why whenever there is a crisis or volatility that affects the region, our strategy performs so well. Because we are able to provide financing to food exporters that have an excellent business, but are unable to fulfil all their needs from the traditional lenders."
While the BAF Latam Trade Finance Fund has been the focus of the firm, BAF Capital says it is open to new ways in which it can lend directly to companies in the region. Its focus will remain on the region, and it's the deep historic ties that the key members of staff have for it that attracts them to Latin America.
"Our families arrived to the region from Switzerland almost 100 years ago. We were born here, so we know the region, the agricultural cycles and their players. In our view it is still an undeveloped market with plenty of potential."