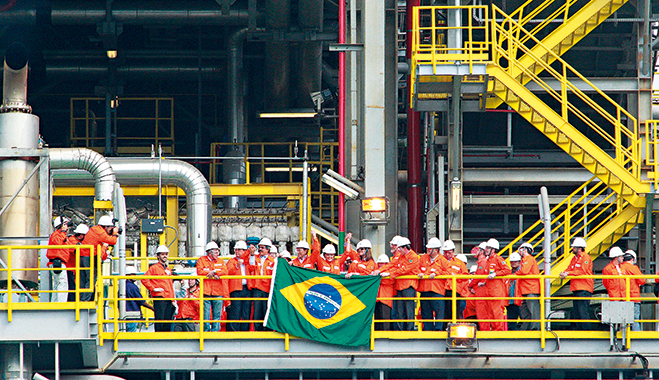 Brazilian President Dilma Rousseff (c) during the inauguration of Petrobras' P-56 platform, at the shipyard in Angra dos Reis, South of Rio de Janeiro&nbsp
In 2007 Brazil made a remarkable discovery. An estimated 50 billion barrels of oil trapped under a thick layer of salt was found 300 miles off the coast of Rio de Janeiro. The oil had been there since Africa and South America started drifting apart 100 million years ago, and confirmed years of agonising research by Brazilian authorities. The president at the time, Luiz Inácio Lula da Silva, described the find as a "winning lottery ticket" and thanked God for the bounty of oil that he believed would transform the country into an energy superpower.
Da Silva was not alone in thinking this as the find sent shockwaves through the energy industry. It was a discovery that many believed could transform Brazil into a major oil exporter like Saudi Arabia or Venezuela. Industry analysts said the find was the third biggest in the world and the Correio Braziliense newspaper ran with the front page headline 'God is Brazilian'. The discovery of pre-salt oil, so called because it lies deep beneath the sea under a layer of salt, was made by Petrobras. Executives of the half state-owned company boasted that their massive find could help them surpass Apple as the world's most profitable publically traded company.
The discovery was followed by an arms race. Giants in the energy sector clamoured to secure exploration rights from the government; international companies all wanted to plunge hydraulic drills into the ocean and tap into the massive oil reserves that had, until then, eluded Brazil.
Value of brazilian oil exports
$3.649bn
2009
$3.991bn
2010
$5.442bn
2011
$5.946bn
2012
$5.878bn
2013
$5.563bn
2014
$5.563bn
2015
$5.724bn
2016
$6.005bn
2017
Source: International Monetary Fund
Open for business
In the 1960s Petrobras had a monopoly in the Campos and Santos basins – areas in the South Atlantic Ocean believed to hold vast oil reserves. Despite being the only company there, Petrobras managed to produce just 600,000 barrels per day (bpd). This monopoly came to an end in 1997. Brazil passed an amendment on energy regulation that year which opened the region to foreign competition for the first time. Over 50 companies including Royal Dutch Shell, Chevron, Repsol, BP and El Paso have since joined the race to start drilling in the region. But the 'monstrous' discovery in 2007 has so far failed to transform Brazil. Oil production that went from negligible to 2.7 million bpd in 30 years has stagnated. The potential of the find is yet to be exploited and it remains nothing more than 'potential'.
Petrobras told World Finance it has "no doubt that the future of oil and gas in Brazil is promising", but other firms disagree. Foreign companies have started to look elsewhere as government control, regulatory uncertainty and sky-high production costs pour cold water on Brazil's dream of becoming an energy super state. Maersk is one of the first big companies to reduce its interest in the region. On July 8 the Danish conglomerate wrote off a $1.7bn investment in the Campos basin. The part-withdrawal from the area was evidence that the hype of oil in Brazil had failed to live up to expectations. Maersk reduced its ownership in the Polvo oil field – located in the Campos basin – by 40 percent after citing "adverse impacts".
Soaring development costs and a plummeting oil value were also pressing issues that culminated in their huge write off. CEO Nils Anderson described his company's "unsatisfactory" flip-flop in a statement: "The investment was made at a time when the outlook for the oil industry and oil prices were more positive than today and we had growth ambitions for our Brazilian oil business. We have now adapted our strategy to the situation we see today, but it is of course clearly unsatisfactory."
Maersk bought stakes in the Campos basin for $2.4bn from SK Energy of South Korea in 2011. The move cleared the path for the company to become a dominant player tapping into Brazil's deep-sea bounty. But analysts were bearish on the price of oil and, as there was considerable exploratory work to do, making worthwhile profits became untenable. Maersk says it will now invest in other global energy sites, but the move is the tip of the iceberg in the protracted saga of Brazilian oil. International companies are seriously considering cutting their losses in the Campos and Santos regions and retreating to economically viable areas like Manitoba, Canada.
Deep-sea exploration
The pressing question is if whether other companies like BP, Anadarko and India's IBV will follow suit and explore energy pastures new. Developing pre-salt wells costs billions and no one has found a new basin since 2008, but BP isn't put off. They have committed long-term to the area that could take up to 40 years to be profitable, a BP spokesman told World Finance. Deep-sea drilling takes "20 to 40 years to come into fruition", said the spokesman who stressed there are "macroeconomic uncertainties" to manage as well.
The potential financial losses at stake are high and BP is reliant on complex geophysical imaging to map the subsurface of the ocean. This process is used to build an image of rock formations under the seabed so an accurate picture of the drilling area can be obtained. "Cutting-edge seismic imaging is part of what we're good at," added the spokesman who conceded there is "no certainty" in making profits.
With oil increasingly hard to extract, Petrobras has fallen on hard times and is the most indebted oil producer in the world. This is partly down to politically sensitive legislation that allows Brazil to keep fuel prices low to balance its high inflation rate. The government has interfered in the price of fuel, say The Wall Street Journal, and this has stopped Petrobras from scaling heights it initially thought were a mere formality. In 2007 it was worth $287bn – more than Microsoft at the time. Now its market cap is a third of what it used to be. Oil production, once expected to surge, has stagnated and the sense of euphoria has turned to disappointment.
Brazil needs the oil in the Campos and Santos areas. Not just for the capital it pumps into the economy but because it's the third largest energy consumer in the Americas. Oil reserves remain largely untapped which has forced Brazil to import more than it exports.
Gasoline and diesel now sell at 25 percent below import costs that has hurt Petrobras' ability to supply demand. Brazil has increased its energy production, particularly in the procurement of oil and ethanol, and now ranks among the top 10 biggest energy producers in the world.
But it needs to crack the pre-salt layer on its continental shelf. Around 90 percent of its petroleum is offshore in ultra deep waters and drilling through the 2,000m pre-salt layer is expensive and hazardous due to the high risk of an oil spill. This year Petrobras announced an ambitious corporate spending venture to invest $221bn over four years to produce four billion bpd between 2020 and 2030.
It's a gargantuan sum to invest in an area that has hitherto yielded little in the way of returns. The reserves they want to drill into have at least 50 billion barrels worth of crude oil, some analysts say it could be closer to 100 billion.
Volume aside, it remains to be seen if Brazil's lottery ticket is a winner. If it is, it could go down as the most expensive lottery ticket in the world, but the allure of becoming South America's next energy superpower is too tempting to pass up.