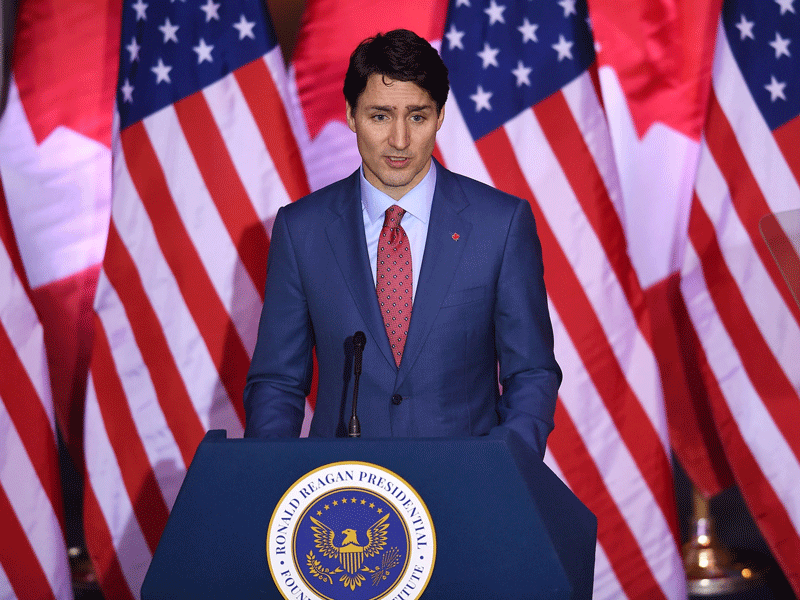 Canadian Prime Minister Justin Trudeau reacted positively to the news as the trilateral deal ends more than a year of disquiet over trade in North America&nbsp
Author:
Courtney Goldsmith
Canada and the US have reached a deal alongside Mexico to replace the North America Free Trade Agreement (NAFTA), ending 13 months of uncertainty.
President Trump has long sought to revamp the 1994 trade agreement with the wider goal of bringing down US trade deficits
The US and Canada released a joint statement late on Sunday, September 30, that confirmed a deal to rework NAFTA, which governs $1.2trn in trade.
"Today, Canada and the United States reached an agreement, alongside Mexico, on a new, modernised trade agreement for the 21st Century: the United States-Mexico-Canada Agreement (USMCA)", US Trade Representative Robert Lighthizer and Canadian Foreign Affairs Minister Chrystia Freeland said.
According to the statement, the USMCA will "result in freer markets, fairer trade and robust economic growth in our region", and create jobs and new opportunities across North America.
President Donald Trump has long sought to revamp the 1994 trade agreement with the wider goal of bringing down US trade deficits.
Despite threats to tear up the pact, the US reached a deal with Mexico in August. On Sunday, negotiators on both sides were said to make concessions as they rushed to meet a midnight deadline.
Prime Minister Justin Trudeau told reporters: "It's a good day for Canada." Mexico's Foreign Secretary Luis Videgaray echoed this sentiment, proclaiming: "It's a good night for Mexico, and for North America."
But while the agreement ended more than a year of uncertainty, it came at a cost. Canada agreed to provide US dairy farmers access to about 3.5 percent of its nearly $16bn annual domestic market, Reuters reported, citing sources. The deal also reportedly failed to settle the dispute over US tariffs on Canada's steel and aluminium exports.
Financial markets reacted positively, however, as the agreement marked a modicum of certainty for traders. Following the announcement, Canada's dollar rose to its highest since May against the US dollar, and the Mexican peso soared to its highest since August.
Although Trump continues to wage a trade war on multiple fronts, the agreement with Mexico and Canada brings relief and could lead to a growing trust in the US economy, which has been plagued by uncertainty since Trump took office.