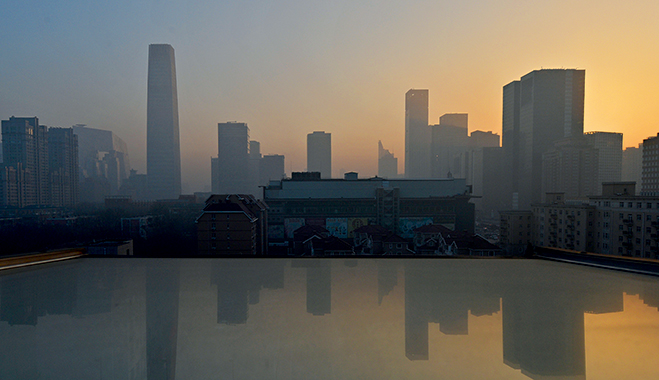 Smog hangs over the skyline as the sun rises over the central business district in Beijing &nbsp
Look out onto any one of China's major metropolises and chances are you'll be faced with a thick cloud of smog and throngs of passersby donning facemasks. This is the country's 'airpocalypse', a phenomenon that has so far caused hundreds and thousands of seedlings to wither, an 80-100 percent year-on-year boom in air purifier sales, and millions-upon-millions of people to die prematurely.
The level of pollution at times resembles a nuclear winter, obscuring the sun's rays, slowing photosynthesis and costing the country's food supply dearly. Earlier this year, those in China's northern provinces were cloaked in visible pollution for upwards of a week and were left with no option but to keep children indoors and reduce exposure to the smog in what ways they could. Pictures of Beijing and Guangzhou circulated the globe, showing a familiar cityscape blanketed in smog, and barely perceptible silhouettes of people squinting into the invisible distance.
In January, the country's former health minister spoke out against the cloud hanging low over China's city streets and joined leading members of the scientific community in condemning China's contribution to climate change. Chen Zhu, a professor of medicine and molecular biologist, concluded, along with colleagues at the World Bank, World Health Organisation and Chinese Academy for Environmental Planning, that between 350,000 and 500,000 people die each year as a result of China's air pollution. Behind only heart disease, dietary risk and smoking, air pollution is seen as the largest threat to the population, and lung cancer is today the leading cause of death from malignant tumours.
[A]ir pollution is seen as the largest threat to the population, and lung cancer is today the leading cause of death from malignant tumours
Not contained to health hazards, China's pollution problem has also had a measurable impact on the national economy. The country's environmental issues cost the economy dearly in 2008 when, according to the World Bank, they reduced gross national income by nine percent; and, with annualised GDP growth at less then eight percent in 2013, the same issue looks to have raised its ugly head once again.
After years spent dismissing the smog as nothing more than a natural consequence of double-digit growth, the matter has finally brought international condemnation and widespread discontent to Chinese shores, leaving the country's administration with little option but to face the issue head-on.
Let the battle commence
In answer to the pressing social and political hot potato, Li Keqiang finally took to the stage before Chinese delegates in March to denounce the country's wayward emissions and ineffective stance on climate change. "We will declare war on pollution and fight it with the same determination we battled poverty," he said at the National People's Congress. "Smog is affecting larger parts of China and environmental pollution has become a major problem, which is nature's red-light warning against the model of inefficient and blind development."
China has long been accused of failing to sufficiently impose itself on matters relating to corruption, labour standards and, above all, pro-environmental policy. But, the country's leadership appears to be quickly changing tact, in light of growing pressure from those working towards mitigating climate change. "It is currently a major and growing emitter, but it is doing a lot – and increasingly more – to constrain the growth of those emissions and, indirectly, reduce emissions globally," says Fergus Green, Policy Analyst and Research Advisor to Nicholas Stern, Chair of the Grantham Research Institute.
The foundations for change were laid in November of last year when China's leadership set out a raft of ambitious economic and social reforms, namely the relaxation of the one-child policy, improved property rights for farmers, and all-round support for free market-led growth. For the environmentally minded observer, the best was still to come, when a few months later Li unveiled a series of pro-environment reforms.
"China already has a target to reduce emissions per unit of GDP by 40–45 percent between 2005 and 2020, with a target of 17 percent during the 12th five year plan," says Green. "China's plans to achieve this reduction in emissions intensity, and to constrain its emissions generally, include: implementing energy efficiency measures to reduce the energy use of firms and households; retiring its least efficient coal and industrial plants and increasing the efficiency of new capacity; capped coal use or imposed coal growth constraints in a number of provinces, in accordance with its air pollution control plan; reducing its share of coal-fired power generation in its energy mix; rapidly expanding its renewable and nuclear generation capacity; and taking a wide range of additional measures to reduce emissions in transport, industry, land-use and beyond."
Cost to the economy
For months now the country has pushed a number of pro-environmental policies and plans to the fore that look, in principle, to clamp down on dirty industries and lift the clouds hanging over China's major cities. However, the approach is yet to influence proceedings in a measurable way, as affected industries and growth-hungry local governments appear unwilling to introduce pro-climate policies with quite the same enthusiasm as Li's administration. The issue in the main is the supposed consequences this could bring for a national economy that has grown accustomed to double-digit growth in past decades.
Many of the administration's major plans will likely take years to implement, and low-carbon developments will be a long time coming before the economy and environment feel the benefit. Therefore, any reforms introduced to tackle climate change must be made to appear pro-growth as well as pro-environment if local governments are to introduce them willingly, for fear of the backlash that could ensue should China's growth fall short.
Nonetheless, for China to make the shift to a low-carbon economy, the country's leadership will have to concede that lower growth is a necessary evil in order to achieve sustainable prosperity. For decades China has chased headline GDP growth while blind to the environmental implications of doing so, and the country's 30 year-long industrialisation drive has polluted the country's skies and increased global emissions at an unprecedented rate.
One key step taken last year by Chinese authorities was the decision to assess officials on factors apart from economic growth when measuring performance, marking a departure from its 'economic growth at all costs' strategy. A document released by the ruling administration in November and seen by Reuters promises to measure resource use, environmental damage and industrial overcapacity, among other things, when assessing officials, which – crucially – could encourage local governments to make the necessary changes.
The systematic overhaul looks to overcome one of the major hurdles to pro-environmental policy, in that officials are no longer incentivised only to boost economic output regardless of the costs to environmental welfare and social wellbeing. And while the changes could likely cause disruptions for dirty industries and sacrifice much-loved GDP points, the change is close to what is needed for the country to end its relentless and – at times – irresponsible pursuit of growth.
Global influence
Irrespective of the environmental dangers that exist for the country's population, the world's number two economy and number one emitter also – willingly or not – plays a huge role in informing environmental policy around the world. "Action by China, as the world's largest emitter, is important in shifting global expectations about whether sufficient climate action/a shift to a low carbon economy will occur," says Green. "The more steps China takes to cut emissions, the more others – investors, governments, citizens – are likely to expect future global emissions reductions – and green market opportunities – will materialise, and, therefore the more likely they are to follow suit."
It's unlikely that a significant emissions reduction will come soon, given that coal consumption is yet to peak and economic growth is still very much reliant on domestic energy production and consumption. This is a country of 1.4 billion people, responsible for upwards of 10 billion tonnes of carbon emissions a year – 10 times greater than the entire African continent – and still dependent in large part on the fossil fuels industry. However, should Chinese policymakers do away with their growth at all costs mentality, we could well see the beginnings of a concerted global movement towards mitigating climate change.