Consumer habits are changing thanks to the dawn of the online era. Teamed with the effects of the financial crisis, such changes are having a huge impact on big-name grocery retailers&nbsp
For more than two decades, big-name grocery retailers such as British giant Tesco, French group Carrefour and US superstore Walmart rode the waves of unstoppable growth (see Fig 1), mushrooming into world-dominating forces and playing on their all-important strengths. A weekly shop was becoming the norm and so large, out-of-town stores offering everything under one roof were the order of the day.
Roll on just a few years and it's a rather different story, with supermarkets across the board suffering from slumping sales and feeling the effects of a fundamental shift in consumer shopping habits. These developments have been driven in part by changes in lifestyle, the dawn of the online era and the prevalence of tightened wallets brought on by the financial crisis.
The superstore format which drove the big names to success now seems to be failing in the face of smaller, local shops catering to a consumer market increasingly keen on convenience shopping. Those key players are also finding themselves having to battle harder than ever in an increasingly competitive market where good-quality, fresh products are becoming more affordable than ever.
Discount retailers such as Aldi and Lidl are growing rapidly, now accounting for over eight percent of the UK market (see Fig 2), 10 percent of the French market and a staggering 37 percent of the German market, according to market research firm Kantar, and they're expected to grow further over the next few years. That's certainly starting to threaten the larger, seemingly too-big-to-fail players that have, until now, dominated the European retail sector.
Tesco in numbers
92%
Fall in profits, H1 2014
£263m
Overstated profit guidance
43
Stores to close
£250m
Cutbacks to be made
2,000
Jobs to be cut
30%
Cuts to overheads
Big names in big trouble
Among those hardest hit by the changing landscape has been the UK's largest supermarket chain, Tesco. The retailer – one of the biggest in the world – has been dealt a succession of painful blows over the past year, with pre-tax profits for the first half of 2014 plunging 92 percent to £112m ($170.5m) and a high-profile accounting scandal, in which profit guidance was overstated by £263m ($359.2m), rocketing it into the stratosphere of bad press. The giant suffered five consecutive profit warnings in 2014, and the Christmas period didn't do much to bolster things, with like-for-like sales in the 19 weeks to January 3, 2015 dropping 2.9 percent. Tesco has taken to drastic measures, including making cutbacks of £250m ($380.5m) a year, closing down its headquarters, making 43 store closures across the UK, cutting 2,000 jobs and slashing overhead spending by around 30 percent.
Tesco isn't alone in its struggles (see Fig 3). UK rival Sainsbury's suffered its first Christmas sales drop in 10 years at the end of 2014, with year-on-year sales falling 1.7 percent in the 14 weeks to January 3. Investor concern has mounted, with shares in the business plummeting 36 percent in a year, according to a report by the BBC. Meanwhile, sales at two other dominant players in the UK grocery industry, Asda and Morrisons, fell 1.6 percent year-on-year in the 12 weeks to January 4, and the latter has resorted to desperate measures, ousting CEO Dalton Phillips on the back of tumbling profits and a failed strategy.
The trend isn't specific to the UK: Walmart, the biggest retailer in the US, amended its growth forecast for the fiscal year 2015 from five percent to two-to-three percent, and has failed to achieve comparable sales growth for nearly six consecutive quarters. Like the UK's struggling supermarkets, it's now cutting capital expenditures for 2015 by $1.3bn (down to $11.6bn) in response to the slump. Rival firm Target, meanwhile, suffered a substantial $25m plunge in revenue in the second quarter of 2014. Metro Group, based in Germany, saw revenues slide four percent in the financial year to September 2014 as it felt the hangover from a weak ruble, the sale of some of its Real hypermarkets and, importantly, a slump in growth across Western Europe.
A quick glance at French multinational giant Carrefour would suggest it's bucking the trend, with overall sales growth of 3.9 percent seen in the fourth quarter of 2014. However, these figures are skewed by strong growth in Latin America (including a staggering 33.5 percent organic sales growth in Argentina) and Asia, where it's starting to expand. As with the other major players, growth is slow in its domestic market of France, at one percent, and in wider Europe (0.4 percent). It doesn't appear to be speeding up any time soon.
All of this points to a glaringly apparent truth; the giant supermarket heyday seen in Europe and the US – which saw Tesco achieve 18 years of straight growth and share prices quadruple in the 20 years to 2007 – is over.
Changing consumer habits
Despite Carrefour's overall sales growth, both like-for-like and organic sales at its hypermarket stores – once a staple in the French retail scene – fell in the final quarter of 2014, reflecting the apparent reality that large stores are on the road to their demise and smaller shops are becoming more popular. Carrefour convenience store sales grew a substantial 7.5 percent in the fourth quarter of 2014 (see Fig 4), and Planet Retail estimates that sales from convenience stores across Europe will grow at an average yearly rate of 5.3 percent among all retailers.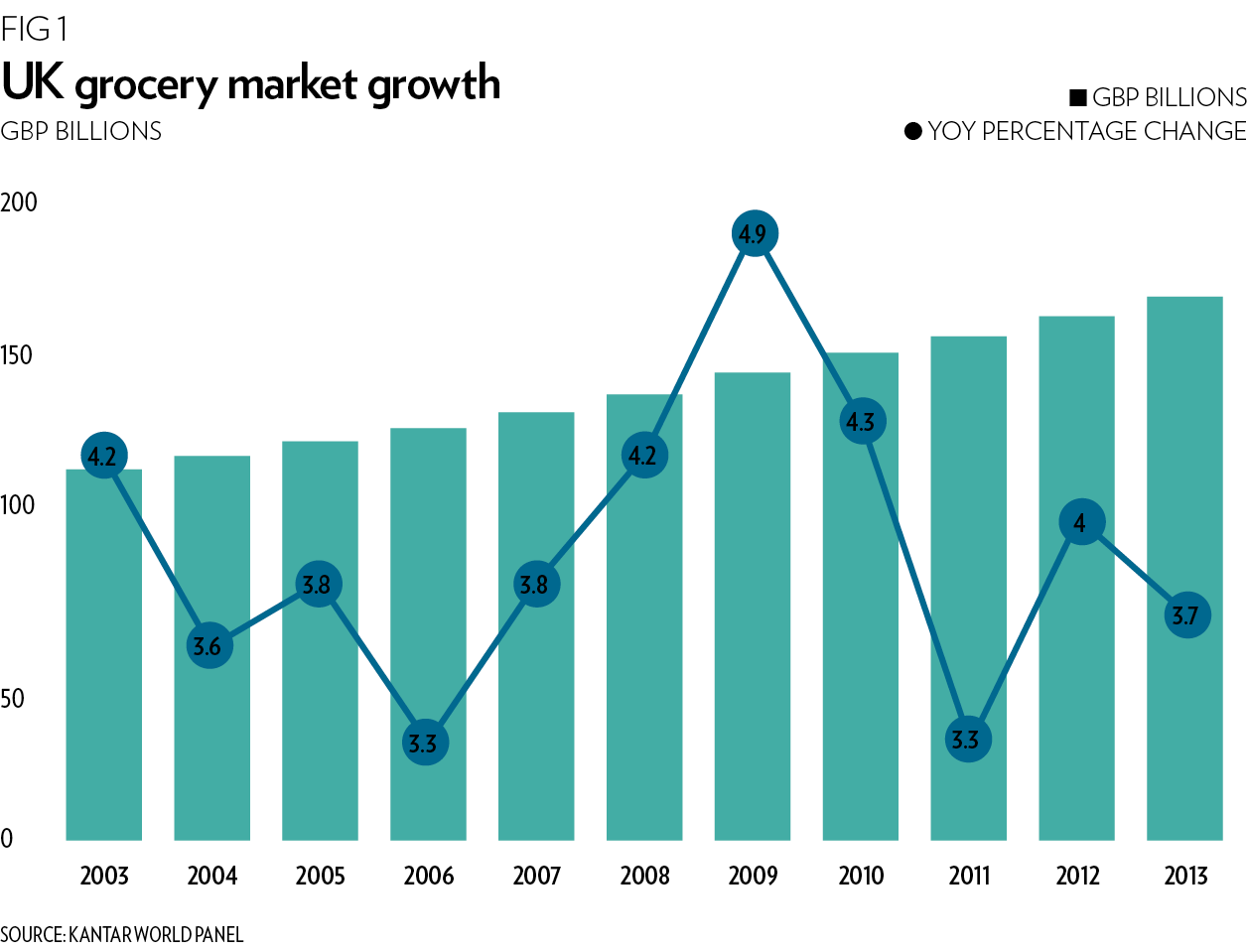 Andrew Stevens, Senior Retail Analyst at Verdict, considers this shift to smaller stores to be a reflection of essential changes in modern lifestyles. "We're seeing a lot more people using stores on a daily basis, and a lot of that's driven by more people living alone, changes in household sizes, more people commuting and so on," he said, adding that it's now common for consumers to do big shops around twice a month and top up after that as needed.
Stevens certainly has a point. The rise of shorter, more frequent shopping trips also seems reflective of a generational shift – a move towards a hurried, fast-paced lifestyle where people don't want to invest massive amounts of time in doing any one thing, and where bitesize consumption (in everything from shopping to reading – as reflected in the Twitter revolution) is becoming the norm.
Stevens also puts this shift towards convenience down to changing food trends – a move towards fresh produce spurred in part by increased eco-awareness. "There's a far bigger emphasis on food waste now. People don't necessarily want to buy a huge pack of tomatoes when they're going to go out of date," he said. "It's about people wanting to access good-quality food on a daily basis."
The trend towards convenience shopping isn't unique to Europe; in a bid to accelerate sales growth and return to its former glory, US-based Walmart is shifting its focus away from its megastores towards more local, city-centre shops, opening 240 small stores in 2015 and cutting back on the number of new superstores it originally planned for the year.
The fastest-growing grocery retailer in the US is now Kroger, and it's no coincidence that the company has 786 convenience stores dotted across the country. The giant has been growing constantly for 43 straight quarters and hit nearly $100bn in revenues in 2014, approaching the throne of Costco (at $109.6bn in revenue as of May 2014). Kroger's sales growth of 11.6 percent in the second quarter of 2014 dwarfed the 0.02 percent growth seen for Walmart, and investors clearly took note, sending stock soaring an impressive 95 percent over 2014.
This apparent shift to small-scale shopping suggests the very notion of the traditional supermarket, where everything is available under one roof, is under threat. It's an ironic reversal of the trend that catapulted the megastars of the supermarket world into rapid growth in the 1990s and early noughties (indeed, Walmart spent years trying to close down its smaller stores), and almost a nod to bygone times where buying fresh from separate, smaller shops was the standard.
What's different to those past times, of course, is the driver of that shift: where superstores were once the most convenient way of doing the grocery shopping, now online and top-up shops are. That's partly behind Tesco's struggles, according to Stevens: "[Tesco] used to rely on convenience as its main factor for holding and gaining market share… It used to be that everyone was close to a Tesco and it didn't really matter if it was good quality or cheap food." Now that's not relevant any more. David Gray, author of the Planet Retail report, believes this change in habits isn't just a short-term phenomenon. "This readjustment will be permanent rather than a temporary blip," he told The Guardian.
That means that if retailers such as Tesco, Carrefour and Walmart are to succeed, they need to permanently change the very model which sent them soaring in the first place – something they gradually seem to be recognising.
Rise of the discounters
Stepping up to the demand for smaller, more convenient stores came the discount retailers – namely Aldi and Lidl, in the case of Europe. They grew to prominence just at the right time, providing an appealing option to cash-strapped consumers keeping an eye on the finances in the midst of the economic crisis. That increased competition seems to have been a driving factor in the downfall of the big players, with discounters proving popular across Europe and also in the US. "Consumers are becoming far more savvy, they're far more willing to shop around to find a bargain or something a bit more interesting," according to Stevens. As these options have sprung up, demand has likewise increased, in turn further fuelling supply.
And it's the very lack of maturity among those smaller retailers that's giving them more opportunity to open new stores, which is further fuelling their growth and allowing them to threaten the bigger rivals. "If they're opening a new store, it's not really going to cannibalise existing sales," said Stevens. "It's going to steal market share from the rivals, so they're in a position where they're able to grow through expansion." And when a new store is opened, consumers flock for the novelty factor, fuelling their sales growth yet further – a method the big names are seemingly no longer able to achieve, as if having reached their maximum growth potential from which the only change hereon is to shrink.
That's certainly a trend the figures seem to point to: 'big fours' still account for 66 percent of the market in the UK, 56 percent in France and almost 50 percent in Spain, but Lidl parent company Schwarz Group is predicted to become the biggest European grocery retailer by 2018, according to the Planet Retail report. Its sales are projected to reach €80bn ($91.25bn) compared with €65bn ($74.15bn) in mid-2014, swallowing up the sales of Europe's current leaders and expanding five percent annually – against an estimated two percent for the likes of Europe's current leaders (including Tesco, Carrefour and Asda).
Louder voices
Fuelling the growth of those discount retailers seems to be a removal of the stigma once attached to them, and a large part of that is down to a change in their marketing tactics, according to Stevens. "Five years ago they were incredibly quiet – they never really spoke to the press and they wouldn't advertise often other than with their weekly special buy leaflets," he told World Finance. That meant marketing was limited to already existing, converted customers. "Now they're far more active," said Stevens, with their television adverts enabling them to reach a far more mainstream market, encroaching on that of the bigger players.
It's therefore arguably those discount retailers that the big-name supermarkets should have been targeting – rather than, as in the case of the UK's big four, price-matching each other. "The reaction from the supermarkets hasn't been 'let's fight against the discounters', it's been 'let's fight among ourselves', and that isn't what customers want to see," said Stevens. That very price-matching strategy has led in part to the falls in revenue, at least in the case of Sainsbury's, whose like-for-like sales figures declined as a result of price cuts brought about to match the cuts made by its biggest three competitors.
"What customers really want to see is good-quality products at a fair price," said Stevens, adding that special offers, a staple for the majority of the big four in the UK, can be perceived by consumers as disingenuous. It's indeed interesting to note that in France, where Carrefour has still seen some (albeit slow) growth, special offers aren't ordinarily part of the supermarket model.
The consumer shift thus seems to be two-fold, constituting both a move towards online/convenience shopping, and towards the type of everyday low pricing seen among the budget supermarket chains. That strategy is also one that has been taken by Asda, and that's helped protect it, to an extent, from the disasters seen by retailers such as Tesco.
A dying breed
In response to changing consumer habits, it seems the giants need to go beyond capital expenditure reductions and job cuts if they are to start regaining the market share they've been losing, and change the very model (large, convenient stores targeting everyone) they've relied on for so long.
A glance at market figures shows that those with a more niche, targeted market are faring the strongest in terms of growth: Waitrose has largely protected itself from the effects of the financial crisis by marketing its products to premium buyers, for example, with less of the one-size-fits-all approach that's seen by the big four and that's at the heart of the supermarket concept. Its strategy certainly paid off at Christmas, with overall sales growing seven percent in the five weeks ending January 3, and like-for-like sales increasing 2.8 percent.
As Stevens notes, there's an essential polarisation among the grocery retailers that are actually succeeding – that is, between premium players and discount retailers. Both of those also have more potential for growth given their smaller size. It seems middle-of-the-road no longer works as well as it used to, most clearly shown in the case of Tesco. "Tesco can't be the best, it can't be everything to everyone, which is what it's trying to be," said Stevens. "It needs to shift how it sells food to people. And until that happens, its not going to be able to gain market share."
What seems apparent is that Tesco and the other big-name players need to essentially reassess the entire concept around which they were built if they are to succeed in the face of changing lifestyles, changing consumer shopping habits and a fiercely competitive market that's fuelling a fundamental transition. Where the big names go from here remains to be seen, but it's fair to say the heyday of the supermarket – and of seemingly unstoppable expansion – seems to be well and truly over. It's arguably the extent of that expansion that's stopping them from getting any bigger.