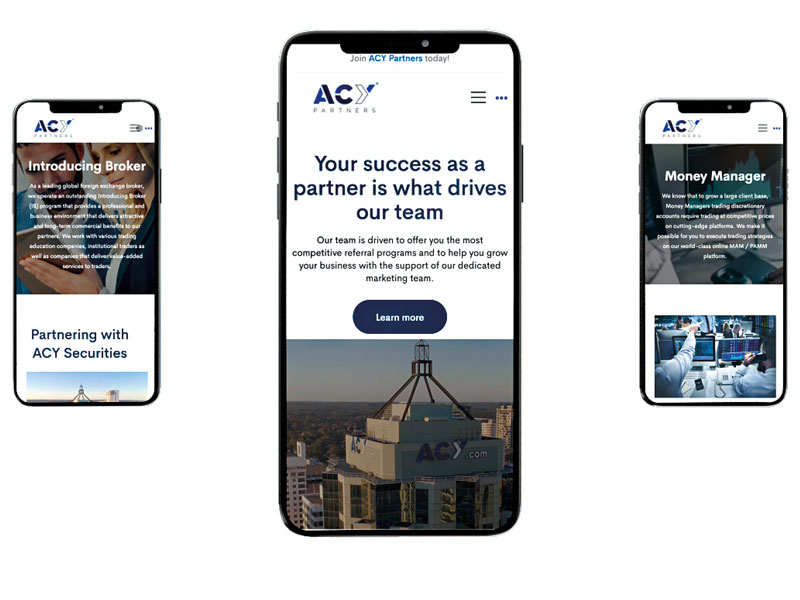 &nbsp
Author:
Alla Darwish, Head of Global Brokerage, ACY Securities
Everyone is looking for an edge as they navigate the global financial markets that are factoring in issues such as the COVID-19 pandemic, and the difference Joe Biden will make, and the right financial infrastructure is crucial.
The 11-year equity bull market, the longest since the Second World War, ended in 2020 as the pandemic took its toll. Now some investors are seeing buying opportunities. Other investors are focusing on foreign exchange, sometimes to minimise risk. Whatever your appetite for risk, contracts for difference (CFDs) are an increasingly popular way to access markets. When deciding how to participate in the markets, traders need to think about a variety of issues including access to fast execution, the latest market news and analysis, and of course, the ability to diversify your investment across a range of asset classes. ACY Securities is a financial services firm that delivers strongly on all these key areas. In fact, the firm was founded with a mission to arm clients with the technology, knowledge and resources they need to trade with confidence.
ACY Securities is one of Australia's fastest-growing multi-asset CFD online trading providers, specialising in the provision of state-of-the-art technology and educational solutions that not only help traders better execute their trading plans but also help them make smarter trading decisions.
Technological capabilities
A multi-asset powerhouse that offers traders the diversity of shares, FX, indices, precious metals, commodities, ETFs, and cryptocurrencies, ACY Securities is sometimes referred to as half Wall Street and half Silicon Valley. Since its inception in 2011, the company has developed the strong technological capabilities associated with Silicon Valley. ACY leverages this know-how to empower clients with institutional-grade trading conditions, premium education and cut-through market analysis.
With ultra-low cost of trading, no dealing desk and super-fast execution, clients of ACY Securities enjoy the freedom of trading the markets the way they like, with the reliability of deep liquidity.
The criteria to qualify as a regional manager are strict, but the rewards are second to none
One measure of a broker's success is the breadth of its client base, and we have helped thousands of traders and investors access the electronic communications networks (ECNs) and straight through processing (STP) they need for fast, efficient execution.
However, it is the high level of service and focus on client growth ACY provides to institutional investors and business partners that best demonstrates our technological capabilities and the reason why World Finance recently recognised ACY Securities to have the 'Best Partnership Programme in Australia in 2020.'
ACY has a strong track record in helping businesses realise long-term growth and success not only because they place a high value on strategic alliances, but because they have the global reach, technology, bespoke solutions and support infrastructure to make it happen.
Australia's best partnership programme
ACY Partners is a special division of ACY Securities that is dedicated to attracting and servicing partners. The partnership programme, which has been recognised as the best in Australia, comprises five main areas: 'Introducing Brokers', 'Fund/Money Managers,' 'Regional Managers,' 'White Labels' and 'Referral.'
Our valued Introducing Brokers partners get exclusive access to our dedicated partner portal, ACY.Cloud, real-time trade reporting, high-converting website marketing materials and support. In the Fund/Money Managers programme, partners can take advantage of our customised MAM trading solutions with seamless real-time client reporting combined with the flexibility of both MT4 and MT5 trading platforms. Tailored fee structures ensure managers can respond to all manner of clients' needs. The Regional Managers programme, meanwhile, is one of our most exciting partner options, with attractive earning potential across our full range of products. The criteria to qualify as a regional manager are strict, but the rewards are second to none. We also help White Labels and brokers to establish their operations from the start, offering bespoke solutions combined with the flexibility of using your brand on ACY's trading solutions.
We provide leading MT4 and MT5 technologies, as well as the technical support to ensure they run smoothly, plus top liquidity pricing, tailored CRMs, client portals, admin portals, and lucrative commission structure under the APEX program, which provides commission as low as $3 round trip. Finally, our Referral Programme is for finance bloggers and those running financial websites, offering an opportunity to help grow their income streams through referring those who are looking to trade the global markets with an established, award-winning broker.
Tech that delivers an edge
ACY Securities delivers an exceptional trading environment through ultra-fast execution speed, very low cost of trading, tradeable market analysis, and cut-through education to enhance clients' experience. The combination of these factors gives ACY a competitive edge and a compelling value proposition. Finlogix is our technologically inspired suite of tools for brokers, media partners and anyone else operating in this highly competitive space. First developed in 2019, it offers intuitive charting powered by an HTML 5 charting platform, as well as financial widgets with real-time data and one of the fastest economic calendars in the industry.
Partners of ACY Securities can enjoy a wide variety of widgets with drag and drop simplicity and affiliate tracking codes automatically embedded in the HTML code. Finlogix's pre-made code can be cut and paste with ease, making it simple to upgrade the look and usability of any site. The MT5 Xchange platform, launched in April 2020, is another of our offerings that sets ACY apart. It allows clients to trade stock CFDs in hundreds of the world's biggest companies through some of the world's most prestigious exchanges including NYSE, Nasdaq and the Australian Stock Exchange as well as popular ETFs (see box).
ETFs where ACY clients can trade stock
› SPDR S&P500 ETF Trust
› VanEck Vectors Gold Miners
› Proshares UltraPro Dow30
› Proshares Ultra S&P500
› Vanguard Select Sector
› United States Oil
It is a powerful, all-inclusive, fully integrated solution providing traders with access to the full range of markets at their fingertips. ACY MT5 Xchange makes it easy to diversify trading portfolios. With one account and one login, clients can trade their view across five of the major asset classes, including stocks like Apple, Google and Amazon; and Australian blue chips like BHP, Commonwealth Bank and Qantas.Account management is another area where technology makes all the difference, enabling us to put our clients in the driving seat.
ACY.Cloud was created by ACY Securities from the ground up and is arguably one of the best client portals in the industry. It offers clients control and convenience in managing their trading accounts thanks to a user-friendly interface, a full range of advanced functionalities and an intuitive dashboard. Another key area that we are proud of is our premium set of trading conditions. Clients of ACY Securities enjoy some of the best trading conditions in the industry. We offer raw spreads starting from 0.0 pips, ultra-fast execution of orders, liquidity ensured by the world's biggest banks, Equinix Servers located in New York, London and Tokyo, and a no-dealing desk.
A story of vision, innovation and growth
At ACY Securities, our vision is always front and centre in what we do, which is to empower traders with the tools and resources they need to make smarter, more informed trading decisions and navigate the global financial markets with ease and convenience. We back our vision with some of the best talent in the industry, the required resources and well-thought-out planning to ensure we are able to achieve what we have set out for the business.
The management team at ACY Securities, which is made up of highly specialised and experienced industry professionals, is led by Jimmy Ye and Winson Cao, the directors and co-founders of the company. Young, dynamic and energetic, Ye and Cao lead by example through their entrepreneurial spirit and progressive outlook on business. With over 35 years of collective managerial experience, they continue to successfully build systems, implement cutting-edge technologies and lay the foundations that will see the company grow and prosper well into the future. Innovation is also ingrained in the company's DNA and we are not afraid to think outside the box to improve client experiences across the board – from retail and institutional clients to IB partners, fund managers, regional managers, white label partners, and affiliate partners.
Being an agile and forward-thinking company, ACY's aim is to create new technologies that provide a seamless trading experience for its traders and continue to enhance its award-winning partner programme so that we can help our partners grow and expand to new horizons. Our well-structured expansion plans also form a key part of the projected future growth and development for the company. While the company continues to see strong ongoing growth in Asia Pacific and South East Asia, it is also seeing rapid organic growth in the Middle East and European markets, which is a great vote of confidence not only in our products and services, but also in our brand and what we stand for.