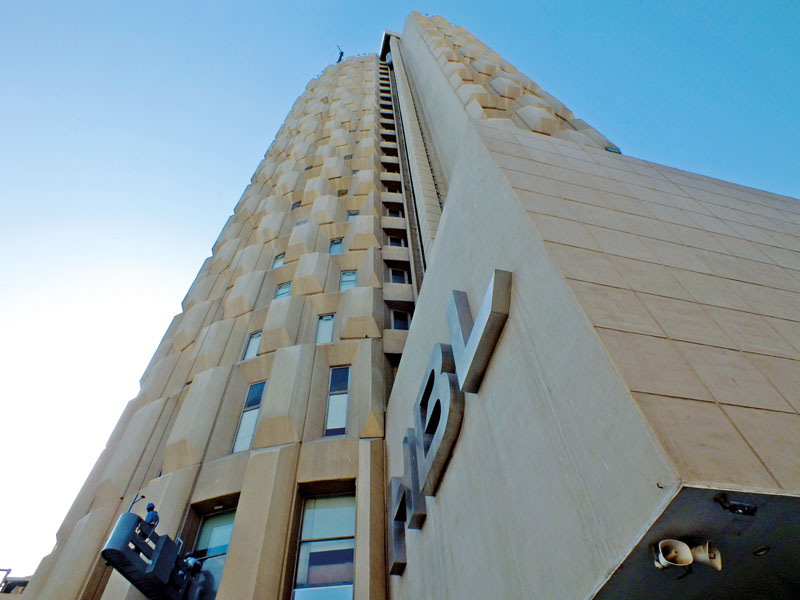 HBL plaza in Karachi, Pakistan&nbsp
Author:
Sagheer Mufti, Chief Operating Officer, HBL
January 19, 2021
Habib Bank Limited (HBL) boasts more customers than the combined populations of Belgium, the Maldives, Oman and Switzerland. In all these countries, incidentally, Pakistan's longest established commercial bank has overseas operations. A story that began in 1947, with the request of Muhammad Ali Jinnah, founder of Pakistan, that HBL move its base to this fledgling nation, has become an epic tale of growth and globalisation. Currently the largest domestic multi-national bank in Pakistan, HBL has a global presence with over 1,700 branches and 2,100 ATMs across three continents.
The latest chapter in this story is one of digitisation. HBL has a vast portfolio of products and services, highly developed infrastructure, and advanced technological capabilities. As it looks to the future, the bank is making concerted efforts and investments into fulfilling its vision of becoming a 'technology company with a banking licence.' Key to this strategy are digital transformation and financial inclusion. We aim to become the leading supra-regional financial institution in South Asia and the Co-operation Council for the Arab States of the Gulf, serving nearly 50 million customers by 2024.
Digital solutions for all
HBL's pivot to digitisation has transformed the bank's response to technological advances, new business models and almost insatiable customer demand for faster, cheaper and better banking services. HBL aims to stay nimble, agile, alert and smart, a pioneer when it comes to providing innovative, digitally enabled banking solutions to all.
HBL has cemented its position as the leading digital bank in Pakistan
The digital strategy of the bank is governed by a broad framework that has four elements as its basic building blocks: integrated customer experience, digitally enabled operations, evolving business models, and data enablement across HBL. The end goal remains to be a mobile-first, data-enabled, customer-centric, inclusive and agile organisation that is quick to pivot as opportunities present themselves. The bank aims to be an organisation that empowers its customers and employees alike and that has the ability to form ecosystem partnerships and deliver scalable solutions to customers in a secure and compliant manner.
The bank has developed a comprehensive range of digital payment services under the umbrella of HBL Pay. Under HBL Pay all cash management needs, supply chain payments, cross border individual and trade payments, government payments, and social transfers are enabled digitally. This has transformed banking norms in Pakistan, making it easier to do business and improving the customer experience.
Milestone moments
With a sizeable domestic share, HBL was nationalised in 1974. In 2004, the bank was privatised and management control of the bank was handed to the Aga Khan Fund for Economic Development (AKFED). Since then, HBL has cemented its position as the leading digital bank in Pakistan. The bank's customer base has risen to 20 million customers, driven primarily by an increase in its digital platforms usage across mobile, internet banking and Konnect by HBL, the bank's branchless banking channel.
The bank's digital payment solutions enable its customers to enjoy a convenient cashless lifestyle. Konnect by HBL alone has more than eight million customers, of which 60 percent are women. This platform has served as a vehicle to drive increased digital financial inclusion and grow and acquire new clients despite challenges posed by coronavirus lockdowns.
HBL Mobile and internet banking have continued to see major growth. HBL's mobile app has over 1.3 million users and has seen triple digit growth in transaction count and value. This number is expected to have gone up to 1.7 million by the start of 2021. This is expected to continue, especially in the current environment where digital is rapidly becoming the new norm.
Through Konnect by HBL, the bank partnered with the government of Pakistan on key programmes such as the anti-poverty initiative Ehsaas to deliver the Ehsaas Emergency Cash Program, the largest social safety net initiative in Pakistan's history. HBL is leading this effort across Sindh, Balochistan, Punjab and Islamabad and to date has disbursed over PKR 175 billion to more than 12 million households. This initiative allowed HBL to distribute a large amount of money in a transparent and efficient manner at an extremely low cost to the government, ensuring the targeted delivery of subsidy to the rightful recipients.
Digital payment experience
HBL Mobile also offers personal loans with instant decision making and 24-hour fulfilment, as well as a four-click credit card application process. HBL has launched QR Payments to provide customers with a secure and instant digital payment experience and aims to onboard over 100,000 retailers by the start of 2021. Other key features introduced during 2020 include enhanced debit and credit card management services, applications for car loans, an in-app complaints portal, updating expired National Identity Cards, opening Roshan Digital Accounts for non-resident Pakistanis, and foreign currency transactions.
Seamless integration
HBL has more than 250 payment companies available on its mobile app with various categories. With utility bill payments, taxation, online shopping, educational fees, Zakat/donations, mobile bills and top-ups, and corporate payments all available via the app, we facilitate hassle-free payments to the largest number of payment companies available on any digital channel in Pakistan.
As part of the Open Bank Project, an API gateway has also enabled HBL to integrate seamlessly with the global payments ecosystem, both for provision of its own services and access to services offered by other entities.
The bank's digital payment solutions enable its customers to enjoy a convenient cashless lifestyle
Even as HBL makes strides on its path to large-scale digitisation and accelerated growth, there are three significant areas where digitisation is still lagging behind. Some government payments and receipts are now available digitally, but not all, and this needs to change. Similarly, we want to see digitisation of small ticket retail purchases and supply chains and their payments.
HBL has the opportunity to accelerate the digitisation of Pakistan's economy and help shape its future. The bank is committed to doing so by leveraging technology and data to empower its customers. We want to speed up and facilitate business transactions, increase transparency and customer engagement, and broaden access to banking. It's our contribution to building a digital Pakistan.