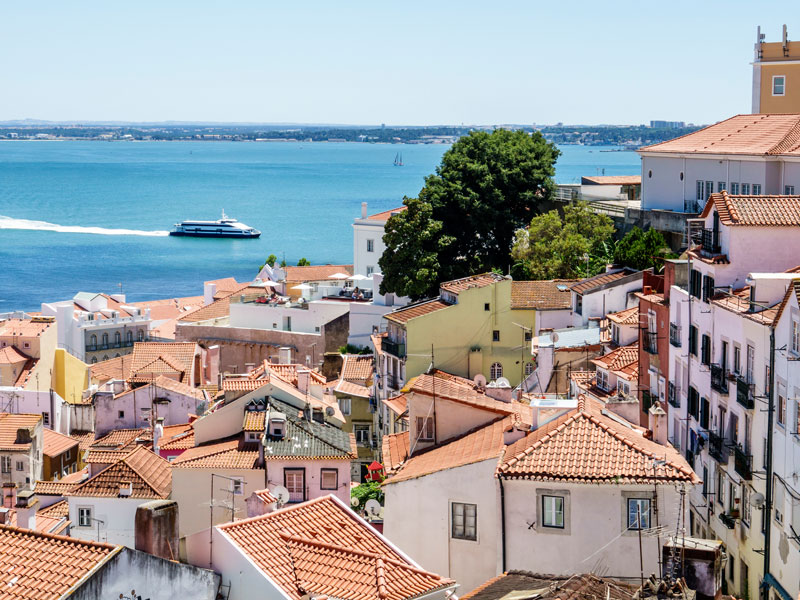 Lisbon, Portugal. The country has managed to reverse the economic decline it found itself mired in just 7 years ago as it continues to go from strength to strength&nbsp
When Angela Merkel arrived in Lisbon in 2012, she was met by fierce anti-austerity protests. Demonstrators held aloft banners reading, "Merkel assassin" and "Portugal is not Merkel's country". Remaining defiant, she praised Portugal's prime minister at the time, Pedro Passos Coelho, for making the harsh economic adjustments demanded of him.
Six years after her first visit to the country, Merkel touched down in Portugal in 2018 to discover a country transformed
In return for a €78bn ($88.9bn) bailout from the European Commission, International Monetary Fund and European Central Bank, Coelho was forced to implement a stinging austerity package. "We are aware of the difficulties, but this is the only way forward," Merkel insisted.
Her words provided little reassurance for Portuguese citizens. Working hours increased, the number of bank holidays fell and holiday bonuses were forfeited. Wages and pensions were cut by 20 percent, along with public spending on health and education. Coelho described the situation as a "national emergency". The deficit hit 11.2 percent and the economy contracted by four percent.
Coelho brazenly advised young citizens to "show more effort" and leave their comfort zone by finding employment abroad. Thousands of young people, encouraged by the prime minister, flooded out the country as unemployment rocketed. Teachers, unable to find work, were instructed to move to the nation's former colonies Angola and Brazil. An estimated 120,000 to 150,000 Portuguese citizens emigrated in a single year.
A change of course
Six years after her first visit to the country, Merkel touched down in Portugal once more in May 2018 to discover a country transformed. "I'm very pleased to find Portugal in an optimistic situation," she said in a joint press conference with the country's new prime minister, Antonio Costa, leader of the Socialist Party.
Since his election in 2015, Costa has hauled Portugal back from the brink
Since his election in 2015, Costa has hauled Portugal back from the brink. Long forgotten are the painful memories of 2012: in 2017 Portugal registered a GDP growth rate of 2.7 percent, the country's highest since the beginning of the new millennium. Unemployment, meanwhile, had more than halved to 6.8 percent. The socialist leader managed all this by "turning the page on austerity", a strategy that initially put him at odds with the European Commission and Berlin.
In 2015, Merkel urged Costa's newly formed minority government, which was being supported by the anti-establishment Left Bloc and the hardline left-wing Communist and Green parties, to remain committed to the troika's reform programme. Her then finance minister Wolfgang Schäuble went further as he warned: "Portugal is making a major mistake if they no longer stick to what they have committed to. They will have to request a new programme. And they will get it. But the terms would be severe, and it is not in Portugal's interests."
Yet, Costa and Finance Minister Mário Centeno have navigated a political tightrope, finely balancing the act of rolling back austerity measures while maintaining fiscal responsibility. In doing so, they managed to gain favour from both EU officials and their left-wing backers in government.
Merkel, renowned for her stubbornness, avoided verbally conceding she was wrong in her dismissal of Costa's government. Her support of Centeno, however, in his campaign to be elected president of the Eurogroup in early 2018 did at least signal a relaxation of her faith in austerity politics. Ultimately, the Portuguese minister was successful, becoming the first Eurogroup president to come from a southern European country and the first from a country that had required a bailout.
Furthermore, as 2018 drew to a close, the Socialist Party proudly unveiled their 2019 election-year budget that pledged to deliver the country's lowest deficit (0.2 percent) since the Carnation Revolution of 1974. Projected economic growth remained healthy and was expected to continue until 2022, with a promise of increased incomes for families.
In 2020, the government expects to register the first surplus in the country's democratic history, a year ahead of schedule, and the first recorded by a southern European nation since records began in 1995. With enviable poll ratings placing Costa's party roughly 15 points ahead of its nearest competitors, the Socialist Party looks well positioned to buck the trend of declining popularity seen across centre-left parties in Europe.
Driving the recovery
Though overall public sector spending scarcely increased, there country's government oversaw a reversal of the Portuguese mindset, creating a more optimistic outlook in a nation famed for its sadness. An increase in household spending, particularly on higher-priced luxuries, has aided the recovery. "What was holding the consumer back was confidence," Minister of the Economy Pedro Siza Vieira, told Bloomberg. "The austerity programme imposed in Portugal and Europe dragged the consumer to have less confidence and consume less."
At the heart of Portugal's recovery has been a tourism boom
At the heart of Portugal's recovery has been a tourism boom that saw visitor numbers increase by 12 percent to a record 12.7 million in 2017: an increase that resulted in Portugal being named as the top destination at the World Travel Awards. "Portugal has excellent geographical conditions and long-standing historical ties that are proving to be very important, alongside an excellent English speaking workforce," says Ricardo Costa Macedo, an attorney at Caiado Guerreiro, Globalaw.
Indeed, English-speaking visitors have surged: US tourists increased by 30 percent in 2017, and the UK remains Portugal's largest source of visitors. In addition, the government has focused on making tourism more sustainable. Secretary of State for Tourism, Ana Mendes Godinho, explains the lessons Portugal has learnt from other nations plagued by overtourism. "We have an action plan for sustainability which is exclusively dedicated to developing tourist products in the lesser-known regions. This strategy has been paying off; the regions with the highest growth rates are the Azores, the centre, the north and Alentejo, which typically have lower levels of tourism."
Concurrently, increased demand in Portugal as a country has boosted the profile of the nation's businesses, products and start-ups. Export revenue has increased by more than half since 2008, improving Portugal's trade position by nearly €20bn ($22.78bn), and creating a newly discovered sense of self-sustainability. Furthermore, as 2018 drew to a close, Portugal signed various agreements encompassing investments of about €400m ($455m), raising the total agreed investment across the year to a record €1.1bn ($1.25bn).
An increase in investment and ample government support attracted Web Summit, the largest tech event in the world, to Portugal in 2016, where it will remain for the next decade. Nestled within the narrow cobbled streets of Lisbon, a boom in the number of technology start-ups has transformed the Portuguese capital into one of Europe's lesser-known innovation hubs.
"Led by an entrepreneurial spirit," says Macedo, "the Portuguese Government developed the start-up ecosystem programme 'Startup Voucher', which supports the creation of start-ups. [Furthmore,] measures such as the Golden Visa Programme have helped boost the economy." The number of professional programmers in the country has increased by 16.2 percent, the fastest rate in Europe, and Portuguese technology is also boosting employment, which grew by 6.4 percent in the last year.
Perhaps not all of the credit belongs to Costa. In the view of Macedo, "it was the previous government, led by Passos Cohelo, that put Portugal back on the path to recovery, executing the measures demanded by the IMF". Wharton finance professor Joao Gomes believes that Portugal has benefited from Europe's economic recovery as a whole in a few ways: tourism, exports and increased domestic investment. Commentators also note that terrorism in other tourist destinations such as Tunisia and Egypt has sent sunseekers looking elsewhere, the security and safety of Portugal providing an obvious alternative.
Reasons for caution
Despite repairing Portugal's economic health, economists warn that Costa and his government are not in the clear just yet. "Although Portugal has delivered promising economic results in the past few years and could continue to do so, economic risks have risen, both at the national level and across Europe more widely," says Ediz Fahri, senior economist at Dun & Bradstreet.
While new opportunities for work are appearing all the time, many jobs remain in the informal sector
The national debt, while decreasing, remains the third highest in the European Union at 124.9 percent of GDP. However, the country received a boost when Moody's – the final major credit rating agency to have kept Portugal's debt in junk territory – upgraded the country's investment category. Once again, Portugal will be eligible for inclusion in JPMorgan's investment-grade bond indices, affording the government increased financial wiggle room.
While new opportunities for work are appearing all the time, many jobs remain in the informal sector – where wages and job security are low and working hours unpredictable. While a trickle of the Millennials who left in 2012 are returning, the country's average age has steadily increased and is forecast to hit 46.2 years in 2020, up from 37.9 in 2000.
Costa blamed austerity policies for causing waves of emigration, with citizens suffering from "intolerable levels of poverty", yet there remains a lack of lucrative professions to convince the two million Portuguese living abroad to return. The drain of young talent provides a long-term challenge to the government, and until a solution is found, Portugal's economy still remains vulnerable, despite the recent uptick in its fortunes.