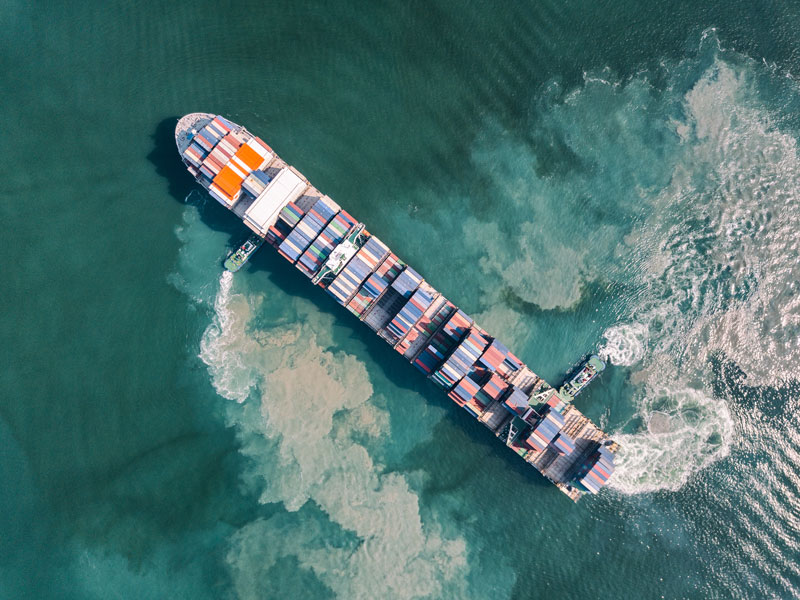 An aerial view of an unknown cargo ship off the coast of Guangdong, China. The two Chinese shipping firms have had their US assets' frozen, alongside other punitive measures &nbsp
The US has levied sanctions on two Chinese shipping companies after it emerged that both flouted US and UN restrictions in supplying goods to North Korea.
The US has historically led a global charge in forcing North Korea to abandon its missile programmes through the application of heavy sanctions
Dalian Haibo International Freight and Liaoning Danxing International Forwarding had attempted to bypass sanctions against the North Korean regime through "deceptive methods", according to the US Treasury Department.
Dalian Haibo reportedly worked with a sanctioned company called Paeksol Trading Corporation in the sale and supply of metal and coal to and from North Korea. Liaoning Danxing used duplicitous practices to allow EU-based North Korean procurement officials to purchase goods for the one-party state, the Treasury Department said in a statement on March 21.
Under the terms of the sanctions, both companies' US assets have been frozen, while US citizens and businesses are no longer able to deal with either firm.
The Treasury Department also issued an advisory list of 67 vessels that it said had engaged in prohibited transfers of petroleum with North Korean tankers, or had exported North Korean coal.
These sanctions are the first to be imposed since talks between US President Donald Trump and North Korean leader Kim Jong-un broke down last month.
The US has historically led a global charge in forcing North Korea to abandon its nuclear and ballistic missile programmes through the application of heavy sanctions; last month's meeting was hailed as a sign of progress for relations between the two countries.
Negotiations failed, however, when the US refused to drop sanctions before seeing proof that North Korea had terminated its missile programmes. North Korea, meanwhile, was unwilling to give up its weapons while sanctions were still applicable. It became clear that the two countries had reached an impasse, with neither willing to blink first, and the talks were abandoned.
"The United States and our like-minded partners remain committed to achieving the final, fully verified denuclearisation of North Korea and believe that the full implementation of North-Korea-related UN Security Council resolutions is crucial to a successful outcome," said Treasury Secretary Steven Mnuchin in the statement.
"Treasury will continue to enforce our sanctions, and we are making it explicitly clear that shipping companies employing deceptive tactics to mask illicit trade with North Korea expose themselves to great risk," he added.
These sanctions come at a moment of uncertainty as to the future of US-North Korea relations. The US has said that it aims to recommence talks with Kim, with Secretary of State Mike Pompeo saying on March 4 that he was hopeful he could send a team to North Korea "in the next couple of weeks".
North Korea has warned that it is unwilling to reopen discussions, and may even reconsider a freeze on missile and nuclear tests that has been in place since 2017, unless Washington is prepared to make concessions. This latest application of sanctions by the US is likely to anger North Korea in this sense; however, the fact is a programme of sanctions remains the official US policy, and one that it cannot deviate from until another solution is reached.
The US' actions may also cause a rift with China. At a daily news briefing on March 22, Geng Shuang, a spokesperson for China's Foreign Ministry, said that the country had lodged stern representations with the US over the sanctions. Sino-US relations are extremely fragile at present, with trade talks set to resume next week in a bid to end a bitter tariff war that has seen a collective $360bn in duties applied to exported and imported goods.
China has strongly opposed international sanctions against its eastern neighbour in the past, but also supports the denuclearisation of North Korea. As such, this latest round of sanctions applied by the US to Chinese companies puts China in a difficult position, forcing it to choose as to which country it wants to ally itself more closely with.