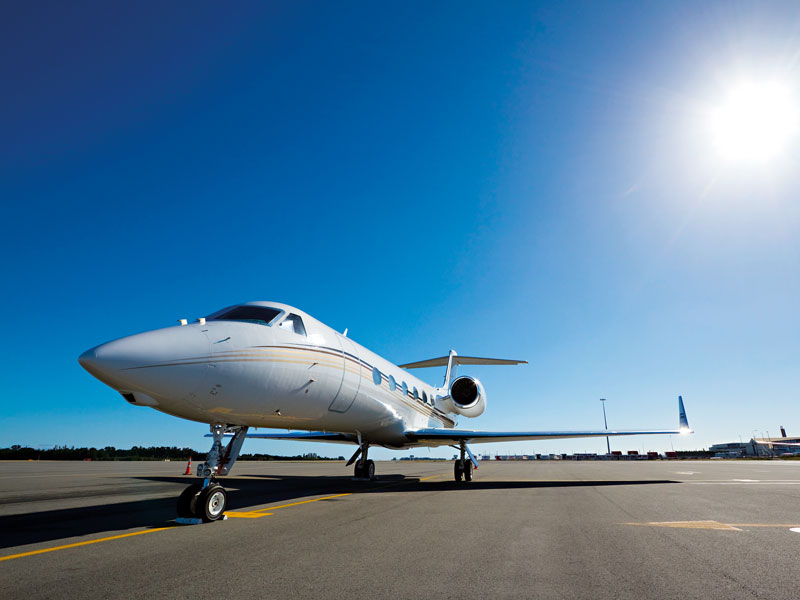 Business aviation has a strong record of environmental stewardship: as an industry, fuel efficiency has improved by about 40 percent over the past 40 years&nbsp
Author:
Charles Etter, Technical Fellow of Environmental Strategy and Regulatory Affairs, Gulfstream Aerospace
Business aviation is often targeted as a major contributor to climate change but, in actual fact, it contributes just two percent of the wider aviation industry's total global emissions. Even so, it is imperative for the sector to do its part in reducing that figure. That is why, in 2009, the General Aviation Manufacturers Association (GAMA) and the International Business Aviation Council (IBAC) announced their Business Aviation Commitment on Climate Change, establishing aggressive industry targets to improve fuel efficiency and reduce carbon dioxide emissions. Both GAMA and IBAC urge the industry to lead the way in terms of sustainability, even as demand for business aviation continues to grow.
The future of private aviation may depend on its ability to balance economics and its environmental impact
In fact, business aviation has a strong record of environmental stewardship: as an industry, fuel efficiency has improved by about 40 percent over the past 40 years. GAMA and IBAC are now encouraging the industry to focus on four pathways in order to achieve its sustainability goals: more efficient operations, continuing infrastructure improvements, market-based measures and the use of new technology, including the development of alternative aircraft fuels.
A show of success
Business aviation's most recent sustainability-related efforts have focused on promoting the use of sustainable aviation fuel (SAF). In May 2018, a coalition of aviation organisations – the European Business Aviation Association (EBAA), GAMA, IBAC, the National Business Aviation Association (NBAA) and the National Air Transportation Association (NATA) – announced their renewed commitment to improving sustainability through technological advances such as alternative fuels. The initiative was created to address a knowledge gap regarding the availability and safety of SAF and to advance the proliferation of these fuels at all the logical touchpoints: manufacturers, ground handlers and operators at the regional, national and international levels.
Accompanying the initiative declaration was the publication of the Business Aviation Guide to the Use of Sustainable Alternative Jet Fuel, which outlined the pathway to the adoption and use of SAF. The SAF initiative was the catalyst that produced the first-ever widescale public demonstration of SAF's viability and safety at Southern California's Van Nuys Airport in January 2019. Industry organisations including NBAA, GAMA, IBAC and NATA joined business aircraft manufacturers, local officials and other industry stakeholders in sponsoring the event. An online resource, futureofsustainablefuel.com, was established shortly thereafter.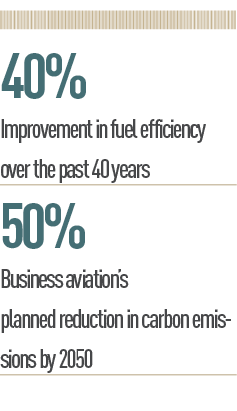 The first European SAF demonstration day followed in May 2019 at the UK's Farnborough Airport, ahead of the annual European Business Aviation Convention and Exhibition (EBACE) in Geneva. The Farnborough event hosted a variety of information sessions detailing SAF use and availability. More SAF demonstration events have since followed in Jackson Hole, Wyoming, and at the 2019 NBAA Business Aviation Convention and Exhibition (NBAA-BACE) in Las Vegas. The next major SAF-related event will take place in March 2020 at the Business Aviation Global Sustainability Summit, which is set to take place in Washington, DC. If the business aviation sector is truly committed to achieving carbon-neutral growth in the years to come, the widespread adoption of SAF will play a major role.
Fuel for thought
In aviation, we are continuously exploring new technologies, designs and materials to improve fuel efficiency. Aircraft will produce less carbon dioxide if we continue to improve engines, enhance aerodynamics and use lighter materials in manufacturing. Good examples of business aircraft with a focus on fuel efficiency include the Gulfstream G500 and Gulfstream G600, which entered service in 2018 and 2019 respectively. These aircraft offer best-in-class fuel efficiency, fewer emissions and less engine noise. Additionally, for the first time in the company's history, Gulfstream is manufacturing the wing and empennage of the G500 and G600 onsite, resulting in decreased transportation emissions and fewer shipping materials.
At Gulfstream, we have long been committed to being good stewards of the environment by focusing on low-noise, low-emission and fuel-efficient aircraft. Much of this has come through technological innovation, including the use of winglets, advanced aerodynamics, state-of-the-art avionics and more efficient engines. Gulfstream is firmly committed to continuing this path of improvement. Additionally, Gulfstream continues to support business aviation's commitment to reducing its carbon footprint through three pledges: a 50 percent reduction in carbon dioxide emissions by 2050 (relative to 2005 levels); a two percent improvement in fuel efficiency per year from 2010 to 2020; and achieving carbon-neutral growth from 2020 onward. One of the most promising paths for fulfilling this commitment is through SAF.
SAF is a term used to describe non-conventional aviation fuel. Rather than being refined from petroleum, SAF is produced from sustainable feedstocks such as waste oils of biological origin, agriculture residues or non-fossil carbon dioxide. The major advantage of using SAF is that it contributes to the recycling of carbon molecules from within the biosphere, rather than needing them to be continuously extracted from under the ground, where they have been sequestered for millions of years. SAF is also a 'drop-in' fuel, which means it can be blended with fossil jet fuel and requires no special infrastructure or equipment changes. Once blended, SAF is fully certified and has the same characteristics and meets the same specifications as fossil jet fuel.
The key to reaching aviation's goal of a 50 percent reduction in carbon emissions by 2050 is the broad use of SAF in place of fossil-based jet fuel, together with market-based measures.
For its fuel, Gulfstream uses a blend of 30 percent SAF and 70 percent traditional Jet A fuel. Once blended and recertified in accordance with specification ASTM D1655, SAF is truly a drop-in fuel: it meets all the same specifications as traditional jet fuel, requires no changes to the aircraft, doesn't result in any performance loss and has additional environmental benefits. For the SAF used by Gulfstream, every gallon saves at least 60 percent in CO2 emissions on a life cycle basis versus petroleum-based jet fuel. Some biofuels can reduce CO2 emissions even more. Additionally, these alternative fuels are purer and cleaner to burn.
Designing a safe, reliable and efficient mode of transportation that minimises environmental impact is a vital aspect of the future of aviation
Many Gulfstream flights over the past decade have consistently demonstrated the viability and benefits of SAF: a Gulfstream G450 was the first aircraft to fly a transatlantic route on SAF in 2011, and in 2015, Gulfstream signed an agreement with World Fuel Services for a continuous supply of SAF. Produced by World Energy in Paramount, California, SAF has been used by Gulfstream on hundreds of flights since we began adopting it for our corporate, demonstration and test fleets in 2016, with the total number of nautical miles flown nearing one million.
Today, Gulfstream's facility in Long Beach, California, offers SAF to all customers and uses it for all completions and delivery flights. Gulfstream's latest sustainability efforts were announced at the Las Vegas NBAA-BACE event in October. The company has flown its fleet on a blend of SAF and traditional Jet A fuel to previous air shows, but this time, Gulfstream's five in-production aircraft made carbon-neutral flights to the event using a combination of SAF and carbon offsets. At NBAA-BACE, Gulfstream announced it now offers carbon offsets to customers through a third-party provider. Indeed, the company is taking a strong leadership role in supporting SAF and helping business aviation confront the challenge of reducing global carbon emissions.
In full flight
Designing a safe, reliable and efficient mode of transportation that minimises environmental impact is a vital aspect of the future of aviation. Increasing environmental pressures have resulted in more emphasis being placed on the early stages of aircraft design in order to meet those challenges, which has in turn impacted the basic planform of the wing, fuselage, empennage and engine. The results are low-noise, low-emission and more fuel-efficient aircraft, such as the Gulfstream G500 and Gulfstream G600.
That said, the environmental landscape is changing, and business aviation will need to adapt to this shift. These changes have been caused by various external pressures, both domestically and at the international level, that are often interlinked, with a major focus over the past few years on reducing the industry's carbon footprint. These pressures are real, justified and valid, and need to be proactively addressed by the business aviation sector. Some have suggested this may be the defining issue of our time.
Gulfstream's sustainability strategy is driven by both industry-wide goals and our internal commitment to integrity. This is at the core of Gulfstream's business and is demonstrated through its commitment to conserving resources for use by future generations, protecting our employees, customers and their communities, and innovating sustainability programmes to ensure positive environmental impacts.
The future of private aviation may depend on its ability to balance economics and its environmental impact. We made a commitment to sustainability 10 years ago and reaffirmed that commitment in 2018 at EBACE. We have another 30 years to achieve the 2050 goal of reducing CO2 emissions by half relative to the 2005 level. With a strong economy in place and a continued focus on improving operations and technology, along with the adoption of market-based measures and the increased availability of SAF, the industry's future looks bright.