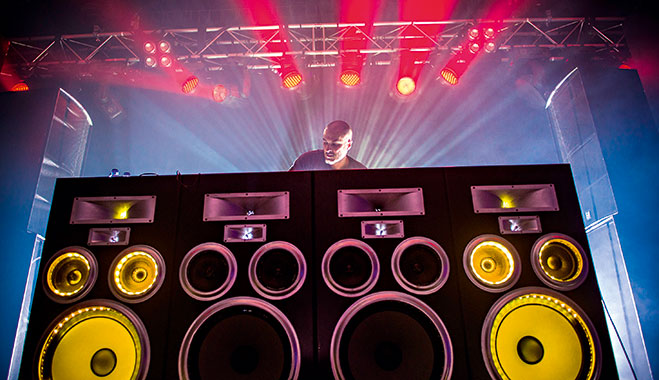 Zane Lowe performs on stage. Apple recruited the ex-BBC DJ to curate music for its listeners&nbsp
Man versus machine is a debate that has raged in many of the world's most important industries, but only recently has it started to have an impact on the creative markets. From heavy factory machinery to computer processing, machines have enhanced many industries that previously relied on exhaustive human operation. However, whereas computers have made it far easier to process typically tedious tasks, when it comes to sorting things like music and film for a particular person's taste, things become more blurred.
Traditionally, people have discovered music either through human recommendation, with apparent experts – from radio DJs to music journalists – acting as tastemakers and guiding the listening habits of music buyers. Albeit, ever since the internet revolutionised how people listen to music, there has been a concerted effort by tech companies to provide a supposedly more advanced and accurate recommendation of music through the use of computer algorithms.
The sound of a revolution
The music industry is certainly undergoing yet another major shift, with big tech firms vying for the attention – and money – of listeners the world over. While many have launched streaming services that rely either on advertising or subscriptions to make money, the bigger firms are trying to delve deeper into the industry to discover how best to retain their customers.
The music industry is certainly undergoing yet another major shift, with big tech firms vying for the attention – and money – of listeners the world over
The last decade or so has seen the music industry became an increasingly fragmented market. As a generation of music fans have grown up without the memory of listening to the radio or going to record stores, favouring online services instead, the industry has had to look at different ways in which it can recommend music to particular people.
Companies like Amazon pioneered the use of their considerable databases of customer information and buying habits to tailor adverts and recommendations in their online stores. This enabled customers to be recommended complimentary products when checking out what they were initially buying, based on what others had bought previously. While certainly not an exact science, it can prove useful for people buying books to be recommended something else by the same author.
Music websites tried to do similar, with complex algorithms developed to study the listening habits and purchases of customers in order to recommend them similar artists and songs. However, music taste is a much more difficult thing to analyse than other products, and many of the services that sprung up in the last 15 years offering expert recommendation services – such as Last.fm and Pandora – have seemed quite hit and miss with their choices.
Now there seems to be a shift away from these complex recommendation services towards a more human approach. Earlier this year, hip-hop mogul Jay Z relaunched the streaming service Tidal to considerable fanfare. The service has tried to differentiate itself from rivals like Spotify by touting the many artists that are involved in the project, claiming they will have a hands-on role in selecting playlists and recommending music to customers. Tidal was launched just a few months before Apple was expected to relaunch its own iTunes service as a streaming platform.
Apple's product will have a company it acquired last year at the heart of its application. Beats Music, the streaming service offshoot of the popular Beats headphones company Apple paid $3bn for last year, is known for its advanced – and human-based – recommendation service. Set up by record label executive Jimmy Iovine and hip-hop artist and producer Dr Dre, Beats Music has a huge number of musicians and music journalists curating playlists that are much more accurate in their recommendations than any algorithm. The idea is that it will be more like the traditional record stores, radio and publications, where trusted voices give listeners tips on what other artists they might like.
Algorithms have limits
The algorithms used by many of these companies have not been entirely accurate in their predictions, often following up one artist with a seemingly random recommendation based on factors like genre or age. It has always proven particularly difficult to categorise many musicians and so it is unlikely that a computer programme would be able to accurately predict that a Radiohead fan might not be a huge follower of Oasis, even though they are both supposedly rock musicians from England that emerged at around the same time.
When launching Beats Music in 2013, Iovine bemoaned the lack of human curation for the music industry. "There's an ocean of music out there, and there's absolutely no curation for it", he told an All Things Digital media conference. He also told the tech industry Code Conference in May 2014, shortly after Apple acquired Beats, "algorithms can't do the job alone".
Apple CEO Tim Cook added at the conference that the human curation aspect of Beats was the route his company wanted to take with its music business.
"What Beats brings to Apple are guys with very rare skills. People like this aren't born every day. They're very rare. They really get music deeply. So we get an infusion in Apple of some great talent", said Cook. "They had the insight early on to know how important human curation is. That technology by itself wasn't enough – that it was the marriage of the two that would really be great and produce a feeling in people that we want to produce."
Apple new music service launched in June, with a big focus on the human angle that it says differentiates it from rivals like Spotify and Pandora. With musicians and well-known DJs like former BBC Radio 1 host Zane Lowe on board to create playlists, the company is hoping that it will have an edge in the battle for the online music market.
Upon joining Apple, Lowe talked of his enthusiasm for the future of music recommendation in an interview with the Guardian. "I really want a platform for the most passionate people who love music. I want to be able to bring that human experience, that we all had growing up with record stores, but actually make it something you can listen to in a world where you're left to your own devices."
Indeed, the company's hiring of both Lowe and his former producers at Radio 1 highlight how important the radio industry is towards the future of music recommendation. Whereas many people might assume that music played on the radio is just thrown together by the DJ, it is in fact a well-crafted method of ensuring listeners hear both familiar and new songs, with programmers carefully selecting track orders. Apple has also been hiring a number of music journalists around the world, with the aim of having geographically unique playlists and content created for certain locations.
Best of both worlds
Despite this apparent trend towards human curation, algorithms are not on their way out. Many of these big music sites are also bolstering the technologies that underpin their services and studying their considerable customer data libraries for better insight into buying habits.
While Apple believes that human's should play a central role in its music recommendation service, the company is also bolstering its digital recommendation and analytical capabilities. In January, the company acquired British company Semetric; the firm behind music analytics service Musicmetric, which helps the music industry study both sales and social analytics. The company was reportedly bought for around $50m, which in terms of Apple's colossal cash pile is not a huge amount, but does represent a considerable figure for a comparatively niche business.
Semetric has begun to offer similar services for the television, film, games and book industries, allowing companies to understand the viewing habits of customers so that they can better tailor their services to them. With Apple active in all of those markets and looking to expand further, Semetric's analytical technology will give them a valuable insight in the future.
The news follows last year's announcement that Spotify had bought another analytics firm, The Echo Nest, for an undisclosed figure. The Echo Nest was a widely used 'music intelligence company' that helped create recommendations for listeners. The algorithm used was for streaming radio providers that included Rdio, Deezer, Rhapsody and Spotify. While it has remained an open-source and free service, many of Spotify's rivals have sought to distance themselves from the service. In May, Pandora moved to get its own analytics firm by acquiring Next Big Sound, which offers a similar service to both artists and labels to that of The Echo Nest and Musicmetric.
While algorithms will unquestionably get more advanced and sophisticated, there is likely always going to be a role in the music industry for the expert opinions of tastemakers like DJs and journalists. Combining the technological advancements of recommendation services with the expert knowledge of these music experts is likely to give music fans a far more tailored and satisfying experience, while opening up their ears to a whole world of new music.