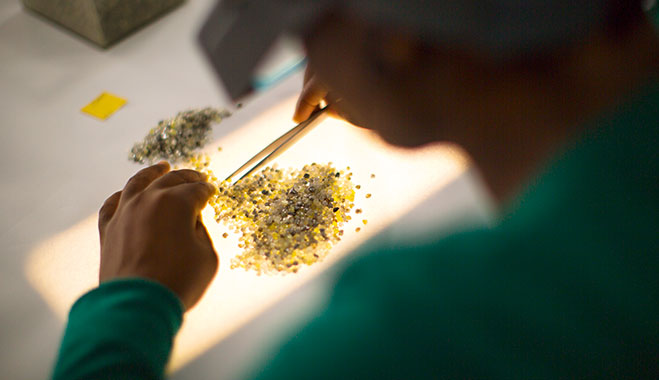 Coloured stones such as rubies, sapphires, emeralds and amethysts are becomingly increasingly popular in demand&nbsp
Author:
Elizabeth Matsangou
A clear, sparkling diamond is engrained in the minds of many women around the world as being the symbol of everlasting love, while for some men it is the requisite token bought to signify a proposal of marriage. For decades, diamonds dominated the market for fine jewellery, particularly for engagement rings, and while they remain emblematic of luxury and perpetuity, a new trend is emerging. Coloured gemstones are back in vogue, with more jewellery pieces set with rubies, sapphires, emeralds and amethysts emerging as worldwide demand increases by the year.
"Following a few decades of domination by the clear stone, the coloured gemstone revolution is most definitely back," said Ian Harebottle, CEO of Gemfields, the world's largest producer of precious stones. The company has seen first-hand the marked increase in jewellery and luxury good purchases (see Figs 1 and 2).
The cause of this growing inclination can be attributed to many reasons, including a desire to wear something unique, along with macroeconomic themes within both traditional and emerging markets. "The average consumer is reluctant or unable to spend freely on jewellery, so they are turning to coloured stones, which can offer bigger looks for less money," according to Russell Shor, Senior Industry Analyst for the Gemological Institute of America.
A diamond story
Prior to the 1940s, marriage proposals did not carry the compulsory mandate of a diamond engagement ring as they do today. Actually, the ritual was more uncommon than the alleged rarity that the stones themselves proffer. This social transformation began when an abundance of the colourless jewel was discovered in South Africa. The De Beers group was created in 1888 to diffuse inevitable market saturation, and so became involved in every process of the industry, from exploration to mining and retail. "The diamond market was very successful during the last part of the 20th century in monopolising the market by making diamonds synonymous with rarity and absolute love," said Antony Zagoritis, a gemologist for the mining group Lapigems Gem Company. Through stockpiling, the group was able to set its own prices, thereby giving the stones the illusion of scarcity and the price tag of something precious.
Although a 'limited supply' had been successfully engineered, sales were still faltering. Tensions in Europe and the looming cost of war had driven demand down further for the superfluous product, while its price put it out of reach for most. Contrary to tried-and-tested business models, De Beers set about creating a need where one did not exist, embarking on arguably the most remarkable marketing campaign in history.
Advertising firm NW Ayer was hired in 1938 to create a culture in which diamonds were perceived as a vital purchase, regardless of one's income and even within an unfavourable economic environment. What makes the strategy even more impressive is that De Beers was not selling directly to customers, nor publicising a brand name – they were simply spreading an idea. And this idea was that a happy marriage started with a diamond ring.
Named by Advertising Age magazine as the best slogan of the 20th century, 'A diamond is forever' not only had a powerful connotation for young couples, it prevented the resell of the product, meaning that it was kept for as long as the marriage lasted – presumably forever. The advertising message of how much should be spent on a diamond ring then set a minimum price of two month's salary on this obligatory act.
De Beers also introduced the famous '4Cs' grading system in order to encourage consumers away from only purchasing larger stones, thereby also shifting their surplus of smaller diamonds. For decades, countless adverts have since contained a 'how to buy' panel, teaching customers to look out for colour, clarity and cut in addition to the carat weight.
Colour block
Historically, coloured stones were a staple aspect of fine jewellery in various cultures across the globe: "Some of our most famous jewellery collections, such as the crown jewels, provide a clear indication that coloured gems have always played an important role in our heritage," said Harebottle. And yet, in the 1980s and 1990s, this tendency diminished significantly as conservative pieces with diamonds became more desirable.
Another impediment that inhibited the industry was the traditionally inconsistent supply of coloured gemstones, due largely to the rarity of gemstone deposits. Furthermore, according to Harebottle: "These deposits are typically mined using primitive techniques, which means production is very small." For some time, very little capital was injected into these projects, as they were deemed too challenging and dangerous. "For years this has therefore created an inconsistent supply of gemstones to the market place, resulting in both lack of investment and confidence downstream."
Moreover, the market for coloured gems has not benefitted from the type of global campaign that De Beers has profited from for decades. "This is because the gemstone industry is extremely fragmented and most businesses are too small to support a sustained advertising campaign," Shor explained. As such, a collective movement would be nearly impossible to administer, given the various interests and players that are involved in the mining and selling of each type of stone.
This failing of the gemstone industry exemplifies how truly unique the De Beers method was – a sweeping, worldwide strategy was enabled by its monopoly (see Fig 3). In recent years, however, the coloured gem industry has begun to evolve and improve its promotion techniques, taking a number of lessons from De Beers. According to Zagoritis: "[Traders] got more organised and savvy… I also think a lot of the television jewellery selling channels, which proliferate now, play a large part in getting consumers interested in coloured stones again, understanding them and that they are as rare, if not rarer than diamonds."
In addition to the general ambiguity for the value of coloured jewels, consumer confidence suffered a further setback in the 1990s when traders were exposed for selling stones without disclosing vital information about filling and oiling treatments, which were applied in order to improve the appearance of gems, thereby affecting the product's longevity and the long-term care needed. In response, the US FDA updated its regulations in 2001, making it compulsory for such information to be shared at the point of sale, which has since resulted in greater transparency in the market.
Among the few industry players that are in a position to carry out a wide-scale advertising campaign is Gemfields, which "is making the glamour push with actress Mila Kunis as its spokesmodel [and] the luxury jewellery brand of Fabergé", according to Shor. "In addition, Gemfields is trying to mitigate some traditional impediments to large manufacturers by creating a dual consistency in supply and pricing."
By employing a consistent structure for pricing gemstones, Gemfields is able to instil greater consumer confidence in buyers and end-customers – a factor which has long been a problem for the industry, having never had a universal grading system such as the 4Cs. According to Shor: "If Gemfields can demonstrate the benefits of consistent supply, consistent pricing and marketing campaigns sufficiently to the industry as a whole, the gemstone industry can be a strong partner to the fashion trade and greatly improve its market share with other jewellery products."
In addition, having a more reliable and constant system in place encourages greater investment and new players to the industry, which is further supported by the expansion efforts being undertaken by Gemfields: "We are also supporting an increase in scale of coloured gemstone beneficiation and jewellery manufacturing, which is resulting in improved, consistent and predictable margins for all," Harebottle explained.
Vibrant demand
The most rapid rise in demand for coloured stones can be seen from emerging economies – namely India and China – which are both experiencing an enlargement of the middle class and greater disposable income. "The demand has always been there; both of those two countries have long histories of love of gems," said Zagoritis. "What has changed is their growing prosperity."
Demand is also mounting in the US – the largest market for coloured stones – as more individuals and private groups prefer to invest in tangible, precious items. The exponential increase in value and relatively fast return rate for gemstones makes them increasingly attractive purchases.
"Our biggest growth area as a company over the last five years has actually been investment groups looking for tangible investments for their clients," said Zagoritis. "We are noticing [this] particularly in tanzanite." Moreover, given the volatility of various traditional markets, greater diversification within investment portfolios is gaining popularity.
As was the case with diamonds in the 1950s, celebrities are leading the latest jewellery trends, with coloured gemstones being the flavour du jour and now regularly seen on the red carpet. Along with global icons like Angelina Jolie and Beyoncé, there is one young woman in particular that is driving the movement: Kate Middleton. Upon her betrothal to Prince William in 2010, the world media spotlight shone brightly on the engagement ring worn by the soon-to-be Duchess of Cambridge. A large blue sapphire that had previously belonged to Princess Diana has since inspired countless women around the world to opt for something similar, or indeed, something a little different, as the case is.
This also touches upon another growing trend in fashion generally, as more individuals prefer to wear something unique, which in itself has made a big impact to the market. "Today's woman is a self-confident, forward-thinking person [who] values her individuality. Opting for coloured gemstone jewellery provides a platform to make a statement – whether elegant or bold, it reflects a gusto for life and uniqueness," according to Susan Abeles, US Head of Jewellery for auction house Bonhams. "Coloured stones of equal quality can be found in various hues and saturations; these variations allow women to pick the colour that best matches their personality and style."
According to research conducted by Bonhams, some jewels have risen in price by 2,200 percent over the past decade. So rapid is their growing popularity that the auction house has proclaimed 2015 to be the year of coloured gemstones. "The demand has never been greater for quality coloured gemstones. In less than 10 years, the market for coloured gemstones has increased exponentially," said Abeles. "The luxury buying community continues to grow with a greater understanding of the market, yet supplies of the rarest coloured gemstones remain limited."
Recent sales in the industry demonstrate this. According to Abeles: "In the April 22 Fine Jewellery Sale in London, lot 165, a sapphire and diamond ring circa 1925, had a presale estimate of $74,000-120,000 and sold for $458,000. While this ring was set with a 21.27 carat Kashmir sapphire, the gemstone was not faceted, but rather fashioned in a seductive sugarloaf cabochon displaying a [non-traditional] blue colour… This ring is a good example of a unique offering for a coloured gemstone that still achieved a strong price."
At the annual Gemfields ruby auction in Singapore last year, revenue totalled $43.3m – the most ever made at one of its auctions. Buyers flooded in from all over the world: along with the customary attendees from Austria, Germany, the UK and US, bidders came from the emerging markets in China, India, Sri Lanka and Thailand, buying the blood-red jewels for the highest ever average realised price of $689 per carat.
A colourful future
To say that this is a new interest would be incorrect, as rubies, emeralds and sapphires have been worn by many for centuries. But regardless of this historic love affair with coloured gemstones, there has been a recent period in which they were overlooked by individuals and jewellery-makers, as a lack of understanding of their value teamed with low confidence in the sellers themselves put buyers off.
But despite this relatively short blip, there has been a significant turnaround; demand is driving this upswing as more people are choosing colourful, distinctive jewellery designs over the more conservative styles of the 1980s and 1990s.
Global economic trends also support this development, as people in the West are choosing to spend less on fine jewellery while still want to wear something bold. At the same time, individuals in emerging markets are increasingly able to splurge on long-coveted luxury items. Investors from all corners of the planet are splashing out in the market, lured by the impressive returns for coloured gemstones, making them a smart addition to financial portfolios.
Together with the standardisation of cost analysis and quality – which instils far greater confidence for buyers on both the private and corporative level – there seems to be no slowing down in this movement.
The scarcity of these stones further adds to their appeal for all types of buyers. According to Zagoritis: "People seem to have an affinity to rarity – I think that knowledge is gaining currency within the market and has made a huge difference… People were duped into thinking that only diamonds were rare, whereas they are understanding now that other gems, and particularly fine coloured gems, are actually rarer."
The media exposure of 'blood diamonds' has promoted some consumers to opt for ethically sourced alternatives, which includes gemstones. The growing popularity for coloured jewels will inevitably have an impact on the diamond industry, although the extent of this effect cannot be known at this stage. That being said, the unravelling of the social impact that De Beers has made does not seem likely by any stretch of the imagination: so successful was its marketing campaign (see Fig 4) that diamonds will continue to be associated with marriage proposals for a long time; a societal norm that has been passed down through the generations.
The recent discovery of tanzanite
Maasai herdsman first unearthed tanzanite in 1967 among the foothills of Mount Kilimanjaro. Luxury jewellery and specialty retailer Tiffany & Co named the gem after its country of origin and unveiled the vivid bluish purple jewel to the world the following year. Being the first translucent blue gem to be discovered for hundreds of years and a unique variation of the zoisite mineral, tanzanite has become known as the gemstone of the 20th century. Its unique colour is highly popular among new styles in fine jewellery, making it one of the world's bestselling coloured gemstone since the 1990s. Its rarity adds further appeal for collectors. "Tanzanite is 1,000 times more rare then diamonds, and there is only one mine in the world," Imran Khan, Director of the Tanzanite Foundation, said. Since entering the market, the gemstone has grown in value considerably, with this upward trend set to continue. "The market for tanzanite is always good," Khan explained. "It will [continue to] grow because many people are still not aware of this stone."