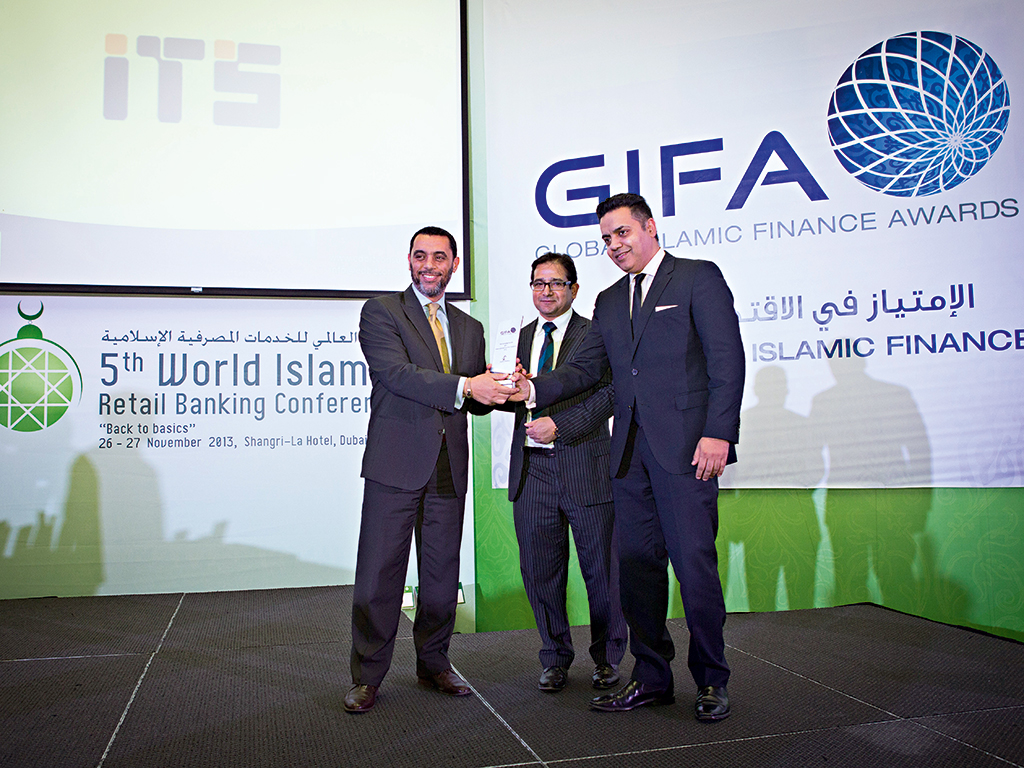 An on-stage presentation at the 2013 World Islamic Economic Forum. International Turnkey Solutions has created innovative technological solutions to help banks working in the Islamic finance sector stay sharia-compliant&nbsp
Author:
Dr Ismail Ali Ahmed
March 3, 2014
Islamic finance is on the rise, gaining prominence across the world, thanks to a number of sharia-compliant institutions achieving increasing acclaim within the global banking industry. However, many banks still find themselves falling short and need to accelerate their efforts to meet the technological and global challenges that they are likely to face.
The UK Islamic Finance Secretariat (UKIFS) indicated recently that Islamic finance assets worldwide continued their upward trend to reach $1.46trn by the end of 2012. Considering the growth experienced in 2013, the market expects it could top $2trn in assets by the end of 2014. These findings demonstrate that Islamic finance has shown strong resilience despite the slowdown in the global economy and the pressure on conventional banking in Western countries. In fact, global Islamic finance assets have doubled since the start of the economic downturn.
Within the GCC specifically, Islamic finance commands an estimated 25 percent share of the banking market. However, for many Muslims and non-Muslims alike, Islamic finance is still a concept that is clouded by unfamiliar terms and principles, which often leads to confusion and hesitancy. To those without an Islamic or banking education, concepts such as riba, mudarabah and sukuk require a lot of explanation (see Fig. 1), but many more people are taking the time to understand their meaning.
A report released by Ernst and Young projected that by 2015 the MENA Islamic banking industry will be worth $990bn as the uptake of Islamic banking surges, more than double the 2010 figure of $416bn. With such a vast increase in growth on the horizon, many are asking the question: what is it that is causing this boost?
One of the core foundations of Islamic finance is the promotion of itself as an ethical system
Tangible assets
Islamic banking's popularity is attributable to many different factors, but one thing is certain; the growth would not have been possible without the deployment of contemporary financing techniques or structures that underpin the industry. Take sukuk (Islamic bonds), for example (see table); they can be seen as a union between religious principles and modern financing techniques. In light of the recent banking crisis, it is understandable that sukuk are now seen as a more tangible investment than a conventional bond, as the owner has a stake in the underlying asset rather than a share of the debt.
One of the core foundations of Islamic finance is the promotion of itself as an ethical system. Islamic banking is set up in accordance with the principles of sharia, the morale code and religious law of Islam. Many of its rules have been specifically laid out with business and trade in mind, an important aspect, which has attracted the eyes of many small- and medium-sized enterprises.
The main difference between a Western high street bank and an Islamic one is that Islam prohibits investors from making money from simply lending it. This means that customers with an Islamic savings account or current account are not paid interest on their deposits and borrowers with an Islamic mortgage do not pay interest on their debt.
Technology boost
Because banking practices differ from region to region, the significant growth experienced by Islamic financial institutions has demanded diversified technology that supports both traditional and Islamic banking on the same platform.
Islamic banks tend to view technology in the same light as their conventional counterparts do, but Islamic institutions can often end up with the realisation that there is a total scarcity of systems that cater specifically to their Islamic principles. By utilising the right technological solutions that are on offer, a bank can quickly react to the demands of its customers by introducing new products and reducing the turnaround period required to bring them to market.
For many years Islamic banks have tended to adopt technology solutions from specialised vendors, which offer dedicated solutions. Traditionally, these vendors have been small and did not have the funds to meet the increasing sophistication of the bank's needs. When Islamic financial institutions were starting up, they too were small and needed to penetrate the market quickly with minimal technology spend; however, over the years the customers of these Islamic banks have grown in sophistication and what they demand from their bank has developed in line with this. Islamic banks now need to be better equipped with state-of-the-art technology support in order to compete in the market, providing solutions from larger technology vendors that are capable of supporting the developing needs of Islamic banks, moving far beyond simple automation. They are expecting technology to assist in creating products in a short time, attracting and retaining customers by offering the best service possible.
As Islamic financial institutions develop, technology is becoming a key enabler for future business. Islamic finance institutions offering sharia-compliant products need a dedicated end-to-end Islamic banking system that facilitates and automates sharia-compliant banking operations and enables banks to scale up their operations to meet global competition, grow market share, retain the loyalty of their customers and, above all, enhance their profitability.
Maximising growth
International Turnkey Solutions' (ITS) 'ETHIX' suite of financial products provides Islamic banks with a comprehensive total banking solution that is widely recognised as one of the most flexible and scalable technology solutions worldwide. Developed in accordance with sharia guidelines, ETHIX empowers Islamic banks to improve operational efficiency and reduce cost of ownership in specific areas of Islamic banking, while maximising opportunities for growth.
It offers an integrated and comprehensive system for financial institutions and banks to deliver sharia-compliant products. ETHIX is in full compliance with the Accounting and Auditing Organisation (AAOIFI) and International Accounting Standards (IAS).
As a standalone module, it is easy to integrate and offers full support through its back-end accounting functionalities with straight through processing (STP) built on an SOA platform and a web services based model.
ETHIX offers a complete repository of industry-specific products and functions for Islamic finance and investment, core banking, delivery channels, trade finance, branch automation, online banking, dashboards and comprehensive reports in addition to other banking services.
Global Finance Solutions, part of the ITS group, has been in the region for over 30 years, gaining a breadth of ethical banking knowledge and experience, counting many of the leading Middle Eastern and global Islamic financial institutions among its wide portfolio of customers.