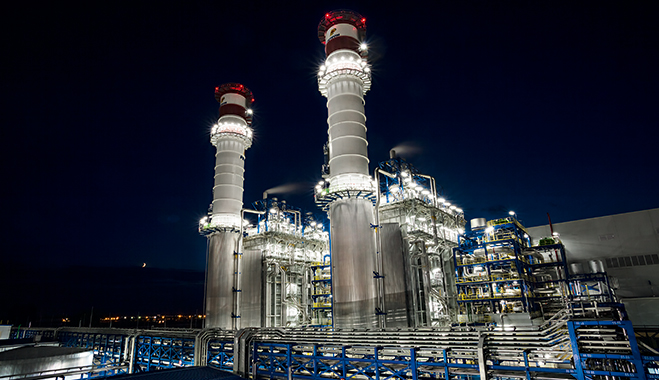 An OMV Petrom Power plant in Romania. The company is credited with helping to spur the country's economic growth and modernisation &nbsp
Romania's two-decade long and ongoing market liberalisation has seen the country undergo extraordinary changes, and while macroeconomic indicators have improved as a result, there remains a fair few areas in need of improvement if the country is to match ambitious EU targets. Not least of Romania's economic constituents is the oil and gas sector, which has undergone perhaps the biggest transformation to date.
However, for the industry to realise its full potential it must first negotiate the inherent complications of Romania's free market transition.
"The energy market is quite critical to Romania's continued economic success and I would say it has great potential to become a key economic growth driver," says Mariana Gheorghe, CEO of South-East Europe's largest oil and gas producer, OMV Petrom.
"The first reason for this being that it has quite a diverse primary energy mix, made up of oil and gas, hydro, nuclear and coal to name a few; the second being that the region boasts a strong presence of foreign investors, and plays host to numerous and world renowned names from across the energy value chain."
The poster child business
Gheorghe is well positioned to pass comment on the transition, as OMV Petrom is seen by many as the poster child of Romania's turn from state-run to free market economy.
"These past 10 years have seen what was a former state-owned company turned into the country's largest commercial entity," says Gheorghe, who has led the company from strength to strength since the beginnings of Romania's market liberalisation.
Responsible for 40 percent of Romania's oil and gas supply as well as €9bn worth of investment into the recovery and modernisation of the national oil and gas sector, OMV Petrom's clout in the market is more than substantial. The company's activities span exploration, production, refining and marketing, and its oil and gas reserves stand at approximately 750 million boe (barrel of oil equivalent) in Romania alone.
OMV Petrom
40%
Of Romania's gas and oil supply
€9bn
Investment into recovery and modernisation of oil and gas sector
750m
Oil reserves (barrel of oil equivalent)
"Here I'm talking about OMV Petrom being the largest contributor to the Romanian state budget, having contributed almost €14bn to state coffers in the last nine years, which approximates to 10 percent of the revenues to the state budget."
The company has occupied a space in the Romanian market since 1856, and in 2004 Austria's OMV acquired a 51 percent stake in the company to mark the beginnings of an extensive transitional period, bearing a certain likeness with that of the national economy. A decade later and "we have turned the company into a role model of successful and sustainable performance," says Gheorghe.
"We've changed many things, from the way we've developed our strategy, to the investments we've made, the systems we've put in place, our management structure and style, and the emphasis we place on developing a socially responsible company."
These changes are far from exclusive to OMV Petrom, however, and can be seen across the entirety of Romania's economy, although there are none that have weathered the transition with quite the same proficiency.
"The sector has been subjected to innumerable changes for over a decade now, and while many of the reforms have been completed, it will take time for those affected to adjust," says Gheorghe, who admits Romania still lags behind in certain departments. "All of these regulatory as well as technical challenges are continuing to put pressure on our performance.
"First, the energy liberalisation has not been completed so we're really seeing the risk in that the regulatory changes are still on going. We also have changing oil and gas prices to contend with, we are a European market therefore the activity of these international prices impacts on us. Not to mention the fact that we have a special situation here in Romania where the health and safety regulatory practices fall short of some other countries, therefore we need to catch up in that field.
The energy market is quite critical to Romania's continued economic success
"In Romanian oil and gas we have two situations, we have the old fields with the challenges of maturity, or the very new deep off shore fields, which are posing different types of technological challenge to us."
Nonetheless, OMV Petrom has adjusted to market changes with unparalleled success, and in doing so has become the country's most valuable company. "Given that we've had such tremendous success, we've set a benchmark for those undergoing transformations, transitions and conversions in this new economic environment."
Speaking on the ways in which OMV Petrom intends to advance Romania's energy industry, Gheorghe says that the company's strategy is founded on three pillars: business, people and social responsibility.
"Our objectives are very clear, we want to continue to be the leading integrated oil and gas company in South-East Europe. We're geared to on one hand grow in upstream activities, particularly in the Black Sea region, which means the exploration of new territories and on the other the stabilisation of current mature production. In downstream, what is important for us is to optimise and modernise our existing portfolio of assets. All of this requires financing of between €1bn and 1.2bn per year."
"People are a key resource in this technologically challenged world," Gheorghe adds. "What is important for us is to gear their skillset for our growth strategy. We have quite a lot of initiatives and projects, and our labour force is very much engaged with what we do," which leads onto OMV Petrom's final commitment to matters of social responsibility.
People are a key resource in this technologically challenged world
"The last pillar is very critical for us, that sort of role modelling and listening to the public agenda is a big chunk of our past, present and future strategy. As the largest oil and gas company in Romania we have a responsibility to the wider communities in which we work, and in this field, in recent years we have trained 10,000 students and almost 2,000 teachers on entrepreneurship.
"In the last five years, we have developed hundreds of community projects, and have encouraged more than 6,000 volunteers from our own workforce and from those of our partners' to engage with the community. We are the largest private employer in Romania," says Gheorghe. "We're currently responsible for 20,000 direct jobs and a further 60,000 indirect jobs from our 15,000 suppliers. This, along with our continued investment into the country's energy industry means that our industrial, economic and social contribution is second-to-none."
Becoming a company role model
Granted, OMV Petrom's responsibility for such a substantial proportion of Romania's oil and gas products, as well as 10 percent of the country's electricity supply is a critical measure of the company's success, however its role in reviving Romania's struggling energy sector is of equal significance.
Corporate governance at OMV Petrom
10,000
Students trained on entrepreneurship
6,000
Community volunteers from OMV Petrom
20,000
Direct jobs
"We dare to say we've put the Romanian oil and gas industry back on the map because of what we've achieved in terms of consolidating our existing operations and venturing into new territories, such as deep offshore projects and new onshore technologies."
Many of the issues that have inhibited the country's energy industry are far from exclusive to Romanian shores, "in the gas market, for example, we've seen demand decrease by almost a third in recent years and overcapacity stymied our earning potential, which are on going challenges for us and the wider industry."
The very fact that the country is still adjusting to ongoing reforms means that corporate governance standards and regulatory practices are certainly trailing those of other countries, especially those in the EU.
"Corporate governance is an especially big challenge for Romania's industry, being an entirely alien concept to a former communist country where for such a long time there was no such a corporate dimension," says Gheorghe. "Therefore, it's important for us to not only have business aims and strategies but to demonstrate the benefits of strong corporate governance in practice. That's really something that we take pride in, as we believe it's essential to have strong corporate governance and to be a good corporate citizen where possible.
"All of these are elements that, because they're alien to the majority of businesses and people working in Romania, need a huge push and we strive to demonstrate in practical terms what it means to implement good governance."
One of the other ways in which Romania has been put on the map is with a recent OMV Petrom partnership with industry leader ExxonMobil, which in turn has boosted the international appetite for investment in the oil and gas sector.
"As one top official said, "Here we have the leader of the Romanian industry coupled with the leader of the global oil and gas industry" and that's what I would say is the beauty of this partnership."
What is also crucial about this relationship is that ExxonMobil's international clout combined with OMV Petrom's local expertise and know-how will see both parties exploring a series of new deep offshore targets and add to Romania's already extensive oil and gas reserves. Although the project is still in the exploration stage, the partnership is indicative of Romania's budding energy sector.
Provided that businesses in Romania adapt to market changes in much the same way as OMV Petrom has done, the energy sector will soon escape the trappings of a state-run economy and begin to enjoy the benefits of its newly instilled free market regime.