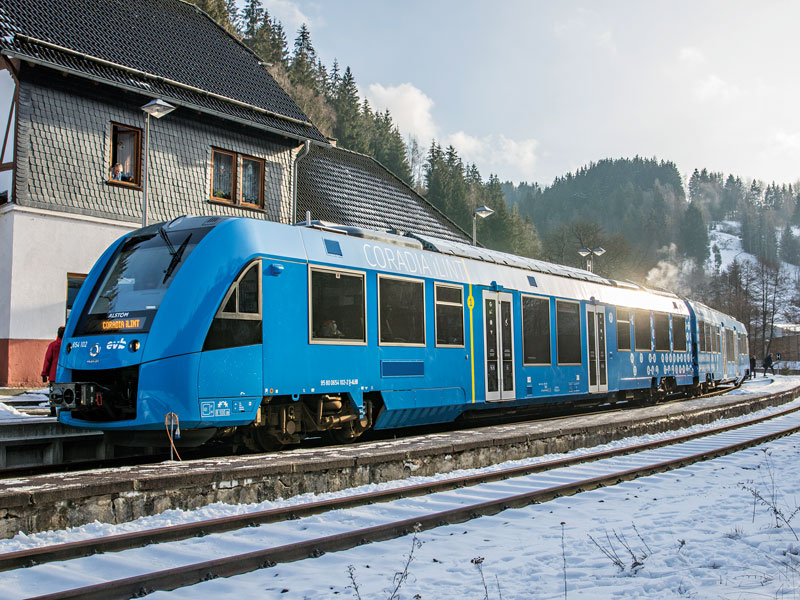 The Alstom Coradia iLint hydrogen-powered train, pictured in Katzhutte, Germany&nbsp
Author:
Selwyn Parker, Features writer
Boasting traffic of 750 trains and 25,000 passengers on a typical pre-pandemic day, the city of Salzburg's award-winning central railway station is a symbol of the revival of rail that promises to gather speed in the next few years. The beneficiary of a massive, 15-year reconstruction project that only ended in 2014, Salzburg Central has been transformed from an impressive but unsuitable monument of mid-19th century, steam-powered rail into a modern transport hub that encourages citizens to jump on a train.
A connection point for long-distance and commuter trains, the station is spread over 18 tracks serving points north and south. Covered mainly by glass roofs, the atmosphere is airy and light. Passengers can while away their time until their train departs in nearly 4,000 square metres of shopping area. And there's plenty of space, a pre-requisite of the new era of rail. As passengers steadily return to rail travel following the pandemic, the entire rail industry is engaged in a fundamental reform that is transforming stations into people-friendly hubs, applying low-emission technologies and slashing ticket prices in a looming battle with aviation.
And hubs like Salzburg Central are pivotal to the recovery of rail. Authorities all over the world are pouring public funds into stations – many of them historic – that draw people to trains. Turkey's transport ministry, for instance, has just called tenders for the reopening of a rail link that will take passengers into the historic European terminus of Sirkeci near the Topkapı Palace in Istanbul. Opened in 1872, it was closed in 2013 but will now have a new lease of life. Among many other examples of the revival of great stations, in Paris the long-neglected Gare du Nord, Europe's busiest station, has finally been approved for a €587m renovation that will bring it into the 21st century. Serving 700,000 passengers a day before the pandemic, the station has been overdue for a remake, but locals, including the city, blocked the rail authorities with a series of legal actions arguing that the project would spoil the surrounding ambience by turning it into a giant shopping mall.
In truth, the Gare du Nord project embraces a fresh view of rail stations that sees them as hubs for the community as well as for transport. The renovation will provide spaces for concerts and rooftop gardens as well as for shopping and offices, along similar lines to Frankfurt and other top-rated hubs like the central stations in Leipzig, Vienna, Amsterdam, and Moscow's Kazansky.
However, it's a race against time to have the work done before Paris hosts the 2024 Olympics. It's a comment on the belated change of attitude towards rail that second-placed St. Pancras in London is housed in a towering historically protected building that would have been pulled down a few years ago and replaced by apartments but for a campaign by conservationists.
Better than air
Driven by concerns about climate change, authorities in many countries are taking unprecedented measures to encourage travel by rail rather than by air. In an action that is certain to be followed by other governments, France is moving to ban flights under two hours, a step that will provide a massive boost to domestic rail travel. The ban is justified by overwhelming evidence of the ecological benefits of rail – numerous studies show that emissions from long-distance rail journeys – approximately two hours or more – are 20 times lower than the average commercial flight. The European Commission would certainly approve of the ban – it declared 2021 to be 'year of the rail' and is backing a wide range of projects that are designed to restore trains to their glory days of the early 1900s when the coal-fired steam locomotive, followed by diesel-fuelled trains, transformed travel all over the world. One of the most loved rail journeys of yesteryear, the night train, is making a comeback in Europe on routes between capital cities. Austrian Railways is increasing its Nightjet trips with affordable fares and a wider choice of accommodation including private cabins, while a French start-up, Midnight Trains, plans to open routes from 2024 under the slogan 'hotel on rails.'
Next stop: hydrogen trains
A technological revolution underpins the revival of rail. Pittsburgh's Wabtec group has rolled out a battery-electric, hybrid-powered train that reportedly slashes emissions by 11 percent. Hydrogen-powered trains that emit only warm water vapour are already being trialled with promising results – two of them have carried passengers for 180,000km in Germany. In regular operation since 2018, the hydrogen train is the 150-seat Alstom Coradia iLint. Combined, the fuel cell and batteries can power the train to a maximum speed of about 90mph for a range of up to 500 miles.
In the coming years hydrogen fuel cell trains will appear on 10 railways around the world
Zero-emission is the holy grail of rail travel. As Railway Age reported in early 2021, "based on emerging technologies in batteries, hydrogen fuel cells and renewable natural gas, zero-emission is a possibility." In fact, it could be inevitable. The powerful US Environmental Protection Agency (EPA) and the EU have both mandated much tougher future standards for trains and locomotives. From 2025, the EPA's tier-5 would force emissions of nitrogen oxide to almost nothing and emissions of particulate matter to absolutely nothing. This is not pie in the sky. "Already today, prototypes and many production locomotives have been manufactured that meet these requirements," Railway Age reports. "In the coming years hydrogen fuel cell trains will appear on 10 railways around the world. Most of these have already been contracted."
Taking all the developments into account, it looks inevitable that the major stations will welcome low or zero-emission fleets of trains within the next two to five years as more polluting technology is phased out.
But will the passengers come back in the aftermath of the pandemic? Mobility experts, who are watching developments closely, believe that this is a near certainty, though not as before. Although passenger levels have been creeping up, they remain well below pre-pandemic levels in New York, whose routes were some of the hardest-hit anywhere. The New York Metropolitan Transportation Authority estimates passenger numbers on its two commuter lines in September were down by as much as 70 percent on weekdays. If numbers stay this low, it would be a financial disaster.
But US authorities are working on allaying commuters' fears by introducing a variety of measures that reduce congestion, such as making thoroughfares one way and managing crowds better on platforms. Many transport-watchers predict that the days of peak commuter congestion could be over as office workers pick their time to go into the city in a trend that would make rail travel more enjoyable. However, fears that commuter travel faces a long-term decline look to be wrong – British research finds that around 70 percent of people expect to return to the office.
Logical logistics
Invisible to the general public, many of the great ports of the world are rapidly adopting rail to shift goods off the wharves as a cleaner alternative to lorries. The booming Port of Valencia in Spain, for instance, sees more than 4,000 trains a year at a rate of 80 convoys a week, all transporting a wide variety of goods in and out of the country. But that's not good enough for the port authorities. Under a policy called 'intermodality,' Valencia is following Rotterdam, Barcelona and other maritime hubs in switching rapidly to rail in order to slash lorry movements, especially for delivery into the hinterland.
"The railway is key in our present and future strategy because it allows us to reduce costs in the logistics chain, to improve the services we offer in the terminals, and to take loads off the roads and put them on the railways," explained the port's president Aurelio Martinez, citing trains as crucial in the decarbonisation route targeting zero emissions by 2030. The ports' transition is backed by shipping giants such as France's CMA CGM, which has adopted a fundamental strategy called 'switch to rail.'
Faster than a jet plane
Already rapid before the pandemic, the rate of innovation in rail travel is accelerating. What's next? Although it's still an experimental technology, hyperloop travel at speeds of 1,200km per hour could be around the corner. A company called Nevomo in Poland has raised funds to take the first step that would carry passengers at over 400km per hour as early as 2023, slashing the travel time from Gdansk to Krakow, a distance of nearly 600kms, from the current six hours and 10 minutes to little more than 90 minutes. Based on magnetic technology applied to existing tracks, 'magrail' is seen by some as the future of all rail transport.
But this may not be what rail travellers want. New research suggests that commuting by rail is good for us and even improves passengers' work ethic. A project by University College London and the rail industry has found that taking the train significantly improves a passenger's workday, including their productivity, motivation, cognitive performance and wellbeing. Released in September just as seasonal and peak travel in Britain was on the rise, the study bodes well for rail in the long run.