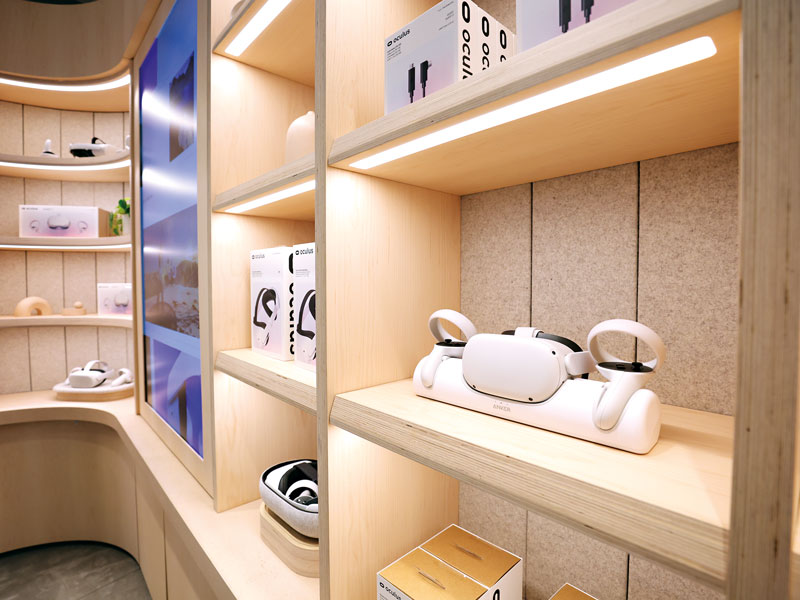 &nbsp
Last year Facebook's parent company changed its name to Meta, announcing during its Connect developer conference a means of working within an immersive VR environment, with as many screens as required and a virtual keyboard that can be paired with a real one.
In October 2020 its popular Quest 2 VR headset was released at a price point designed to bring VR to the masses. The idea of being able to work from home, or indeed anywhere, gained traction during the first year of the pandemic, and VR does appear to promise that if one should prefer to sit at their desk while occasionally staring out of a starship window, then one can.
Cue a raft of tech articles extolling a futuristic vision of work in which we experience a virtual- or mixed-reality version of the world. Wherever we set ourselves down is our office. We simply put on a headset, step into the bath and away we go, several virtual screens hovering in front of us, perhaps a custom keyboard tray sits atop the bubbles, wirelessly linked to a computer in another room and another world – one we used to know, before we found something better.
The ideal workspace
Indeed, Meta Quest invites us to step into our ideal workspace, 'where distractions disappear and productivity reigns.' If I can tear myself away from the nagging feeling that a new era of enhanced productivity will be precursored by an awful lot of troubleshooting while nodding through several virtual settings menus, ankle deep in lukewarm bathwater, then I would agree that the future of work does look promising.
But one concern I have with devices that are designed for both work and play is that they do not lend themselves well to discipline, and if we can work anywhere we want, does that mean that we should? The pandemic gave employers and employees alike an opportunity to reimagine what work could and should be, but I don't believe there is any broad consensus on what that is, though I would wager we each now have a preference one way or another. VR has opened up the possibility for us to further redefine the boundaries of our ideal office and also the overall work experience, but at what cost? If our working hours involve wearing a headset and our downtime also involves wearing a headset, then perhaps all we're really doing is attempting to perfect escapism.
Much of the current research into VR use tends to focus on 'cybersickness,' a form of motion sickness induced through immersion in VR that can produce physiological effects such as nausea, dizziness and loss of spatial awareness, according to a literature review published by the UK government Department for Business, Energy & Industrial Strategy, entitled The safety of domestic virtual reality systems.
Long-term effects of sustained VR use are relative unknowns for the time being as further research is required, but it is fair to argue that a technology that attempts to redraw our perception of reality might have some unexpected and potentially hazardous effects.
A realistic roadmap
And VR as a technology is still in its infancy. Meta's roadmap now includes Project Cambria, a more high-end VR headset due for release this year, which will be followed by its next iteration of the Quest VR headset in 2023 and two more headsets in the year following that. Meta appears to be adopting a release schedule that is familiar to owners of smartphones and smart watches, a promising sign that it is committed to serving its vision of the Metaverse and extending Facebook's 2004 mission to 'bring the world closer together,' albeit in a new digital frontier.
But it's important to mention that this is all still being built. The VR space is a hotbed of development and innovation and this is reflected in Quest 2's regular update schedule, which unlocks new features for the headset. In September 2020, the company announced a new feature named Infinite Office, a virtual reality office space that effectively tracks your real keyboard, allowing for immersive solo productivity, but this seems like a strange addition for a headset that is primarily marketed to gamers.
In April of last year, Vice President of Facebook Reality Labs Andrew Bosworth engaged in a Twitter space discussion in which he said: "There's this old story in the PC era called 'the reason to buy and the excuse to buy' and the reason to buy a PC was to play games, the excuse to buy was to do spreadsheets. And until you could do both games and spreadsheets you couldn't buy it because you need both the reason and the excuse."
This is an interesting revelation, not because it speaks to the overriding motivations of humankind, but because there is an implied acceptance that gaming may win out in the battle for VR and that's okay. The goal for Meta at the moment is widespread adoption and with VR looking less like a fad these days and more like a movement, it seems they are succeeding in bringing about this vision to make virtual reality a mainstream reality.