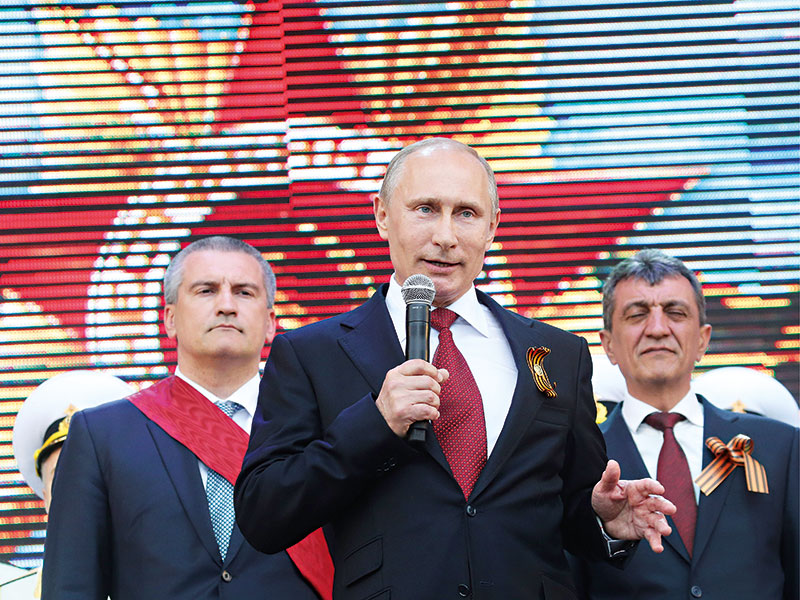 Russian President Vladimir Putin in Sevastopol, Crimea. In March, thousands paraded through the streets of the Crimean capital to celebrate five years since its reunification with Mother Russia&nbsp
In the early hours of February 23, 2014, as most of Moscow lay sleeping, Russian President Vladimir Putin sat in the Kremlin among his most trusted advisors. The political situation in Ukraine had become increasingly volatile, and Russia could not sit back and allow the crisis to simply run its course. Putin ended the meeting with a bold proclamation: "We must start working on returning Crimea to Russia." A little over three weeks later, he had achieved his goal, with both states signing the Treaty on Accession of the Republic of Crimea to Russia.
In the five years that have passed since Crimea rejoined the Russian Federation, the peninsula's economy appears to be showing few ill effects. On the contrary, things are going better than ever: in Q1 2019, Crimea grew faster than any other region in Russia. Sevastopol, a city within Crimea that Russia administers separately, followed in second place.
The peninsula's success, however, is a little misleading. Since 2014, Moscow has pumped huge sums of money into the Crimean economy, funding a number of large infrastructure projects of dubious value. This expenditure has not only created the pretence of prosperity – it has also proved a monumental drain on Russia's finances at a time when international sanctions are beginning to bite.
Paint the town red
In March 2019, thousands paraded through the streets of Crimea's capital, Simferopol. They recited songs celebrating five years since the region's reunification with Mother Russia, wore Cossack costumes and proudly waved Russian and Crimean flags above their heads. The celebrations, which lasted four days, were deemed to be of such importance that Putin himself attended.
If the West is intent on isolating Crimea, the peninsula will have to look eastward instead
The festivities were not simply an outpouring of nationalist fervour, though: for many in Crimea, things seem to have genuinely improved since the peninsula came under Moscow's control. On paper, they certainly have: according to reports from Russian media company RBC, Sevastopol's construction sector expanded by 70.9 percent in Q1 2019, while Crimea's swelled 20.7 percent. Manufacturing in the two regions also grew by 5.2 and 20.2 percent respectively.
"According to [the Russian Federal State Statistics Service (Rosstat)], in terms of… growth in manufacturing production between 2014 and 2017, Crimea and Sevastopol were the champions," Alexander Skorobogatov, a professor at the Higher School of Economics in Saint Petersburg and author of a blog entitled Economics and Applications, told World Finance. "Subsidies have played an important role, but… the state's promotion of the peninsula as a health resort and the ongoing infrastructure projects heavily contribute, too."
Economic growth has predominantly been fuelled by large-scale developments like the 18.1km-long Kerch Strait Bridge, which opened in May 2018 and cost $3.7bn to build. Other projects include a pipeline supplying natural gas from Krasnodar Krai, a new passenger terminal at Simferopol International Airport and the yet-to-be-completed construction of the Tavrida highway.
"The infrastructure projects – the new bridges and roads – induce… construction and related industries," Skorobogatov said. "In addition, the state supports the agricultural sector, which leads to growing outputs. Tourism, after some decline because of lower visitor numbers from Ukraine, is now recovering. This, in turn, boosts the wholesale and retail industries."
And while Crimea has suffered from significantly reduced trade with its European neighbours – Ukraine formally ceased all trade with the peninsula in 2015 – the region has forged workarounds, usually involving the Russian port of Novorossiysk. New export opportunities are also being explored: for instance, Russia has plans to build a grain terminal in Crimea that will reportedly increase shipments to Syria fivefold. Moves like this will help plug the economic gap to an extent, but bigger prizes are also being targeted. Collaboration with China is one major consideration, particularly given its Belt and Road Initiative. If the West is intent on isolating Crimea, the peninsula will have to look eastward instead.
From Russia with love
While the Crimean economy has done well on a surface level since its annexation, the region has received more than a little bit of help. Huge subsidies from Moscow have been a mainstay since 2014, fluctuating between $1bn and $2.7bn per annum (see Fig 1). These figures are not necessarily putting a significant strain on Russia's economy, which is the world's 12th-largest by nominal GDP, but they do appear to be contributing to a slowdown (see Fig 2).
Just a few months after Crimea formally rejoined the Russian Federation, Moscow launched a programme called the Socioeconomic Development in the Republic of Crimea and the City of Sevastopol. The initiative has a budget of RUB 669.6bn ($10.06bn), 95.9 percent of which comes directly from Russia's federal budget.
Inefficiencies quickly became apparent, though. Keen to capitalise on the sense of patriotism spreading among ethnic Russians living on the Crimean peninsula, Russia drafted and implemented its federal programme rapidly after completing the annexation – perhaps too rapidly. Budgets were exceeded, targets were missed and, of course, any money being funnelled into Crimea could not be spent on the rest of the Russian Federation.
In 2017, only 10 new roadways were built across what is the world's largest country by land area, in spite of the fact that it was gearing up to host a global showpiece event in the form of the 2018 FIFA World Cup. In fact, Russia has long lagged behind western states when it comes to infrastructural development. According to World Highways data, the country's high-speed road network covers just 5,000km at present. By comparison, Germany, a country some 48 times smaller than Russia by land area, boasts around 13,000km.
"The subsidies are made at the expense of the rest of the Russian economy, but relatively, this should not be too burdensome," Skorobogatov told World Finance. "The statistics suggest that a lot – if not the majority – of Russian regions depend on subsidies, and the Crimean peninsula is no exception. As for the attitude of Russian citizens, public opinion polls repeatedly report positive moods as a whole regarding the peninsula.
"People normally treat the situation with Crimea as one where the state has taken necessary and fair action to protect the people there and return territories previously lost due to policies that are now considered deeply fallacious and unfair. Therefore, Russian citizens believe it is a worthwhile sacrifice, especially since the sacrifice is not that great."
Although still largely positive, the outlook throughout the rest of Russia has deteriorated as citizens have seen money that could have been used in other regions consistently pumped into Crimea. Research undertaken in March by Russia's Public Opinion Foundation found that only 39 percent of citizens still believed that the annexation caused Russia more good than harm, down significantly from 67 percent in 2014.
"The prodigious sums spent on the Kerch Bridge have been criticised; not so much the subsidies to the Crimean economy," explained Professor Philip Hanson, an associate fellow of the Russia and Eurasia programme at Chatham House. "Now that the 'Crimean consensus' in Russia is beginning to fade, one might expect more such criticism. Meanwhile, special treatment for Crimea does not seem to rank high [on] the list of grumbles."
On the whole, then, public opinion appears to be mixed. As the half-decade celebrations earlier this year demonstrated, many citizens still believe that the decision to reclaim Crimea was the right one. Emotion often trumps economics, and even those based elsewhere in the Russian Federation who have had to watch Moscow pump money into vanity projects across the peninsula may feel it is a price worth paying.
Closing rank
Speaking to World Finance, Hanson underlined the notion that the occupation of Crimea is about more than financial gain: "I can't think of any economic benefits that Russia might gain from controlling Crimea that would not have been available via friendly trade and investment with an independent Ukraine." It is not difficult, however, to determine other reasons for the annexation.
In March, more than 500 troops from the Russian Black Sea Fleet's ground force took part in a tactical exercise on the Crimean peninsula. On July 11, more than 2,000 Russian paratroopers landed at the region's Naimanskaya military site. These are just two examples of the kind of drills that have become commonplace in Crimea since 2014.
This militarisation has helped Russia maintain an economic stranglehold on the rest of Ukraine. In particular, businesses have found that Russia is creating issues for cargo travelling to and from ports along the Sea of Azov. According to a report by the Financial Times, in the six months or so that followed the opening of the Kerch Strait Bridge in May 2018, the average delay for vessels travelling to the Ukrainian ports of Mariupol and Berdyansk rose from seven hours to more than five days.
The militarisation of Crimea has helped Russia maintain an economic stranglehold on the rest of Ukraine
By May 2019, these hold-ups had been reduced to around 40 hours – an improvement, but still the sort of delay that severely disrupts supply chains and causes businesses to go bust. According to the Ukrainian Government, cargo passing through Berdyansk and Mariupol has dropped by almost 50 percent and 70 percent respectively since Russia's annexation of Crimea. Russia is using its newfound control of the Kerch Strait to flex its naval muscles and damage Ukraine's economic interests in the region.
Evidently, ownership of the Crimean peninsula is of military importance to Russia, but this militarisation has also had knock-on effects for the regional economy – both positive and negative. "The military contingent creates a demand for various non-traded goods and thus stimulates the Crimean economy," Skorobogatov said. "Meanwhile, there are signs of diminishing competition in some industries, such as transport and trade. This follows naturally from larger Russian firms entering the peninsula and replacing their smaller counterparts. This is… part of a broader process going [on] in most of the Russian regions."
This trend has hit entrepreneurialism hard, with SMEs increasingly being squeezed out. According to a report by The Ukrainian Week, there were 15,553 private SMEs and 116,200 entrepreneurs in Crimea in 2014. By July 2018, these figures had plummeted to 1,382 and 55,328 respectively. As a result, the proportion of the Crimean workforce employed by small businesses has declined from 35 percent to 19.5.
Russia's militarisation of Crimea has been comprehensive. While the assembled land, sea and air forces may have avoided much active combat, they could hardly be described as defensive. Already they have caused significant damage to Ukrainian trade and reshaped the Crimean economy through their presence alone, with army bases and artillery depots replacing the small businesses that once thrived on the peninsula.
Reduced to ruble
The construction of a bridge crossing the Kerch Strait may have connected Crimea to the rest of the Russian Federation, but in general, the annexation has had an isolating effect on the region. In the aftermath of the seizure, Ukraine severed rail and road links to the peninsula and cut off water supplies. In late 2015, Crimean Tatar activists blew up four electricity pylons in opposition to Russia's annexation. Ties to the Ukrainian mainland are now significantly diminished compared to where they were before 2014.
The rest of the world is also keen to turn the peninsula into a pariah. The EU currently prohibits the importation of products originating in Crimea or Sevastopol, and bans investment in the two regions. Even the provision of technical assistance is forbidden. The US, Canada and, of course, Ukraine have also imposed economic sanctions on individuals and businesses operating in Crimea. An analysis conducted by Bloomberg Economics suggests that wider sanctions have reduced the size of the Russian economy by as much as six percent in the past five years. Low oil prices have hardly helped.
"Of course, economic sanctions have had an impact on the Crimean economy," Skorobogatov said. "Among the sectors being affected are tourism, trade, banking, cellular communications, transport, manufacturing – in fact, all industries. Due to the sanctions, even many Russian… firms (from banking and communications) are not entering the peninsula, which, in turn, restricts its development."
As well as preventing incoming investment, the economic straitjacket that Crimea finds itself in means money that would normally be spent domestically is escaping. Most western companies will not work in the area; if Russian firms cannot supply certain products or services, then people have to leave the region to acquire them.
"For a while, Visa and Mastercard weren't working in Crimea, and although they are back now, Russian banks have… had to open more branches on the peninsula," Nataliya Gumenyuk, an international reporter and head of the Hromadske Network, told World Finance. "In Crimea, there are no Ukrainian, Belarusian or… western goods, only those produced in Russia. Online payment systems do not work, so things are not delivered. For sure, any kind of small business connected to international payment systems or importing goods from outside Crimea has had to cease operating. Trade with Ukraine is non-existent. Crimea needs to import everything from Russia, which makes things more expensive."
Russia's $1.65trn economy can probably afford to prop up Crimea without much difficulty, but Crimean citizens may start to question whether this is the reality they envisioned when the annexation was taking place. Did they realise that turning towards Moscow meant turning their backs on the rest of the world?
Stuck in limbo
Sound bites emanating from Moscow claim that Crimea is doing better than ever, but economic metrics from the West state that sanctions are biting hard. As is often the case with Russia, it is difficult to know what to believe. It's true that wages have risen markedly since the annexation, but so too has the cost of living. What's more, while Crimea and Sevastopol have both grown rapidly, they remain among Russia's poorest regions.
"Measuring real incomes in Russia as a whole is tricky," Hanson said. "The official numbers show a net fall in per-capita real disposable incomes for the Russian population between 2014 and the first half of 2019. If real incomes have declined in Crimea, it would be part of a national experience. The same is true of inflation, which touched an annual rate in Russia of 17 percent in 2015. The average money income figures for Crimea and for Sevastopol show them as rising relative to the national average in 2015-18, though remaining below that average figure."
If Russian firms cannot supply certain products or services, then people have to leave Crimea to acquire them
Perhaps most troubling of all is the fact that, five years after the annexation took place, the peninsula's long-term fate remains up in the air. Most of the world still considers it a Ukrainian territory, but Ukrainian citizens must pass through a government checkpoint before making their way to Russian passport control to gain entry into Crimea. Why would businesses, either domestic or international, choose to operate in such a climate of uncertainty?
Although Chinese firms may come to Crimea's aid, even this is far from guaranteed. Crimea's population stands at around two million – perhaps not large enough of an incentive for businesses to risk being hit by sanctions at a time when global trade tensions are already inflamed. As a result, the likelihood of the region seeing much long-term investment – outside of what Russia sends its way – remains slim.
The wider corporate world may have taken a dim view of Russia's annexation of Crimea, but that isn't necessarily representative of the opinions being voiced on the streets of Simferopol and Sevastopol. "Surveys repeatedly show that the vast majority of Crimean citizens are happy about rejoining Russia – this mood has remained consistent," Skorobogatov said. "My personal experience of talking with people from the peninsula is fully in line with the results of these polls."
Gumenyuk has a different view, however: "No, I wouldn't agree that there is optimism. I was in Crimea during the 'anniversary' and, yes, there was a small group of pro-Russians, but this is a marginal group. Most of the people are simply trying to adjust to the new reality of living in Crimea."
Disinformation, unpredictability and confusion help explain why such opposing observations can exist alongside one another. These three strings of Putin's political bow have proved hugely effective at catching the West off guard; they're less successful when it comes to attracting investment. In Crimea – where the economy is concerned, at least – it appears there is more work to be done.