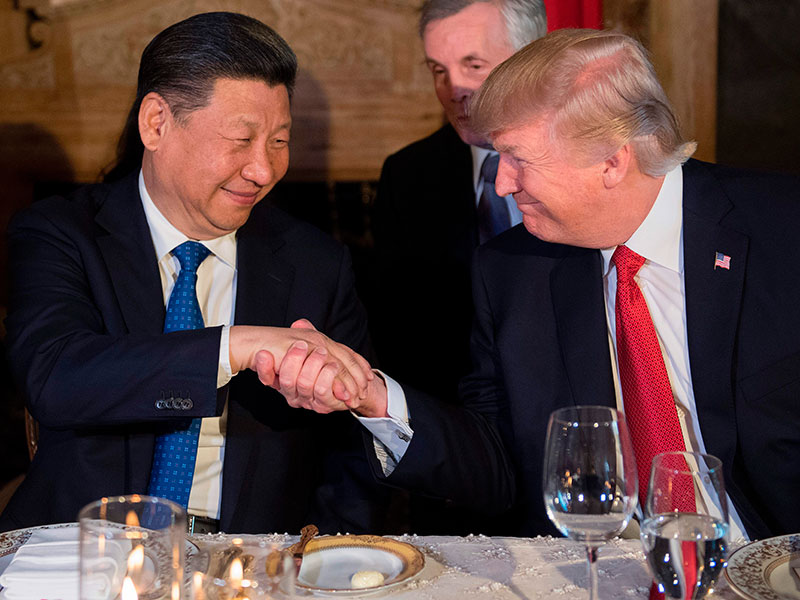 Chinese President Xi Jinping and US President Donald Trump meet at Trump's Mar-a-Lago estate in West Palm Beach, Florida&nbsp
Chinese President Xi Jinping has arrived in Florida for his first official summit with the US president. On April 6, the Chinese leader dined with Donald Trump at the property mogul's Mar-a-Lago resort, with Trump later telling reporters that he had "developed a friendship" with Xi.
Despite Trump's optimistic tone, the evening was somewhat overshadowed by the rapidly escalating humanitarian crisis in Syria, with the US president having just launched his first major military action in the nation. However, as the summit enters its second day, talks between the two leaders are still expected to centre on the contentious issues of trade and North Korea's pressing nuclear threat.
Trump threatened to impose punitive tariffs on Chinese imports, but since taking office in January, he has failed to follow through with these threats
In this historic first meeting with the Chinese leader, President Trump is under considerable pressure to fulfil his campaign promise to address trade deficits and bring manufacturing jobs back to the US from China. During his presidential campaign, Trump fiercely condemned current trade practices, stoking fears of a US-China trade war.
"We can't continue to allow China to rape our country", Trump told a crowd of cheering supporters in Indiana last year. "There are no jobs because China has our jobs." The then-presidential candidate also accused China of manipulating its currency to boost exports, and threatened to impose punitive tariffs on Chinese imports as retaliation. However, since taking office in January, Trump has failed to follow through with these threats.
The US president also allegedly wants China to cut its tariffs, but it is believed that this issue will not be raised in his first summit with Xi.
While Trump has so far been unsuccessful in addressing what he sees as unfair trade practices, he has maintained his critical stance on the issue. In an effort to make gains for US manufacturing workers, Trump may use the summit to push for more Chinese investment in American infrastructure. Interestingly, Chinese investment in the US more than tripled in 2016 to a record $45bn, but Trump remains critical of the nation's supposedly tight controls on foreign investment.
In addition to the tough topic of trade, the two leaders are also expected to address the increasingly urgent issue of North Korea's nuclear programme. On April 5, Pyongyang fired a medium-range missile into the Sea of Japan, marking the latest in a series of test launches from the communist nation.
While China has condemned North Korea's nuclear ambitions, it has so far been somewhat reluctant to take punitive action against Pyongyang. Xi is therefore expected to come under pressure from Trump to take a tougher stance with its neighbour, with the US president potentially calling for China to step up targeted sanctions on North Korea.
The brief, two-day summit will conclude with a working lunch on April 8, but the meeting may have a lasting impact on international politics for some time to come.