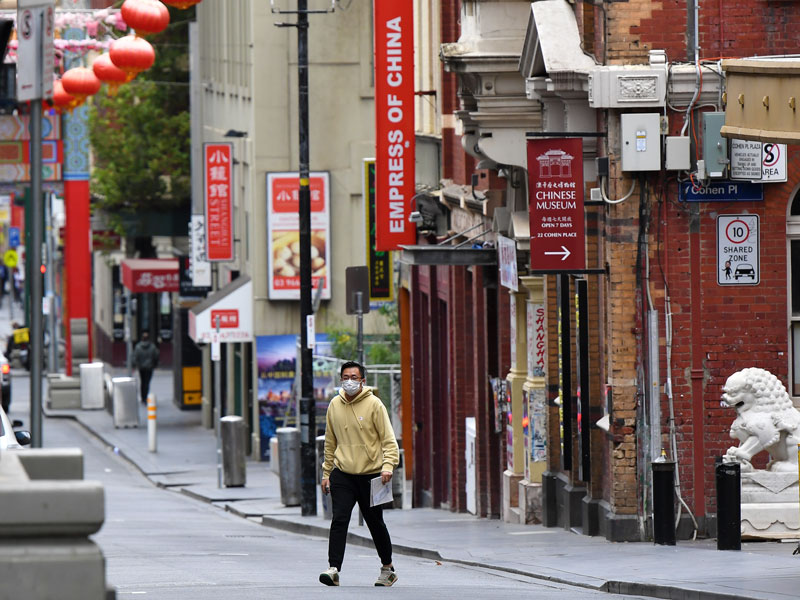 A man wearing a face mask crosses the road in China Town in Melbourne, Australia&nbsp
In a private conversation with German Chancellor Angela Merkel in late 2014, Australia's then-Prime Minister Tony Abbott confided that Australia's policies towards China were driven by two things: "fear and greed". It was an awkward comment to find its way into the press – not least because, in official statements and documents, Australian officials usually waxed lyrical about the importance of maintaining Sino-Australian relations. But Abbott's admittance was revealing of the bipolarity at the heart of Australia's relationship with China.
Australia's economy is highly reliant on the China. "Of all the major liberal democracies, Australia has the largest economic links with China in terms of investment, and flow of goods," said Kerry Brown, Professor of Chinese Studies and Director of the Lau China Institute. This close economic relationship has become more problematic as China has moved to erode the freedoms of citizens in Hong Kong and repress the Uighur population, prompting liberal democracies to weigh their trading relationships with the country against their own values.
But it's not just China's human rights record that had been cause for concern. China's made it increasingly clear that it's willing to use economic coercion to penalise Australia during political spats. When Canberra called for an inquest into the origins of the coronavirus in April, Beijing responded by slapping tariffs on beef and barley exporters and warning students and tourists against travelling to the "racist" country. Ever since, fears have grown among Australian policymakers, businesses and economists that the country's economic dependence on China could be a major liability.
Close ties
Australia owes its economic prosperity partly to China's meteoric rise. As the Asian country rapidly industrialised from the 1970s onwards, Australia tangentially benefitted through the supply of raw materials, iron ore and, more recently, agricultural produce. "[These economic ties] have ensured that even during the economic crisis of 2008-9, Australia was able to maintain good growth, and has not had a recession since 1991," said Brown.
In more recent years, China has also become a major client for Australia's agricultural produce, tourism and education. China is the largest source of tourists and also foreign students to Australia, injecting billions into the economy every year.
Although this relationship had been mutually beneficial, it's worked more in Australia's favour. China's own reliance is not quite so strong. "The relationship is asymmetric because of the size of the two economies," said Hans Hendrischke, professor of Chinese business and management at the University of Sydney Business School. "In summary, Australia's dependence on China is across the board, including goods and services, whereas China's dependence on Australia relates to steel for infrastructure investment and to goods and services in demand by China's middle-class consumers."
That economic dependence is only increasing. Despite rising tensions, Australia continues to record a trade surplus with China. "In June 2020, half of all Australian goods exports (48.8 percent) went to China," said Hendrischke. This figure is up from a third in February. Exports of iron ore to China, in particular, are on the increase, according to the Australian Bureau of Statistics, given China's rising demand for steel to supply new infrastructure projects.
Rising tensions
For a long time, Australia and China's relationship proceeded in a state of relative harmony. "The relationship over the last 20 years in particular has been one of opportunism and expediency on the part of Australia, just enjoying the benefits and never thinking much about the more complex issues," said Brown. "That has slowly changed over the last few years, and seems to be dramatically changing now."
Since the start of the pandemic, relations with China have steadily worsened. Australia's criticism of China's handling of the coronavirus outbreak angered the communist state. At the same time, when China imposed its national security law on Hong Kong, Australia warned its citizens against travel to Hong Kong and suspended its extradition treaty with the territory. In a secretive process, China sentenced an Australian man to death for drug smuggling. "Government and media attitudes towards China have changed toward animosity if not outright hostility," said Hendrischke.
There are economic consequences to this rising tension. In May, China placed tariffs on 80 percent of Australian barley and bans on abattoirs that could block 35 percent of Australia's exports of beef to China.
The damage caused by China's recent tariffs won't be immense; these exports represent only a small amount of the total A$153bn that represented Australia's exports to China in 2019 (an amount equivalent to 7.7 percent of Australia's GDP). There is only so much harm China can inflict without harming its own interests.
"Looked at from the point of view of the Chinese government not wanting to hurt its own economy," said Michael Shoebridge, Director of Australian Strategic Policy Institute's Defence, Strategy and National Security programme, "the most vulnerable sectors are those where there is not a deep structural need for Australian exports and services as part of trying to stimulate China's economy during the pandemic.  So, iron ore, other natural resources and energy seem the least vulnerable – and the trade with China has been growing over this year as a result. Wine, dairy and other exports that are aimed at China's wealthy and its rising middle class are more discretionary imports where Beijing may have room to act coercively – even though Chinese consumers value the quality of these Australian products highly."
Since tourism and education are not exclusive to Australia, these sectors are among those more vulnerable to economic coercion by China. For instance, China's call for its citizens to avoid the "racist" country is predicted to have a knock-on effect on Australia's tourism and education revenues.
Shoebridge points out that this was something of an empty threat. "Chinese tourists and students are stopped anyway because of the pandemic," he said. "So, these 'future threats' from Beijing only show the manifest risks to Australian business and universities if they continue to build their business plans on assumptions of a reliable market from China.  Beijing is actively raising the sovereign risks that companies and other institutions need to factor in to doing business with China."
Even though the pressure applied by China is only slight, it has nonetheless spooked businesses and investors. Morgan Stanley's analysts said in June that the "continued escalation in trade friction" between the countries was one of the biggest risks to Australian stocks.
Australian businesses with Chinese ties are particularly nervous. According to the Australia-China business chamber AustCham, a survey of 87 Australian businesses in China found that 70 percent of them were concerned about the deteriorating relationship, up from 45 percent two years ago.
Burning bridges
While many business leaders believe Australia must patch things up with China for the sake of economic prosperity, large swathes of the public are in support of Australia drastically reducing its reliance on China. A survey by the Lowy Institute found that as many as nine in 10 Australians now believe the Australian government should steer the economy away from its number one trading partner, due to concerns around Australia's national security.
But this is easier said than done. Australia can only decouple from China if it builds up relations with alternative trading partners. "Australia's future industrial development will depend on its ability to diversify away from China and more into the region," said Hendrischke. "There is no limit to how far Australia should spread its market risk."
Together, trading partners like Indonesia, Japan and South Korea could help the country reduce its reliance on China. Australia is now urgently trying to build ties with these nations. In July, a hard-won free trade agreement with Indonesia came into effect and, in August, Australia signed a digital economy agreement with Singapore intended to make cross-border activities more cost-effective more businesses in the two countries.
India could also prove an increasingly significant strategic partner. Australia has set the goal of sending A$45bn ($31bn) in annual exports to the country by 2035.
However, some doubt that any of these trading partners will have the economic clout needed to replace China. "Decoupling would mean urgently seeking new markets – none of which would be able to fill the space left by China perhaps ever, and probably for decades," said Brown. "In addition, Australia's universities have huge numbers of Chinese students. That too would be a massive and painful gap to fill were these student numbers to dramatically fall."
For this reason, the Australian government is being cautious in the tone it takes against the economic giant. The foreign minister, Marise Payne, said Australia had "no intention of injuring" its important relationship with Beijing.
Of course, China is in a similarly precarious position. Although it may not be as economically reliant on Australia as Australia is on it, China also stands to gain from diversification, but can't achieve this easily.
"The question of decoupling is the old question of how to reduce over-reliance on one dominant business partner in a new guise," said Hendrischke. "Spreading risk makes commercial sense under any circumstances. Australia and China are caught in a bind, as Australia is over reliant on Chinese demand across the board in all major export industries, while China is over reliant on Australian iron ore supply for crucial infrastructure. Both countries would prefer a wider spread of their commercial risks and both are unable to achieve this in the short- to medium-term without causing economic damage to their economies."
A changed relationship
Eventually, the recent political headwinds will blow over. New research from Australia's National University shows that the impact on trade from the recent spat is likely to be minimal. This was based on two decades of monthly trade data, which showed that the fall-out from trade disputes usually lasted three months before normal trade resumed.
However, that doesn't mean Australia can afford to be complacent about its relationship with China. Even if this trade dispute dies down, ideological clashes are likely to continue.
"As it has done so far, Australia's government should be open about its decisions the reasoning behind its decisions," said Shoebridge. "We should continue to be open when we see attempts at coercion from the Chinese state and we should welcome and work with partners who share our interests and support. Australia is not alone in dealing with the way Xi is pushing his government to behave, so we should also look for opportunities to speak up and support others when they are the subject of China's coercion. Keeping calm and clear is useful here, with all the emotion and stridency left to Beijing."
"Fear and greed" may have driven Australia's economic ties with China for several decades. But now the country is entering a new, more cautious stage of its relationship with the Chinese state. Whatever this entails, it's clear the hay days of the Sino-Australian cooperation are coming to an end.