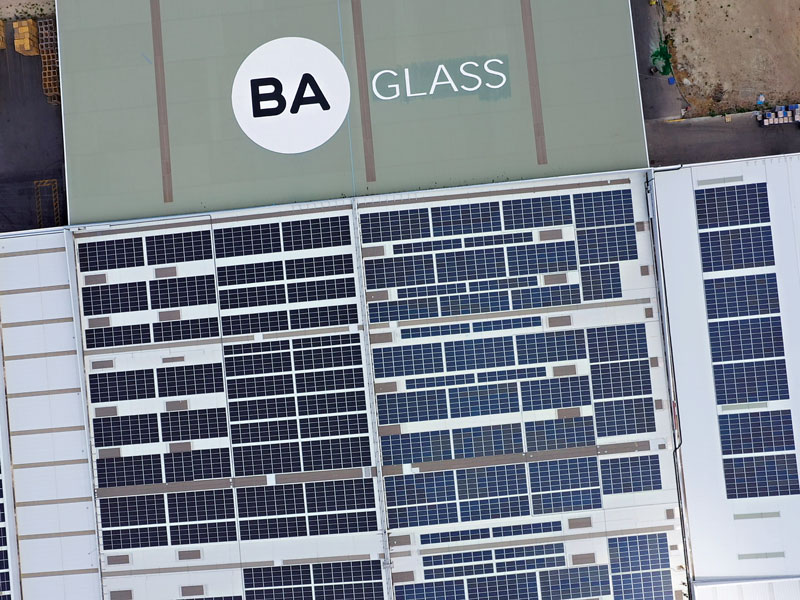 &nbsp
Ancient and naturally occurring, glass is the only packaging material that can be infinitely recycled without changing its initial properties. And given the natural properties of its raw materials, it has been considered the healthiest material, preserving the taste of food and beverages while ensuring that the contents are not contaminated in any way. Despite the amazing properties of glass, the glass packaging industry is aware that a lot can still be done in order to transform its production process into a 'carbon neutral' operation.
In BA, one of Europe's leading glass packaging producers for food and beverages, with operations in seven countries and a turnover of €923m, we have been committed to sustainable growth for a long time, by working towards the reduction of our environmental footprint and the promotion of recycling as a sustainable behaviour in local communities.
For more than 20 years, the group has been investing in treatment plants to recover the glass collected after consumers' usage, and reintroducing it into our production process by recycling. Indeed, today we own one of the most modern glass collection treatment plants in Europe.
But we want more, and in 2018 BA became a founding member of the Porto Protocol, thereby assuming new goals for 2030: to use at least 70 percent of electricity from renewable sources; to reduce natural gas consumption by 10 percent, replacing it with electricity; to reduce water usage by 75 percent; to increase the use of recycled glass by at least the same percentage as the increase in the collection rate; and to reduce CO2 emissions to at least the levels defined by the European Union.
To achieve these ambitious goals, the group implemented a holistic model, based on the measurement of our carbon footprint, the development and implementation of different projects to reduce greenhouse gas emissions (GHG), the development of new and greener technologies, and the investment in offsetting projects.
We measure our carbon footprint in all the three areas, considering the direct and indirect emissions of all our activity. This inventory will allow us to track and report our improvements with transparency, as this is one of our key values.
Making a difference
Several projects are currently in place to reduce BA's emissions. These include an ambitious programme of light weighting our bottles and jars in collaboration with our customers. There is also an investment in photovoltaic installations on roofs, already implemented in two of the Iberian facilities, following a medium-term investment plan. Additionally there is the implementation of environmentally friendly technologies at our production sites, replacing the less energy-efficient ones.
We promote the use of alternative raw materials in the melting process, and increasing the rate of glass recycled in the raw materials, anytime it is available. Furnace energy optimisation will occur by applying data-based tools. Plus there is the continuous revision of transport routes, and replacing ground transport by sea transport whenever possible.
Concerning the development of new technologies, we should highlight an industry-wide project to develop the technology for a new hybrid furnace that will be fuelled by 80 percent electricity (compared with the current 20 percent), which will have an enormous positive impact on the reduction of CO2 emissions in glass packaging production. This project is being developed in partnership with most of the members of FEVE, The European Container Glass Federation.
Finally, thanks to the contribution of our shareholders, the group will be able to dedicate €7.3m of the 2019 results to support future activities in CO2 reduction and capturing, as well as the related R&D projects.
We invite you to learn more about our commitment to environmental sustainability, our projects and results in our sustainability reports, which can be found online. We all have a purpose. Our planet is suffering drastic changes regarding climate and its sustainability, and in BA we aim to be an active agent of its protection, towards a greener industry and a greener future. Now, it's up to you!